Husband Death Anniversary Quotes: Death is the harshest and only intact truth in the world. No one can avoid death because it's part and parcel of life. However, the death of the dearest one can create unimaginable pain and an unfathomable void in the life of an individual. It's so hard to recall the memories of your loved on death anniversary because those alluring memories pinch a lot when you are lonely. To remember your lovely husband on his death anniversary and to ignite the old flames of love, we have come up with sentimental death anniversary messages for husband and deep husband death anniversary quotes that are perfect to remember and pay reverence to your departed husband.
Death Anniversary Messages for Husband
My loveliest husband, I have so many complaints to throw on you, I have umpteen topics to fight with you, I have numerous reasons to be angry with you but you are not in my life anymore to do all these things. I won't forgive you for breaking my heart and leaving so early. Remembering you on your first death anniversary!
You left me at that point when I started developing feelings for you, loving you, and caring about every little thing related to you. God, how can you be so cruel and careless to me? What wrongs have I done to receive your wrath? Dear husband, you will always be alive in my memories!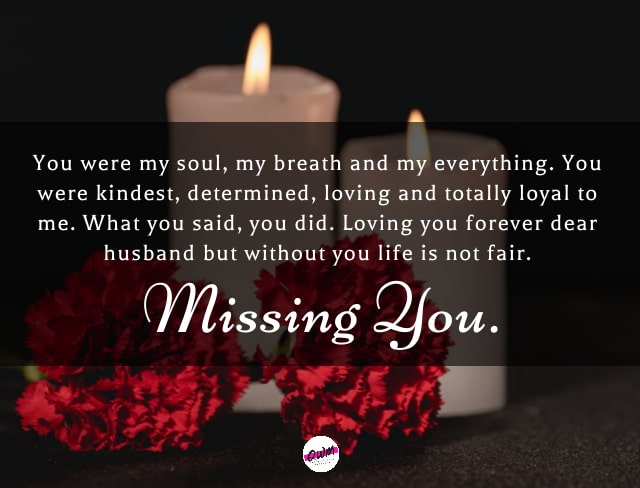 I have no control over life and death. However, I can continue to love you till eternity and that's totally in my hands. Even god can't snatch this privilege from me. Husband, leaving me in the mid of our married life is not fair at all. May your soul rest well in heaven and keep showering blessings on us.
Dear husband, you were the only ray of sunshine, source of love and happiness, and the single hub of inspiration for me. Your departure shattered me completely and I am still trying to gather my broken pieces. I remember you and pray for you on your 2nd death anniversary!
No one can understand the pain of losing a loved one better than me when you are at the pinnacle of love. Dear husband, you left our love story in between and I won't forgive you for this sin. On your 3rd death anniversary, I pray for the serenity of your soul. I miss you, husband!
We all will die someday. However, the pain of losing someone amplifies by leaps and bounds when a beloved leaves way before the completion of his journey. Whenever I look at the sky, I see you in the brightest star of the sky. Your memories are indelible and have imbibed in my heart. Miss you!
The pain your unexpected demise has given to me is so excruciating that I die every moment, every single day. Why did you leave me alone? I promise to your husband, I will keep the flames of our love alive and make our love story memorable. I pray for the peace of your soul on your death anniversary!
Also see: Sympathy Messages for Loss of Husband
Sometimes, the death of one person means the death of the whole world for you. It will take umpteen lives to measure the agony and sorrow I am experiencing till yet because of your untimely demise. May your soul merge into the almighty and get rid of the cycle of birth and death.
Dear husband, even the most intricate and daunting problems of life seemed puny when you were with me and standing firmly all the time. Now, I can't even handle the simplest thing. Wherever I look, I see only your face, be it a star, river, ocean, animals, or humans. I wish I could bring you back even if I have to give everything.
It's been many years since I lost you but all the memories are still very vibrant and blazing in my heart. I don't think I will ever be able to forget you even for a moment. You are still the whole world to me even though you are in heaven. I miss you, sweetheart! God bless your soul.
It is my destiny that I got married to you and lived a happiest life. But now living without you is impossible. You left me so early in life forever. Being with you I felt comfort. Always love you till eternity. So much missing you husband on the death anniversary.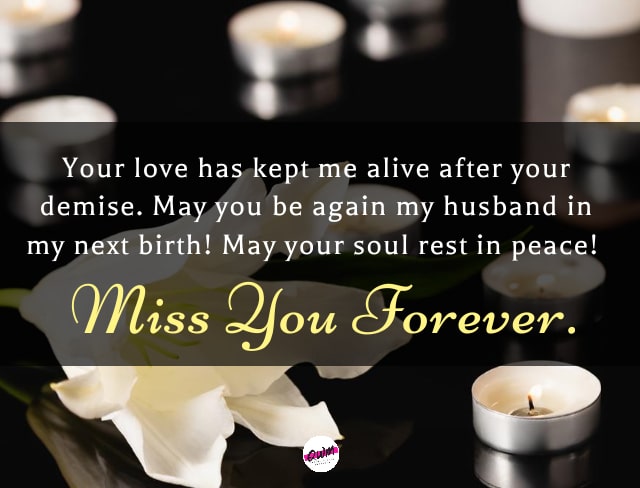 It was everything so romantic and cheerful with you dear husband. You were my friend and mentor always guiding me. I will never marry again. You were my first love and always will be. Remembering you on the death anniversary!
You were always kind to me treating me like a child. You fulfilled all my dreams and wishes. You were the best husband and always will be. It is a daily struggle living without you. Love you forever. Miss you today so much on your death anniversary.
You were my soul, my breath and my everything. You were kindest, determined, loving and totally loyal to me. What you said, you did. Loving you forever dear husband but without you life is not fair. Missing you.
Living with your memories was not my choice. It was you with whom I wanted to live but your demise has devastated me. Always be with you in your memories. You were a really good husband. Miss you.
As my husband you always tried to do your best for me. You wanted for me everything and did. You are in my heart and in every drop of my blood. But you left this world leaving me all alone. Remembering you on the death anniversary.
Your love has kept me alive after your demise. May you be again my husband in my next birth! May your soul rest in peace! Miss you forever.
Still tears come in my eyes when I remember you deeply. You are in my every thought. So much love you are my husband. Remembering you on the death anniversary.
When I married you, I have become forever of you but you have left me in the middle of my life when I needed you most. Your death has broken me but your love sustained me. Remembering my dearest husband on the death anniversary.
You were an awesome life partner and I was lucky that I got married to you. Forever in love with you my husband. Your departure is the worst part of my life. Miss you always.