Easter Wishes for Clients: For a self-employed person or a gigantic business organization, customers are the greatest or better say, a priceless commodity. It's because of the unflinching faith of clients in your business, you thrive in the cut-throat competitive business world and grow as well. On the auspicious occasion of Happy Easter, don't forget to send your invaluable clients easter greetings and thank them for sticking with you during highs and lows. Check out the easter messages for clients stated below and pick the finest one.
Easter Messages for Clients
To all our valuable and loyal customers, happy easter to you and your family. May the sacred day of Easter bring endless alluring opportunities and joy to your lives. God bless you!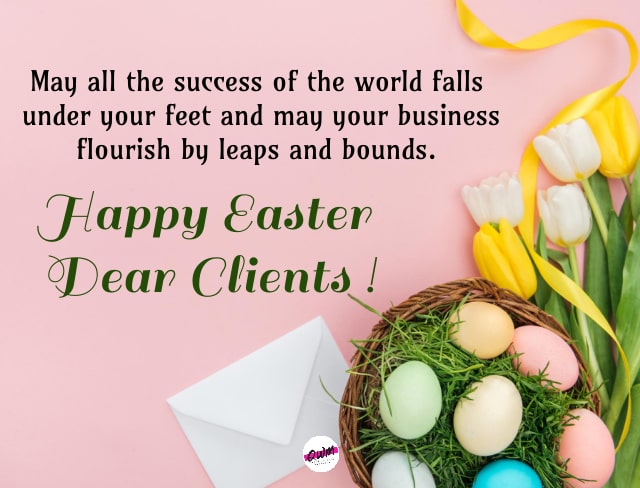 On the pious occasion of Easter, we are more than happy to extend our warmest and positive easter greetings to our invaluable customers who have been quite loyal to us for decades. Happy Easter and may you spend the day with all your loved ones.
Also see: Religious Easter Messages
May all the success of the world falls under your feet and may your business flourish by leaps and bounds. Happy Easter to all our loyal and awesome clients. Wine and dine with your loved ones!
Also see: Happy Easter Funny Wishes
During our entire business journey, you all have been very patient and supportive to us. On Easter, I pray to the lord to continue our transparent and strong business relationships for a long time. Happy Easter to all clients!
Also see: Funny Easter Captions
Wishing jovial and frisky easter to all our sweet clients. I hope our business engagement changes the world and our lives for good. Let's celebrate the pious festival of easter together with love and respect in our hearts.
Also see: Easter Wishes for Family and Friends
Easter Wishes for Clients
You are our most important clients. For you we wish all the blessings and prosperity on the eve of Happy Easter. May Jesus Christ bestow you with all the wealth and fortune! Wishing happy Easter to our most promising clients!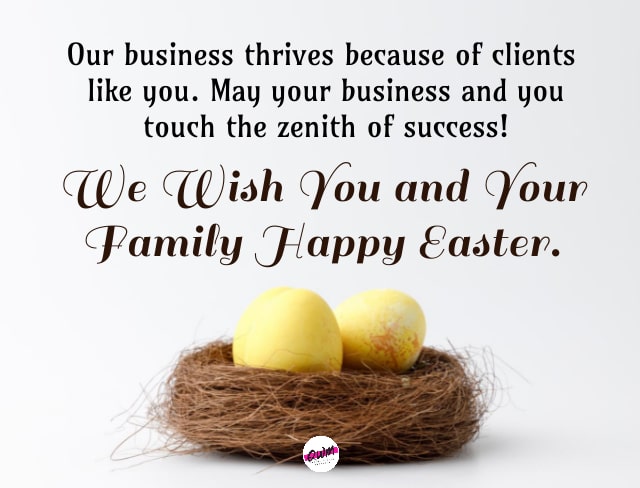 May your business increase with the fourfold benefit! May you never face failure in your efforts! Wishing our dear clients happy Easter! You and your family enjoy the great feast of Easter.
Also see: Easter Bunny Wishes
Our business thrives because of clients like you. We wish you and your family happy Easter. May your business and you touch the zenith of success!
Also see: Happy Easter Sunday Images
Wishing happy Easter to our trustful clients! You are the face of new generation business. And we really wish may you always go forward. May you be prosperous and healthy!
Also see: Happy Easter Quotes 2023
May your failures be success! May your successes be great achievements! May you never go down! May your family and friends all be safe and well! Wishing all the blessings and Easter dear clients!
You May Also Like: