Easter Wishes for Neighbors: The fun of the Easter celebration amplifies a multitude of times when your neighbors join hands with you to celebrate Easter. Whenever you need any aid or are in an emergency, your neighbors are always the first ones to help you out. Wish all the success, happiness, and good luck of the world for your neighbors on Easter by sending Happy Easter Wishes for neighbors to them. Your warm wishes will make them super special!
Easter Messages for Neighbors
We are more than excited to wish a happy and magnificent Easter to our lovely neighbors. There is no fun in celebrating the festival without you guys. May your big day be full of sweets, surprises, and sumptuous greetings.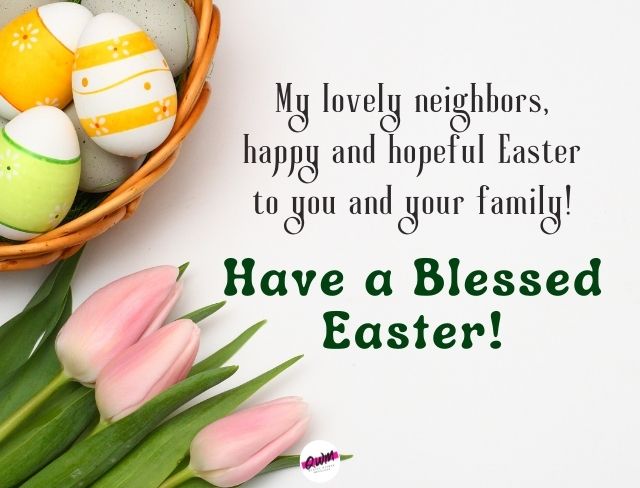 Also see: Religious Easter Messages
Happy Easter to the most helpful and friendliest neighbor in the world. May you enjoy the resurrection day without any grudges in your hearts but a lot of Easter chocolate eggs in your mouth. God bless you with all richness of the world!
Also see: Funny Easter Captions
Dear neighbors, your kids are no less than Easter bunnies who hop on here and there and spread happiness and excitement everywhere. May your Easter celebration become so memorable that it gets etched permanently in your memories.
Also see: Easter Bunny Wishes
My lovely neighbors, happy and hopeful Easter to you and your family! Let's come together and spruce the vibes of celebration so much that even God smiles when he looks at us. Have a blessed Easter!
Also see: Easter Love Messages
I don't have a family but I found one in my lovely and supporting neighbors. I am happy to extend warm and full of blessings Easter wishes to my neighbors. Let's feast and celebrate the resurrection of Christ and evoke inner goodness. Happy Easter, neighbors!
Also see: Happy Easter Wishes for Family and Friends
Easter Wishes for Neighbor
Happy Easter to our dear neighbors, who have always stood with us in all ups and downs of our life! You are a great support for us. May you always be in riches! May God always show kindness towards you!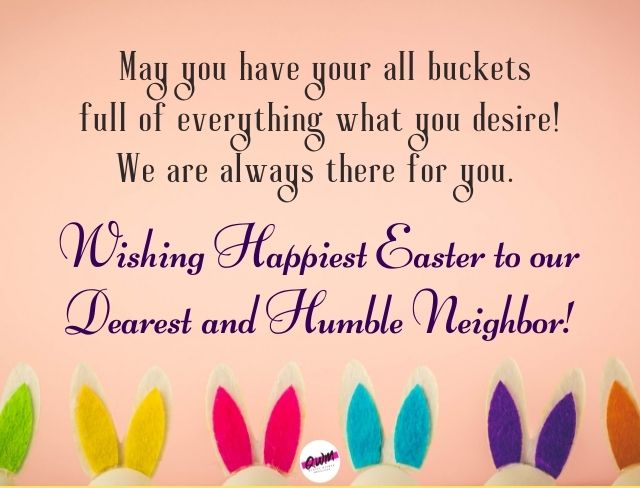 Also see: Easter Bunny Images
Wishing happy Easter to our dearest neighbor! You are our real friends and we really thank you for that. May no sadness and depravity ever touch you!
Also see: Happy Easter Sunday Images
We don't know how we should thank you but you are truly good human beings sent from heaven. Having neighbor like you is like having no worry. May you never go down in life and always be healthy and wealthy! Happy Easter dears!
Also see: Happy Easter Prayers
In words we can't thank you much because so much you have done for us. We have true emotions and feelings for you like friends and we really admire you. May you always be prosperous! May this Easter bring you all blessings and love of Christ to you!
Also see: Best Easter Memes
Wishing happiest Easter to our dearest and humble neighbor! May you have your all buckets full of everything what you desire! We are always there for you.
You May Also Like: