Easter Wishes for Family and Friends: Easter is on the cusp of arrival and people are more than elated to chant easter prayers with loved ones, eat a hell of a lot of easter candies, send lovely Easter greetings to all kith and kin, and the list of activities is endless. However, the easter celebration seems perfect when you send heartfelt easter wishes for cards to family and friends to escalate the joy of the festival by leaps and bounds. Because of the Covid pandemic or any other reason, if you are unable to celebrate easter's festival with loved ones, skim through our sugary selection of happy easter wishes for family & friends 2023 and make their easter holiday a thumping and memorable affair. 
Easter Wishes for Friends and Family 2023
From the deepest corner of my heart, I wish a mirthful and exuberant easter to all my friends and family members. I wish we all enjoy easter to the limits and be thankful to God every moment for all the abundance.
May the blessings and grace of Jesus Christ keep falling on our lives and make us competent enough to help others during distressful times. Happy Easter to all my lovely friends and family members!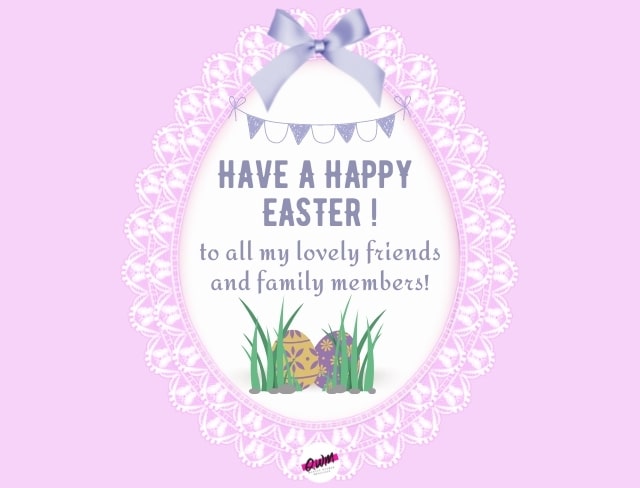 May love, cheer, success, and good luck be the unwavering pillars of your life. May easter brings waves of happiness and opulence to your lives. Have a glittering and frolic easter, all my friends and family members!
Also see: Happy Easter Wishes 2023
Undeniably, Easter comes once a year but it teaches us the lessons of a lifetime. And the lessons are hope, gratefulness, love, and benevolence. Befriend these attributes and Jesus will never leave your side. Happy Easter everyone!
On the mirthful occasion of Easter, May holy easter brings oodles of love, scrumptious chocolates, and colorful easter eggs in your life and makes it more vivacious and elated. Happy Easter to all my near and dear ones!
Also see: Funny Easter Captions
What Jesus Christ did as he resurrected from the dead, you can also do it if you have complete faith in your god resurrecting from the problems you are surrounded with. You have that strength, and with complete belief in Jesus you can be invincible. Wishing you and your family happy Easter with all my love!
Easter spirit is about sharing, caring and supporting every human being and giving them hope that they can come out from all their problems and win at what they want. I wish you and your family to always have the light of Easter spirit in their heart. Happy Easter to you and your family!
Also see: Easter Love Messages
Jesus is always there for you thinking always about your benefit. You never understand that there is no God while there is. He is omnipotent and he will always hold you and lift you up from chaos. Wishing you and your sweet family happy Easter!
Wishing you and your awesome family a prosperous Easter! May you and your family never go through the rivers of tears and sadness!
From the bottom of my heart wishing you and your lovely family grand Easter celebration! May no negativity come and clutch you ever in your life!
Also see: Religious Easter Messages
Easter Messages for Friends
It's an absolute honor for all of us to be a part of God's glorious day. Dear friends, I know Easter is the celebration of Jesus Christ's resurrection, eating chocolates, and praying, but we can also celebrate the beautiful bond of friendship today. Happy Easter, friends!
Wishing a joyous, hopeful, and blissful easter to all my lovely friends. May our sweet bonds of friendship continue to thrive and become more alluring. Thank you all for being my unwavering support!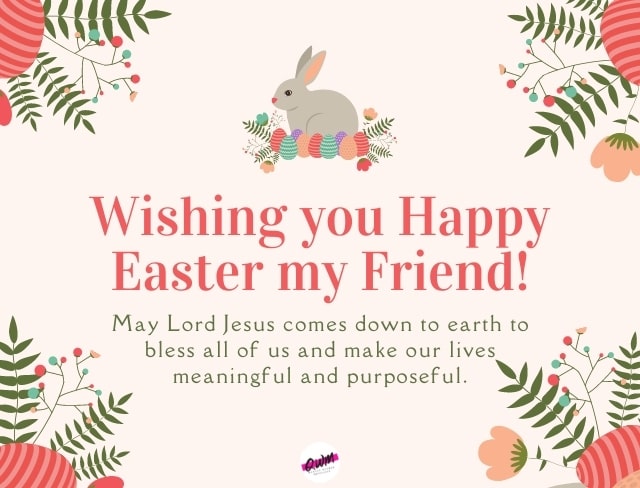 May Jesus forgive all of us for accident and intentional sins. May the all almighty suck out all the malice from our hearts and fill it with utter bliss and gratefulness. Happy Easter to my lovely friends!
Also see: Happy Easter Mom Wishes
I hope the divine and frolic vibes of the Easter festival blossom every aspect of your lives and fill you with unconditional love, outrageous joy, and a meaningful purpose. Happy Easter to all my friends!
On the mesmerizing and godly day of Easter, May Lord Jesus comes down to earth to bless all of us and make our lives meaningful and purposeful. Wishing a wonderful and magical easter to all my lovely friends!
Also see: Happy Easter Dad Wishes
You are my best friend and always will be. I wish this Easter clear and clean you out from all the old cycles of confusion and betrays. May you start a new life with new hope and zest! Wishing you happy Easter my friend!
In every circumstance you were always there for me holding me up. You are nice and good heart friend. I wish may you have so many blessings on this Easter and with all the years you get more. Happy Easter my sweet friend!
Also see: Happy Easter Uncle Wishes
You have never deceived me; a friend like you is no more than a treasure. I like your company and forever. Wishing you happy Easter! May you be successful in every phase of life!
You are the genuine person I have ever seen in my life. You always say the truth without caring whether it could hurt someone. And this is what I like about you. May you always have courage to follow your heart! Happy Easter my courageous friend!
Happy zestful Easter my friend! May you have so many of so many things in your life and never have the lessness of anything! May you always believe in Jesus Christ!
Also see: Happy Easter My Love Wishes
Easter Messages for Family
My easter celebration can never be happening and complete without the inclusion of my crazy family members. You guys are the backbone of any celebration. God bless you all and happy easter to my quirky family!
The godly and blissful day of easter has arrived and I want all my loved ones to come together and pray for everything we have in life. Let's praise the almighty today and happy easter to everyone!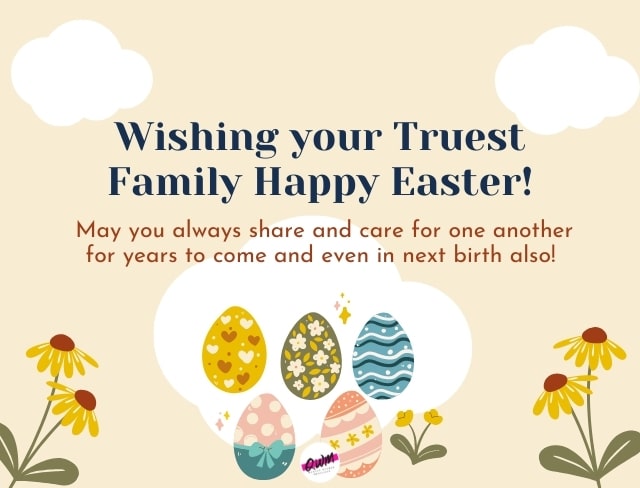 Easter is not only about gobbling scrumptious food and chocolates or stealing candies sneakily but also about throwing away all your pain, sorrow, and failures. Let's remember the sacrifices of Jesus Christ and happy resurrection day!
Also see: Happy Easter Aunt Wishes
The gist of the easter celebration is to be empathetic to all the living creatures of this world and do everything in your capacity to reduce their pain. With all my lovely members, on the occasion of Easter, I want to take a vow to spread umpteen joy in the lives of everyone. Happy easter!
On this alluring day of the Easter festival, let's hold our hands together and be thankful to the lord for all the relations, richness, and togetherness we have because of his blessings. Happy Easter to all my lovely family members!
Also see: Happy Easter Wife Wishes
Family is important in life. When you have a family you have everything. Wishing your family happiest Easter with great feast and Easter surprises! May your family always be in joy and together!
In every condition our family supports us. When you have the support of family then you can become successful in anything. Wishing happy Easter to your good heart family! May you always have love!
Also see: Happy Easter Nephew Wishes
Family is that ocean whose love never ends for its members. When you have a sweet family, every joy doubles up. Happy joyous Easter to your wonderful family! May you always see the sun rise together!
Wishing your truest family happy Easter! May you always share and care for one another for years to come and even in next birth also!
Happy Easter to your super funny and serious family! When you have such combo of family then you don't have to worry about anything! Because such families always make life fun. Love you all.
Also see: Easter Bunny Images
Funny Easter Wishes for Family and Friends
To all my friends and family members, I am clearly saying that I am not going to wear the costume of the easter bunny this year. All the kids of the neighborhood teases me a lot when I wear that terrible costume. Jokes apart, happy easter to my crazy friends and lovely family members!
Hey guys, my only hearty wish on easter is to steal all the delectable candies and gobble them alone. I know I will get fat but I will work out to compensate. Happy Easter to my quirky friends and family members who are a big-time candy lovers.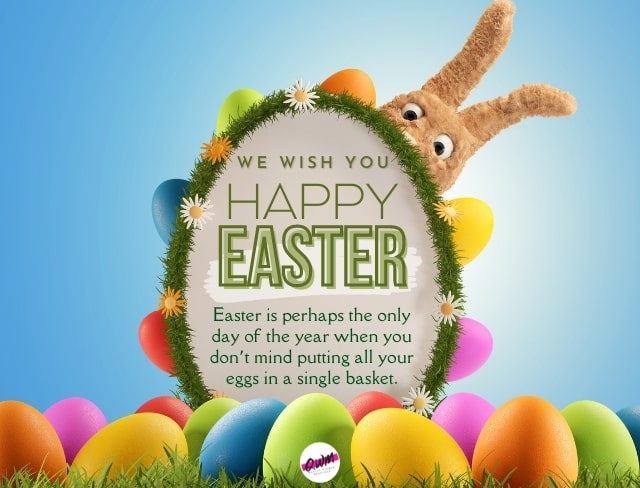 Everyone says, easter festival is about gratefulness, spreading love and kindness. But I say, there is no harm in sharing your candies with everyone. Happy Easter to my near and dear ones!
Also see: Happy Easter Husband Wishes
My whole life has been a total lie because I haven't seen a single bunny laying easter eggs. All I see are chicks everywhere during easter. Wishing you all a marvelous and unforgettable easter!
The reason I love Easter so much is because I get to eat as many dishes and candies as I want and don't get any scolding from my parents. May Easter comes at least 12 times a year. Wish you all a mirthful easter!
Also see: Happy Easter Grandma Wishes
When you have a close knit family, you don't have privacy and all family members know about all ex-girlfriends' phone numbers. Happy Easter lovely family and friends!
The problem of having a close friend is that they even come to your bathroom and this is intolerable. Such closeness hurts sometimes. Wishing you happy Easter my such close friend!
Also see: Happy Easter Sunday Images
Aloneness is bliss and when you have so many members in family, it really becomes hard to be alone. Family sometimes is like a chewing-gum. It never gets off. Happy Easter my chewing-gum family!
You can share everything with your friends but you must never share your under garments with them. Keep them always to yourself. Happy Easter my friends!
True friends never lie. And this is the wrong quote that most true friends have about each other. I hope you won't lie my friend! Wishing you happy ecstatic Easter!
Also see: Funny Easter Memes
Easter Wishes for Family and Friends during Covid
For me, celebrating easter is as significant as the safety and well-being of my loved ones. I request you all to celebrate easter at the comfort of your home during the pandemic. We all will surely meet once this ends. Happy Easter to my friends and family members!
Never in my life, I could imagine that a small virus can stop the pace of the whole world. I want the good health and well-being of my loved ones more than anything else. Let's stay at home this Easter and pray for everyone in trouble. Happy easter!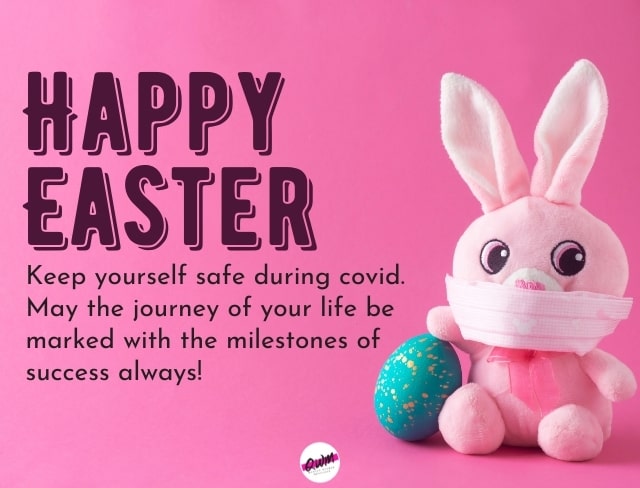 In such a horrific time, there is no bigger magic than being alive and in a perfectly healthy condition. I won't be able to celebrate with you all but I will make sure you all get to eat yummy Easter candies. Have a blissful Easter celebration!
Also see: Happy Easter Son Messages
May Jesus Christ protects you all from the horrendous pandemic and gives you ample strength to get over from any pain or unwanted situations. Be grateful to God that you are still safe. Happy Easter to my lovely friends and family members!
I am badly missing the heck out of you. This is the first time I will celebrate easter without the presence of my near and dear ones. I wish this pandemic ends quickly and we all emerge out of it safely. Happy Easter to everyone and missing you badly!
Also see: Happy Easter Prayers
May wishes of love and hope never stop during covid! All have safe and happy Easter! Wishing you and your family and friend happy Easter! Love you all.
Wishing you and your family and friends truly happy Easter! May you always have what you desire in your life! May your all manifestations come true before your eyes! And be safe during covid.
Also see: Best Easter Bible Verses
May you enjoy this Easter with all your heart with family and friends! May you have the big blast of great feast enjoying all the tastes! Wishing happy Easter to everyone! And please never compromise with your health during covid. Cover your face with mask always during covid.
May the wind of love and friendship spread around the world during this Easter! May darks and evils come to their end! May reign of Gods always be! Wishing family and friends joyous Easter! Never compromise with your health during covid on the occasion of festival.
Wishing happy and lovely Easter to your family and friends! Keep yourself safe during covid. May the journey of your life be marked with the milestones of success always!
You May Also Like: