Easter Wishes for Coworkers: Your colleagues are your second family and they also deserve equal love, respect, and support from you. You spend almost half of your life working with colleagues and share every high and low with them. Then why not share the vibes and greetings of any festival with them? Easter is on the brink of arrival and you should amp up the exciting vibes of your coworkers by sending them peppy Easter messages to colleagues and their families. They would be more than happy to receive greetings from you and revert back with the same zeal.
Easter Wishes to Colleagues
May the holy festival of Easter recuperate your mind, body, and soul so that you can pursue your goals with godly energy and a clear conscience. Happy Easter to my dedicated coworker!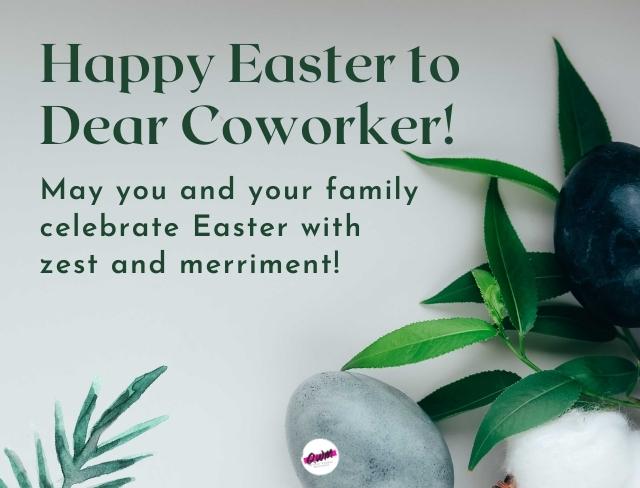 Also see: Religious Easter Messages
May this Easter turns out to be so successful for you that you become a shining face in the organization as well as in the corporate world. Happy Easter to my diligent colleague and god bless you with massive success and wealth!
Also see: Funny Easter Captions
Easter is the festival of gratitude and giving. Give as much as you can to the poor and God will return everything manifold times to you. Express gratitude and God's mercy will always be pouring on you. Wish you a blessed Easter!
Also see: Happy Easter Quotes
Tis is the season of the commemoration of Jesus's resurrection and removing malice from our hearts. I wish you earth-shattering success and immense joy and pleasures on Easter. Have a wonderful Easter celebration with your family, my dearest coworker!
Also see: Happy Easter Images 2022
Easter not only brings new hopes, happiness, fun, and opportunities in life but also it brings a fresh perspective on life that everything can be started again if you are willing enough. May Easter fulfill all your dormant wishes. Have a joyous Easter!
Also see: Easter Love Messages
Hey colleague, please don't start working on Easter and spend all your time with loved ones so that you can have bundles of memory to laugh upon and become nostalgic when you get old. I wish the Easter festival brings monumental success and fame to your life. Happy Easter to you and your family!
Also see: Easter Bunny Wishes
Easter is the best time to take a break from monotonous work life and spend some quality time with your friends and family members. Trust me, you will love it and thank me later. Sending warm Easter wishes to you and your family!
Also see: Easter Bunny Images
May the divinity and soulful vibes of the Easter festival blossoms every aspect of your life and fill it with new purposes and passions. Spread love and peace everywhere and don't forget to eat the Easter cake I am sending. Wishing all my dearest colleagues a happy Easter!
Also see: Easter Wishes for Family and Friends
Happy Easter my hard working colleague! You are an inspiration to me and I am very much influenced by you. May you and your family celebrate Easter with zest and merriment!
Also see: Happy Easter Sunday Images
Happy joyous Easter my good colleague! You are truly an intelligent man for your work and I like the way you work. May you go ahead in your career and make remarkable progress!
Also see: Happy Easter Prayers
May this Easter bring joy, light and abundance to you and your family! It is the festival of great importance! May Christ always show light in your path!
Also see: Best Easter Bible Verses
May you resurrect from your failures and bring newness to your life when you are surrounded with chaos! Wishing happy Easter my coolest colleague! I like working with you.
Also see: Happy Funny Easter Memes
May you never forget the Easter spirit and message of Jesus Christ for us! He teaches about love, kindness, faith and belief. May you have all these! May your family enjoy the Easter feast always! Happy Easter to my simple colleague!
Also see: Easter Puns and Jokes
Happy rocking Easter to my awesome colleague who is helping and supporting! You are a good human. May you and your family dance and sing always in Easter celebration! Always there for you.
Also see: Holy Week Quotes
You have unshaken determination and for that I am a fan of you. Wishing happy jovial Easter to you! May you never fall in life and Jesus Christ always make way for you! Always be successful!
Also see: Easter Monday Wishes
You are quiet, listening and well speaking man and I like your demeanor, the way you are. Wishing happy Easter to you! May Christ always fill your buckets with abundance of everything!
You May Also Like: