Belated Easter Wishes: The most terrible feeling in the world is not greeting your friends, family members, or love of life on time on Crucial occasions like Easter, Christmas, or birthdays. In the hustle-bustle of hyper-connected life, anyone can forget to wish their loved ones on a crucial occasion like Easter but the mistake can be rectified by sending belated Easter wishes and greetings to your near and dear ones. Check out the most touching belated Easter wishes which you can use to greet and ask forgiveness from your friends and family members!
Happy Belated Easter Wishes
I am deeply sorry for all my loved ones and acquaintances for sending Easter greetings so late. I was entangled in a critical situation that gobbled all my time. Once again, I am sorry and happy belated Easter!
Hey dear, I am pretty sure your Easter weekend was packed with zingy celebration, eating a lot of cakes and chocolates, and capturing swoon-worthy memories. I am sorry for not wishing you on time. Belated Happy Easter!
The reason I didn't send Easter greetings to you early is because I don't want you to forget my wishes that why's I send them in the end. I hope you will forgive me and accept my heartfelt late Easter wishes!
Wishing you a Happy Easter so lately is not at all my fault. I set the reminder but my cell phone got discharged at a crucial moment. So, blame my phone not me. Belated happy Easter and I wish you had a scintillating celebration!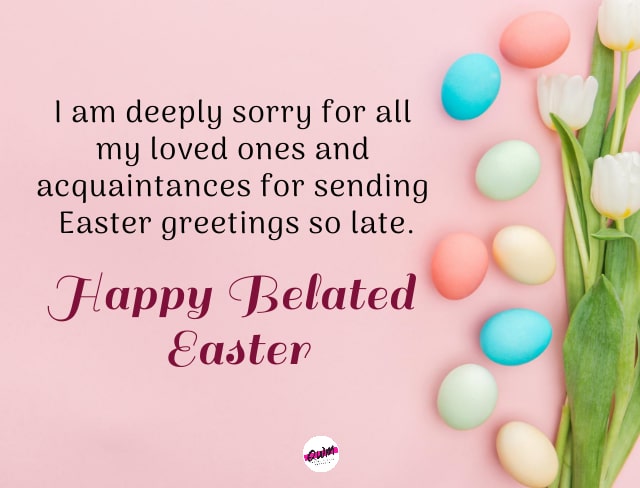 Sending you Easter greetings so late was never my intention but it happened accidentally. I apologize for breaking your heart but I know you will forgive me for sure. Belated Happy Easter!
Just when I thought everything in my life is sorted and no one is hurt because of me, I forgot to wish you on Easter. How can I miss sending Easter wishes to my best buddy? I am extremely sorry and happy belated Easter!
Belated Happy Easter to all my near and dear ones who are not angry with me in spite of getting late Easter greetings. I genuinely wish you had a gobsmacking Easter celebration with friends and family!
What I did is unforgivable and terrible. I mean who misses to wish the dearest ones that too on Easter celebration? I seriously deserve some punishment and scoldings. Please forgive me for one last time and accept my heartfelt late Easter wishes!
I should be the first one to wish my family members Happy Easter but the hilarious thing is I am the last one! Cut my pocket money, don't give me chocolates but accept my belated Easter wishes!
Wishing you happy belated Easter! My phone was down so I could not wish you. May your life always be with fortune! May Easter be joyous for you always!
Happy belated lovely Easter to you dear! May you have optimism as your companion in your life! May positivity always surround you! Heed the Christ's message.
From the bottom of my heart wishing you happy belated lovely Easter to you! May God make you wise and wonderful! May your life be complains less! Easter hugs and blessings to you also!
You are humble and cherished. Wishing happy belated Easter dear! Sorry I could not wish you on time. But I always pray to Jesus Christ for your betterment. May Easter fill your life with kindness and love!
Wishing belated great Easter to you dear! May you always go forward in life as Jesus Christ! May you never be afraid of difficulties! May you always be faithful! Sorry for not wishing you Easter on time. I know you can forgive me.
Wishing belated happy Easter dear! May hope always be like Sun's rays in your life rising each day! May Jesus Christ bless you forever! Forgive me for not wishing on Easter on time. Next time I be on time!
May you always have love in your life and spread it wherever you go! This is Jesus Christ's message. May God be protective for you always! I know you love me. That's why you forgive me for not wishing Easter on time.
Happy enjoying belated Easter to you lovely! Whole night was in sleep. Sorry for not wishing you Easter dear! Forgive me. May you always ride on your conditions without compromises! Make your life as you want to. May God give you unshattering will to reign!
You are a humble person. I like you and wish for all the good things for you. May you never be sad in your life! May Christ never let you weep! Wishing happy belated Easter to you! Forgive me this time.
With all the warmth of my heart wishing happiest belated Easter my friend! May you never lose hope as Jesus Christ always has said! May your life always be colorful! You are a genius man! Forgive me for wishing Easter late. I be on time next time.