Happy Easter Dad: This Easter, make your father's heart brim with love and sentiments, and filly his life with sheer blessings by sending him religious Easter messages for father and giving him the best surprise of the Easter festival. Your father will be more than delighted to receive heart-warming greetings from you!
Happy Easter Dad Messages
Dear dad, your stature in my life is no less than almighty. On the pious occasion of Easter, I want to commence the Easter celebration by wishing you before anyone else. May this Easter turns out to be quite lucky for you personally and professionally. Happy Easter, father!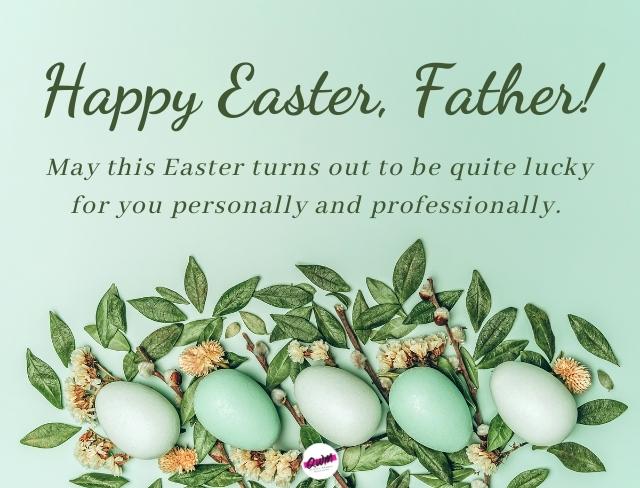 Also see: Easter Wishes for Family and Friends
May the holiest spirit of the Easter festival bring oodles of joy and freshness to your monotonous life. May almighty bless you with fine conscience, great health, and opulence to help the needy ones. Happy Easter, dad!
Also see: Funny Easter Captions
To my dearest and superhero dad, thank you so much for making every Easter celebration so gripping and swoon-worthy for us. You are the real-life Easter bunny for us which proves it is not a mythical figure. Wishing you a mirthful Easter, father!
Also see: Happy Easter Quotes
May this Easter festival and spring season also sprout the seeds of magnanimity, spirituality, and mirth in your heart. Have a jazzy and exuberant Easter celebration, father!
Also see: Happy Easter Prayers
Hey dad, as long as your hand is on my head, I can celebrate Easter in the simplest way and still e the happiest kid in the street. May this Easter brings a tornado of life-changing moments in your life. Happy Easter to my lovely father!
Also see: Happy Easter Wishes
Easter Wishes for Father
You are so much for us father. You are determined and always dedicated to your work. We are really proud of you for giving and providing everything to us and leaving no stone unturned for our well being. May we never lose you, father! Wishing you happy Easter!
Also see: Easter Bunny Wishes
You are soft spoken and emotional. And being your daughters we so much adore you, father. May no tear come from your eyes! May Christ always show you the right path! May Easter always be blessings for you! Happy Easter to our emotional father!
Also see: Easter Bunny Images
Nothing is without you, father. You are a disciplined man and same values you have instilled in us. Wishing happy Easter to our lovely father! May you always live with Easter spirit! May Christ always welcome you in his abode! Happy Easter father!
Also see: Easter Love Messages
You are our good and great father. For your daughters you have spent sleepless nights working for hours. I so much admire you, father. May you have rest and peace in your life! May Christ fill your life with abundance! Happy Easter dear dad!
Also see: Easter Puns and Jokes
May you have no lessness of anything! May you always be on the Christ's shown path! May Easter always be a joyous treat for you! Happy Easter father! As your children, we are always there for you.
You May Also Like: