Easter Wishes for Grandmother: Blessed are those who have lovely grandparents to shower little and massive happiness of life, give unconditional love, and join hands to plan for an amazing festival celebration. If you can recall the previous memories of the Easter celebration with your grandparents, the memories of mouth-watering dishes, glitter, and sweet moments must be hovering in your mind. This Easter, don't hold back in expressing love to your grandmother by sending heartfelt happy Easter grandma wishes and quotes to her and celebrate Easter in a terrific way!
Happy Easter Grandma Wishes
When someone has such a loving and cheerful grandmother, every day of life is more than a heavenly celebration. Hey grandma, I just love celebrating Easter with you and am mad for your homemade flavorsome dishes. Happy Easter, grandma!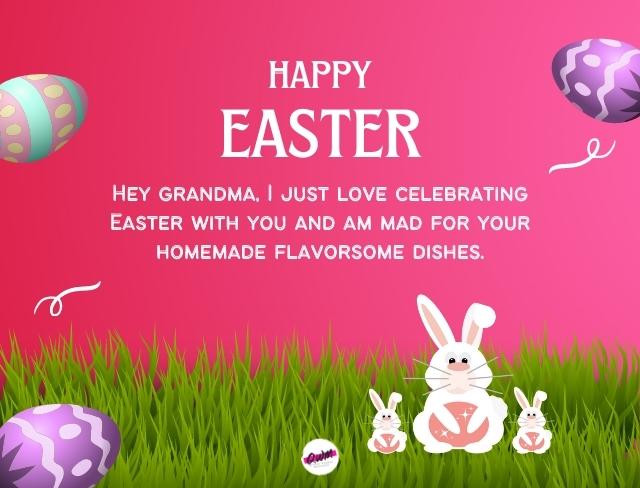 Also see: Religious Easter Messages
May the divine festival of Easter amplify your longevity and health by a multitude of times and I get to celebrate 100 more years of Easter festival with you. I love you grandmother and happy Easter!
Also see: Funny Easter Captions
Hey grandmother, you have done much to make sure we enjoy and savor every moment of the Easter celebration and create enchanting memories. Now is our time to make the Easter festival super special for you. May Easter establish peace and happiness in your life!
Also see: Easter Bunny Wishes
Dear grandma, I sincerely wish you have a rocking Easter celebration because I know you don't like to celebrate festivals serenely. May Easter renew your passions and the blessings of the almighty keep you in great physical condition. Happy Easter, grandma!
Also see: Easter Wishes for Family and Friends
If it were in my hands, I would have celebrated all the previous Easter festivals with you because you are the best when it comes to making an Easter celebration perfect. Happy Easter to my Sweet grandmother!
Also see: Happy Easter Sunday Images
Two things are outrageously beautiful in this world: the spring season and the smile of my grandmother. Happy Easter to my mushy grandma! God bless you with amazing health, peace, and happiness.
Also see: Happy Easter Prayers
I love you grandma. You are sweet and cute. May you always be healthy and spreading joy! May Jesus Christ always protect you! Wishing happy Easter my lovely grandma!
Also see: Easter Love Messages
You are an awesome and cool grandmother. I always take care of you. May you never get alone in your life! May Christ always bestow kindness and faithful company in your life! Happy Easter dear grandmother!
Also see: Happy Easter Quotes
Wishing my cutest grandma holy Easter! May Christ very much take care of you! May you always have support of your ones! Happy Easter and love to you!
Also see: Happy Easter Images
May Easter always make your life surprising! May Christ always be merciful for you! And I am always there for you too. Wishing happy Easter to my cute grandma!
Also see: Easter Bunny Images
You are very talkative grandmother and yet with all my heart I like you. May smile never vanish from your life! May God give double strength to you in this age! Happy Easter my strong grandmother!
Also see: Best Easter Bible Verses
You are a pious figure for me my dear grandmother. You are kind and have always been a lady with vision. You lead your life perfectly. May the ground you walk never be hollow! May Jesus Christ bless you with all what you desire! Wishing happy Easter my perfect grandmother!
You May Also Like: