Easter Love Messages: Easter is not just the festival of Jesus Christ's resurrection commemoration but also is the festival of love, peace, humanity, and truth. Throughout his life, Jesus spread the message of helping fellow brothers, giving love to everyone equally, and believing in the power of the lord, wherever he went. Every festival, be it Easter, Christmas, or thanksgiving, feels perfect when the love of your life is with you to celebrate it with full zing. When you send lovely easter messages to everyone in your contact, why won't you send the easter greetings to your better half? Check out the romance-oozing collection of happy easter my love wishes and easter love messages that will surely fill your partner's day with cheer!
Happy Easter Love Messages
I am more than cheerful to wish a happy and jovial easter to the love of my life. Since the day you have entered my life, every aspect of it has been resurrected completely. Let's celebrate easter like there is no tomorrow!
It's because of the divine blessings of Jesus Christ we are still together and ready to be marinated in the vibrant spirit of the easter festival. May this easter blossoms every aspect of your life. Happy Easter my love!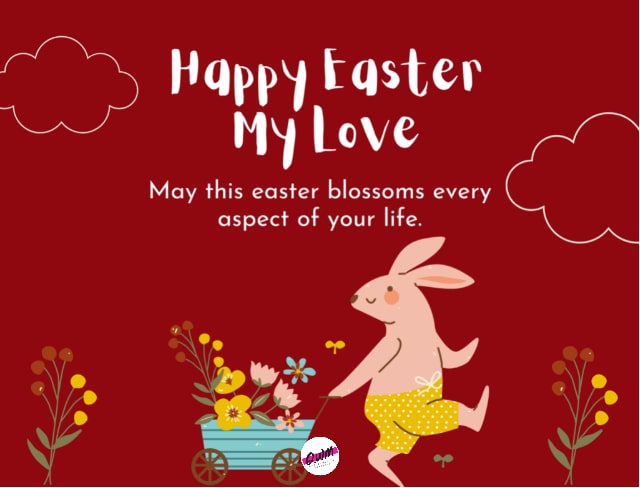 Wishing a happy and thrilling easter to the god-sent angel in my life. You have made every fiber of my life beautiful and I wish nothing more than immense prosperity and peace in your life. Happy Easter to the love of my life!
May the serenity and beauty of the spring and Easter festival eradicate even the tiniest malice in your heart and fill it with the divinity and grace of the lord. Happy Easter to the biggest blessing of god to me. I love you!
I am utterly thankful to Jesus Christ for giving me an opportunity to celebrate the beautiful and soulful festival of easter with the love of my life. I wish with the arrival of easter, good luck, joy, and opulence also enter your life. Happy Easter my love!
I see the grace of the honesty in your eyes that makes me love you more every day with all my heart my love. Happy Easter to you! May the lord have his grace on you every time!
Easter is the great feast. My every day with you is feast and celebration. You bring warmth to my life and have filled me with love. Happy Easter my dear love!
In the light and in the dark I am with you. This is the message of God and this is the message of Easter. Wishing you all the love my life partner and happy Easter!
Everything is fun when you are in my arms. Easter is about forgetting past and living in the present. With you my present and future both secure. Wishing happy Easter my love!
Love is all that I have for you. Love is all that I want from you. I can't live without your love and I thank to God that he has sent you for me. Wishing happy Easter my love!
Also see: Happy Easter Wishes
Easter Love Messages for Boyfriend
Hey boyfriend, you are dearer to me than any luxury or any blessing of God. As long as I am in your arms, I don't need to go anywhere to experience heaven. You are the epitome of love and benevolence. Happy Easter to my sweet boyfriend!
Like Jesus was resurrected on easter, the love of my life was resurrected by God on this very same day. I am grateful to the Lord for giving me such a caring and supporting life partner who can do anything for me. Happy Easter to you, my sweet boyfriend!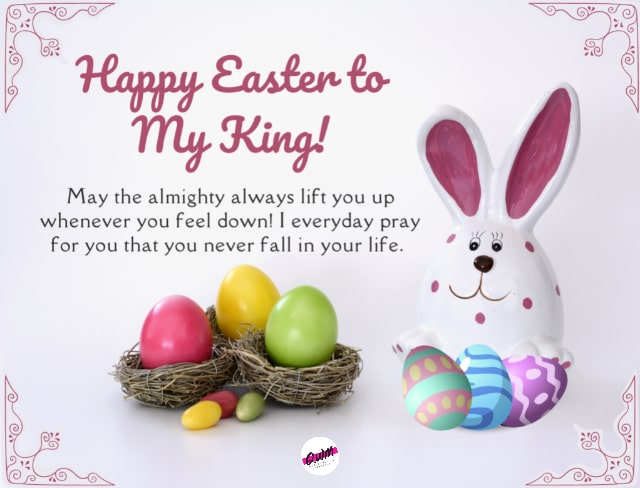 Dear boyfriend, on the beautiful occasion of Easter, I promise to be around you throughout my life, no matter what happens. Thank you for giving meaning to my life and embracing me the way I am. Happy Easter my love!
When you are by my side, every day of my life is no less than the Easter festival because every day I feel so alive and fresh. Thank you for pouring down all the love of the world on me. Happy Easter to my sweet boyfriend!
May our Easter celebration turn out to be so magnificent and exhilarating that the whole upcoming life becomes a blissful and joyous affair. I am glad I am going to celebrate Easter with my love. Happy Easter to you and your family!
Thank you for coming in my life and making it stable. You are my savior and love not for this life but for every life. I thank God every day for you that he has sent an angel for me. Wishing happy Easter my love! May God have watch over you!
You are the best man in my life and I am lucky that you are my boyfriend. Having a life partner like you is a blessing like this Easter festival which is also about eternal love. Wishing happy Easter my love!
With my folded hand I thank to God and bowing down to him that he has given me life and reason to live and love in all the benignness that he has showered on me. Happy Easter to my forever love!
Jesus has filled everyone's life with love and he has mine too. You are the embodiment of selfless love my life partner. Wishing you happy Easter my beautiful angel!
May the almighty always lift you up whenever you feel down! I everyday pray for you that you never fall in your life. Wishing happy Easter to my king!
Also see: Happy Easter Images
Easter Love Messages for Girlfriend
My easter celebration automatically becomes happening and vivacious affair when you hold my hands in yours and pray together. I thank Jesus for giving me such a lovely and pious girlfriend. Happy Easter to my lovely girlfriend!
It's my intense desire as well as hearty wish to celebrate every easter festival of my life with you only. With you, all the peace, love, and blessings of the world flow in my life. Happy Easter to the one and only love of my life!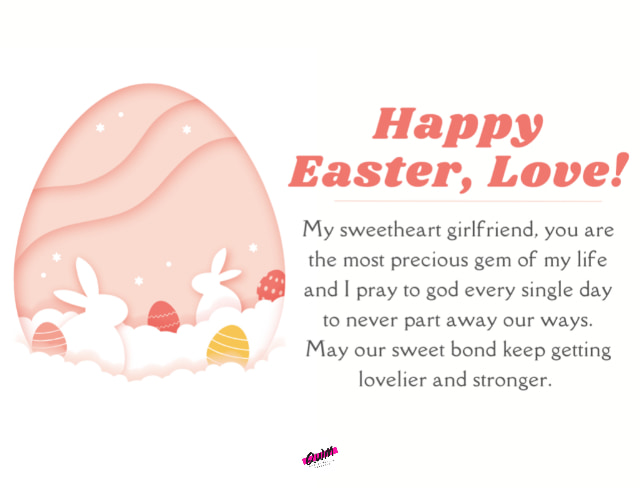 Happy Easter to the most pious, kind-hearted, and loving girlfriend in the world. I hope Jesus' most gleaming and blissful light keeps falling on you and may you never face the dearth of anything in life. Have a lovely Easter celebration!
My sweetheart girlfriend, you are the most precious gem of my life and I pray to god every single day to never part away our ways. May our sweet bond keep getting lovelier and stronger. Happy Easter, love!
May the grace of Jesus keep us together till the end of existence. May our love thrive and blossom by leaps and bounds and makes everyone around us cheerful and successful. Happy Easter to my forever sweetheart!
When you are in my life everything is calm and at peace like an ever flowing peaceful lake without thunder. The same Easter has brought me all the love of Jesus Christ and has given me hope and faith. Happy Easter my lovely girlfriend!
You are not just my girlfriend while a part of me that can never be separated as the existence of God from our life can never be. May Easter fill your world with all the happiness and blessings! Happy Easter my darling!
Our love is deep as my faith in god is deep. I love you with every piece of my nerve in the body. Wishing you happy Easter my queen! I pray that feast of Easter never end in your life.
The message of resurrection is the belief that God exists in real and true love also. You are my true love and I wish it become more strong with each day of passing. I believe in you firmly. May our bond never get shallow! Happy Easter my fairy!
All my prayers have been answered by God and one of them is you. I prayed to God to send me a loyal partner and love and he has sent you. I thank him and I thank you for filling my life with joy and ecstasy as this Easter is. Happy Easter my damsel!
Also see: Happy Easter Quotes
Easter Love Messages for Husband
To the most loving, caring, and wonderful husband in the world, happy easter, dear hubby! There is no person mesmerizing and lively than you. I want to spend all the moment and my next life only with you.
Baby, you are the sweetest and the most astounding blessing of Jesus to me. Any girl would be more than lucky to have you as a life partner but I am the luckiest one. Happy Easter to the sweetest husband ever!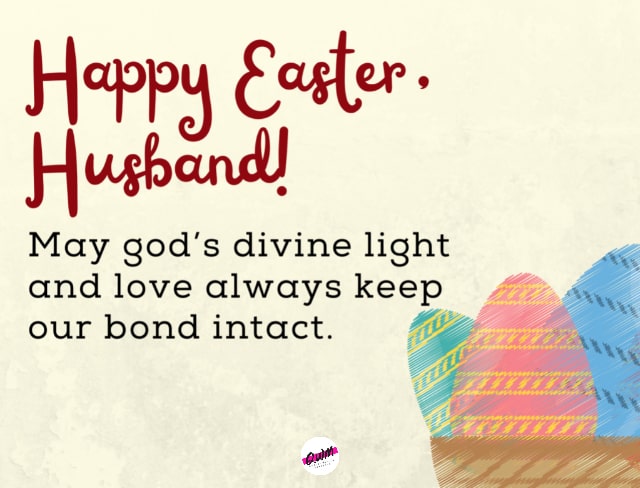 If Jesus is the king of the whole existence, you are the king of my heart which is no less than prevailing existence in size for you. May god's divine light and love always keep our bond intact. Happy Easter, husband!
Hey husband, I don't think any partner in the world would think and care about me as much as you do. I am literally thankful to almighty for giving my hands in your hands. Also thankful to you for all the love and pampering. Happy Easter to the sweetest husband ever!
There is a hidden message in the Easter festival that most of us never understand and that message is to keep resurrecting your spirit from the impact of evil. Thankfully, I have you as a lovely life partner who keeps my goodness alive. Happy Easter to the most supporting husband!
You have taken care of me in every way possible. As you promise on our marriage you never let the tears flow from eyes, you have paid this promise with your heart. Wishing happy Easter my dear husband! May Easter blessings forever be in your life!
You have always done unimaginable things for me to keep me happy. You have made me strong by giving me freedom to do what I love. You are the best husband in the world. And I pray May this Easter bring you new opportunities! Happy Easter my loyal husband!
Happy Easter to my lovely husband and an anchor through whom I always get hold. I don't know how to appreciate you but in every word I want to. You have removed emptiness in my life and brought me all the love I deserve. May Jesus Christ always hold you!
I don't know what is the exact definition of love but for me you are. I promise to be always there for you in every up and down. I pray that you never lose your path and never dwindle from the right. Wishing happy Easter my love!
May Easter fill your life with shower of blessings and boons! May it make you strong that you never lose hope in any situation of your life! Wishing my dearest husband happy Easter! Love you always!
Also see: Funny Easter Memes
Easter Love Messages for Wife
From the bottom of my heart, I wish a joyful and hopeful easter to the dearest person of life, my sweet wife. Thank you for choosing me as a life partner and making it an enchanting affair. God bless you with everything you deserve!
Dear wife, on the blissful occasion of the Easter festival, I promise my love for you will never change a bit. I will keep loving you with the same zeal and respect every decision you take. Happy Easter and may you be forever smiling and growing!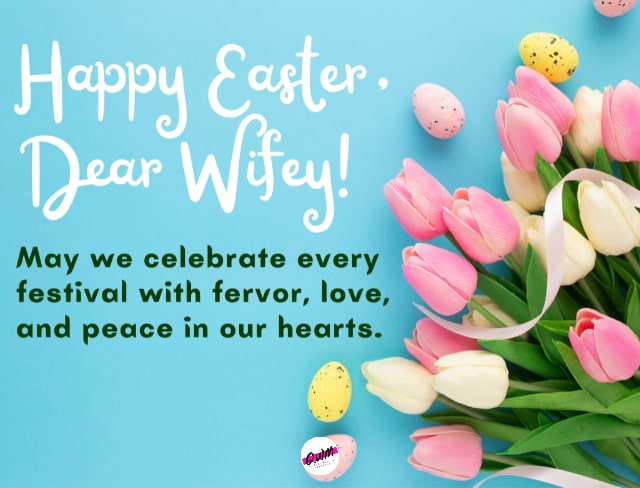 Hey sweetheart, if you remember we came into the relationship on the very same date and you are giving birth to a new life on the same date as well. It seems like easter is very lucky for both of us. Happy Easter, my darling. May our love always rise and shine in life!
My apple of eyes, it's because of you my faith in Jesus got consolidated and my love for you become more selfless and unconditional. May we celebrate every festival with fervor, love, and peace in our hearts. Happy Easter, wife!
On the utterly special occasion of Easter, I want to thank you for being my unflinching support and the biggest source of inspiration. May the mighty power of Jesus always fill our hearts with gratitude and be tied with the thread of love. Happy Easter to my sweet wife!
You are my wife, a woman whom I admire with everything and an incomparable partner that I always want to be with for entirety of my life. Happy Easter my beautiful wife!
When I am near you, I feel you and when I am far from you, yet I feel you. Our bond is like deep water, always connected and true. I wish May your every wound get healed if they ever happen to you. May God keep you safe always! Happy Easter my sweet wife!
You are the magic that I want to happen every minute because it keeps me surprise and make you love much with everlasting want for you. May our love never end in sadness and always be filled with spirit of Easter! Happy Easter my awesome wife!
You have fulfilled your every vow of marriage as you have promised on the day of marriage. The first day when I saw you, I fell in love with you for never coming back. I know you never leave me and I promise I am always for you. Wishing happy Easter my cutest wife! May this Easter bring you everything what you desire!
Happiest Easter to my ever glowing wife who is loyal, honest and faithful! Without you, I am incomplete. I thank you in every for bringing stability, peace and zest in my life. You are the best wife in the world.
You May Also See: