Easter Wishes for Son: Festival brings all the near and dear ones together but it's the kids who inject liveliness and frolic vibes on any occasion. The celebration of Easter becomes more joyous when your lovely son keeps looking for the basket filled with easter chocolate eggs and goodies along with a sweet easter greeting card that brings a smile to his face instantly. Below is the most alluring compilation of easter messages for son that will help you to make your son's Easter celebration more fabulous and memorable.
Easter Messages for Son
Dear son, you are the real life Easter bunny for us who spread sheer joy and exciting vibes in everyone's life. Wishing happy easter to the successor of our family. May you always be happy go lucky person in life!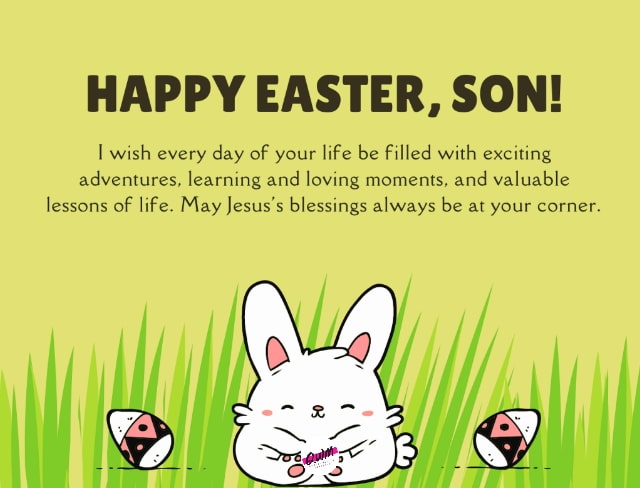 Also see: Religious Easter Messages
Hey son, on the blissful occasion of Easter, I wish every day of your life be filled with exciting adventures, learning and loving moments, and valuable lessons of life. May Jesus's blessings always be at your corner. Happy easter son!
Sending the most tight hugs, warmest wishes, and the sweetest blessings to my one and only son. I just want to tell you that you will always be in my heart and you will surely make me proud one day. May you enjoy the stunning occasion of easter to the fullest!
Also see: Funny Easter Captions
Hey son, if you want to eat all the easter chocolate eggs and sweets, you have to leave all your work and come to your father to give a sweet huge which I am craving for a long time. Let's celebrate Easter like the good old days. Happy Easter to my lovely son!
Dear son, I consider myself more than lucky to have a son like you who cares so much about his parents that no one could do that even in the most vivid dreams. Thank you for being such an obedient and ideal son. Happy Easter, my little champion!
Also see: Easter Bunny Wishes
On the soulful occasion of Easter, I want to sprinkle all the blessings, good luck, and cheer on my notorious but wonderful son who can make anyone smile instantly. Happy Easter to my real-life Easter bunny!
I don't have the right and adequate words to express the immense joy which I have in my life because of my son. Anything you do makes me delightful and soothe. May you have a fabulous Easter celebration son!
Also see: Easter Wishes for Family and Friends
With all the gifts, chocolates, goodies, and blessings packed in a basket, I want to gift it to you like the good old days and would like to see your cute surprising face. Happy Easter to my son with oodles of blessings and best wishes!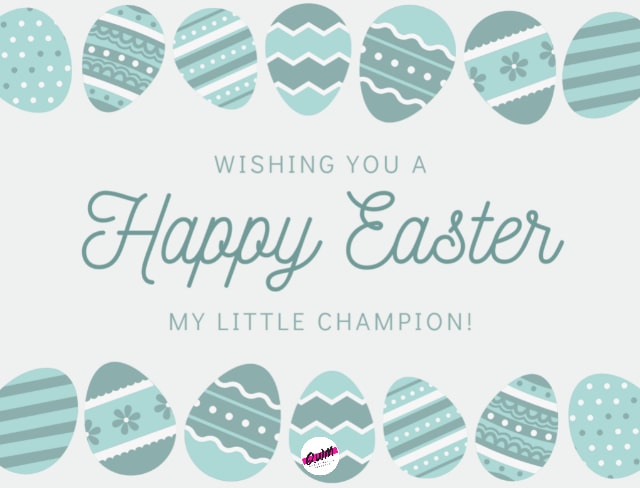 Every easter I thank god for giving me such a bubbly and kind-hearted son. Your quirky acts and mischievous smile bring exuberant vibes to our house that I never want them to leave. Happy Easter, son!
Also see: Happy Easter Sunday Images
May the cheerful and blissful festival of easter surround your life with so much positivity, peace, and inspiration that you utilize every moment of your life for the betterment of needy ones. Happy easter son and god bless you with everything you deserve and desire.
Happy Easter Wishes for Son
Love you my son. You are a beautiful angel of mine and I want you to go ahead and touch the stars of your dreams. Wishing you happy Easter my good son!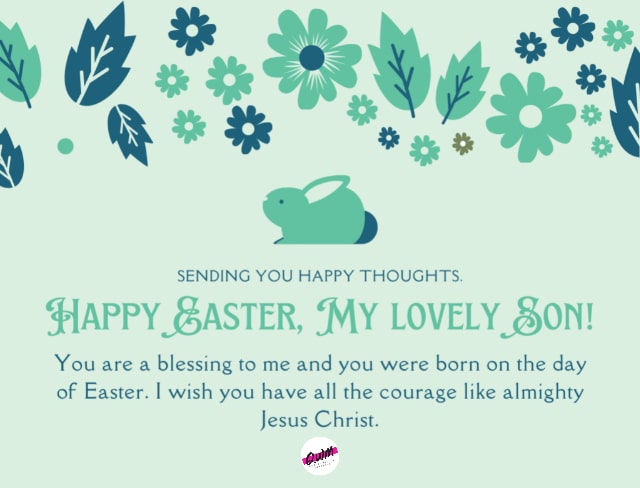 Nothing is without you so sweet. Always have hope and never get afraid of impossible. You are my best son. As Jesus Christ resurrect, you always from the problems. Wishing happy Easter to my sweetest son!
Also see: Easter Bunny Images
You are a blessing to me and you were born on the day of Easter. I wish you have all the courage like almighty Jesus Christ. Wishing happy Easter to my lovely son!
Easter is the message of renew and staring again. Whenever you feel down think of this great religious festival and its message and you will always be at your top. Wishing happy Easter to my daring son!
Also see: Happy Easter Quotes
Life is good when you pave it rightfully. I hope and pray you never lose your path and Jesus Christ always guide you. Wishing happy Easter to my honest son!
May everything in your life get beautiful! May your boat take you to your final destination! Good luck and lots of prayers for you. Wishing happiest Easter to my curious son!
Also see: Happy Easter Prayers
Jesus Christ always tells to have faith and belief in yourself because he held it for his last day on this earth. That's why he paved the way for everyone's salvation and upliftment. May you also never lose faith and belief ever in life! Wishing happy Easter my son!
I wish you always have smile on your face and serene season of spring never end in your life. May you always have the wealth of emotional warmth! Wishing happy Easter my dearest son!
Also see: Best Funny Easter Memes
May you always enjoy the Easter feast! May Easter end all the hungers in your life and bring you rest always! Wishing happiest Easter to my forever lovable son!
May you never be afraid of failures! May you always rise from the despair! May you always be determined in all the efforts of your life! Wishing happy Easter to my cutest son!
You May Also Like: