Christmas Wishes for Students: Exchanging greetings on festivals like Christmas is quite a prevalent norm across the world. On Christmas, students greet their teachers and expect minimum holiday work from them, while teachers also wish their students and tease them by giving extra holiday work. This sweet banter between teachers-students makes the Christmas celebration even sweeter. Through Christmas greetings, students can express gratitude and respect towards teachers for carving their future and thank them for encouragement. Here are some of the sweetest Merry Christmas wishes for students from teachers that teachers can use to greet students and make the festival delightful for them.
Merry Christmas wishes for students
I love to shower heaps of blessings and love to my very bright and dynamic students. Merry Christmas to you and your family!
Dear students, I want you to live and celebrate life like you celebrate the Christmas festival: fully, lively, and mirthfully. Merry Christmas and be successful in what you do!
Not many of you know that kids are the most beloved of Jesus Christ. I wish and pray that Jesus always showers his blessings and love to you, little tots. Merry Christmas to my cutest students.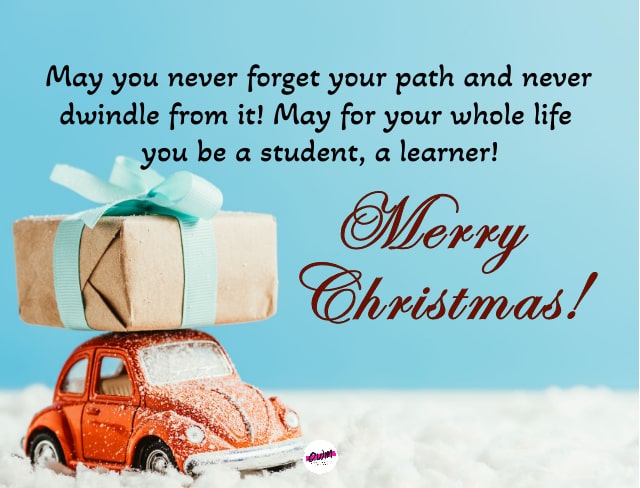 Tis the season of the Christmas holiday and I am pretty sure my students must be having a hell of a celebration's preparation. I wish knowledge, prosperity, and wisdom never leave your side. Merry Christmas!
Dear students, it's okay if you guys miss out on holiday projects and homework. You guys already have worked very hard and now is the time to ease off and enjoy Christmas. I wish you an energetic Christmas celebration!
Dear students, don't become so lethargic by getting completely engulfed in Christmas celebrations that going to school seems boring. Anyways, have fun and Merry Christmas!
Christmas not only teaches us to celebrate, live, and laugh with loved ones but also to spread peace, positivity, and love to everyone. I hope you got my messages, students. Merry Christmas to you and your family!
May you all feel the unconditional and unprecedented love of Jesus Christ on Christmas. May you feel the warmth of mother marry and get to witness miracles of Jesus Christ!
The way I can see, you guys have a very bright and successful future ahead. However, it's time to focus on Christmas and has outrageous fun with your loved ones. Merry Christmas to my jolliest students!
Celebrating life and its events is as important as succeeding in life. Just be alive in the moment and welcome everything life throws at you. I am surely going to miss my amazing students on Christmas. I hope you all have the most amazing and peaceful Christmas celebration!
Also see: Best Christmas Quotes
May you never forget your path and never dwindle from it! May for your whole life you be a student, a learner! Happy Christmas!
May days and nights never stop you, May also not winter and heat! May you go ahead and ahead! Happy Christmas to you students!
May the book you read the book you live! May it give you meaning of life! Merrier Christmas to every student!
May you understand all the meanings of life! May the playground of school be your playground of life! May you play well! Happy Christmas to everyone!
May you never surrender to adversity! May you never crawl in life! With your raised head you always go high. Happy Christmas to all students!
May you have great and close friendship! May you enjoy every moment of being a student! Happy Christmas!
May you be a best student of your favorite teacher! May you be a best student of your life! Happy Christmas to all the genius students!
May no comparison you ever do of yours! May you no lower yourself! Be a student of strength and determination all your life! Wishing every student happy Christmas!
Love what you have. Do something what you have. Never curse yourself. Being a student is blessing. Be for yourself. May you go up above the sky! Happy Christmas to every student!
Also see: Merry Christmas Poems
Merry Christmas Wishes for Students from Teacher
Dear students, I know you guys are super-excited about the Christmas festival and your collective excitement is quite justified. May you all have the best and the most memorable Christmas celebration. Merry Christmas, my lovely students!
My lovely students, I am more than mirthful to wish everyone a Merry Christmas. Celebrate the festival with deep fervor, safely, and don't trouble your parents much.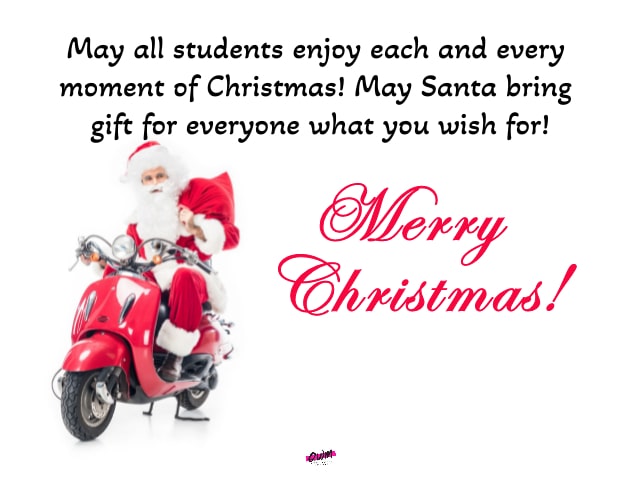 Christmas is the time to eat like a monster, be playful like a horse, and celebrate like there is no tomorrow. I wish Merry Christmas to my quarrelsome and chirpy students. I wish you enjoy the Christmas holidays to the fullest.
You all have always been excellent students and wonderful kids as well. I want to thank all of you for maintaining decorum and displaying great results in examinations. Merry Christmas to the best students ever!
Dearest students, I want to tell you that only the present moment is the truth and the future doesn't exist. So, live every moment of your life and Christmas festival with deep passion and excitement. Merry Christmas to all of you!
May you just not focus on the merit only while the quality of being meritorious! Happy Christmas to every student!
May you look and understand beyond the meaning! May you understand something deeper! May your life be magical! Happy Christmas to every student!
May all students enjoy each and every moment of Christmas! May Santa bring gift for everyone what you wish for! Happy Christmas!
May you have the love and discipline of teacher! May it grow you! May you have the blessings of Santa and Jesus too! Happy Christmas to all students!
May you follow the path of truth! May you walk on your values! May you be a personality of gentle character! Happy Christmas to all students!
You May Also Like