Thanksgiving Messages for Friends: Unquestionably, thanksgiving is way more than dining, wining, watching sports, and rib-tickling funny bones of everyone. The very gist of thanksgiving is counting your blessings and expressing gratitude for having them in life. And there cannot be any blessing greater than the blessing of having a trustworthy and life-long friend. We often hesitate to express our feelings to friends because we take them for granted. But not anymore. We have chalked out the most beautiful happy thanksgiving friend messages and emotional thanksgiving wishes for friends that will smoothly convey your blessings and feelings to your buddies about how grateful you are to have them!
Happy Thanksgiving Messages for Friends
Thanksgiving day seems more thankful because I have so many awesome friends to share my blessings and of course, thanksgiving turkey. I wish a vivacious thanksgiving day to all my dear friends!
My heart fills with thrill and boundless joy when someone asks me how grateful you are? I have so many friends in the form of blessings to be grateful. Thank you all for being wonderful friends for so many years and happy thanksgiving!
On the holy occasion of thanksgiving, I thank all my friends for adding fine values to my life and showering love and support incessantly. May you all have the best thanksgiving celebration of all time!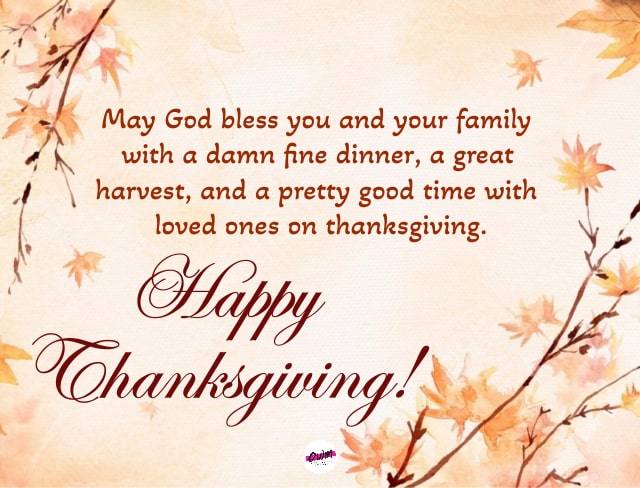 May God bless you and your family with a damn fine dinner, a great harvest, and a pretty good time with loved ones on thanksgiving. Happy Thanksgiving buddy!
Even till yet, I have meticulously cherished all the sweet memories of the past thanksgiving festivals that I have spent with my friends and their families. There would be nothing to be thankful for in my life without friends. Happy Thanksgiving to all my lovely friends!
Wishing you happy Thanksgiving my friend! Don't forget how we celebrated last time. This time fun is double. Love you!
You are my closest friend and only one. May we never be apart! Wishing you and your family happy Thanksgiving!
Life has its many turns. I wish may our friendship always be the real and eternal! Happy Thanksgiving my closest friend!
I love you and we know we are deep connected in the heart. For you I always wish the best. Happy Thanksgiving my real friend!
Since our childhood we are together and I wish we forever be. May no sadness come to you! Wishing you happy Thanksgiving!
Also see: Happy Thanksgiving Quotes
Emotional Thanksgiving Message To Friends
Hey buddies, I wish you the best leg piece of a turkey, flavorsome cranberry juice, and delectable pumpkin pie on thanksgiving. May your Thanksgiving day be filled with divine energy and joyous moments!
I don't have to find something to be thankful for on thanksgiving as I have my friends all the time with me to be thankful for. Happy Thanksgiving to all my best buddies!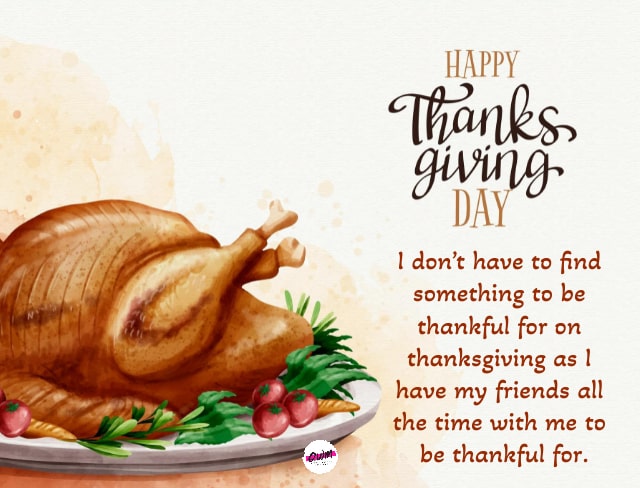 Hey friends, I think it's better to take out our old plus-size clothes. Because after the thanksgiving dinner, we will need them desperately anyway. Happy thanksgiving to my amazing friends!
May the serene season of harvest and gratefulness flood your life with uncountable blessings and intact friendship. I wish a happy thanksgiving to my kind-hearted friends!
If there is one thing I am always grateful for on Thanksgiving, it's the richness of quality friends in my life. May thanksgiving day remove any kind of malice from your hearts and make you more humble and grateful!
Don't you forget that I am always beside you whenever you need me. Wishing you happy Thanksgiving my friend!
You know that I only want you forever in my life as my friend. You are the only one I need. Wishing you happy Thanksgiving and so much love my beautiful friend!
No one is like you in this world and I feel lucky that you are only mine. Always achieve what you want to and be mine forever. Happy Thanksgiving my friend and to your family too!
In any moment of life where you feel that you need anything, just give me a call, I am just a second away. Wishing happy Thanksgiving my awesome friend!
You are cool. You are kind and humble and you know how to respect every relationship. You are really a very virtuous friend. Wishing you happy Thanksgiving! Enjoy and be in the festivity!
Also see: Religious Thanksgiving Messages
Happy Thanksgiving Quotes For Friends
For me, if gratitude had any kind of physical form, it would be my loyal and lovely friends. Sending you oodles of love and bundles of blessings on thanksgiving day!
Prayers, dinner, singing, watching t.v together and poking each other noses. What else do we need on thanksgiving to be grateful for? Happy thanksgiving buddies!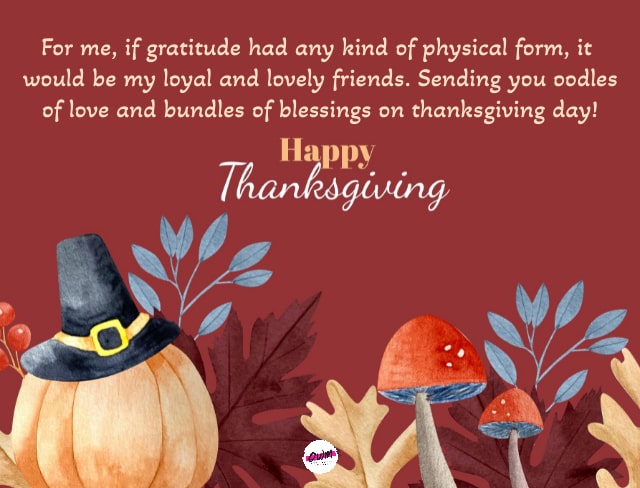 Dear friend, I count you as my biggest blessing doesn't mean you deserve to eat my share of turkey. Thank you for always being my untold support system. Happy Thanksgiving, buddy!
Whenever I pray on thanksgiving, I always mention the well-being, success, and opulence of the gems of my heart – my friends! You will always be in my heart. Happy Thanksgiving, friends!
Special friends deserve only extra special thanksgiving greetings. Your constant presence in my life is the most profound thing I am grateful for. Thank you friends for always simplifying my life. Happy Thanksgiving!
Nothing is as benign and pure as the relationship of friendship. It is more than anything. I have of yours. It is bliss. Happy Thanksgiving my dear friend!
A one intelligent and humble friend is far better than thousands of relatives! I love you my friend. Happy Thanksgiving!
When my heart beats and calls your name, you know that it is me; that is the real friendship even in silence and from miles of distance understands the remembrance of a friend. Happy Thanksgiving!
A best and close friend wants always best for you without any selfishness. Be for friendship there, not for means. Happy Thanksgiving my truest friend!
Although you have many flaws but for me you are perfect. Wishing from my heart happy Thanksgiving my best friend!
Also see: Funny Thanksgiving Quotes
Happy Thanksgiving Greetings For Friends
Dear friends, thanksgiving is all about celebrating the occasion with family members and my family is incomplete without you. I am lucky to have all of you as the biggest blessings. Happy Thanksgiving!
Even though we will be miles apart on thanksgiving, my love, blessings, and good wishes will reach you on time. You guys mean a lot in my life. Happy Thanksgiving to all my crazy friends!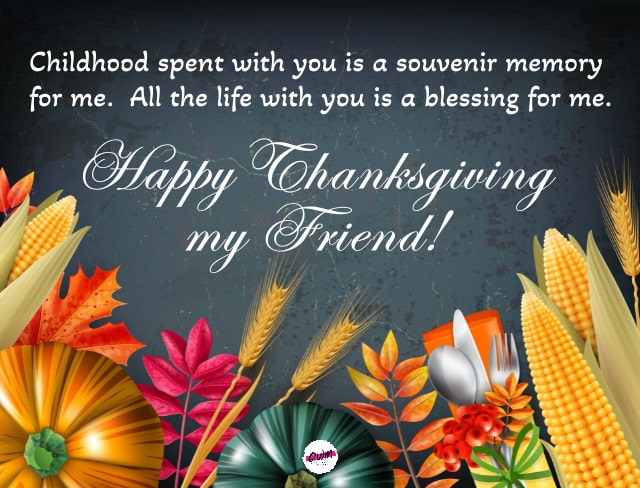 This thanksgiving, may all the obstructions in your life be eliminated and you get to experience the smooth and spine-tickling ride of life. I wish you and your family, happy thanksgiving!
In my opinion, the Numero UNO and the only thing that we all friends should be grateful for on thanksgiving is our years of undeterred friendship. I wish only happiness and positivity for all of you. Happy Thanksgiving!
Nothing delivers more joy than eating dinner with old friends on thanksgiving and insulting the hell out of them later. You guys are the rockers and rollers of my tiny life. Happy thanksgiving to my sweet friends!
I wish that you find a true and soulful life partner that keeps you always happy. Happy Thanksgiving my loveliest friend!
Childhood spent with you is a souvenir memory for me. All the life with you is a blessing for me. Happy Thanksgiving my friend!
You achieve everything in life and that would be the best gift for me from you to me. I always want to see you achieving. Wishing Happy Thanksgiving!
I pray that if ever you fall in your life, May you rise again and again to beat! Happy Thanksgiving my good heart friend!
Grow and grow and forever you grow in your life. May you never have a single drop of tear in your eyes except of love! Happy Thanksgiving my amazing friend!
Also see: Happy Thanksgiving Images
Thanksgiving Wishes for Friends and Family
As long as our sweet bond of friendship exists, I will continue to have thanksgiving dinner with my friends and family members, no matter where I will be. May the thanksgiving festival fill your life with glitter, gratefulness, and goodness.
Words can be deceptive but feelings cannot. My heartfelt thanksgiving wishes for is, a life packed with utter exciting moments and great friendships. Happy thanksgiving day, friends!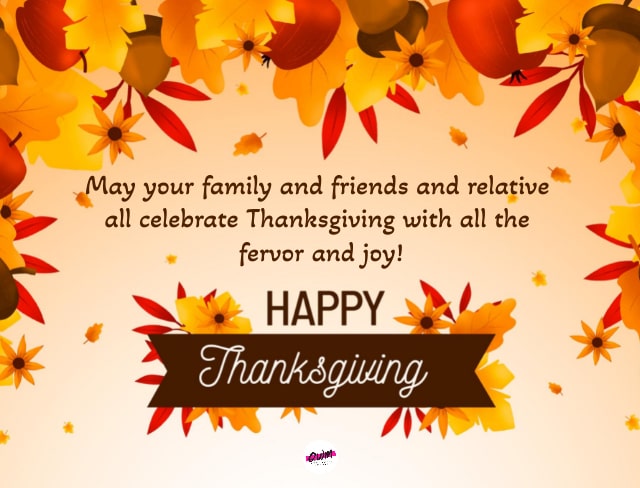 On such a beautiful and holy day of thanksgiving, may you have the most enticing and valuable thing in life. Oh, you already have my friendship. Have a splendid thanksgiving celebration!
Buddies, festivals have meaning because you are always there to celebrate and augment the joy of having them. May you all have a thanksgiving celebration full of love, respect, and gratitude!
No one in this infinite universe can take your spot when it comes to making the serene thanksgiving festival blitzkrieg and electrifying affair. Happy thanksgiving, fellas!
May your family receive blessing on the day of Thanksgiving! May you always be together with your family! May your family forever be at peace and happiness! Happy Thanksgiving!
I wish your family be forever safe and sound. When family is good, everything is good. Wishing happy Thanksgiving my friend!
May your family and friends and relative all celebrate Thanksgiving with all the fervor and joy! Happy Thanksgiving dearest friend!
May you receive all the gifts what you want on the day of Thanksgiving! May your bucket of wishes get filled always! Happy Thanksgiving my friend!
Wishing to your family, friends and relatives sprinkle of starry boons and blessings! May you lead always to prosperity! Happy Thanksgiving friend!
You May Also Like: