Compassion is one of the cornerstones of any religion and the intrinsic innate quality of human beings. The quality of compassion allows us to feel the pain and sufferings of fellow beings and share your deepest sympathies which give them the power to go through the turbulent times. Throughout the history, sages and enlightened beings have been preaching nothing but to practice only compassion as it is the only gateway to get over from worldly sufferings. When you practice compassion, you offer not only unconditional love and affection to the world but also become part of their highs and lows, and do whatever it takes to console them.
Practicing compassion is the simplest thing. You don't have to go into the deep meditative state or perform bone-crunching yoga postures to attain it. You can achieve compassion just by opening your heart for the whole world. To practice compassion, first, you must grasp the full understanding of the term 'compassion'. And what's better than compassion quotes to understand the gist of this beautiful quality? Here are some of the finest compassion quotes and best compassion sayings that will help you understand the value of compassion
Best Compassion Quotes | Meaningful Compassion Sayings
Practicing compassion won't help you gain anything. But it can help you get rid of anger, jealousy, stress, competition, and the list goes on.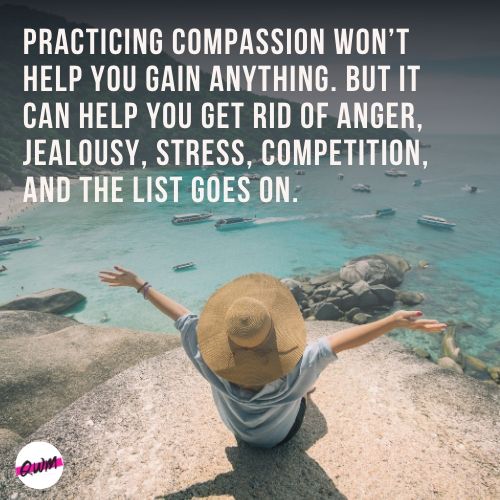 Love and compassion are two of the most wonderful faculties human beings alone have.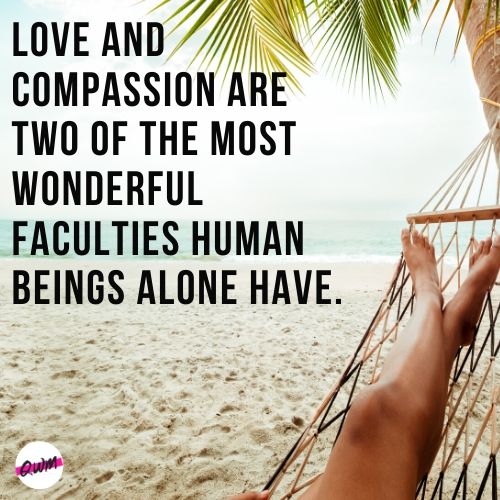 The ultimate goal of any human being is to be as compassionate as possible and serve humanity.
Whosoever considers compassion a weak trait hasn't even felt the true strength of compassion.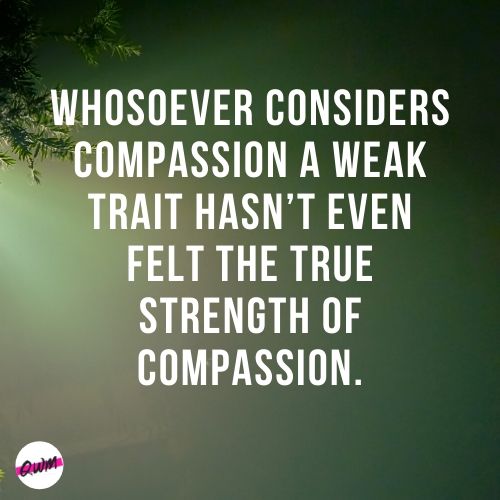 You can't give true love to someone who if you are not compassionate by nature.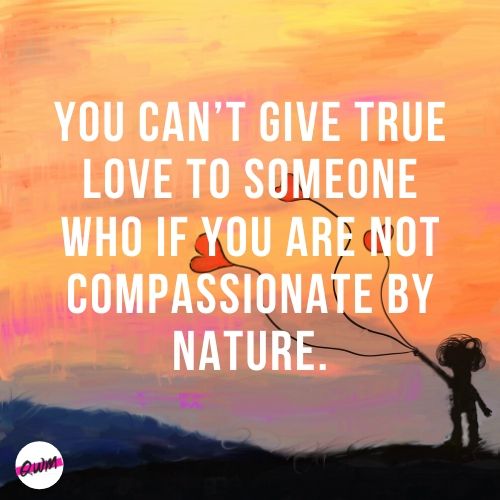 The most loving hearts of the universe are the compassionate ones.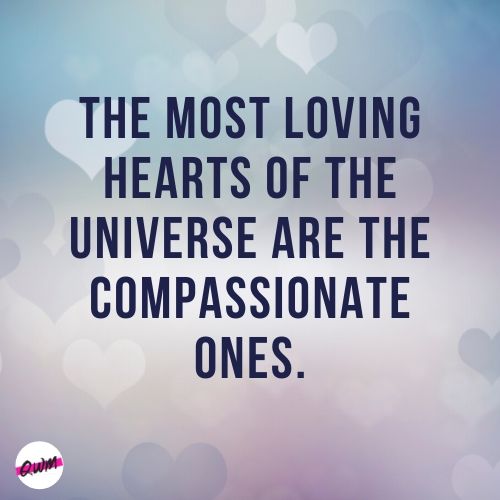 Compassion and awareness are interrelated and interdependent with each other. If you are fully aware, compassion will automatically become part of your being.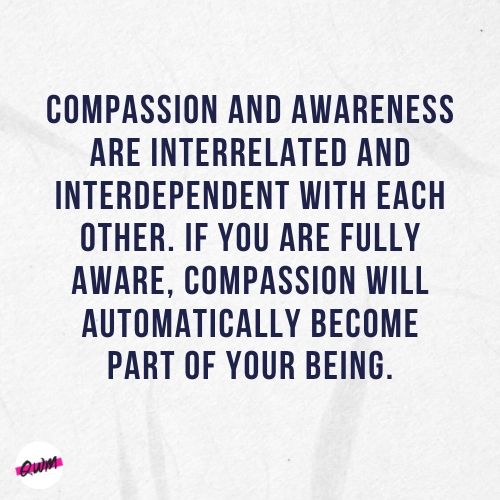 The world doesn't need more billionaires to change it. The world needs more compassionate people.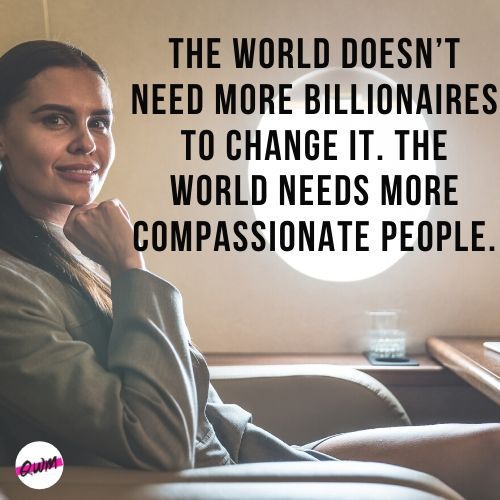 Consider compassion as a verb, not a noun.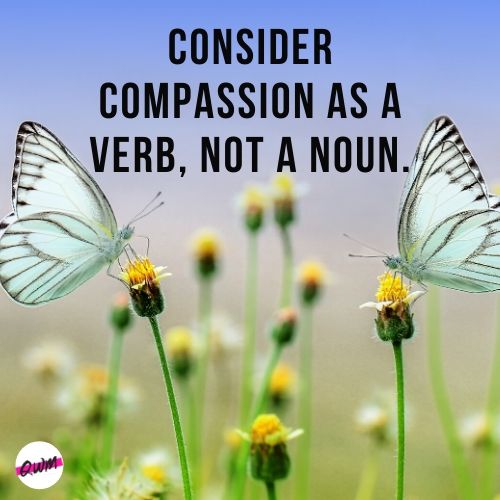 Compassion if your intrinsic and innate ability to feel the sufferings of others and wish to free them.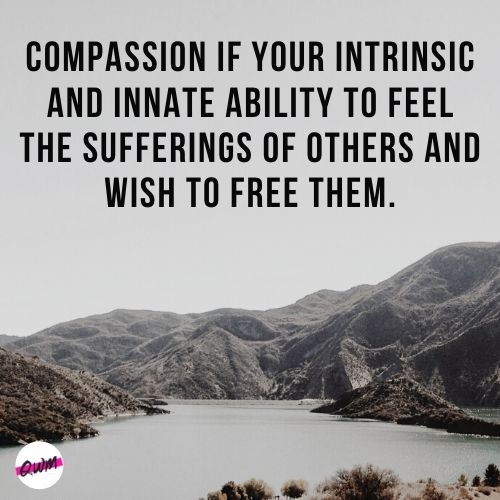 Compassion for Self Quotes | Best Self Compassion Quotes with Images
If you are not compassionate for yourself, you can't be compassionate for other beings' sufferings.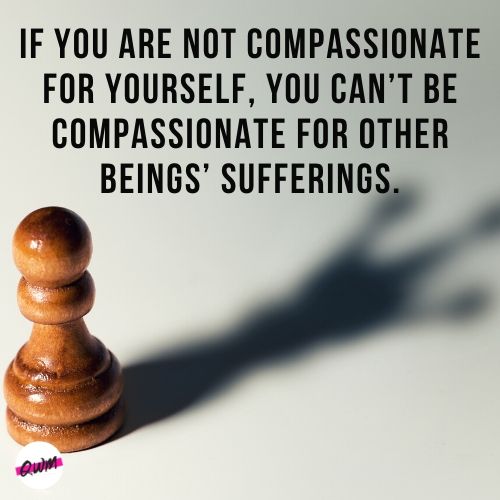 Self-compassion teaches you the value of being compassionate for a blade of grass to the entire universe. By being self-compassionate first, you can give unconditional love to others.
All the scriptures of the world teach you to focus on self first: Self-respect, self-love, self-worth, and self-compassion. How can you give something to someone that you don't have?
Surround yourself only with those people who lift you up while teaching the value of compassion.
Your compassion is nothing more than a hollow practice if it doesn't include you.
Often, people take up the quality of compassion as a sign of weakness. What they don't know is, compassion has the ability to move mountains effortlessly.
There is a fine line between self-compassion and self-obsessions. The former teaches you to love everyone equally including you and the later teaches you to love only yourself that too in a narrow way.
It is not the criticism, jealously, and comparison that hurt. It is our inability to appreciate what we have that hurts the most.
Practicing self-compassion every day should at the top in your to-do list. You can find at least 5 minutes to appreciate and thank God for what he has bestowed you.
Compassion may or may not change the world but it can surely change you.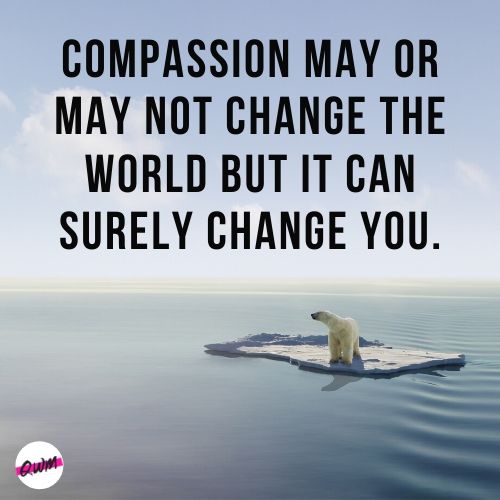 Best Quotes on Compassion and Kindness | Compassion Quotes on Forgiveness
A random, small act of kindness and a bit of compassion is all you need to make the world more beautiful.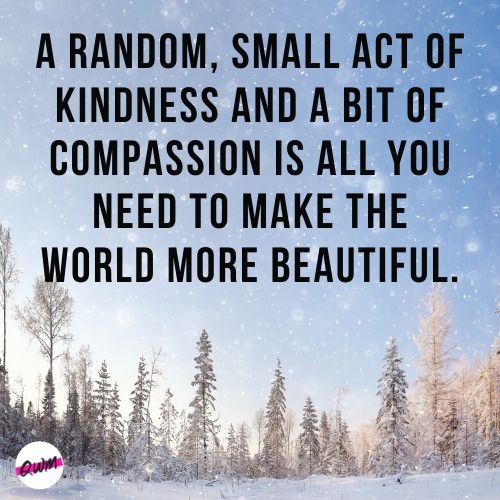 The act of kindness, compassion, and love never go wasted in life. You may not feel the effect instantly but the future results are glittering.
Kindness and benevolence are often considered as the attributes of soft and weak people. However, it's the tress who can bend survive in the harshest winds.
Human beings are in a goddamn hurry. Everything accomplishes in nature without any hurry and with the utmost peace and kindness.
Where there is life, there are supreme possibilities for kindness and compassion.
What knowledge and wisdom can teach you, kindness, and compassion easily can.
Compassion and the words of kindness have more healing power than the world's most effective antibiotic.
The day people grasp the idea that a lot can be accomplished by being compassionate is the day unnecessary hustle will eliminate from humanity.
The language of kindness and compassion are the easiest to learn and even the deaf can listen.
Three things in life no one can take away from you: kindness, compassion, and humility.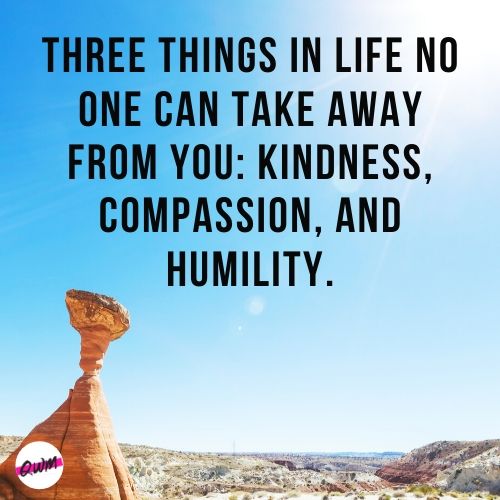 Awesome Quotes on Compassion and Love
Our physicality may be small but our hearts can hold infinite love and compassion.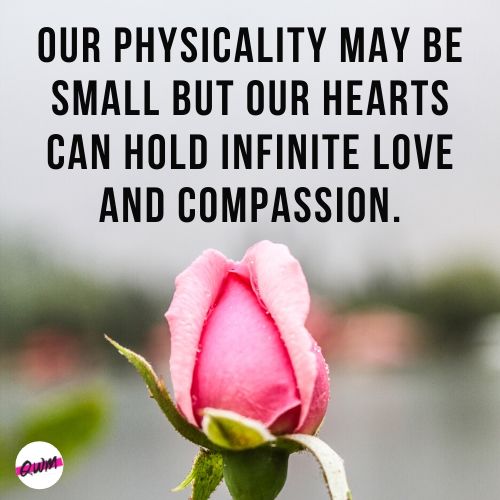 When passion becomes compassion, you move away from the world of illusions to reality.
Forgiving someone is quite easier when your heart is full of compassion and infinite love.
The more you give away compassion, the more you will receive compassion from existence along with unconditional and infinite love.
All the disappointments in this world are because of unnecessary expectations and the lack of compassion in life.
It is quite unfortunate that the capable ones are the compassion less and the poor and illiterate ones are full of kindness, love, and compassion.
If love is divine, compassion is no less than godly.
Compassion is perhaps the only force that is keeping humanity from hitting absolute low.
The weapon to destroy hate is compassion. Be so compassionate that whenever a person with hateful feelings comes under your influence feels a metamorphosis in feelings.
The first stage in the vast journey of seeking spirituality is compassion.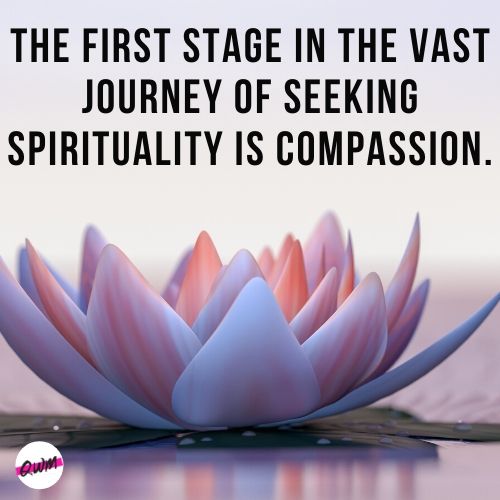 Quotes on Compassion By Buddha
Our sorrows and wounds are healed only when we touch them with compassion.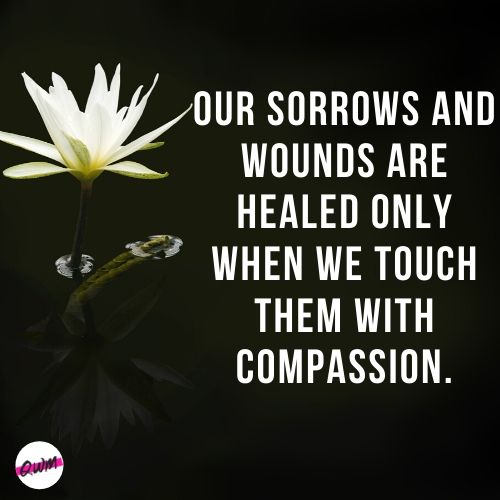 "Suppose an enemy has hurt you in his own domain, why should you annoy yourself and hurt your mind in your own domain?"
"Anger will never disappear so long as thoughts of resentment are cherished in the mind. Anger will disappear just as soon as thoughts of resentment are forgotten."
"There is no fire like passion. No crime like hatred. No sorrow like separation. No sickness like hunger, and no joy like the joy of freedom."
Understand the suffering of worldly existence. Abandon its causes of ignorance and selfishness. Practice the path of meditation and compassion. Awaken from suffering within Great Peace.
May I hold myself in compassion. May I meet the suffering and ignorance of others with compassion.
The eating of meat extinguishes the seed of Great Kindness.
A generous heart, kind speech, & a life of service & compassion are the things which renew humanity.
Be a lamp unto yourselves! Work out your liberation with diligence! Fill your mind with compassion!
In compassion lies the world's true strength.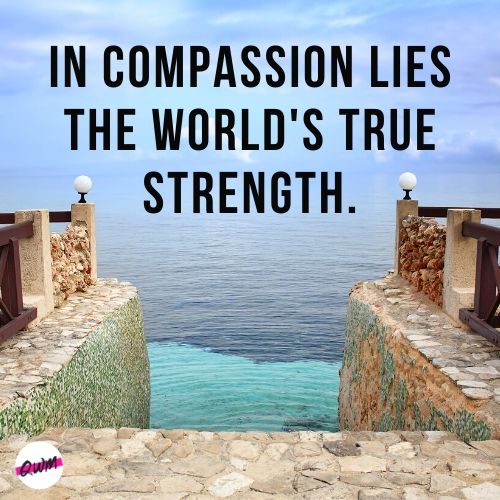 Quotes on Compassion by Dalai Lama
Love and compassion are necessities, not luxuries. Without them, humanity cannot survive.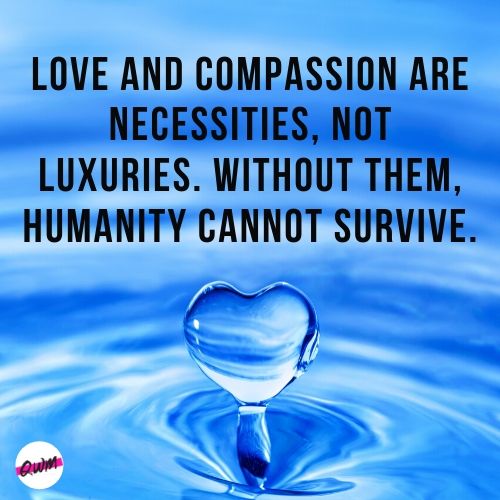 Only the development of compassion and understanding for others can bring us the tranquility and happiness we all seek.
"A truly compassionate attitude toward others does not change even if they behave negatively or hurt you."
"Compassion is the radicalism of our time."
Love and Compassion are the true religions to me. But to develop this, we do not need to believe in any religion.
"Compassion is not religious business, it is human business, it is not luxury, it is essential for our own peace and mental stability, it is essential for human survival."
"You must not hate those who do wrong or harmful things; but with compassion, you must do what you can to stop them — for they are harming themselves, as well as those who suffer from their actions."
"The more time you spend thinking about yourself, the more suffering you will experience."
"Generosity is the most natural outward expression of an inner attitude of compassion and loving-kindness."
"If you want others to be happy, practice compassion. If you want to be happy, practice compassion."