Farewell Messages: We can all say that office is our second home and the people we work with in office is our second family with whom we spend most of the time of our life. It is difficult to let go of someone who has worked with you and spent beautiful moments of their life. It is always in offices that someone goes and someone comes. For those who are going, for them we have written nice happy farewell messages and Best farewell wishes for friends, boss, colleagues and teachers which you would love to bid them.
It is also the case that where in the office you have spent some four and five years of your life, it could be impossible to leave it. The reason of leaving could be anything and variate. Talking and teasing colleagues is fun, eating with them, solving problems with them and doing what not; it is forever fun working in office. And I proudly want to say I love my office and working there. Besides all that, here are all the happy farewell messages and happy farewell wishes. Wish your colleague luck for better life and work!
Happy Farewell Messages and Best Farewell Wishes
You don't understand how positively you have impacted all of us and the company. We don't want let you go but you've made your mind. So farewell my friend. Do always better!
It feels like you have just come and just going. We wish you lots of opportunities and best life. Never forget us. Happy farewell to you!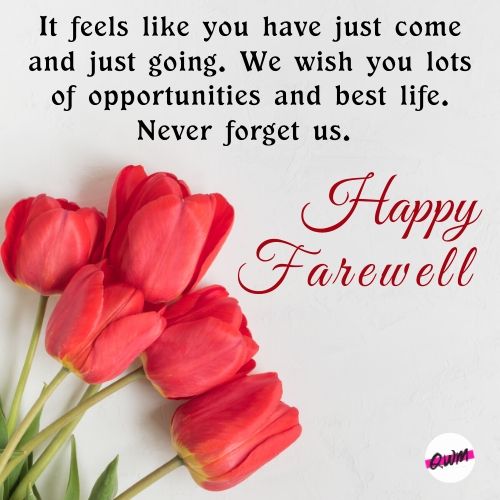 Life and work have always gone tremendous with you. It's best time that I've worked with you and leaned a lot. Wish you a great farewell and success!
It is perhaps in nature in everything that the ones who have come, they have to go, like you my nice colleague. Love you and do better. Many farewell wishes to you!
I don't know how time has passed with you. I wish you so much success wishes and a happiest farewell my good colleague and friend!
You always be in my memories my friend. I was not aware so early you leave us. I wish for you tremendous success in life and career. Good luck!
I'm always fan of you that how you argue and how you bring and turn every negative situation into positive. We really miss you. Good bye my friend and fare well!
Life is always a lesson, and you here a good lesson for us, that how one can try for being a best version of himself. You're an awesome man and professional. Adieu my friend!
You teach us many things and never tried to force yourself on us. This is the quality of a genuine man, that you are. We wish many fold success for you. Good luck!
You are always supportive and a humble man. No greed in your eyes and a gentleman nature you have. You're a best definition of a colleague. Miss you a lot. Wish you a great farewell!
We all wish for you that you find the same success in your other company. All understand your honesty and appreciate you for your work. Best of luck my friend!
Wherever you go, remember one thing that your this brother is always with you whatever you need. Do great things and rise high. Farwell mate!
I remember you for your good work and your delicious food that you cook yourself. I miss you and your food. Best of luck for better opportunities! Never forget me!
I wish may you find the same like you wherever you going to work. You rise high in success ladder. Earn well and find time to meet us sometimes. Best of luck my friend!
Keep in touch always. Never forget that I'm always there for you. I miss you a lot. Best of luck and a happy farewell to you!
To the best coworker ever, thank you for teaching me all the ins and outs of the job as well as the corporate world. Without you, I wouldn't be able to survive for a day in such cut-throat competition. Thank you for everything and have a great farewell!
In addition to being my friend, you are such a helpful and wonderful colleague. I consider myself more than lucky to share the same space and projects with you. Good luck with your future endeavors and always stay in touch.
Respected manager, your managing skills are world-class and unmatched. More than that, you are such an amiable personality and the most supporting manager I have ever seen. It's because of your encouragement, I have completed all the targets before the deadline. I wish you the best of luck for future opportunities and a happy farewell!
Dear boss, thank you for giving numerous opportunities to a noob like me and molding an amateur into a classic professional. I am going to miss you badly. All the best for the upcoming opportunities and challenges!
Your unwavering support and selfless help at crucial times are the key reasons behind my survival in the corporate world for a long time. It's rare to find such a helping and friend-like colleague like you. Wish you all the best and a memorable farewell!
Working with you is learning and an experience to remember and cherish. Goodbye and farewell my good colleague and friend. I miss working with you. 
You are the man of sheer talent and utmost depth. Having worked with you I have learned a lot of things in my life which would be forever beneficial. And your kindness and value of sharing knowledge forever be appreciated. Farewell my dear colleague. Always make your mark.
Whenever I have asked you about anything, you have told me gently. You are my superior but you don't have rank problems and don't consider in superiors and inferiors. You have always respected knowledge. I respect and you bid you a very warm farewell. May you life your life on your own terms! 
Actually colleagues are your first family members with whom you spend most of your time. You are not my only colleague while a family member. Happy farewell my always smiling colleague and friend! Always progress in life. 
You are resilient and always standing with the truth and honestly hardworking. And I appreciate your professional values. Happiest farewell to my best colleague! Always remember you as my good friend!
Have you read up all, all the happy farewell messages and happy farewell wishes? When your colleague goes, whether near or far, you for some moments miss him/her. It doesn't matter that they talk to you or not, it doesn't matter whether they work in your department or not, only matters that they work in the same office in which you work. So when someone leaves office for better opportunity or with any reason. You just wish them farewell for all the good things. That's why we have written for you some of the best farewell messages and farewell wishes.
Best Farewell Wishes
The whole staff thanks you for the relentlessness, dedication, and unparalleled service you have provided for all these years. On your farewell, we wish nothing but sheer happiness and alluring opportunities to flow in your life, in the future.
Thank you so much for working in this organization staunchly, passionately, and giving your contribution in making it a prestigious force to be reckoned with. May you succeed by leaps and bounds in all your future endeavors. Have an awesome farewell!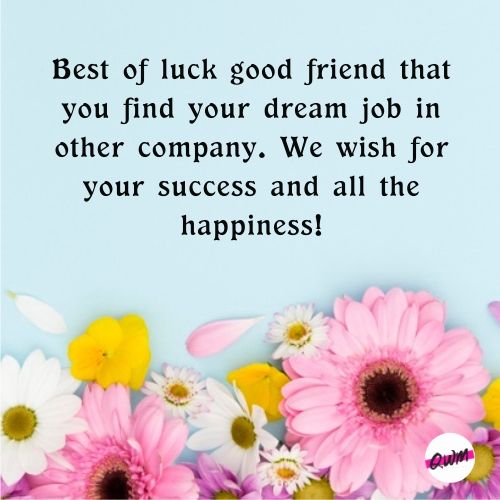 The new chapter of your life is about to begin and you need motivation and our good luck wishes to go higher and grow more in life. I wish you great health and a lifetime of happiness in your new venture!
Having a brilliant and supportive coworker like you in the office is no less than a cherry on the cake. Your laurels and contributions will be remembered for a long time in this organization. Have a great farewell celebration!
Not only you are a par-excellent professional but also an ingenious and maverick thinker which is a rare and deadly combination. I am seriously going to miss working with you. With a heavy heart, saying bid adieu to you!
You always spread positive vibes wherever you go. I wish you find success in every phase of your life. Farewell my rocking friend and colleague!
You are generous and seeker of knowledge. You want to create always something different and this is your talent and ability. I wish you make your name in the history of your field. You are remarkable person. Farwell to a soft speaking colleague!
You are a unique person I have met in my life till yet. You never fear impossible and see opportunity everywhere. I wish you achieve heights of immeasurable success. Goodbye and farewell to a lovely unique person!
The best thing about is that you never let yourself down and not let others do it yourself. And that's why I know you will be always a step ahead in your life. I wish your good health and may you have wealth as much you want! Farewell dear colleague!
Happiest farewell colleague! You are the man of your words and strength. I always remember you as a great support to me. I wish your good health. Goodbye and take care.
Happy Farewell Messages for Colleagues After Resignation
You don't know when in life someone becomes yours You don't know when some strangers come so near to you whether it is an office colleague or someone else. An office colleague is not just a colleague. They could be like your brother, sister, a mother or father like figure. We have brought for you some happy farewell messages and wishes for colleagues, which you can say and wish them whenever they want to leave the company. It is often said that more than your wife, your best and close colleague knows everything about you. A close colleague is your second wife! So if that colleague or other one is leaving the company, then wish them luck and farewell. We have inked for you some of the happy farewell wishes and messages for colleague. Just see below.
Why you are leaving us so early? We have a lot to learn from you and so early you are going. Miss you my friend and a good colleague. Best of luck for everything!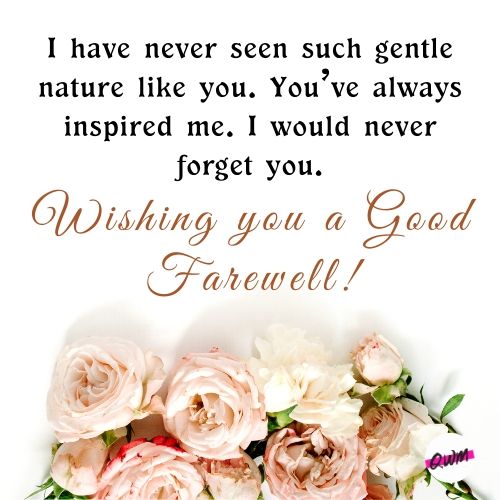 You've always given me right advice in my life. I don't know whom to I go. When you near, it feels like you would solve my every problem. Miss you brother. Farewell pal!
I have never seen such gentle nature like you. You've always inspired me. I would never forget you. Wishing you a good farewell!
I like the way you talk. I can never forget you beat me in best employee award. I wish you always win it wherever you go. Wish you a good luck and farewell!
You are sailing your boat to high waters. I wish you wade through all storms in your life and win at all battles. Wishing you gargantuan success and a happy farewell!
I remember you how we used to go in every restaurant and eat and enjoy. I won't forget that time and nor you. You're a nice colleague and friend. Best farewell pal!
Your contribution to the company is incomparable. You have an aura of angel and have always remained positive in your all deadlines. Raise highest and best of luck for future!
I have never seen such a hard working woman like you. You are an epitome of success and joy to work with. Wishing you best future ahead and farewell!
When I would meet you charmer of office! You have such a best analytical mind. We are losing you today for going ahead. Best of best luck and keep in touch!
We have many arguments in work. But it doesn't mean I don't respect you. I respect you a lot because indirectly you've taught me a lot. Farewell!
Please don't go. Don't go us leaving so early. You are one of nicest colleagues and friend. And I wish tremendous height of success for you. Farewell!
Just promise me when I call you, you come and fun with us. Wishing you soulful life and peace and really a good farewell!
I pray your all dreams come true. You get what you want. You never forget your values and us. Wishing you a rocking farewell!
How strange it is, that everyone has to go from one place to other. From other to another. You're a very dedicated colleague who have inspired me too. Unforgettable farewell to you!
Love you. Miss you. Never forget you. You will always be in our memories. Wishing you mountainous success, joyous life and loveliest farewell!
Hey guys, these are all the happy farewell messages and wishes for colleagues that you can say to them if they are going to other company leaving you. Always wish every leaving employee farewell. It is an obligation.
Happy Farewell Messages and Wishes for Friends
In every phase of life, we meet some people, who are something like us and something not, but something we like in them, that we and they become friend. They become close to our heart, that when they go, it is so much pain. Hence we have spilled some happy farewell messages and wishes for friends, for your friends, when they go you can farewell them. One thing I want to say, that whatever happens, you never lose your best friend whom you consider best. Because once gone, you could never find them again. Though it depends. So if your friend is going to study somewhere else or going for living or whatever reason, you farewell them well. Here are all the gorgeous farewell messages and wishes for friends.
In your presence I have become completely changed and in a good way that I'm liking you more. Good luck and we will meet again soon.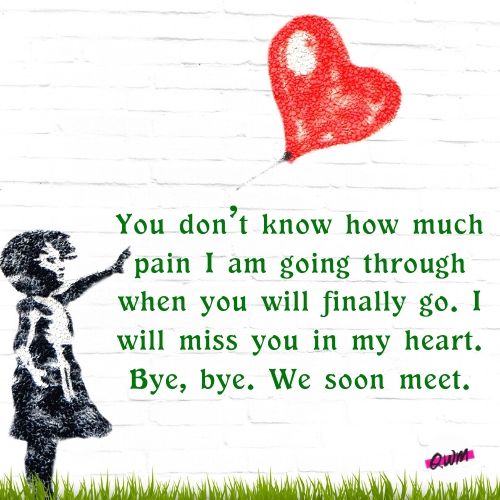 You don't know how much pain I am going through when you will finally go. I will miss you in my heart. Bye, bye. We soon meet.
Today you are going and it is the worst day of my life. I don't when would meet again. I always pray you always get love in your life and give some place to me also. Miss you a lot!
Our friendship is not of breakable pearls while it is of unbreakable diamonds. Wherever you, live free. Always you in my heart remain. Good bye pal!
More than me, my heart will miss you. I beg you please don't go. I know you have to. You promise me you always pick up my phone and text me. Love you. Bye-bye my friend!
Your friendship is the real gift to me. I pray to God; he give me strength to commit to it truly. Love you my friend. Good bye.
I wish you make your mark in history that one day everyone may read about you in books. We meet soon, good bye and never forget me.
I always want for you success. May god always protect you. May you get all what you want and please never leave me. Always believe in yourself. Good bye and good luck!
I will remember how we played together, how we drew together and how we flew kites together. My life's sparkling memories I have with you. Our friendship may never fade. See you soon. Bye!
You know most beautiful thing about you is your smile and your patience, and you for me overall. I don't want to lose you. Good bye my friend!
Between you and me love is much deeper than the oceans of water but somehow it has to come to an end, still not wanting it but it is as it is. I see you as a good friend. But now happy farewell! I hope you live a good life. 
None could break our friendship and none could be our best friend than each other. Farewell my friend! I always wish and pray for you. One day we will meet again. 
Without you it could not be as happier as it used to be. As the ways are life is. I miss you and everything about you. You are awesome. Good bye friend and farewell. I come in your dreams and meet you there. 
It has been so many years since we have met each other. Although we used to meet in dreams and still fight. You might start your new life. Best of luck for it. I miss you always and I hope one day we would meet. Farewell for life my close friend!
Your friendship is billions of worth of treasure for me and I never want to lose. I know you have other goals in your life and you have to fulfill them. Go there and complete them. Goodbye my heartiest friend! I have craved for your friendship and company. 
The worst thing in life is that whom you love you could not say her a good bye. This ego that we all have little and more, always have destroyed best relationship. Never let it come between any relationship. We have chalked for you some of the mesmerizing happy farewell messages and wishes for friends, which you can say and write for them if they are getting away from you.
Happy Farewell Messages and Wishes for Employees
Everyone is an employee of a company whether they are working for themselves or for others. This whole life is a kind of job and you do just job and job. People leave and come, and we greet and welcome them. This circle goes for whole lot a year. We have inked for you happy farewell messages and wishes for employees. So if someone is going from your company your colleague, then bid them farewell. We have covered all the best farewell wishes and messages foe employees. Just wish them best!
Best of luck good friend that you find your dream job in other company. We wish for your success and all the happiness!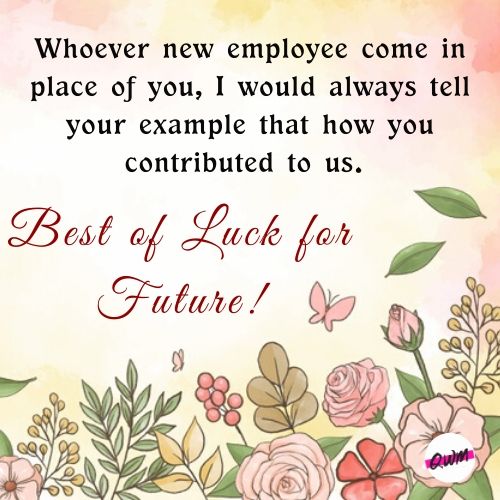 You are going. It is a loss to us. We always cherish your memories that how you make whole atmosphere soothing and workaholic. Good luck!
Your dedication and commitment to the current company is always appreciable. We wish you achieve the same success in other. Farwell and best of luck!
You are one of the best employees of our company. If anything we could do to stop you we want to do it, tell us. Bu you've made you mind. Good bye and awesome life!
Whoever new employee come in place of you, I would always tell your example that how you contributed to us. Best of luck for future!
Honesty is the best policy. I thought it only exits in words but I have seen in you. You're my company best employee. I wish you success and peace. Good bye!
We miss your jokes. We miss your fun and we really miss your jovial nature. You're one of the finest men of our company. We wish you get gargantuan success in other company too. Good bye!
Remember us all. Never forget. I wish you get better and better. Earn well and a lot of provided you can always call us for party. Farwell my friend!
I pray you achieve all what you deserve in your life. You get a good wife and happy family and insurmountable success wherever you. Best farewell to you!
A dream job, a dream life, a dream car and a dream bungalow; may you get all what you want. It was best time to work with you. Best of luck for future endeavors and good bye!
Thank you umpteen times for your valuable services, loyalty, and dedication for all these years. I don't think anyone can take your place and produce the magic. Good luck with your future endeavors!
Dear employee, we can't stop you from chasing dreams but we want you to be extremely successful in whatever you do and shine your name. Enjoy your farewell party and always stay in touch!
A hardworking and ingenious person like you will definitely touch the sky no matter wherever he goes or what he does. Thank you for giving your best to this organization all the time. Happy Farewell!
You were the frisky vibes inducer of this office. This office space will be going to bite all of us a lot in your absence. But we are happy that you landed in your dream organization. Give your absolute best and good luck!
Mighty congratulations on beginning your own venture and proving to all of us that when you have a dream, you should protect it and make it happen to let the world know the power of dreams. You are the hardest working man I know. We will miss you a lot!
So these are the happy and best farewell wishes and messages for employees that we have brought for you from the creative corners of writing. We expect that you would enjoy them, and share and say to your colleague or friend who is going to leave the company in which you work. Everyone enjoys working with good colleague and who not. And when they go, we miss them for some moments, for some days and for some years. The good ones forever remain in the memory.
Best Farewell Wishes and Messages for Teachers
Teachers have great importance in our life. A good teacher can change your entire life. They are ones that can set you on right track. And everyone, so far, has found their best teacher When a good teacher leaves, whole class weeps. I remember still that we were sad when our English teacher left. That day was so saddened. That's we have covered for you some nice happy farewell messages and wishes for teacher. It used to be a remembrance that how we all celebrated teacher's day, how we decorated class and all. For best teachers, when they are leaving, here are all the happy farewell wishes and messages for teachers below.
I love your adorable method of teaching. I'll forever remember how you taught me patience and getting relax at uncontrollable things. I miss you. I miss you for your lessons. Good bye sir!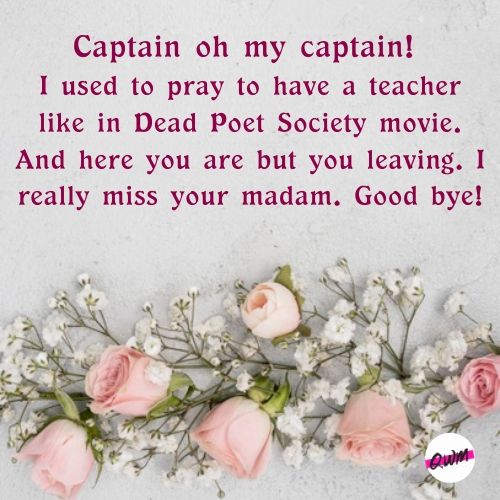 Captain oh my captain! I used to pray to have a teacher like in Dead Poet Society movie. And here you are but you leaving. I really miss your madam. Good bye!
You're my teacher but more than that, I consider you my mother like figure. Because you always taught us well. I don't know why you going. I really miss you a lot. My last adieu to you. Good bye!
You could not understand how you have changed my life. I'm really indebted to you for that. Love you mam, and please come back soon. Take care of yourself and good bye!
Today I am realizing that your punishments have changed my life for better. I don't want you to leave. But you have to, I know that. Thank you for being in my life. See you again!
In starting I always hated you. But you are leaving now and I don't understand why I feeling missing you. You've always thought for my better life and improvement. Thankyou mam. I miss you a lot!
A good teacher can never hate his/her students. As you are. Your presence is gift to us. And I pray for your long life provided you can always teach us. Good bye sir!
A good doctor can save many lives. But a good teacher can make many doctors. As you are sir. Why you are leaving us? Thanks for teaching us and making us men. Good bye and best of luck!
I have never been a good student to you but you're always a best teacher to me. Thank you for that. I want to say I miss you. Good bye madam!
A good teacher is more than God, and you are to me. You've taught me all the lessons of life I can never forget. Good bye and blessing to you from the bottom of my heart!
Respected teacher, I wish you could teach us more and enlighten our minds with your unrivaled wisdom. I don't want to say goodbye to you but I also have to respect your decisions. You will be terribly missed. May the lord keep you in great health!
Dear teacher, my mind has been cluttered with all the past memories we have created with you right after listening to the news of your retirement. If it were in my hands, I wouldn't let you go from here. May you succeed massively in your new endeavors. Happy Farewell, teacher!
Respected Sir, you have inspired numerous generations, molded uncountable students into stars, polished so many talents that saying goodbye to you will shatter uncountable hearts. Is there any way to stop you, sir? May you enjoy your farewell and the retirement days!
Lectures and typical subjects won't be fun without you. You are the only teacher in my knowledge who knows how to make teaching fun for students. I am badly going to miss your lectures and scoldings. Enjoy your farewell, teacher!
Dear sir, I know it wouldn't be right to ask you to stay here and keep teaching us because everyone wants to climb the mountain of success in life. I just request you to never forget us and keep showering your blessings on us. Happy Farewell!
I miss my English teacher when I studied in seventh standard. He was such a nice man. Once I failed in English test but he did not shout at me and said me to prepare well for next time. If you haven't found a good teacher in your life, then you haven't met them yet. Good teachers always journey to new destination to spread knowledge, and when they go, we miss them a lot. That's why we have chalked for you happy best farewell messages and wishes for teachers. We hope you find them all good.
Best Farewell Messages and Wishes for Students
A student is like a blossoming flower. The way you treat them they become. They are the soft at heart so it is responsibility of teachers that they form them better and strong provided in the struggle of life they can always win and thank you for that. In this post, we have covered happy farewell messages and wishes for students. When they leave school, you can wish them farewell. Student life is the best life. Those who haven't lived it, they haven't lived anything. It is in this life that we try to come to understand all the meanings of emotions and relationship, but a tumultuous this life is. Though let us celebrate it with some of the memorizing farewell messages and wishes for students.
We want to wish you a best life and a best career ahead. You may do well in your studies and make everyone proud. Best of luck and farewell for mountain heights!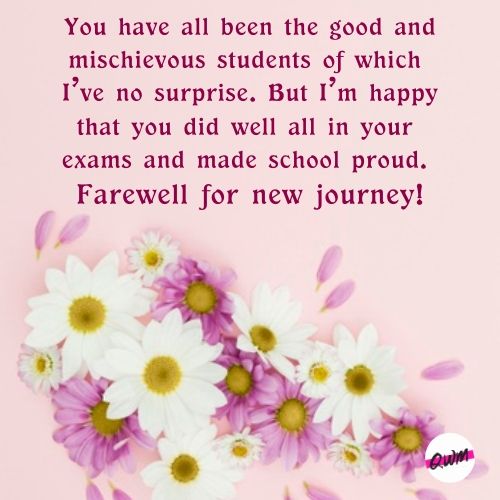 Farewell to all students who have passed the exams well with impressive grades. Next step is your favorite college. We wish best of luck. May you create history. Farewell all!
You have all been the good and mischievous students of which I've no surprise. But I'm happy that you did well all in your exams and made school proud. Farewell for new journey!
I think that I have taught you well and you have learned all the lessons of this holy life. I wish you make me and your parents proud. Rocking farewell to you my boy!
You are always a tough boy and so reserved that I could not know you better. Yet being your teacher I wish for you a great career. If anytime you need me, I'm there for you. Best of luck!
I want to advise you that you never do such work that you have to hold your head down. Always held it high like a fire. Good luck and awesome farewell to you!
The charm of this student life is never going to come back. I want you to live it all that you may understand all the meanings. The best teacher is always the bad mistakes. May you never make it but always get it. Farewell and do best in your life!
It has been a great pleasure to teach you all. You are all my best students. I may not be your favorite teacher but I wish for you the life you want you get it. Unforgettable farewell to all!
We are all students always. Because we always learning. Learning never ceases. We wish you never stop learning and fulfill all your dreams and never forget your school. Good luck!
Never get feared to take risks. Risks are about achievements. This is the important lesson of student life that I wish you must have all learned. Best of luck and a good road ahead for you!
This is your time to do something yourselves and be an achiever. Farewell to all my students! You are all awesome and I know you will be successful in life. Happy farewell to you all again!
Happy farewell to all students! We wish you never be afraid of failures and when you go down in life, remember always what you have learned in your school that failures happen where people try for success. 
You all students are creators of your destiny. You have that ability and strength to change your life. Never lose belief and faith in yourselves. Love you and happy farewell my strong fellows!
Seeing you going is a bit kind of sad for me because students like you are rare to come. In just one year we get attached to one another. I from the bottom of my heart wish for your well being and success. Farewell dream makers!
Success only comes to those who never give up and we all know this. But this with time becomes harder to sustain. May you have all endurance to be what you want to achieve! I believe in you all. Be the scientists, doctors and whatever you want to be. Never leave your passion. Wishing everyone happy farewell! 
I still miss my student life and I want to go back into it to live it again and want to meet all my teachers and friends, want to go again into my classes. Yes, I really miss it. It is the crucial and never forgetting phase of everyone's life. That's why we have brought for you happy farewell wishes and messages for students. Share and send them as much as you can. Write them in a greeting card if any student is leaving or all or going to different journey.
Happy Farewell Wishes and Messages for Boss
A boss is a boss whether a good boss or a bad boss. It doesn't matter to them you like them or not. But it is not all the facts. A good boss always values his/her employees and think about their welfare first. Under their wing, you rise and learn many things, so when a good boss leaves, it is always a loss to employees. Though we should farewell them for whatever reason they are going from the company. Here we have covered for you happy farewell wishes and messages for boss. You wanna say farewell to your boss but haven't found some good message. We have inked for you in this section. Read below.
Under your command we have learned a lot of things for which we are forever indebted to you. We love you and wish for you a great success ahead in future, boss. Good bye!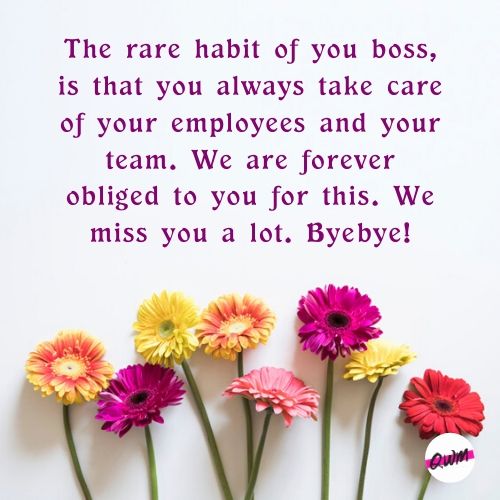 You have never really forced your boss nature on us while always teach us with utmost care like your children. So many blessings and best of luck for your life and career!
The rare habit of you boss, is that you always take care of your employees and your team. We are forever obliged to you for this. We miss you a lot. Bye-bye!
You always behaved equal with us, considered us equal too. We wish for you gargantuan success and impressive career. Good bye boss and good luck and a loveliest farewell to you!
You are always inspiring and you have never lied to your employees, which is the rarest thing ever seen in a boss. Best of luck for your life. We miss you.
Your leadership is incomparable. Your nature is unmatchable. You are fun. You're a good friend and mentor. Good bye and awesome farewell to you!
Wherever you go, I always remember and miss you. You've taught me all the lessons of leadership and mad me one. Thank you and good luck and good bye. Keep in touch boss!
Your genuineness is so unfoundable on this earth. Your quality of motivating nature is unbeatable that has taught us unstoppable endeavor towards goals. Thank for being in our life and our leader boss. Miss you!
A good boss betters flaws and strengthens goods in employees. You are that one human being. Thank for leading us and wine-pegged farewell to you!
We can never forget you boss. You pay our parties' bills. You teach and lead us well. You're leaving, it is undone loss to us. We pray for your success and better life. Soon meet. Farewell!
I am lucky that I have got a boss like you. Your years of experience is treasure for me that you have poured on me selflessly. Your next assignment is waiting. Farewell dear boss for teaching me everything! I am forever indebted to you. 
You have never behaved like a boss to me while a big brother kindly telling me what to do at every step of my career. I will never forget you because you are my first boss. You are an incredible man. Farewell kindest boss! May you always be healthy!
You have been a tremendously focused man, less talking and big on actions. That thing I have learned from you that always be big on actions. You would never leave my mind because you are inspiring. Farewell boss! May you always be big on actions!
You never disbelieve yourself and this is your one value that makes you successful always. Wishing happiest farewell to my dearest boss! You are nice personality. 
You are not loudest while always a supriser who astonishes everyone with remarkable and unpredictable achievements. That's why you are a boss; always leading to success and wealth. Happiest farewell boss! I miss your charisma. 
Farewell Thank You Messages
With your farewell, we are no longer colleagues and competitors. However, we are going to remain best friends till the end. I will cherish all the alluring and exciting memories we have created together in this organization. Thank you so much for your service and best of luck with everything!
Thank you so much to my lovely colleague for making the work environment serene and amiable for everyone. I know you are all set to kick start the new phase of life but I don't you dare forget us. May our friendship continue for a long time and may you succeed well in your new venture.
You deserve tons of thanks for teaching me a lot of valuable skills as well as killing my spare time in the office. I am going to miss you like hell and I wish your success in the future. Farewell for now!
Finally, the big day has arrived for me to say goodbye to all my brilliant and wonderful colleagues who consider me no less than family members and stand firmly in all ups and downs. Thank you so much for broadening my horizon and nurturing my skills. Thank you also for such a cool Farewell party.
Even the most intricate and mind-boggling project seems so seamless to pursue when coworkers like you are there to help out each other. I am proud to say that we are one of the best teams in our domain but it's the perfect time to say goodbye to you all. Thank you for all the support and caring!
Saying thank you is not enough because you have done far greater important and needed things for me. You are leaving the office, it is sad but happy farewell my friend and a dear colleague. Make your life as you want to.
Thank you for being a good senior to me. You have taught me all the knows-hows of the business and work. And now you are moving to your next destination. Happiest farewell to you! I will never forget you. 
Thank you for the generosity you have shown during my starting phase. You are an inspiring figure from whom many things can be learned. And wishing you farewell today! You are an irreplaceable figure in my life. 
Thank you for encouraging me and showing the right way how to deal with business pressure. You are a boss to me who has guided me towards handling anything smoothly. Your next destination is waiting I know. Farewell to you! I know you are always there for me. 
Some people in life are your real gurus. Thank you for mentoring me and telling me about the right path. You are a very nice colleague. I miss you and our chit-chats. Farewell. Make new heights in your life! 
In this post, we have covered for you farewell wishes and messages including happy farewell wishes and messages for boss, colleagues, friend including others too. We hope you like our content and share it and sent it as much as you can.