Everyone needs the blessings of near and dear ones at some point in time. Receiving good luck messages from people who matter before you begin something significant can actually turn the tables for you. This post is solely dedicated to good luck messages for him, her, for a new job, for students, colleagues, and the future endeavors and other types of good luck wishes. After all, you subtle and little wish can make a massive difference in someone's life.
Good Luck Messages for Him
You were born to break milestones. Your unwavering faith in your abilities makes you a man of nerves of steel. I know you will ace this one as well. Good luck sweetheart for the new venture!
It's totally fine to be stressed about the new beginning but I know everything will turn out perfect in the end. Baby, you are bubbling with confidence, and don't let a little stress ruin your perfect beginning. I wish you good luck with your new business venture.
You have no idea how proud I am of you for finally taking a leap that you wanted to take for a long time. Just keep the things going on and my good luck wishes are always with you.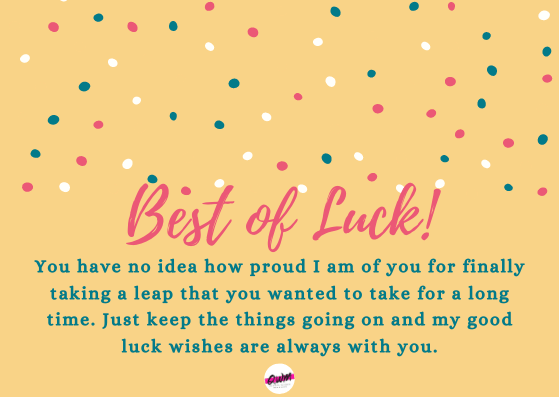 Hey sweetheart, tomorrow is perhaps the biggest day of your life and I want you to be cheerful and utterly relaxed. I always believe in you and standing with you in whatever you do. Wishing you good luck for gargantuan future endeavors!
From the very beginning, I was well aware of your mind-blowing potential and fine business sense. Your this venture will put your raw talent in front of the whole world and bring accolades and laurels you deserve. Good luck my darling!
Don't let other people decide your path to the future. You are solely responsible for what happens in your life. If you have the skills, caliber, and guts to make a huge stride, nothing can stop you from being legendary. I love you sweetheart and good luck for this amazing venture!
Hey boyfriend, as you decided to actualize your life long dream, I want you to put every ounce of energy into your new found passion and ace the target. Good luck for your intriguing business venture!
Hey darling, tomorrow is the biggest match of your life and I desperately wish you emerge as a victor. Just focus on giving your absolute best and rest leave on God. My good luck wishes are always with you and for you!
Today is really a colossal day for both of us as we are going to begin the new phase of our professional lives. I know setbacks will come but as long as we are standing firm for each other, nothing can out of our way. Good luck to both of us!
Prayers won't work unless you put hard work and faith in what you do. Obstacles mold you into a better and more experienced person. Good luck my love for the upcoming challenging endeavors!
Who doesn't face challenges? Who doesn't fall down in life? Who doesn't lose loved ones? However, moving on is something that makes you a bigger and mature person. My best wishes are with you, baby!
You have always my back at the most quintessential moments of my life. Then, how can I leave your back when you need me the most? I know you will excel pretty soon and make a shining name for yourself. Good luck my sweetheart and keep hustling!
Before you become a champion in reality, you have to be a champion in your own mind. Visualization is one of the foremost keys on the pathway to success. Apart from you, enjoy the process and good luck!
As long as you do your job with the utmost love and passion, you will always have hope and will power to succeed in your errand. Remember one thing, you are never alone. Good luck, honey!
Instead of pondering about what you can do, lay your complete focus on completing one task at a time. Doing best is all that matters. Be focused, be productive, and be cheerful. Good luck with the new startup!
Good luck messages for her
All the best to my sweet yet bold girlfriend for the upcoming sports competition in your college. You have worked outrageously for this moment and you will triumph all the obstacles for sure. Good luck, my love!
I genuinely wish all the luck and wishes of the world be your side so that you can easily surpass all the monumental challenges and make every near and dear one proud. I love you to the moon and back and good luck!
In my relationship with you till yet, I have never ever seen you putting that much effort, dedication, and focus into a single task. This surely matters a lot to you. Good lucky love and may you pass with flying colors.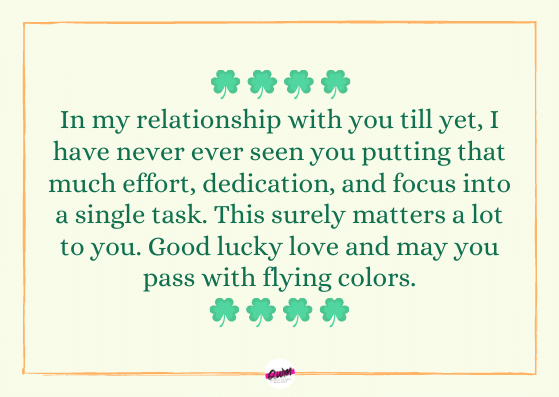 All the best to my sweeter than sugar girlfriend for your first university test. You must be feeling nervous but your hard work will surely pay off at the crucial moments. Good luck to you, my sweetie pie!
You make every day of your life a sheer challenge and never let the situation controls you. I firmly believe in you and continue to do so. Good luck, baby!
I know you are going through a really turbulent time and odds are also against you, but you have well wishes of all your loved ones along with you good luck. Have a great time my love!
Whether you succeed or not in your new endeavor, my love for you will always remain unconditional and unwavering. Good luck sweetheart! I always believe in you.
Hey sweetheart, I am pretty sure you will rock today's musical performance and make the whole crowd go gaga for you. I wish you have a magical performance. Good luck honey!
Here comes the big day for the badass girl. You don't look nervous and I like that. May the glory of this day kiss your feet and success comes as a trophy in your hand. Good luck sweetheart!
It's a cheerful and glittering day and also the day to prove your mettle to the whole world. I have full faith in your abilities and I hope you will return quite soon with the good news. Good luck! You will seize the day.
As you must be quite stressed and nervous because of the upcoming hefty event, I am sending you oodles of good luck kisses and hugs. I am super proud of you. Good luck, miss stunning.
On one of the most significant days of your life, I just want to tell you that you are a superwoman and you are capable of achieving whatever you want. I am sure you will hit the home run. Good luck, my sweetie pie!
You are a girl with immeasurable talent, barnstorming vision, and jaw-dropping skills. Kick start your new venture with a positive mindset, focus, and you will never have to look back in life. Knock out your challenges and good luck!
Not only you are a born champion but also a woman who knows how to amp up the work game for the big events. You ooze inspiration in heaps and I adore you like crazy. Good luck my hotshot girl.
Hey beautiful, may all your hard work of years and sleepless nights pay you the greatest return of your life on the most pivotal day. Just put your mind on relax mode and hit the home run. Good luck miss charming!
Good luck messages for future
I wish you good luck for all the future endeavors and hope success will always land up in your corner. May you continue to astonish us with your abilities.
Success is less of a matter of luck and more of a matter of perspiration and fine visions. I am happy to wish you good luck with your new venture. May God shower heaps of blessings on you.
It takes a lot of guts to forget the previous terrible chapter of life and garner the courage to open the new one. Good luck with the upcoming challenges and never stop believing in yourself.
As you are hopping on the new level of life, I have nothing but tons of good luck wishes for you. I know you will be a shining name pretty soon.
Obstacles and challenges are there in life to upgrade us not to break us into pieces. The only sane way to deal with any challenge is to face it. Good luck fella!
I am enthralled and more than cheerful to hear about your unexpected success. You have worked for your goals and you got what you really deserve. I wish you good luck with the upcoming endeavors.
Life will never direct you to the next level until you learn all the lessons of the existing chapter. Here's wishing good luck for the new beginnings and challenges.
May you never get off from the prestigious road of glory and may you attain gargantuan fortune and fame with your new endeavors. Good luck and God bless you!
Beginning something you love and always wanted to begin takes a lot of guts and balls. I am glad you are chasing your dreams with hope in your heart and passion in your mind. Good luck for your new venture!
For a visionary and hustler personality like you, nothing is strenuous to achieve and grab from others. May you continue to relish your laurels. Good luck with such an awesome business venture!
Good luck messages for new job
You have found it your dream job. It is the best day of your life. Good luck my friend! May you succeed!
Being happy means the job you do you love it. This is only the greatest happiness in the world. Good luck buddy and best of luck for your new job!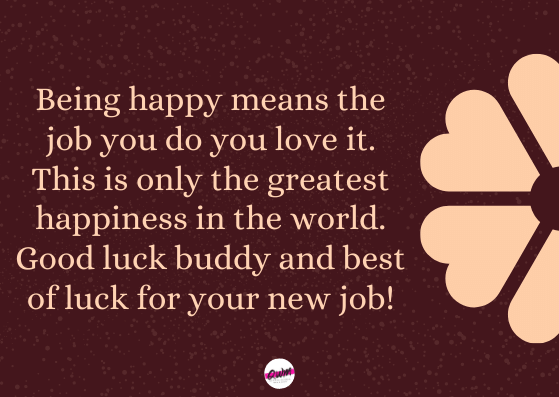 Doing job doesn't mean only filling a gap in an office. It means giving your heart and mind and provided it may bring you all what you dream. Good luck for your new job!
There is no great torture than sitting idle. There is no great punishment than doing job that you don't like. So much good luck to you for fining the best new job for yourself! May you flourish my friend!
You don't just earn money from your job. You earn respect, prestige and some good friends for your lifetime. So earn well and good. Best of luck for your new job! May your forever rise!
The years of study, colleges, schools and degrees. You go through several stages to get the job you want to do for your rest of life. Good luck for your job! May you establish like ever shining star.
This new job that you have got is your karma. May you love it! May none snatch it from you! May you grow with it! May it grow you!
Good luck for your new job and your career. May you have all the best and growing opportunities in your new job!
The job you have been talking about my friend, you have got it. It is totally an awesome opportunity. I am happy for you. Good luck dear! May you earn all what you want!
May you always find and get the job you like! May you never be without a job! May you work diligently and perform enormously in your new job! Good luck my friend!
Having a job with purpose is about greatest satisfaction. I can see on your face how happy you are. Good luck for your new job! Get ahead in your life!
You can't choose your destiny. But you can definitely choose your job. Good luck for getting a new job! May success touch your feet dear!
When you get ahead in your job; you get ahead everywhere in your life. May you always get ahead! Good luck dear for catching your new dream job!
At job people make their life or waste their life. I wish may you always make your life. Good luck for your new job and best of luck for your all future ventures!
The aim of your life is not just to get a job. The aim for your life is to reach to your goal. May you reach your goal with your new job! Good luck!
Good luck messages for colleagues
Good luck for your promotion my friend. You really did the hard work for it and have earned the promotion. You are one of the best colleagues.
Being with you is like being the best version of yourself. You are a phenomenal character. Good luck for your job promotion. I wish may you create new success milestones!
From the bottom of my heart I wish you all the best and good luck for your future business endeavor. Good luck! You are a good colleague and a nice friend.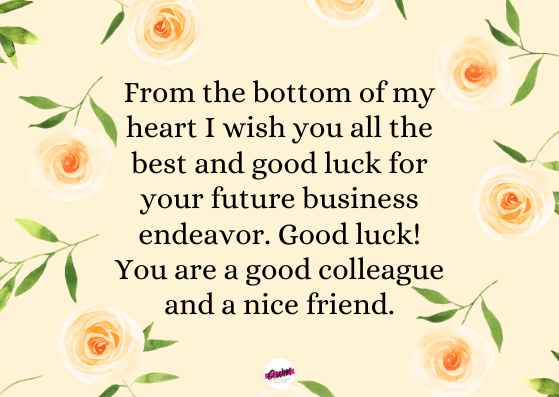 With all your talks you have inspired us. With all your business knowledge you have enlightened us. I happy you have found a new best job. Good luck for it. I pray may you achieve all the success.
The office doesn't seem office with you my friend. Good luck for your promotion. You are a warm personality and a trusty colleague. Good luck for your new dream job which you have got in your dream country. We will be far but we will always be in touch. You are one of the finest colleagues I have met.
You have raised the company and raised the standard of your job too. You are really a higher standard man with all morals and principles. I really adore you. Good luck for your new job and career!
One can get magically inspired by you. You have become my dearest friend. All the best foods we have eaten together. Best of luck for getting promoted! I know you can make your way. Best wishes for your success!
May you race farther than anyone! May God be with you always! Good luck for achieving your target! May you achieve all the milestones in your life! You are a very motivational colleague of mine.
Good luck my dear friend and a very understanding colleague for a new position! May you step by step get all what you want! My best wishes with you!
Good luck messages for students
Being in a student life is one of the best phases of life that never returns. Study as much as you can and enjoy too without wasting yourselves. Good luck all the students!
All the lessons you learn in this student life would be the lessons for your life time. So be a good student for your life. Good luck dears!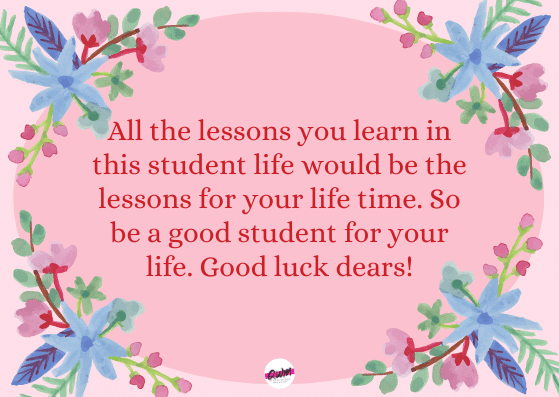 Student life teaches one very great aspect of life- failure and success. This would forever continue in life. And may you learn well. Good luck all the students!
You need to know what time you need to invest in your student life. The interest of it you would get in future. Good luck students!
Good luck for your exams to all the students. May you perform well and get promoted in your next class.
May you read good books and may you make good friends. That is all about studentship. Best luck for your future!
May you forever be students! May you forever learn and learn all what you want. Good luck boys!
Always be a seeker of knowledge. This is the purpose of student life. Good luck my all students for your better future!
Have that humility of being a student whenever you want to. Perform well in your exams and be better leaders of tomorrow. Good luck to all the students!
Best teachers, best friends, and valuable knowledge; all these you earn while being a student. May you earn well these in abundance! Good luck achievers!
May you find what you want to be! May you become what you want to be! Good luck my dear students!
You all are good students. May you perform always better for your life! Good luck!
May you fly and touch your sky! Best wishes for you and good luck for your life students!
Observe and learn. If you have instilled these two virtues in your life, you will be always ahead. Good luck dreamers!
May you make best and memorable of your student life! May you be hero of yourselves! May you never degrade yourselves! Good luck my dear students! Best wishes for you all!