As life is most of the time about moving on, we are dedicating this post to inspirational moving on quotes about life and the best letting go quotes. Life is one heck of a wonderful journey. The amalgamation of both topsy-turvy and stellar moments is what makes life a complete affair. Just imagine a life where all you get to experience is enchanting moments but not pain and struggle. Isn't it sound boring? Pain and struggles are there in life for the growth of mind, body, and soul. Without them, we cannot experience the varied horizons of life.
Life always comes with a multitude of choices. At any time, you always have the choice to move on, give up, let go, quit, or hustle. In addition to that, all good or bad things come to an end, be it a relation, job, career, friendship, or anything else. When one of these things comes to an end, you have to take a critical decision of either moving on or to stick to the current circumstances. Moving on is not a wrong thing to do when you know it's going to bring a myriad of positive changes in life. However, moving on from something you love or something you have worked on for a long time is one of the most daunting things in the world.
Keeping in mind the need of moving on in life, we have collated a fantastic selection of moving on quotes about life that will give you the needed courage and deep insights about the significance of move on in life at the right time. Let's get started. These moving on quotes about life is utterly original, can be downloaded with images, and can be shared on all social media platforms right from here.
Best Moving on Quotes About Life | Encouraging Letting Go Quotes
You can move on from everything in life but not the sheer truth. Unless you accept the truth of your life, you won't be at peace.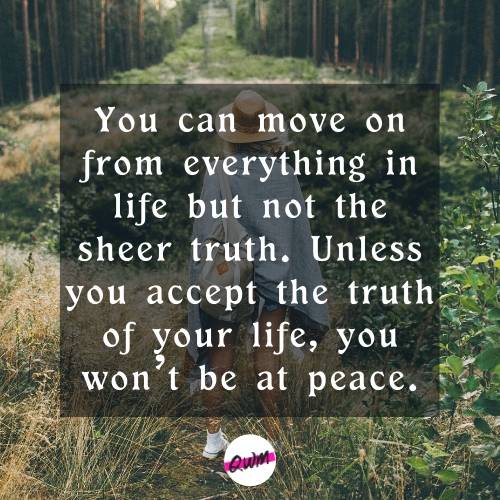 Holding on the things that have ruined your past is not the trait of a sagacious person. Life is all about moving on and exploring new dimensions.
Like holding a glass of water for a long period of time can induce pain in your hands, holding on the bad memories in your mind can give pain to your soul. Learn to move on in life.
Sometimes, it's better to move on for the betterment of your future and to get over from the pain life has given to you. Moving is the best medicine for healing.
The best remedy for the loss in personal and professional life is moving on as quickly as possible keeping in mind the past mistakes. There is nothing better than moving on when you don't know what to do in life.
If you are going through heaven, keeping going. If you are going through hell, keep going. Life is all about keep going on. Stagnation is death.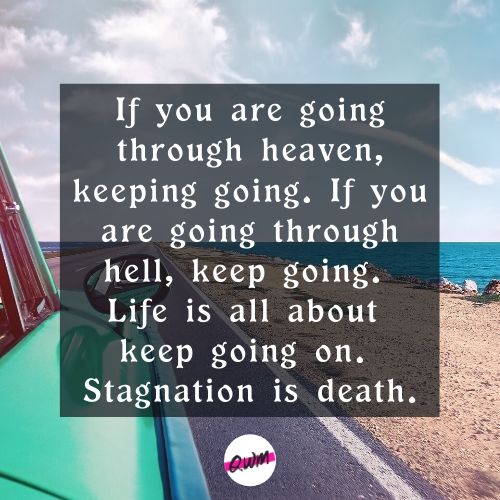 Yesterday is gone and tomorrow is yet to come. You can't do anything about the past and the future. The present is all you have in which you can choose either to hold on or to move on.
Sometimes, letting go of certain things from life doesn't mean you give up. Sometimes, you let go of certain relations and things for the betterment of your own life.
Anything that burdens your soul and the mind is worth letting go. There is nothing more valuable than peace of mind. Let go of things that make you feel heavy.
Knowledge lightens mind, wisdom lightens soul and letting go of bondage lightens life. Never waste a single second in letting go of things that are stopping you to achieve the full potential.
Yes, you will lose a great number of things in the process of moving on in life. However, what you gain will be manifold times valuable and worthy than what you let go.
Some things and some people are not meant to be a permanent part of your life. It's better to let them go for your own good.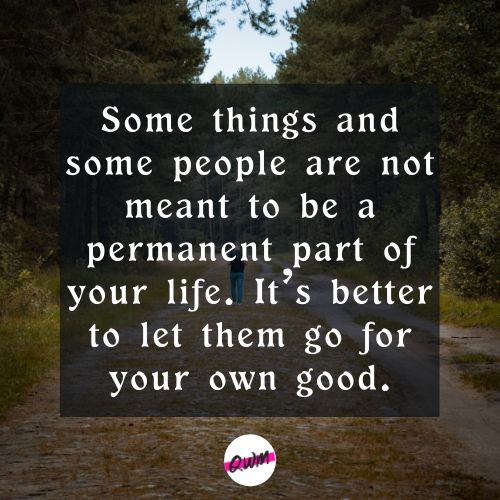 It doesn't matter how fast you move on in life. What matters is you have to keep moving regardless of pace.
Surely, you cannot go back in the past and sort our everything. But you can begin now and create a stunning ending of your story. Life and moving on are synonymous with each other.
In life, great changes cause a great mess initially. However, your struggles and the attitude of keep moving make everything perfect and soothing again.
When you decide to move on in life, some people will criticize you and some will catch you up. The key is, you have to stop worrying about who will move on with you.
Most of the people often don't understand the difference between giving up and moving on. Quitters give up, intelligent souls move on.
Holding on the past doesn't make you strong at all. It's the act of letting go that defines your prowess.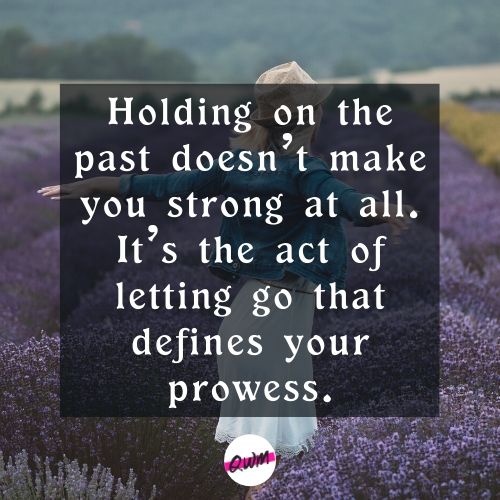 It takes a courageous soul to move on in life without any strings attached. Weak people can't let go of trivial things.
Life is not about waiting for good things to happen. It's about busting your butt to achieve the greatness and the prosperity you deserve.
Forgiveness definitely gives you peace but it may not give you the inspiration to move on. Sheer inspiration is what you must seek if you want to move on completely in life.
Either you can choose to let the storm pass and let it does the ravage or you can choose to move on to preserve your future. The choice is yours!
The very process of enlightenment is destructive. It takes away all the negative traits like jealously, anger, greed. However, it also gives you clarity, peace of mind, and the choice of moving on in life.
The whole gist of love is giving absolute freedom to the person you love. Love is the act of letting go, not holding on the person.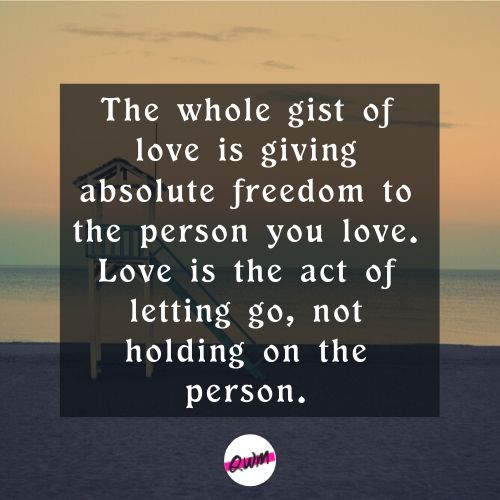 If you can't let go of the most precious of your stuff or relationship in 30 seconds, you are not free in life. A completely free person is detached from everything and easily moves on in life.
The only feasible solution to get over from massive failures is to get back up and start moving again. Life always seems good when you are in harmony with it.
Sometimes, you have to move backward in life in order to gain momentum and move forward at a greater pace.
When we decide to keep moving forward in spite of all the obstructions, the new doors of opportunities and possibilities automatically open for us. Always keep moving forward in life!
Dwelling too much in past and its glories may give you happiness for a short time but it also shut down the alluring doors to grab new opportunities.
Any intelligent person can sums up life in the utmost three words: it goes on.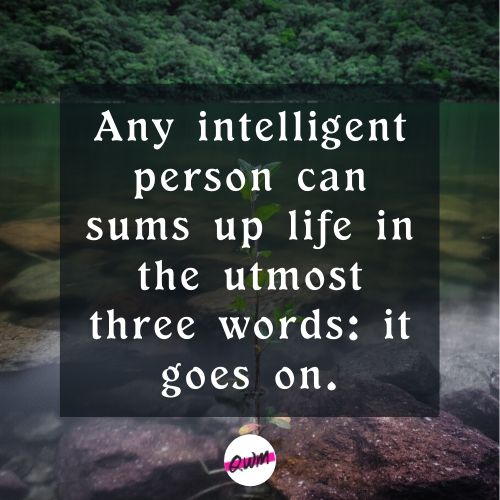 When you let go of things that don't improve the quality of life, you create a space for the things that can.
One of the boldest decisions you can take in life is moving on from those things that hurt your mind and soul but are dearest to you.
You can't fly high in the sky like an eagle if you carry the baggage of failures with you. Learn to get past from the old stuff and always focus on moving forward!
One fine way to get over from the pain quickly is embracing it and living with it peacefully!
If you realize earlier that moving on from a situation can change your life drastically, you won't waste a single second in thinking about moving on.
It is an absolute necessity to let go of all the things that don't set you free completely.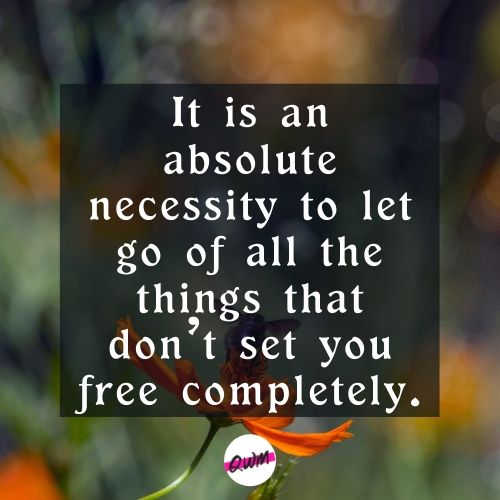 Everything thing in life teaches us some lessons. Unless you learn the lesson, life will keep putting you in the same loop. That's why learn to move on and always strive to broaden your horizon.
Moving on in life is no less than taking a great risk. You don't know what life will throw at you but there is always hope in heart for the good things to happen.
Don't let the unnecessary burden of the past stop you from moving on to a glorious and bright full future. Just keep going!
Even though we don't know what lies for us in the future, we should still keep moving with the hope of achieving something better than earlier.
There comes a point in life when you know when to give up and when to move on. You have to know when is the right time to turn the page.
When changes in life come after gut-wrenching struggles, they also bring an equal amount of happiness and positivity.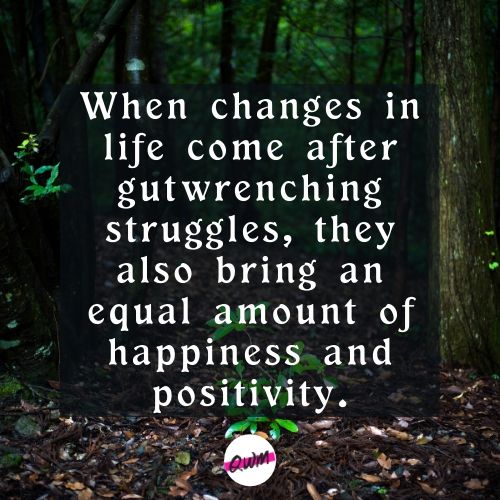 At any time, you always have the choice to move on and leave the crap behind. Sometimes, moving on in life is the best way, and the only way to break shackles.
Grudges are only held on by those who have no intentions(consciously or unconsciously) to let go of toxic feelings. Forgiveness is the attribute of strong people who want to move on.
Holding on something is only good when it is not causing harm to your inner peace. You should have an unwavering command on letting go of emotion to live a serene life.
Sometimes, in life, the most daunting part is not moving on but to start everything from scratch.
The biggest battle of life: giving up vs moving on.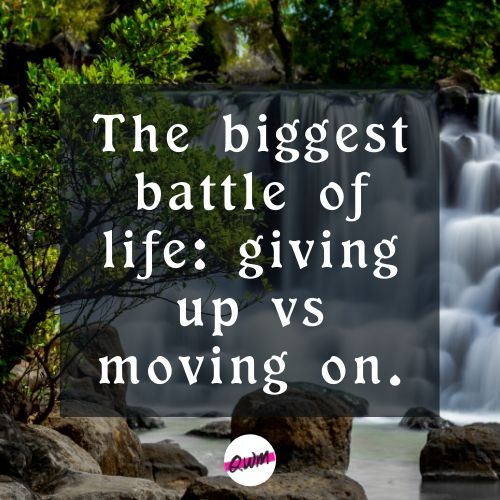 Don't make your life decisions on the basis of other people's circumstances. For some, moving on is a necessity not the choice.
Sooner or later, we all have to let go of our past, we all have to move on in life to experience the calm after chaos.
Every adversity gives you a wonderful opportunity to stomp heavily your failures and shortcomings and move forward with profound courage.
Be soft enough to love her unconditionally and be strong enough to let her go without holding any grudges.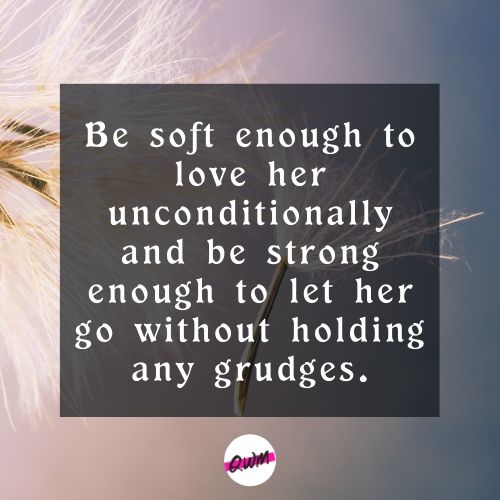 We are pretty sure you must have liked our compilation of motivational moving on quotes about life. Change is the biggest truth in life. No matter how hard you strive to hold on the things, they gonna change sooner or later as it is the law of nature. It's better for any individual to acclimatize with the change and move on in life to explore different dimensions, philosophies, ideologies, and opportunities.
It is the natural tendency of a human being to crave for the things that once used to be the part of his/her life, be it a relationship, friendship, or personal stuff. But holding on things even when they are of no use is only going to bring pain in your life and nothing else. So, the bottom line here is, let go of the past and always work to carve a brighter future. Do let us know in the comment section if you like our painstakingly created moving on quotes about life. We would love to hear from you.