Admit it or not, one hates to get retired especially when the person is a sheer workaholic. The very meaning of retirement is to giving yourself complete rest from the work-life and start savoring and relishing the other aspects of life that weren't possible to do during professional life. The retirement of the boss is a profound and significant occasion for the entire office. It is the duty of every employee to pay due homage to the leader of the pack in their own way. The best way to honor your boss and thank him for his selfless leadership is by sending him retirement wishes for boss jotted down in a greeting card. Below we have compiled the perfect and humorous retirement messages for boss and funny retirement wishes for boss that your boss would be delighted to receive and cherish.
Retirement wishes for boss
It's wrenching my heart to say goodbye to one and only boss but that's the way life goes on. We all have to put everything to rest someday. I wish you a serene and cheerful retirement, boss!
Maybe you are living us with wonderful memories, but your imparted knowledge and priceless wisdom will continue to guide all of us till the end. Without a shadow of a doubt, you are the best boss I have ever worked with. Happy retirement, boss! Have a thumping life ahead!
A leader is the one who leads from the front not just orders like a doctor. For me, you are a true leader in every sense and you will always be the leader of my life. Congratulations on your glorious retirement, my awesome boss!
I really don't have words right now to say the proper thank you to the person who turned me into a fantastic human being. I am super happy on your retirement. Have a happening life ahead, boss!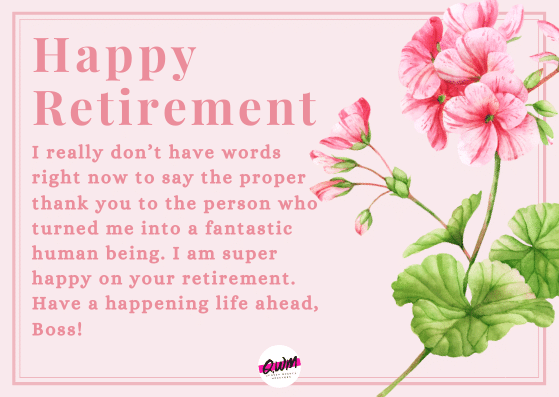 As you have completed another fantastic inning of your life, I wish you nothing but a life full of respectable moments, impeccable health, and great companionship. Enjoy your retirement to the fullest.
I have spent almost two decades working with you. Not a single moment you made me felt that you are my boss and I am your junior. All the time we enjoyed as great colleagues together. Now, it's time for you to begin the new chapter of your life. Happy retirement my super inspiring boss!
I don't remember a moment in my entire career when you scolded me or discouraged me. You were always so supportive and friendly to me. I wish all the newbies like me get a boss like you. Hope you have a great life after retirement!
Dear boss, you have given a massive contribution to the growth and development of this company and its employees. What you have done can't be thanked in words and praised through giving the trophies. I wish you a barnstorming journey ahead. Happy retirement!
In my career so far, I have never seen a jolly and party-freak boss like you. How did you manage to keep your personal and professional lives so awesome and glorious? Anyway, I wish you a glittering retirement!
The difference between a manager and a boss is a manager always thinks about getting the entire credit and a leader always thinks about giving it to his team. You are a selfless leader and a fantastic human being. Have an awesome after retirement journey, my boss. Congratulations on your retirement!
Hello boss, throughout your professional career, you have worked outrageously hard to lift up the image of this organization and impart priceless wisdom. We will never ever forget your contribution. Happy retirement to everyone's favorite boss!
I wish a tranquil and joyous retirement to the most peaceful boss in the world. Your journey has been inspiring till yet and I know you will continue to excel in your new phase of life as well.
It's the dream of every individual to retire on a high note and in the most acknowledged way. I am glad you are retiring the way you want and I am pretty sure you will continue to guide young chaps like me. Happy retirement!
You have dealt enough with the pressure of chasing goals, meeting deadlines and nurturing the talents. It's high time for you to enjoy the exotic locations, sip your favorite whiskeys, and enjoy the companionship of your lovely partner. Congratulations on your retirement, boss!
I know how much you hate the word 'retirement'. However, there is the right time for starting and quitting anything in the world. Now is your time to say goodbye to your professional career and explore the other facades of life. Enjoy the beautiful days of retirement!
You are officially free to do whatever you want in life without getting worried about the outcomes and deadlines. Boss, you seriously are one heck of a great man. I wish nothing but only the best on your retirement!
Your presence is sufficient enough to inject oodles of inspiration even in the dullest employee. No one can fill your gargantuan presence and match your influence on us. You will be greatly missed. Happy retirement to you, boss!
Thanks a ton boss for being the most supportive, affectionate, and inspiring mentor young professionals could ask for. The way you guide us is unparalleled. Congratulations on your retirement and on the beginning of the new chapter of your life.
Your memories are deeply imbibed at every corner of this office. I don't think this place will be as happening for work as it was during your tenure. I wish you enjoy the new phase of your life to the fullest. Happy retirement boss!
If there were no age restrictions to work, you will be working till the last breath. However, life is not just about work. It's also about savoring the meantime. Have a fascinating work-free life boss!
Funny retirement wishes for boss
You are perhaps the only boss in my knowledge who would love to pass orders to employees ever after the retirement. For the love of almighty, take some rest boss, and let us breathe some fresh air. Jokes apart, congratulations on your retirement!
It doesn't matter whether you are retiring or not, you will still be a grumpy, super strict, and detail-focused boss. Anyways, we all gonna miss you badly. May you enjoy your retirement days to the fullest!
It's hard for a workaholic boss like you to sit at home in a relaxed manner and do nothing. But I am sure that you will surely learn how to kill time in ingenious ways. Heartiest congratulations on your retirement boss!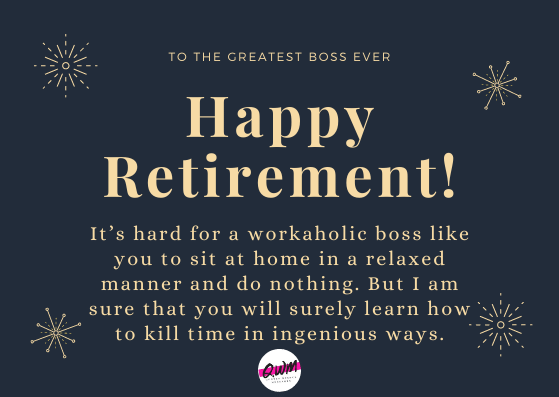 As you are going to retire, I openly challenge you to not think about this office and work for at least a single day. Let's see if you have the guts to accept my daunting challenge? Wishing happy retirement to my utterly workaholic boss!
You have sacrificed your time, health, and energy to become a juggernaut in the corporate world. It's time to sacrifice love, serenity, and work to enjoy the happening time of retirement. Congratulations on your retirement, my grumpy boss!
I guess the only mastery you need to attain apart from business ideas, prestigious awards, and achievement is the mastery of doing nothing or enjoying the free time with family. Congratulations! Happy retirement!
May you enjoy your retirement life like you enjoy your favorite whiskey, one sip at a time. However, the problem is your wife doesn't allow you to drink whiskey at home. Heartiest congratulations on your retirement!
As you are getting a life long rest from the most favorite errand of yours, I don't think you would be able to bear so much free time. May God bless you. Congratulations on your retirement, my splendid boss!
Hey boss, you have finally entered into a zone where you could ask for the senior citizen discount with the utmost pride. But they don't give discounts on whiskey. Enjoy your retirement life like no one! Happy retirement!
Now it looks like this office can once again sing, laugh, and dance in your permanent absence. However, even that wouldn't be any fun without your scolding. Enjoy the permanent rest boss. Congratulations on your retirement!
Hey boss, pretty soon you are going to be a person who can be absolutely happy on Mondays? Yes, only a retired person can be happy on Monday. Savor your retirement time to the fullest!
Dear boss, after your retirement, we will not miss all the works that you always want us to do all the time. Let there be chaos and chirpiness in the office. Anyways, happy retirement!
Hey boss, now you will have all the time of the world to find out what's not going right at your house management. However, office management will never be the same without you. Happy retirement!
It's intriguing to know that you tried your level best in front of the chairman to halt your retirement. How on the earth did you bring so much passion for the work? For the love of almighty, enjoy your life and let us also take some sigh of relief. All the best and have a happy retirement!
I know how much retirement going to bite and haunt you but you are way too strong to handle that pain as well. Be ready for the dull weekdays, painful back, and a big belly.
Happy Retirement Messages for Boss
You don't look that much old. It feels like it is your early retirement. I wish may you follow your artistic endeavors what you have always talked with us. Enjoy your retirement! You always be remembered boss.
Your work ethics, your hard work, your attitude towards dealing with problems and your humorous nature; we colleagues can never forget boss. You are the star of our company. May you enjoy your retirement! Good-bye boss!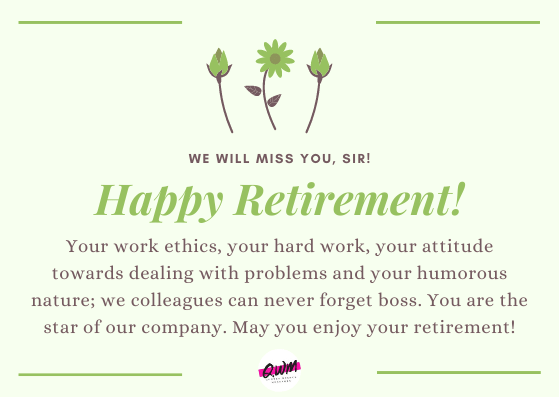 All your youth you have given to this company. Now enjoy your retirement exploring Mother Nature. Company's doors are always open for you if you don't enjoy your retirement much! Happy life and happy retirement boss!
Your company is your home. All people working here are your family. You are such a great example of a boss. We wish you all the best for your life and we wish may you enjoy your retirement years in all glory!
It is sad you are retiring from the company. We have enjoyed every bit of time with you. You are best and very supporting boss. The exceptional thing about you is that you never have any ego issues. You are marvelous boss. Enjoy your retirement and happy life boss!
I wish may your retirement pension come on time boss! Happy retirement and wish you a calm and serene future ahead for you.
We miss you Sir. You are that person we can never forget in our life. You have taught us all the business skill and sharpen as like your children. You are great boss. We wish you enjoy your retirement a lot.
All these years, you were never bossy. You have tolerated all our mistakes and the way we have behaved with you. Even you have tolerated our boss jokes.
You've given us a reason to call you boss. You are really our boss. Happy retirement Sir!
You are not only a boss on paper, while you are a boss in our hearts. We all miss you. Congratulations, wishes and great life ahead for your retirement years!
May you enjoy your time with family boss! Now we can come in informal wears! Happy retirement sir and marvelous life ahead!
We don't know how retirement feels but happy retirement to you boss! You are one exceptional man that we have ever met. Love you and respect you! May you enjoy your retirement sir!
Boss is not an easy job. You are a determined and courageous being sir. Your leadership and enthusiasm have always inspired us. We wish you happy and magical retirement. May it be!
All these years you have never given a single reason of any complain about you. You are perfectly a skilled boss. You would always be irreplaceable part of the company. Enjoy your retirement boss and blessed life to you!
We are so happy boss that you can't deduct our salary now! And we are so sad too that who would give us lofty bus now! May God protect you and may your retirement be wealthy too!
You are the definition of a responsible boss. A boss who always wins. Happy and blessed retirement for you dearest boss! Although it is rare a boss comes out dear!
You are kind, learned and always a well behaved and well spoken personality boss. In the shadow you, we have grown immensely. May God pour blessings on your retirement!
There is only one loss of being a boss, and it is that you lose your hairs early and quickly! Happy retirement boss! You look after yourself now. May your retirement be bliss!
How time and life pass so quickly! Boss, your retirement comes too early, and we never expected that. I wish may you cancel your retirement but I also want may you spend your life calmly. Happy retirement days boss!
You have win lots of awards during your tenure in the company. We wish may you continue this journey of winning boss! May you spend your retirement in all roses boss!
May your later life after retirement go moon and roses! Happy retirement and miss you really boss!
So early you going;
how well you did;
being a boss you never break;
it is all of you that is great;
happy retirement boss!
Your cabin is empty now;
your chair is empty now;
soon another one would take place;
but you will always be in hearts rest;
happy retirement boss!
You never deducted our salary;
you give a few holidays;
you believe in us;
you taught all the business fuss;
may your retirement years you buzz;
happy retirement boss!
A well-suited man;
black shoes you dwell;
people say you hell;
yet you are always well;
boss, you not have ego;
this is how you well go;
happy retirement boss!
May you live your life now as you want to;
may you visit all what you want to visit now;
may you see twinkling stars in the nights;
no office noise, no office chai;
may your retirement years be relaxing!
Happy retirement boss!
You taught to dream big;
you taught to not to limit;
you taught everything to us;
you, our boss, being a teacher of us;
may such boss we never lose;
happy retirement boss;
may you never lose!
It is so early you are going;
we miss you, you annoying;
we miss your yell;
we miss everything of you;
we miss all the spreadsheet that you flew;
happy retirement boss!
In lunch you always dine with us;
in brunch you always eat of us;
you have never paid your pizza bill;
being boss is a drill;
we wish may you always chill!
Happy retirement boss!
We have seen you lose your hairs;
guiding us losing your sleeps;
yet you never care of you'
for us, you always fare and fair;
may you relax boss;
happy retirement years with all lovely cost!
May your retirement blissful;
as you are blissful to us;
May you fly as you fly in your career;
happy retirement boss!
Being boss you never toss us;
you have stood for us;
you have fought for us;
you are the best boss;
professional life without you may toll;
happy retirement boss.
Being with you is like being with a friend;
you are our boss never dent;
mend you always, that you tend;
your intent always care;
may you rock in your retirement years boss!
Thirty years of service is a remarkable feat;
what you have achieved;
others could only dream;
may your life beam with moon's warmth;
happy retirement our to our favorite boss!
You are magic;
with us you never tragic;
never anger on us;
treat us always like droplings of flowers bunch;
May you shine always;
May you guide us always;
happy retirement boss!
Your humor we always like;
you miss your jokes that multiply;
your lectures always boring;
yet they teach us all roaring;
may you all go happy;
we wish you retirement with all clappings!
Office without you empty space;
we don't like you going quick why not late;
we miss you dear and heart;
we feel without you apart;
happy retirement year boss!
Your life is all well craft!
May you see snow mountains;
may you see Kashmir rivers;
may you see peacocks dancing;
may you fishes gathering;
may you spend your retirement years classic and well!
Love the way all work you do;
love the style the way you do;
you will always be remembered;
forever our boss;
happy retirement!
You never say no;
all problems you solved;
you never get tired;
sweat or swelter you never care;
what you love to do you always fair and fare;
we found a nice boss;
no one like you close;
blessed retirement year boss!
Good by boss!
Hope you enjoy your employees;
but employees not enjoyed you!
But we really like you;
for who you are;
a true and honest man of his words;
glorious retirement year boss!