Christmas Wishes for Employees: Without any question, employees are the biggest investment or the most pivotal gears of any organization. Like a little plant, a new employee is also nurtured incessantly and turn into an erudite and highly-professional individual that work for the betterment of the products and services of the organization. Christmas is by leaps and bounds the best time to express gratitude towards all the employees for being so relentless in work, dedicated, and loyal to the organization. Here we present the emotional merry Christmas wishes for employees and Christmas messages for office staff that laud the contribution of all your employees perfectly and give them a sense of worthiness.
Merry Christmas Wishes for Employees
Sending full of warmth, respect, and blissful merry Christmas wishes to the most diligent, dedicated, and loyal employees ever. May the divine festival of Christmas bring unimaginable success and happiness in your lives!
The quality of work you all have provided to us till yet is unmatched and praise-worthy. If all the organizations of the world had employees like you, the world would have been a utopia. Merry Christmas to all the marvelous employees of this organization!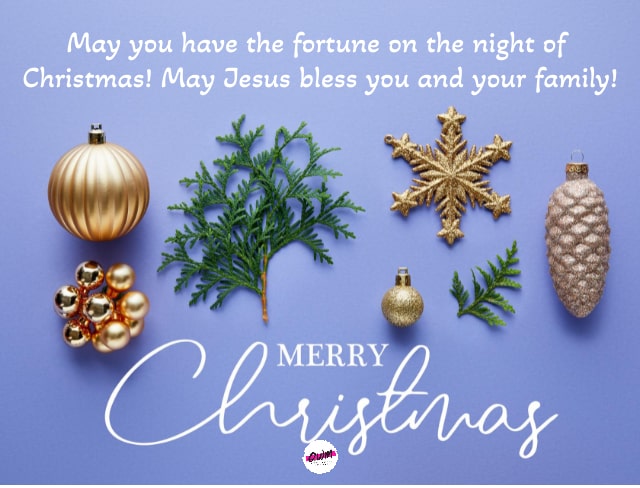 On such an auspicious occasion, we would like to send grateful Christmas wishes to all our hard-working and cool employees for being such a massive inspiration. Your work ethics and loyalty are widely appreciated!
May your Christmas holiday be packed with zingy and heart-tugging moments. May you have the gobsmacking Christmas celebration with all your family members and friends!
You guys have given performance beyond our expectations and imagination this year. With such a dazzling yearly performance, I would love to give all of you a performance bonus and blessings with Christmas wishes!
There is no home without family members. So as there is no company without good and dedicated employees. Wishing you all happy Christmas!
May you prosper and go ahead not in your career but in your life too! Wishing all the employees happy Christmas!
May you enjoy Christmas with your family and friends! May your wealth of happiness double up! Happy Christmas!
May you have the fortune on the night of Christmas! May Jesus bless you and your family! Wishing you happy Christmas!
May your children enjoy the Christmas! May their life filled with magic stupendously! May they have all what they desire! Wishing employees and their family happy Christmas!
Also see: Merry Christmas Quotes
Merry Christmas Message To Employees
May this Christmas injects so much cheer, charm, and choices in your life that you only find an abundance of everything. I am proud to have such a remarkable team in my organization. Cheers to all of you and Merry Christmas!
It is an honor of this organization to have such skillful and prudent employees on board. We wish a happy Christmas to you and your family! Be happy and be passionate!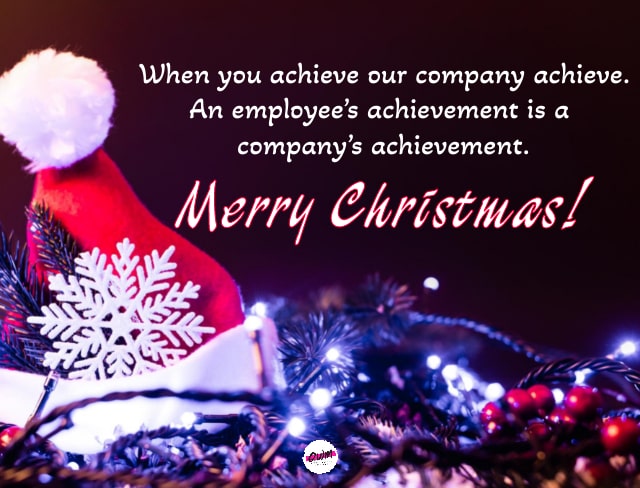 Even we take 10 years more, we will never be able to find out such enthusiastic and dexterous employees like you. Without a bit of a doubt, your loyalty and will to grow have helped this organization to succeed. Relax completely, eat fully, and happy Christmas!
May the festive spirit of Christmas enter in your mind so that you all can forget about work and focus on how to celebrate Christmas in the best possible way. On behalf of all the authorities, we wish you a bewitching merry Christmas!
Weeks turned into years but your professionalism and respectful work ethics never dwindled a bit for this organization. It is such a pleasure and honor to have you on board. Have a relaxing and exciting Christmas celebration!
Nothing can be great done without great employees. Wishing you all a very festive happy Christmas!
With dedicated and intelligent employees you can build anything and none can defeat you in the race of success. Wishing my employees a lovely Christmas!
Every employee is a company's foundation. A brick that makes it strong standing for long time. Wishing every employee happy Christmas!
When you achieve our company achieve. An employee's achievement is a company's achievement. Wishing you happy Christmas!
When an employee is happy, its means a company is progressing. Wishing every employee happy Christmas!
Also see: Merry Christmas Pictures
Christmas Wishes For Office Staff
Another Christmas festival, another year of smashing professional records, and another year of celebrating Christmas in a rocking way with the best staff ever. Merry Christmas to you all! Get tipsy and dance till you drop!
Thank you to every employee of this company for giving their valuation contribution and paving the way for this organization to the top. Let's pop up some champagne and dance like drunk skunks. May you all have a delightful Christmas celebration!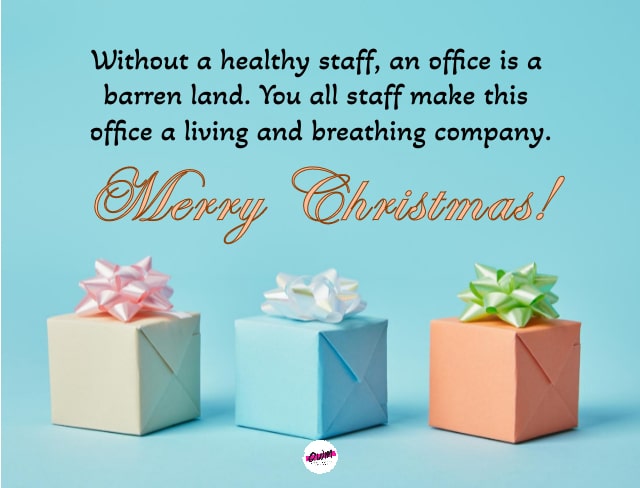 The stature of all the office staff members in this organization is no less than a family member. We highly appreciate your profound standards of professionalism and work ethic. Merry Christmas to all of you!
The position we hold right now in the market, we wouldn't be halfway to here without your relentless work and support. Thank you and have an amazing Christmas celebration!
We will always be in debt to you for sacrificing your valuable time in achieving the sky-rocketing growth of the organization instead of spending it with your kids, family, and friends. Merry Christmas to the most devoted and remarkable office staff in the world!
Without a healthy staff, an office is a barren land. You all staff make this office a living and breathing company. Wishing everyone happy Christmas!
Each employee of the company from every rank has contributed to the growth of the company. You everyone is special. Wishing you all happy Christmas!
Wishing every one of you happy and joyous Christmas! May Santa fulfill everything of you! You are the lovely and honest staff of this company. We really respect and honor you all.
Happy and exciting Christmas to everyone. May in your life candles of light keep burning and show you the right path! May chimes of happiness keep clinking in your life! Wishing the staff happy Christmas!
Happy Christmas to all the staff of this company! Believe us without you we are nothing. Together we are a team and always will be. On the night of Christmas May the rain of happiness pour for everyone!
You May Also Like: