Funny Retirement Wishes: An individual who has worked tirelessly and passionately for almost half his life definitely seeks retirement to pursue other passions and meaningful errands. Retirement is not the end of life but the beginning of a more thoughtful and intriguing phase. A person who has just retired deserves greetings from all near and dear ones to begin the new chapter of life in a cheerful way. However, retirement wishes don't have to sound boring all the time. You can inject some humor into your wishes to make a person burst into sudden laughter when he/she receives the greetings from you. Here is a classic compilation of funny retirement wishes and funny retirement quotes that will uplift the mood of a person and greet them for frolic retirement days.
Funny Retirement Messages
Happy retirement to my uncle whose whole professional life is no less than exotic holidays. You have enjoyed earlier, you will enjoy more your retirement days. Congrats on your retirement!
Retirement is a lot like a government of our country, you will get a lot of money to spend for doing nothing. Jokes apart, may you have productive and tranquil retirement days.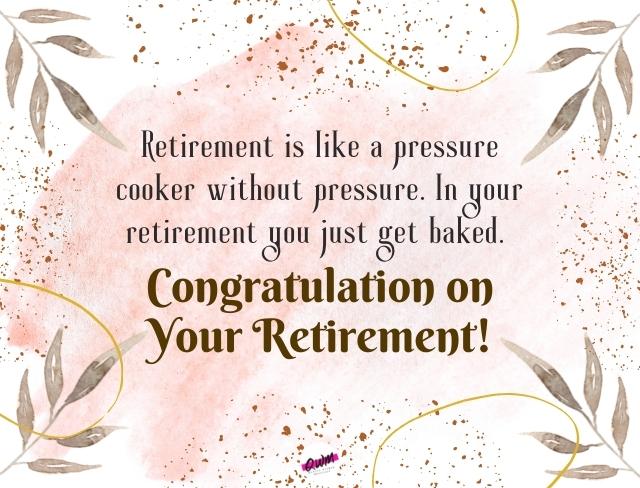 Dear father, when it comes to retirement, you are not a very lucky man. I mean, you used to get scolded a lot by your boss, now you will receive umpteen scoldings of mom at home for not helping her. Good luck with your retirement days.
Heartiest congratulations on your retirement and for a massively successful career! I know you don't like to sit idle that's why I offer you to do gardening work for me. You can happily kill time and I can have a beautiful garden. Jokes apart, happy retirement!
Dear father-in-law, you have been quite a serious man during your professional career. However, now you are retired and you are free to do things to your heart's content. Please start laughing more so that I can get fewer goosebumps when I see you. Happy retirement!
Most individuals' bodies become fragile and arduous after working for so many years. However, you are still so young and bubbling with energy because you and hard work are not synonymous with each other. Happy retirement to the laziest person I know!
Life after retirement is no less than a swash-buckling ride for a man or woman who chose to stay at home instead of traveling the whole world. I mean everyone has a list of complaints as well as gifts ready to throw on you. Congratulations on retirement!
It's really a great thing that retirement is a mandatory law, not an optional one otherwise you would be working your whole life just to rake as much money as you want. What a parsimonious person! Have fabulous retirement days!
Heartiest congratulations to my brother on his retirement and good luck with the upcoming challenges. I mean you are retired without any savings and pension plans so you deserve some good luck greetings from everyone.
It takes bone-crunching efforts to sit all day long on the same couch and watch the same old t.v serials day in and day out. I must say you are using your retirement days quite productively. You are a sheer source of inspiration to all people who got retired recently. Happy retirement!
You are known for your kindness. Why don't you distribute your all retirement fund among us? After all we are yours and have taken care of you and always would. Happy retirement!
Happy retirement! Now you can spend your whole time looking at stars and thinking about what is written in your destiny. Because now you have all the time in the world. 
From your school plays to office fancy dress parties, you have always dressed yourself as bunny. Now in your retirement you could be a real bunny. Just don't only dress as it. Happy bunny retirement!
Retirement could give you the most important thing in your life that you have chased while working. Do you know what it is? It is peace. If it comes to you, you have done some good karma in your life. Happy retirement dear!
Retirement is like a pressure cooker without pressure. In your retirement you just get baked. Congratulation on your retirement!
In your retirement you would know that all that you have done in your working life was waste; not that much beneficial. After your retirement you only brood what you done or not. Wishing happy retirement dear! We hope that you really have done some good.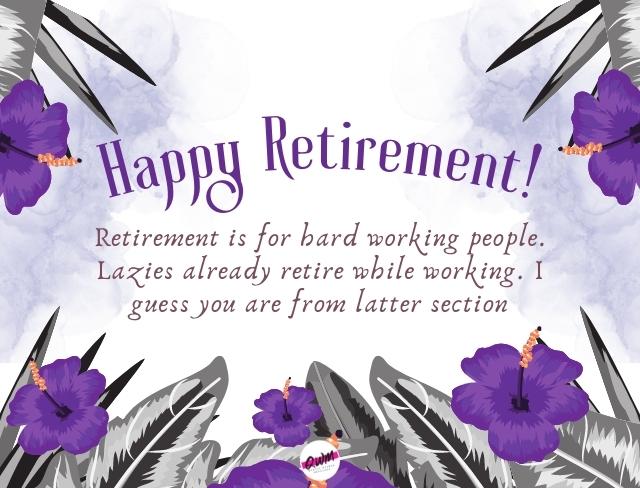 Youth phase is an electric current while retirement is a shock. You just know that you have nothing to do and this is pitiful. Happy retirement! Don't be so pitiful. 
After your retirement you don't have much choice except only you. Hence choose wisely in your young days that compound in after your retirement! Love you dear. Happy retirement!
Your retirement fund is over already because you are going to go on lavish trips with your wife that you have promised during your wedding. That's why make less promises with wife. Cheerful retirement my friend!
Retirement is for hard working people. Lazies already retire while working. I guess you are from latter section. Wishing happy retirement!
Also see: Happy Retirement Wishes
Funny Retirement Wishes
Hey daddy, you have earned millions of dollars during your professional career. Now is the best time to splurge all that money on yourself as well as some part of it on me. You had a great career and I am super proud of your achievements. Happy retirement!
You are the laziest person I know yet you manage to survive in the corporate world for so many years and retired with a fortune in your kitty is simply astonishing. Now, no one will taunt you for being lazy because you are officially retired. Congrats on your retirement!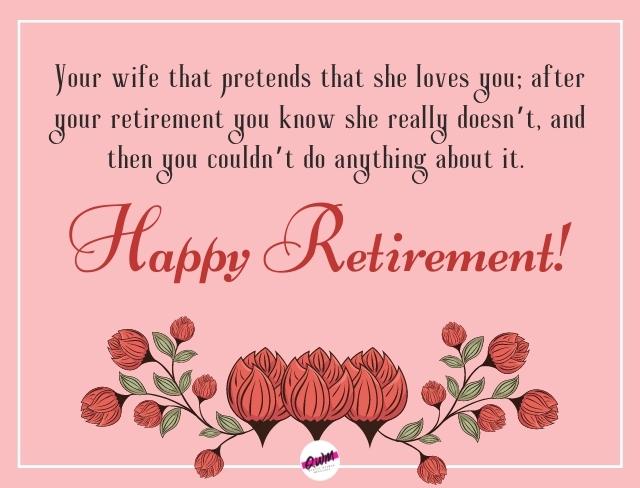 With a person of such a low IQ and close to zero skills, getting retired with 401k is no less than a dreamy affair. You must be feeling like God because you are absolutely free to be dumb again. Jokes apart, mighty congratulations on your retirement!
For a lethargic individual like you, doing nothing is the best productive task in the world. I know you are the head of non-doers and after retirement, you are going to enjoy like hell doing nothing. Have freaking awesome retirement days.
You have ignored your health long enough to earn money like a maniac. Your retirement comes with terrible health conditions for you. Be ready to spend all your saved money on your health now. Happy retirement and have a serene life!
Actually what you want in your retirement, you haven't sought in your young days. While you worked only for the comfort rather than wants. And that's irony! I hope it is your happy retirement!
All the warnings and cautions that you have ignored in your life while working for yourself; you have to pay for them in your retirement. We think that some you really haven't ignored! Love you friend. Happy Retirement! May you have the blessed retirement! 
The funny thing about life is you take everything seriously while you should take it funny. And you take your retirement seriously while you really should take it funny. Actually for your whole life you haven't understood what is funny and serious. And that is so much funny. May you fun in your life! Happy retirement dear! 
Your wife that pretends that she loves you; after your retirement you know she really doesn't, and then you couldn't do anything about it. Happy retirement! Sometimes retirement is revelation! May you find true love; may you actually!
You never seek God while working for jobs. After your retirement you only seek him and nothing else. That's why Gods say sometimes you pray also. Happy God seeking retirement my friend! May you find him! 
Also see: Retirement Wishes for Father
Funny Retirement farewell Message to Coworkers
Hey colleague, after your retirement, our workspace will become more productive and ingenious than ever because you are the one who spread depressing and sluggish vibes here. Moreover, you won't be here to annoy us while doing the crucial task. Happy retirement to my lazy coworker!
You are perhaps the only person in the world who got boss's scoldings instead of praising and best wishes on his retirement. I mean who insults a boss on the last day of his professional career? Enjoy your retirement, buddy!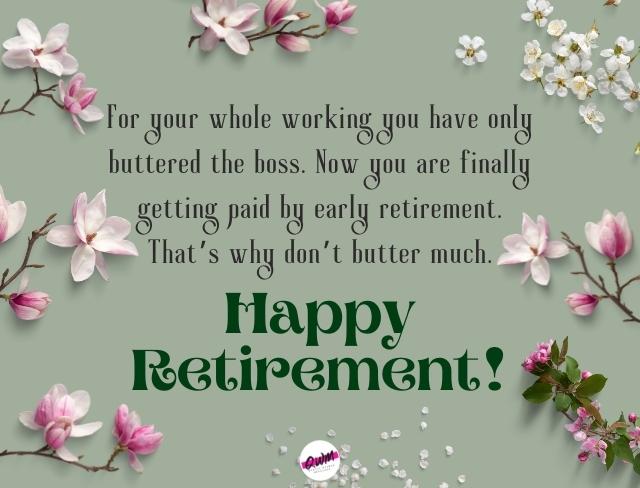 I was super depressed when you retired and left the office. However, my productivity and salary shot up by leaps and bounds in your absence. It seems like you were bad luck to me. Happy retirement to my grumpy colleague!
There was a time when we used to enjoy sports together on weekend. Now, you are retired and I am far away from my retirement, I will become envious of you for enjoying sports alone. Happy retirement and have a blissful life ahead!
Hey colleague, mighty congratulations for not getting fired even after committing horrendous blunders and retiring from the office prestigiously. I must say you are one heck of a lucky chap. Congrats on your retirement and have a serene life ahead!
When first time you joined office, from that time I am waiting for your farewell. Happy retirement to you! It is nice working with you for all the years while actually you didn't work for seconds. All you do is flirting. 
Finally you are retiring and it is a good feeling. All these years I prayed for this moment. Peace to me. Even though I don't like you but nothing goes in saying you are a bit good. Wishing you jovial retirement!
For your whole working you have only buttered the boss. Now you are finally getting paid by early retirement. That's why don't butter much. Wishing happy buttery retirement my really good colleague!
May your retirement give you everything what you haven't got while working! Wishing you happy retirement! Though we are happy seeing you going but we really miss you. You are so awesome colleague without having an awe really. Wishing happy retirement!
Congratulations on your retirement! We really miss your late comings and salary deductions over that. Now you are permanently late. You can go anytime anywhere! Wishing happy retirement to late colleague with early retirement! 
Also see: Retirement Wishes for Colleagues
Funny Retirement Messages for Boss
Respected boss, you have no idea how frisky we all are feeling when we heard the news of your sudden retirement. I guess I haven't felt so good about someone's retirement in such a long time. Jokes apart, happy retirement boss, and you will be missed badly!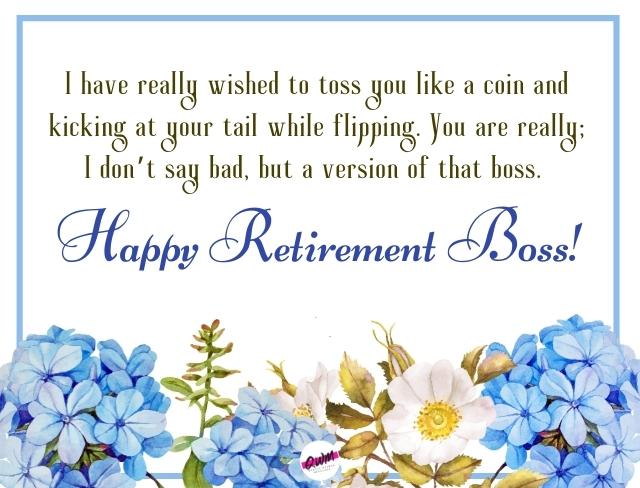 When a boss retires early than his employees, the excitement and happiness of employees know no boundaries. May you work on your anger management and excess smoking after retirement. Mighty congratulations on your retirement boss!
Respected boss, whether you believe this or not, we all are going to miss you badly except for your preposterous sales targets, long boring meetings, and continuous leave rejection of employees. Happy retirement, boss!
I have really wished to toss you like a coin and kicking at your tail while flipping. You are really; I don't say bad, but a version of that boss. Happy retirement to non-boss boss! 
You have stolen all employees' ideas and not giving credit to them. You have earned on them. You never respect a single employee. I don't say you are all that. I really don't mean that. You are really good boss. I hope you truly understand my sentiments. Happy retirement dear boss!
What is happiness for an employee?; seeing a boss retiring and he could not stop your increment. Wishing you lovely retirement boss!
Also see: Retirement Wishes for Your Boss
Funny Retirement Wishes for Friend
You were such a lubber when you completed college. You are still a big-time lubber even after your retirement. Even god doesn't have any strength to change your inner psychology. Congratulations on your well-needed retirement, friend!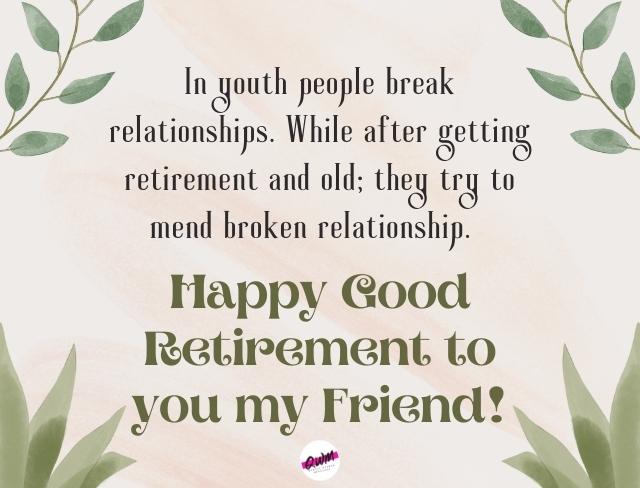 I so wanted to give you a hefty and exorbitant gift on your retirement but you never spent a single penny on giving a treat to me. So, your retirement gift is canceled and all you can have is my best wishes. Happy retirement to my best buddy!
The reason you got involuntarily retirement is because the organization was not in the situation to afford such a massive talent like you. So, they thought get rid of you as soon as possible. I know all you will do in your retirement days is sleep. Happy retirement, buddy!
Happy retirement to you my friend! Now you can watch all the episodes of Sex and the City and thinking you must have watched it in your working life. Happy retirement my friend! May it really be happy for you!
I said you to marry but you didn't pay attention to me. Now in your retirement you are searching for a girl. May you find her! Wishing joyous retirement to you! May it really be joyous to you!
In youth people break relationships. While after getting retirement and old; they try to mend broken relationship. Happy good retirement to you my friend! 
Also see: Retirement Wishes for a Friend
Funny Retirement Wishes for Husband
Hey sweetheart husband, now you are completely done with your professional career, you better pick up that basket and learn to buy groceries and other essentials for home. Happiest retirement husband and be ready to handle household chores.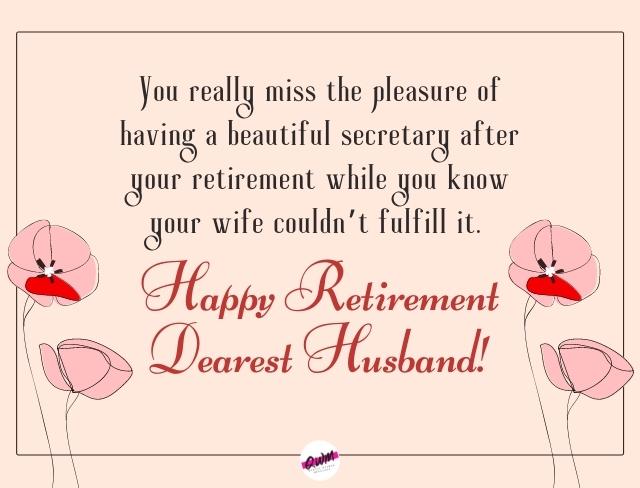 Dear husband, I am the happiest person in the world on your retirement because now you can't give me work-related excuses to avoid taking me on shopping, movies, and family trips. Let's have a blasting retirement party for you!
Thank you so much to god for retiring you at the right time because our maid quit working at home and you will be available all the time to help me out with household chores. Happy retirement, sweet hubby!
You really miss the pleasure of having a beautiful secretary after your retirement while you know your wife couldn't fulfill it. Wishing happy retirement dearest husband! May you not miss your previous secretary! 
Retirement is your cooking lessons that you learn with your wife; and that is really called loving your wife while cooking for her. Happiest retirement dear husband! May you really make savory dishes for me!
Husbands actually never retire. They only retire when their wives leave them and this doesn't happen for eternity. May it never happen for you! Wishing you happiest retirement my loving husband!
Also see: Retirement Wishes for Teachers
Funny Retirement Quotes
What do you call a person who is happy on Monday? Retired. — Unknown
People will forget what you said, people will forget what you did, but people will never forget how you made them feel. — Maya Angelou
Retirement: It's nice to get out of the rat race, but you have to learn to get along with less cheese. ~ Gene Perret
Retirement is when you switch bosses from the one who hired you to the one who married you. ~ Gene Perret
When a man retires, his wife gets twice as much husband for half as much money. — Chi Chi Rodriguez
My retirement plan is to get thrown into a minimum security prison in Hawaii. – Julius Sharpe
The best time to start thinking about your retirement is before the boss does. – Unknown
Retirement is wonderful if you have two essentials: much to live on and much to live for. – Unknown
Retirement: No job, no stress, no pay! ~ Unknown
Retirement at sixty-five is ridiculous. When I was sixty-five I still had pimples. — George Burns
The money's no better in retirement but the hours are. – Unknown
 I have never liked working. To me, a job is an invasion of privacy. — Unknown
Happy days are here at last, the days of nine to five are passed, you've worked your life and paid your dues, now you can do just what you choose! ~ Anon
In retirement, every day is Boss Day and every day is Employee Appreciation Day. – Unknown
When a man retires and time is no longer a matter of urgent importance, his colleagues generally present him with a watch. — R.C. Sherriff