Christmas Messages for Granddaughter: No one can make grandparents forget about their age like granddaughters. They evoke the dormant inner child of grandparents and help them relive the sweet old memories of the past and make every festival's celebration extraordinary. Watching your granddaughter turn from a mushy and quarrelsome baby into a classic diva is sheer joy for any grandparent. Spoil her more on Christmas eve by sending the loveliest merry Christmas wishes for granddaughter along with adorable gifts and unconditional love.
Merry Christmas Wishes for Granddaughter
Merry Christmas to god's sweet blessing on our family. I am so fond of your bubbly nature and innocent smile. May God endows all your heartfelt desires and makes your Christmas celebration whimsical!
You have become an ambitious and independent woman yet your zing to celebrate Christmas with all the family members in a simplistic manner amaze us. I wish you carry this attitude till the end. Merry Christmas to my proud granddaughter!
I am thrilled to wish happy Christmas to the world's most beautiful and intelligent daughter. Thank you so much my sweet little bird for spreading warmth and excitement in my life.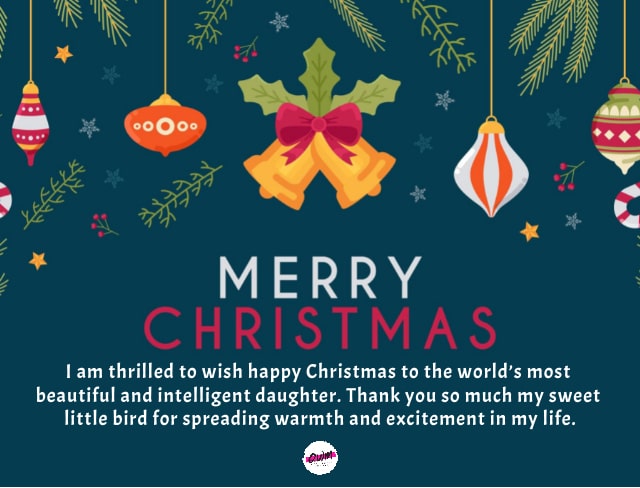 I am without a shadow of a doubt the luckiest grandmother in the world because my granddaughter keeps my inner child alive by celebrating all the happy and lively moments of her life with me. Have a magical Christmas celebration, my sweet granddaughter!
You never leave any stone unturned to make my Christmas a dreamy celebration. This year, be ready to be dazzled, gobsmacked, and thrilled to your limits because I am going to make your Christmas unforgettable. May you have the best ever Christmas celebration, granddaughter!
I feel drastic waves of happiness and outburst of exciting feelings whenever I am in your company. May Jesus fills my lovely granddaughter's heart with solace, mind with profound goals, and soul with super consciousness. Merry Christmas to my little angel!
As long as I am alive, I vow to celebrate every Christmas festival with my sweeter than candy granddaughter as you are the one who adds vivaciousness to my Christmas celebration. God bless you and Merry Christmas!
Time flies like a colorful butterfly when you and I gossip like teenage girls. I am so delighted to see you turning into one fine woman for whom the sky is the limit. Merry Christmas to my princess-like granddaughter!
May the utterly special and divine occasion of Christmas adds oodles of special moments, surprises, and grace to your simple life. I love you more than anything else granddaughter and merry Christmas!
Who needs garish presents or lavish celebrations on Christmas when my angel-like granddaughter can render me the same special feeling just with her smile. Happy Christmas to my little baby!
Also see: Heart Touching Christmas Poems
May the excitement, divinity, and festive vibes of the Christmas festival never dwindle from your life. May you live every day of your life like a carefree angel. Wishing you Merry Christmas, my pretty granddaughter!
For grandparents, their grandchildren's happiness and smile are two of the biggest gems. You are always ready to savor every moment of life with us. We love you and Merry Christmas!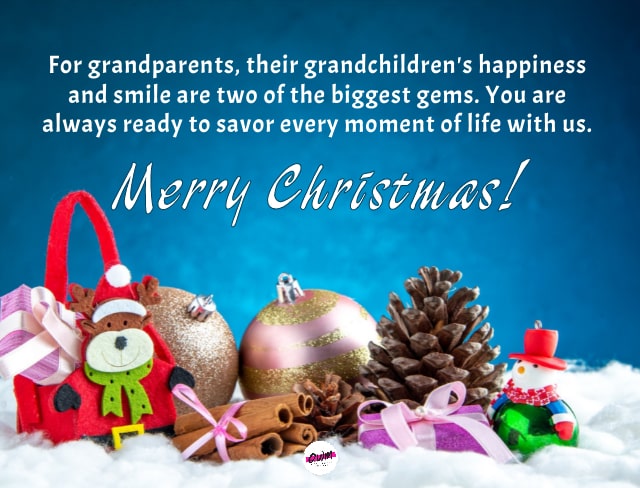 Probably, you are the sweetest part of my life. My old age never feels like a barrier because you are always with me to make every moment jolly. May your Christmas be as swoon-worthy as your personality.
Merry Christmas to the most glittering star of our family. May the angels of heaven be envious of your beauty, liveliness, and unfathomable love we give to you.
This Christmas, I will be your Santa Claus and you are absolutely free to ask any hearty wish. I will fulfill all your wishes at any cost. Merry Christmas to my darling granddaughter!
Daughters are always good care takers for their grandparents. As you are my dear granddaughter. You are sweet and lovely. Wishing you happy Christmas! May you live as you want to!
When you have a granddaughter you have everything in life. You are my cutest granddaughter. I love you. May you fly with your dreams beyond the clouds where you want to! Happy Christmas dearest!
My love is forever for you my loveliest granddaughter. You are a strong girl. May no difficulty defeat you ever in your life! Happiest Christmas to you!
Although you are a girl now. Yet I wish for you a good husband. Don't mind it dearest! May you find him on this Christmas! Love you my angel. Happy Christmas!
May you become a powerful independent woman and create your name in this world! May you get known for your work! Happiest Christmas my awesome granddaughter!
Also see: Happy Christmas Quotes
May smile never leave you ever in life! Always keep smiling. Wishing merriest Christmas! Love you my granddaughter!
May Jesus always have his eyes on you! May he always protect you! Go strong and go ahead in your life. Happy and wonderful Christmas my cutest granddaughter!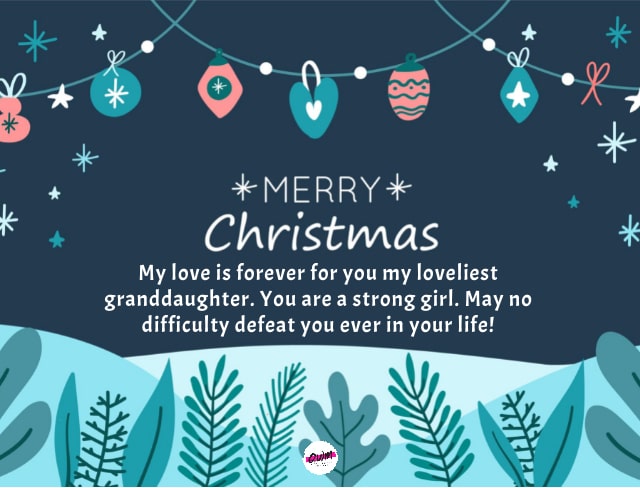 I miss you my always cheerful granddaughter. You are peace for me. May you get what you want! My prayers are with you. Wishing you happy Christmas! I wish you meet Santa in your dreams!
May you never be afraid in your life! May this Christmas be best for you! Wishing merriest Christmas to my stubborn granddaughter!
You are not just beautiful while you beautiful at heart. May you never go wrong in your life! Wishing happiest Christmas!
May oceans of happiness never dry for you my granddaughter! Love you and wishing you happy and amazing Christmas!
May all the stones get removed from your life! May you always find your path! Wishing you holiest merry Christmas my dearest granddaughter!
You are a very good girl and understanding girl. May you have all the loveliness in your life! May you never weep! I am always praying for you. Happy Christmas!
May you never lack in anything! You are a very caring granddaughter. We are lucky we have you. Wishing our love and happy Christmas to you! May you always be successful!
Love yourself. Never get off from your values. May this be the awesome Christmas for you as always! All the gifts you have in your life. Happiest merriest Christmas my rosiest granddaughter!
You May Also Like: