Christmas Wishes for Neighbors: Imagine a neighborhood where no one celebrates the festival except you. Without the presence of whimsical and lively neighbors, there is no fun in celebrating any festival and Christmas is no exception. When the whole neighborhood gathers at one place, sings Christmas songs, eats and dances together, Christmas already becomes a more than special occasion. To mesmerize your lovely neighbors with special Christmas greetings, we have chalked out the sweetest compilation of merry Christmas messages for neighbors that will surely strike the right chord in their hearts.
Merry Christmas Wishes for Neighbors
From the deepest core of my heart, I wish happy Christmas to the sweetest neighbors in the world. You have given so much love, affection, and happy moments to us that we can't ever payback. Merry Christmas to my lovely neighbors!
The reason we celebrate Christmas on such a grand level every year is that our neighbors prepare for the festival way before everyone else and make us part of it. Thank you and Merry Christmas!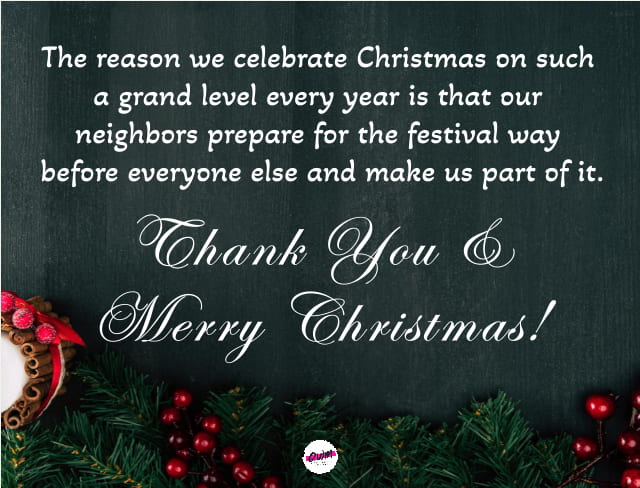 To our crazy neighbors, you are the ones who bring magic to the Christmas festival and make everyone completely marinate in the festive vibes. Sending warm Christmas wishes to the best neighbors ever!
Even though we hadn't sufficient resources to celebrate Christmas to the fullest, your family never let our family felt the death of anything on Christmas. Thank you for being so kind and big-heart. Merry Christmas to my neighbors who are more than family members!
The fun and merriment of Christmas amplify manifold times when you guys us with utter excitement. We just can't imagine celebrating Christmas without you. Have a beautiful Christmas celebration, our lovely neighbors!
Sometimes, I wonder, if you guys weren't with us to celebrate Christmas with us, how vapid and dull it would have been. I promise, as long as you guys are in touch with us, we will celebrate every Christmas together. We wish you warm and mirthful Christmas!
You guys are quite dormant and low-key in nature. What the hell happens to you guys on Christmas? The sudden outburst of energy, happiness, and excitement are jaw-dropping. Merry Christmas, neighbors!
Also see: Merry Christmas 2022 Quotes
Only calling you neighbors would be an utter insult to your family. You guys are the soul and heart of our street. Merry Christmas to the most awesome neighbors ever!
Hey ex-neighbors, may we don't live together anymore but you can hop on to our house this Christmas to celebrate Christmas like good old times. We will rock the Christmas celebration together. Merry Christmas, neighbors!
We have celebrated, enjoyed, and savored numerous Christmas festivals together. Trust me, I can't forget even a single moment of the past. We are lucky to have mirthful and kind neighbors like you. God bless you and Merry Christmas!
You are not our neighbors while our family. Without you we kind of feel incomplete. Wishing you happy Christmas!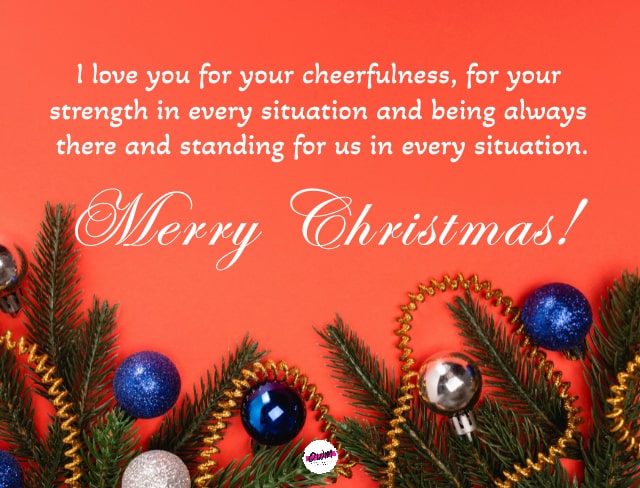 A home is not home without a good family. And a home is not home without good neighbors. Wishing you happy Christmas!
Having you as our neighbor is not just blessing while it is a boon of happiness. Love you people. Wishing you happy Christmas!
What I say more! Living near you for so long time is like living with nearby relatives. It is more than that while. You have helped us every time. Thank you for that and happy Christmas neighbors!
Also see: Merry Christmas 2022 Images
You have good heart. So kind and humble you are. We don't understand what words we should use to appreciate you. You people are really nice. Happy Christmas! Enjoy your life always!
I can't forget those days of togetherness when we were just new to one another like neighbors. Now we have grown as family. Thank you for being a part of our family. Happy Christmas!
I love you for your cheerfulness, for your strength in every situation and being always there and standing for us in every situation. Happy Christmas our beautiful neighbor!
You are not just our neighbors and live near our house. While you live near and in our heart. Wishing you happy Christmas and all the lovely days!
From the depth of our hearts we wish you lovely and prosperous Christmas. May your joy double up every time!
May your days of happiness and jubilation never end! You are our beautiful neighbor. Wishing you happy merry Christmas!
You May Also Like