Happy Fathers Day Thank You Messages: You can put down all the luxuries of the world at your father's feet, you can snatch stars for him, even that wouldn't be sufficient enough to express thankfulness towards your father. For any kid, a father is the biggest hero, supporter, motivator, and selfless love giver. He makes umpteen sacrifices just to make sure his kids don't have to face all the challenges and obstructions he had. Fathers day is surely a fine opportunity to express gratitude and thankfulness towards your father for everything he has done unconditionally and selflessly. Below is the soulful compilation of fathers day thank you messages that you can use to make your dad's father's day celebration fabulous.
Happy Fathers Day Thank You Messages
Thank you father for all your undivided attention, selfless love, and awesome upbringing. Without you, my existence has no value. Happy fathers day to the best dad ever!
No matter how much thankfulness I express towards my father, it would still be insufficient in comparison to what incredible things he has done for me. I love you dad and happy fathers day!
With a supporting and caring dad like you, any kid in the world can conquer his dreams seamlessly. Thank you dad for all the love and motivation. Happy fathers day to you!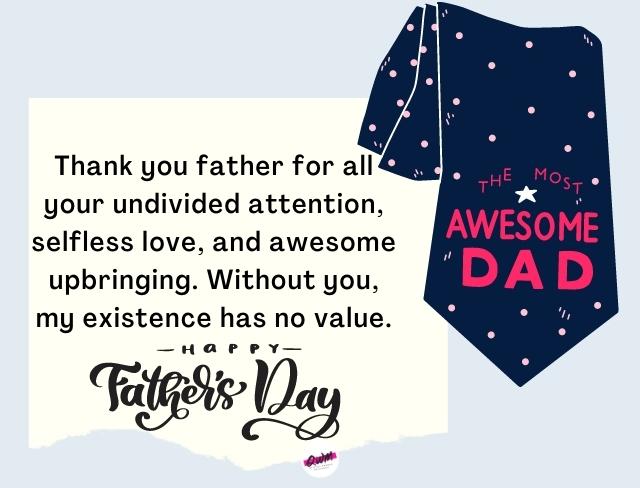 Agree or not, there is nothing better than having a father who is as excited and interested in your life and dreams as you are. Unquestionably, you are the best dad ever. Happy fathers day!
I thank Lord every single moment for giving me a father so compassionate, polymath, and supportive that I don't have to worry about anything as he is always there to back me up. I love you dad and happy fathers day!
There is no dream a kid can't achieve if he has a father always ready to walk on the path less traveled. I am lucky to have a supportive father like you. Wishing happy fathers day to you!
It is the dream of every daughter to have a father who helps her to unleash her talent and run after dreams recklessly. Seems like I have hit the father jackpot. Thank you for everything dad and happy fathers day!
Dear father, thank you to the moon and back for being such major support in my life. With your love, resources, and push, I will definitely reach the stars one day. Have a great fathers day!
Fatherly love has so much potency and magic that it becomes the biggest strength of any daughter. I have grown up with a lot of your love and I will make you super proud one day. Thank you for everything dad!
A big thank you from the bottom of my heart to my father who has always been a prime and perennial source of inspiration, love, and growth for me. Your little girl will make a big difference in your life one day. Happy fathers day!