To make you all realize the power of appreciation and the impact it has on people, we bring you an ultra-positive collection of thank you messages with images, appreciation Messages, and appreciation verse in the bible.

Since ages, it is the natural tendency of human beings to crave for appreciation from others for the things they do for them. A child covets for appreciation from parents, a husband craves appreciation from his wife, a mother craves appreciation from her family, the government craves appreciation from its citizens and this endless loop continues.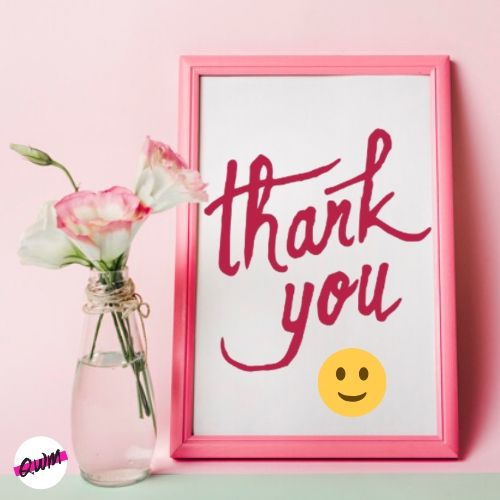 No matter what little or enormous things people have done for you, appreciating them for their efforts can inject will power, confidence, and positivity in their persona and propel them to do things selflessly for others. However, sometimes appreciation seems more like buttering when the right words are not put in use while creating appreciation messages.

To save you from the daunting task of creating genuine, sweet, and positive thank you messages or appreciation messages, we bring you QWM painstakingly created a collection of thank you appreciation messages that will win the heart of all the people to whom you will send. Let's get started.

Inspiring Thank You Messages | Positive Appreciation Messages
Positive and appreciative words have the sheer power to transfigure an individual's life instantly. Words of appreciation not only necessary to build up the confidence but also exterminate any kind of negativity and hopelessness from life. Thank you messages or better say appreciation messages can help you express the gratitude and appreciate the person for their good deeds.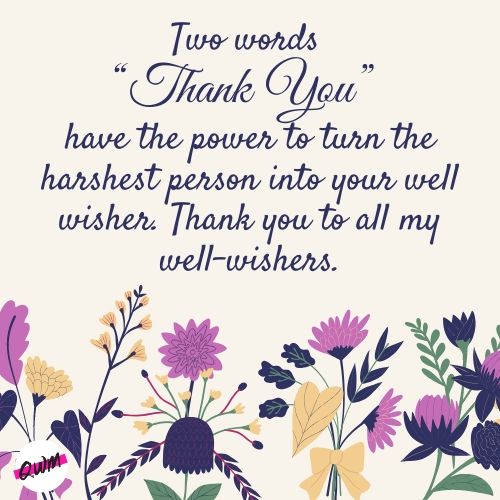 These appreciation messages are free to download and you can share them on all social media platforms straight from here.

Big thank you to all the people who have given their fair share of contribution in making my life enticing.
Thank You
For staying so long,
For holding so tight,
For moulding our love,
For soldering the knots,
For handling my mood swings,
For swaying the bond,
For playing the song,
Thank you for being on my side
Inspite of this world against us.
Life is only complete and cheerful when people appreciate your hard work. Thank you, everyone, for motivating me on a timely basis.
Living a life was meaningless,
Without all of you.
You all are the ones,
Who made my dream come true.
Being a lesson in a book called me,
Made me, break me and lead me free.
To whatsoever significant I am,
I thank you for being a part in my life journey.
Surrounding yourself only with those people who can see only the best in you and give constructive criticism. Thank you everyone!
Thank you for remembering me again.
My hiccups still tries to replace your lullabies.
Failing every-time..
These insignificant and small words are not sufficient to payback for all you have done for me. Thanks all for supporting me!
Lots of love back and due to the lack of a better word, "Thank You".
Two words "Thank You" have the power to turn the harshest person into your well wisher. Thank you to all my well-wishers.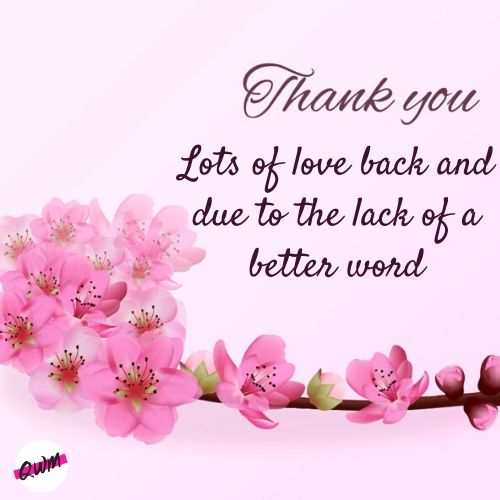 Dear music ?
Thank you ?
It was you who was with me
When I was alone ?
No matter what language you speak, when you say thank you by heart a person can easily understand it by your emotions. Thank you everyone out there for helping me a lot.
Thanks you for being pages of my book. Without pages it doesn't worth a birth.
When I needed appreciation and motivation the most in my life, my friends and family members left no stone unturned to cheep me up. Thank you to all my loved ones!
I never regret my past days,
because that's the reason we live here.
It's those embracing incidents,
that transforms one's attitude in life.
Take time to thank the people,
who upgraded your conscience to the
higher dimensions of wisdom.
Thank you ?? with respect.
When I was completely hopeless and helpless, you guys were having my back. Thank you all for rending me rock-solid support!
Thank you for feeling my words. It wasn't just what I wrote. It was the way that you read.
Even a smidgen of appreciation to a hopeless person can do wonders ins his life. I am blessed to have such people in my life. Thank you!
Once, I was thinking that we can not live together under one roof. But now it's much better because I'm learning alot from you. Thank you for being an important part of my life.
You guys are the vivacious source of hope and cheerfulness for me. Thank you so much for making me a formidable person with your heaps of appreciation.

Sweet Appreciation Messages for Friends | Thank You Messages for Best Friend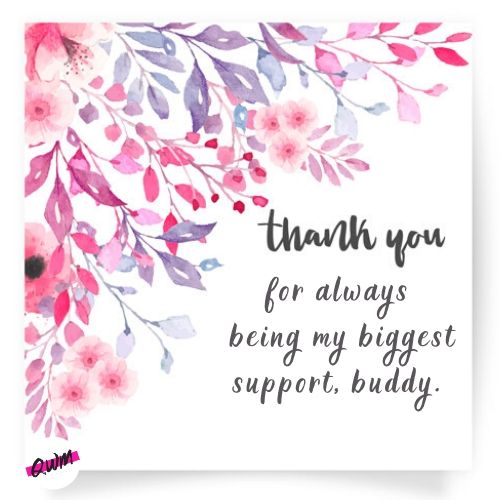 All of my friends are my lifeline. They are one of the cornerstones of my ordinary life. Thank you friends!
You guys just make me feel better and happier every day. Thank you buddies, I really appreciate your efforts!
I couldn't have smashed great milestones with your blessings and selfless support. Thank you for being my loyal friends!
No one insults me so hilariously as you guys do. What would my life be without you guys? Thank you and so glad to have friends like you!
Though you guys are weird but I love your weirdness. That's what make you unique. Thank you my best friends for making my life awesome!
Even words like thank you are not sufficient enough to pay back for what unconditional support you have give to me at every level. Thank you so much my lovely friends!
When I felt lost, you were there to have my back. When I felt sad, you were there to cheer me up. When I succeeded, you were there to congratulate me first. Thank you friends for lighting up my life!
We are those kinds of friends who don't talk for months because of busy lives but whenever we meet, we only shower love not complains. Thank you for being the best friends in the world.
People come and go but best friends stay with you till the end. I have always wanted to have friends like you. Thank you brothers!
A friend is someone who takes away your sadness and gives you cheerfulness during your gloomy and glittering times. Thank you my buddies!

Best Appreciation Messages for Boss | Thank You Messages to Boss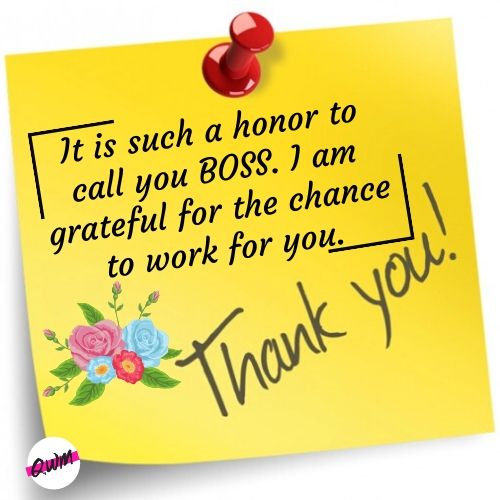 Working with a visionary boss like you is such an honor for an ordinary employee like me. Thank you boss for guiding me at every phase of my career!
A real boss is the one who knows how to nurture talent and what's best for whom professionally. I am so thankful for your profound support.
In a world full of emotionless and strict bosses, you are the one who cares the most about employees and their well being.
From the bottom of my heart, I want to say big thank you to my boss for being such a fantastic human being for all of us. May our organization grow by leaps and bounds.
Thank you so much boss for honing our skills and mindset. You have prepared us well for the existing and upcoming challenges of the corporate world.
Hey big boss, we are so thankful to you for inspiring us to do a great job in life. You are a true mentor in every sense.
Most of us have read only the definition of leadership, but you are the one who is living up that definition. Thank you so much boss for your support!
Not only you are the most visionary boss ever, but you are also the nicest human being I have ever come across. Heartiest thank you to the most wonderful boss.
Rather than boss-employee, you have always made us felt like friends who support each other. I am more than blessed to have a boss like you!
Since the day I started to work under your supervision, my professional and personal skills and knowledge have grown by leaps and bounds. Thank you boss for everything!

Appreciation Messages for Boyfriend | Sweet Thank You Messages for Him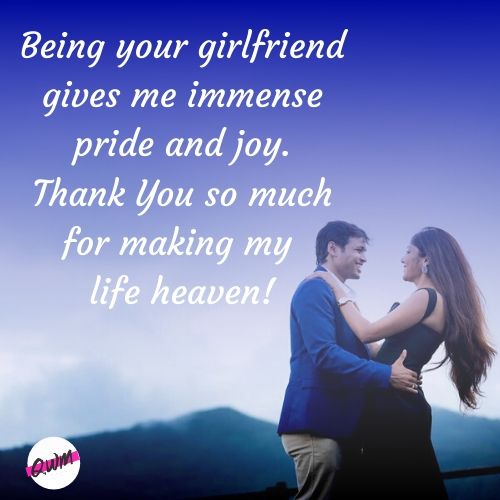 Being your girlfriend gives me immense pride and joy. Thank you so much for making my life heaven!
There is no man in this world who can replace your position in my heart. Thank you darling for your unconditional love and support.
Not even my parents, you are the one who supported my dreams and gave wings to them. I owe you a lot baby. Thank you so much for everything!
I don't want worldly luxuries and heavenly pleasures. All I want is myself in your arms all the time. Thank you boyfriend for all the love and help!
Every moment I have spent with you tickles me whenever I remember them. You are the magic of my life. Thank you my charmer!
I never believed in true love until I met you. From that point, everything has changed in my life and my world is now full of love. Thank you my dear boyfriend!
I still cherish that moment when you pulled out a messed up girl from a dastardly situation. Thanks for recuperating my life baby!
The real treasure of life is pure love, not money, property, and jewelry. Thank you so much boyfriend for showering heaps of love on a love deprived woman.
Your inspiring words act as fuel for me to hustle more and unleash my untapped potential. Thanks a lot love for your uninterrupted motivation!
You have played a major part in shaping my life. I am more than blessed to have a charming and cute boyfriend like you. Thank you my man for everything!

Appreciation Messages for Employees | Thank You Messages to Team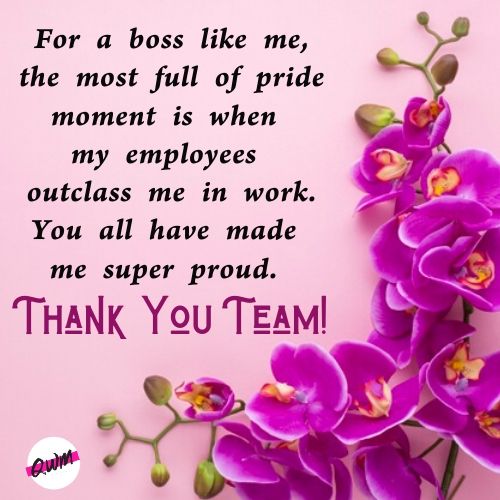 For a boss like me, the most full of pride moment is when my employees outclass me in work. You all have made me super proud. Thank You team!
Your work ethics, intelligence, and determination are commendable, team. May you guys continue to grow by leaps and bounds. Thank you all for your valuable contribution!
The kind of energy and enthusiasm you bring to the office is astonishing and laudable. Thanks to all my employees for making an alluring work environment.
All the milestones this company has achieved till yet is because of the hard work and unshakable faith its employees. Thank you guys for your priceless contribution to smashing goals.
You guys have earned success. You guys paved the way to success even when the odds are against you. I truly appreciate your great work and thank you!
Do you know why this company is Numero UNO for so many years? Because we have the best employees in the world. You guys are the shining pride of this organization. Thank you!
I am more than fortunate enough to have hard-working and loyal employees like you. You add immense value to this organization. Thank you!
Your ability to work relentlessly even when the odds are against separates you from the pack. I am so thankful to you and acknowledge all your great work.
Each and every member of this organization has played a quintessential role in the growth and brand building. Thank you for your fervor and commitment.
What you guys have achieved in this organization is what employees of other organizations only dream about. We feel more than privileged to have employees like you. Thank you!

Appreciation Messages for Colleagues | Inspirational Thank You Messages for Coworkers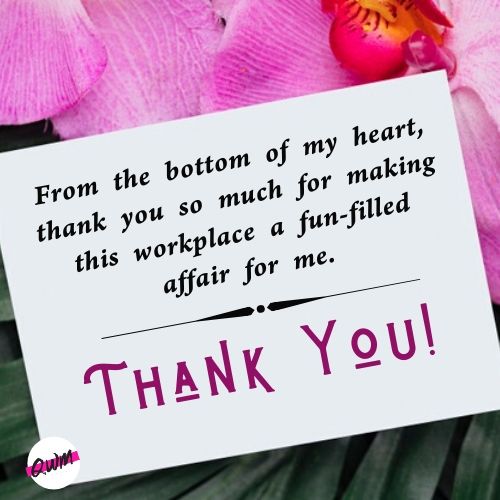 I am so glad to work with a knowledgeable and hustling coworker like you. Thank you so much for all the guidance and inspiration!
From the bottom of my heart, thank you so much for making this workplace a fun-filled affair for me.
You are an intriguing personality. When you work, you work with totality. When you have fun, you make sure everyone has fun. Thank you to my wonderful colleague.
Thank you for having my back when I needed you most at work. I will never ever forget your valuable contribution.
You made work on daunting projects easy for me. I am so thrilled by your knowledge and unfathomable insight. Thank you for your constant guidance.
Thank you so much, my wonderful colleague, for wrapping up my projects when I had failed terribly.
I am so proud to work with an ultra-ambitious and passionate colleague. Your experience has enriched my life and I look at you as a role model. Thank you for your guidance and selfless support.
It makes a hell lot of difference in life when a person has an exhilarating colleague like you. Thanks for everything!
Just when I think you have reached the maximum potential, you amaze me and reach the whole new different level. Thanks for all those oodles of inspiration.
Thank you for lending me helping hands when I needed them the most. You will always be in my memories.

Appreciation Messages to My Husband
The significance of words of appreciation in a relationship is gargantuan. Be it, husband or wife, both crave appreciation from their partner to feel good and also feel validated by someone who matters. As a wife, it is essential for you to understand the fact that your hard-working husband expects appreciation messages from his love to stay positive and belonged.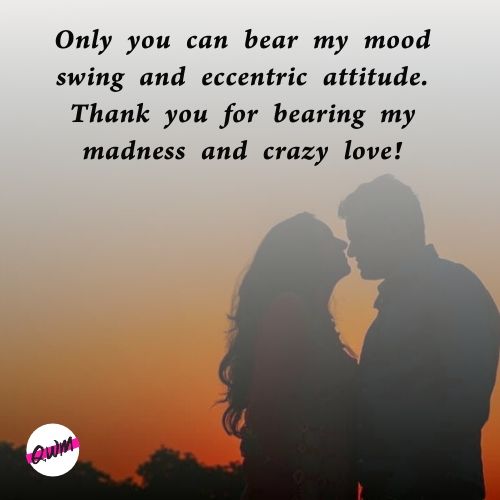 Below, we have compiled some of the most lovely appreciation messages or better day thank you messages for husband that will empower your relationship for sure.

Not a single day has passed when I didn't thank the lord for giving me a sweet, loving, and dashing husband like you. Thanks for your support darling!
I have been through numerous ups and downs but you are always there to hold my back. Thank you so much for everything my rock-solid hubby!
Only you can bear my mood swing and eccentric attitude. Thank you for bearing my madness and crazy love!
In a world full of patriarch mindsets, you are the one who dared to llistenand embrace a woman's ideas. Thank you for making me feel extra special!
You are God's greatest gift to me. I am so grateful to you for giving me a stunning and splendid life. Thank you husband!
Despite all my flaws and mistakes, you have never left my side and supported me vehemently. Thank you hubby! You are the best!
Just like vivacious earth, you have filled my life with numerous colors and vividness. Thanks my dear hubby for giving me a coveted life!
Thank you for everything husband and accept my heartfelt appreciation message as a token of gratitude.
Dear hubby, thank you so much for being my best friend, mentor, and a lovely life partner. I already owe you a lot!
Whenever I see your compassionate face, I can't stop myself kissing you. Thank you husband for the unconditional love. I love you till the moon and back!

Best Appreciation Verses in The Bible
Most of the time, we often ignore the blessings Lord has on all of us. We don't appreciate what he has given to us and only dream about what we want in life. As a human being, one of the foremost things you can do is not taking the things for granted and appreciating the people and relations you have in life. Sticking to the context, the Bible is a fantastic source for some of the most positive appreciation verses.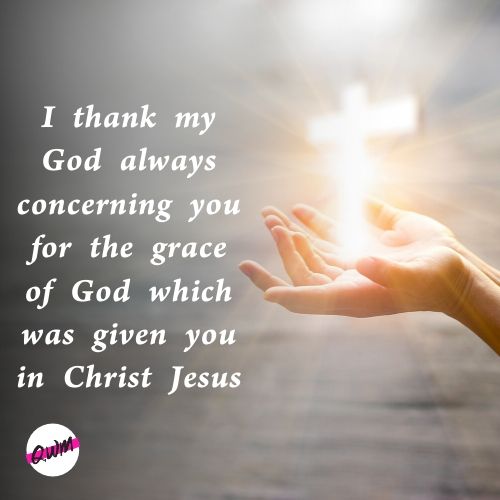 You can utilize appreciation verses in the bible book to bless and encourage your loved ones and give them positivity and the strength to live life to the fullest. So here is our compilation of appreciation verses in the Bible book that can do wonders.

O taste and see that the LORD is good; How blessed is the man who takes refuge in Him!
In everything give thanks; for this is God's will for you in Christ Jesus.
Enter His gates with thanksgiving And His courts with praise Give thanks to Him, bless His name.
I thank my God always concerning you for the grace of God which was given you in Christ Jesus
"Now may the LORD show lovingkindness and truth to you; and I also will show this goodness to you, because you have done this thing.
A friend loves at all times, And a brother is born for adversity.
I thank God, whom I serve with a clear conscience the way my forefathers did, as I constantly remember you in my prayers night and day,
The LORD bless you, and keep you; The LORD make His face shine on you, And be gracious to you; The LORD lift up His countenance on you, And give you peace.'
I thank my God in all my remembrance of you,
Greater love has no one than this, that one lay down his life for his friends.
Therefore, laying aside falsehood, SPEAK TRUTH EACH ONE of you WITH HIS NEIGHBOR, for we are members of one another.
The elders who rule well are to be considered worthy of double honor, especially those who work hard at preaching and teaching.
For what thanks can we render to God for you in return for all the joy with which we rejoice before our God on your account.