Happy Fathers Day From the Cat: If cats could speak or write, they would surely wish their dads on fathers day and give some good licking on the face. On behalf of all the kittens, we have compiled some of the furriest father's day wishes from the cat that will surely make your father's day more paw-some. Check out happy fathers day from the cat messages below and pick the best one to greet yourself on behalf of your cat.
Fathers Day Messages from the Cat
Happy fathers day to the most adorable daddy from the furriest member of this family. Just want to say meow and badly wants to cuddle with you.
No cat in the world can ask for a better dad than you. In the language of cats, you are simply meow-some. Wishing happy fathers day to my sweet owner, my father!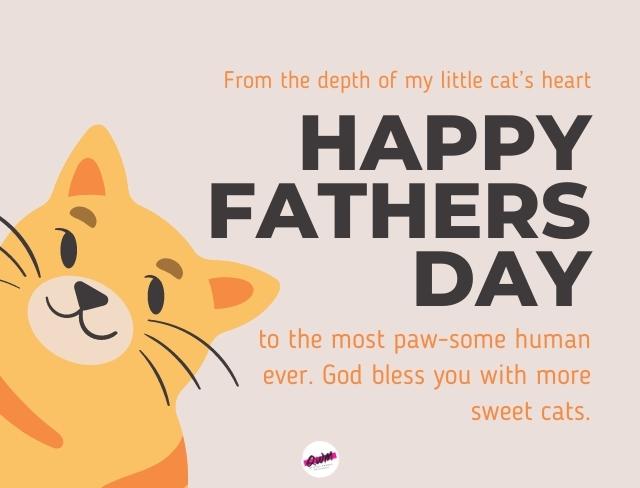 Dear father, you take care of me in such a careful and loving manner that I do want to shower all my love and affection on you. Someday, I will definitely do it. Happy fathers day from the sweetest kitty!
Hey daddy, everything you do for me selflessly embodies how deeply you love animals and consider them equivalent to other living beings. I am glad I have you in life. Happy fathers day from the kitty!
From the depth of my little cat's heart, happy fathers day to the most paw-some human ever. God bless you with more sweet cats.
Today is fathers day and like you, I just want to do nothing but relax all day on the same spot. You drink your favorite beverage and I will drink milk.
Being a cat is the best thing when she has an owner like you who feeds her at least 5 times a day. Happy fathers day to my dad in charge!
Sending fluffiest and mushiest fathers day wishes to my dad from the fastest cat greetings delivery services in the world – the heart.
I hate to break it to you, in my mind, I consider you no more than a human servant. Happy father's day! Now go get me some milk now as i am hungry!
If cats had the power to buy greeting cards and write on them, they wouldn't as they prefer to sleep rather than wish some stupid human. Jokes apart, happy fathers day, daddy!