Merry Christmas Bible Verses: The Christmas holiday season is non-arguably the most frolic time of the year as it encapsulates everything a human being entails to live a complete and fulfilling life: unending celebrations, getting together with family and friends, feast after feast, splurging money, exchanging gifts, and the list activities are endless. All these things are crucial to make Christmas time memorable but there is another aspect of Christmas as well. For religious people, the Christmas season is a pivotal time to contemplate over your deeds and thoughts and pray to the ultimate lord to provide conscience and intelligence to keep walking on the path preached by God umpteen times. We have compiled a holy collection of religious merry Christmas bible verses for cards 2022 and Christmas bible quotes that will surely clear your consciousness, make you more grateful, and appreciate the joys and sorrows of life.
Merry Christmas Bible Verses 2022 | Christmas Bible Quotes
Romans 12:10: Love each other with genuine affection and take delight in honoring each other.
1 John 4:7: Beloved, let us love one another, for love is from God, and whoever loves has been born of God and knows God.
Psalm 107:1: O give thanks to the Lord, for He is good and His loving kindness is everlasting.
John 14:13-14: Whatever you ask in my name, this I will do, that the Father may be glorified in the Son. If you ask me anything in my name, I will do it.
Luke 2:15: And it came to pass, as the angels were gone away from them into heaven, the shepherds said one to another, 'Let us now go even unto Bethlehem, and see this thing which is come to pass, which the Lord hath made known unto us.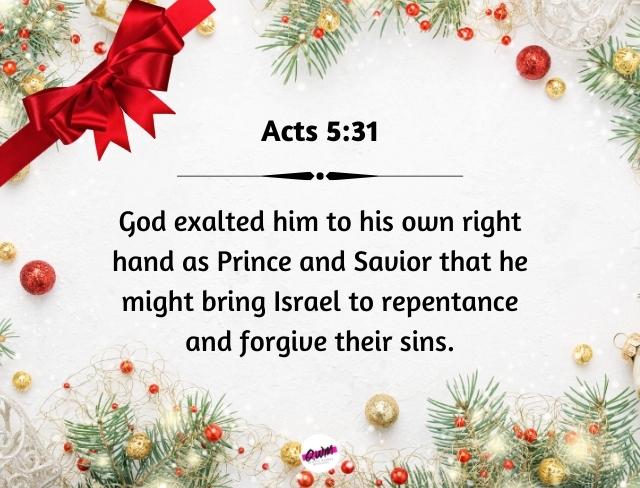 John 13:34-35: A new commandment I give to you, that you love one another: just as I have loved you, you also are to love one another. By this all people will know that you are my disciples, if you have love for one another.
Proverbs 11:25: A generous person will prosper; whoever refreshes others will be refreshed.
Also see: Merry Christmas and Happy New Year 2023 Wishes
1 John 3:18: Little children, let us not love in word or talk but in deed and in truth.
Romans 11:29: For the gifts and the calling of God are irrevocable.
John 4:24: God is spirit, and those who worship him must worship in spirit and truth.
John 1:29: Behold, the Lamb of God, who takes away the sin of the world!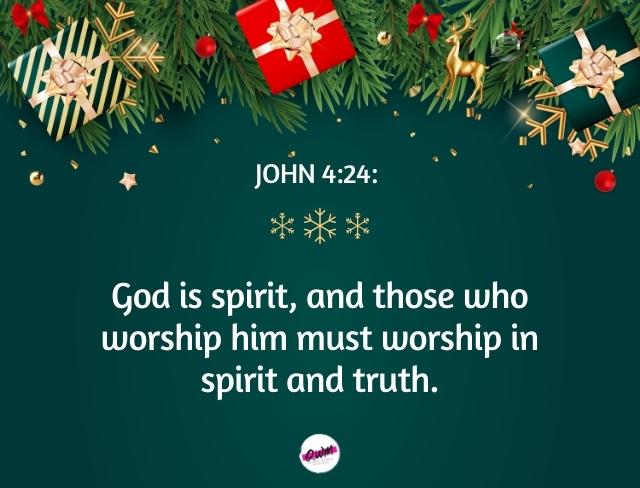 2 Timothy 2:15: Do your best to present yourself to God as one approved, a worker who has no need to be ashamed, rightly handling the word of truth.
John 1:4-5: In Him was life, and the life was the light of men. And the light shines in the darkness, and the darkness did not comprehend it.
Also see: Free Merry Christmas Images 2022
Proverbs 12:22: Lying lips are an abomination to the Lord, but those who act faithfully are his delight.
John 1:9-10: The true light, which gives light to everyone, was coming into the world. He was in the world, and the world was made through him.
Ephesians 6:14: Stand therefore, having fastened on the belt of truth, and having put on the breastplate of righteousness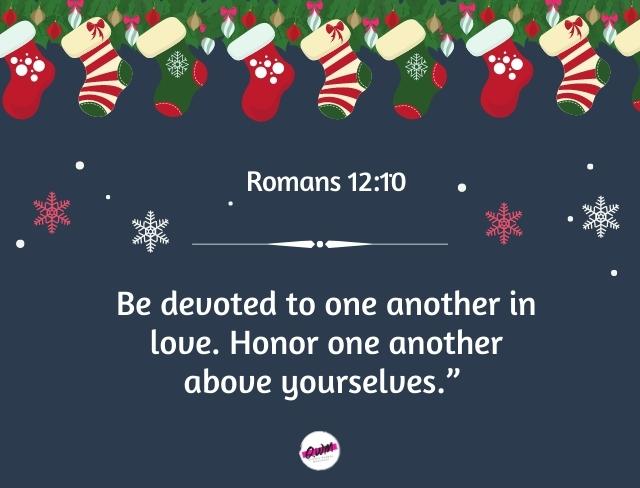 Psalm 117: Praise the Lord, all nations! Extol him, all peoples! For great is his steadfast love toward us, and the faithfulness of the Lord endures forever. Praise the Lord!
Psalm 145:18: The Lord is near to all who call on him, to all who call on him in truth.
Also see: Merry Christmas Wishes 2022
Titus 3:5: He saved us, not because of works done by us in righteousness, but according to his own mercy, by the washing of regeneration and renewal of the Holy Spirit.
John 14:6: Jesus said to him, "I am the way, and the truth, and the life. No one comes to the Father except through me.
Philippians 2:5-7: Have this mind among yourselves, which is yours in Christ Jesus, who, though he was in the form of God, did not count equality with God a thing to be grasped, but made himself nothing, taking the form of a servant, being born in the likeness of men.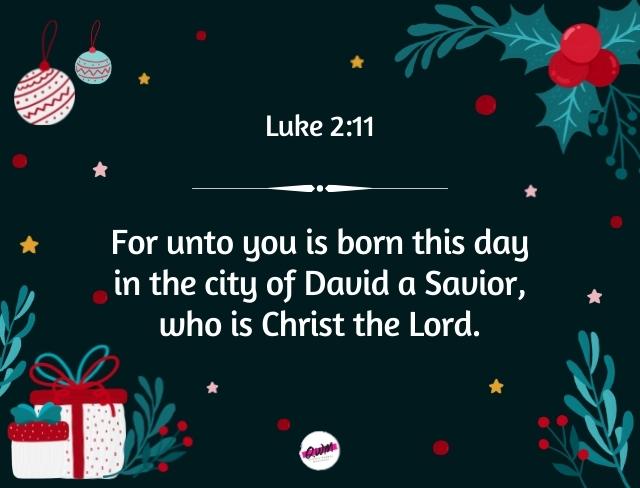 Isaiah 40:8: The grass withers and the flowers fall, but the word of our God endures forever.
Luke 2:8-9: And there were shepherds out in the field, keeping watch by night. And an angel of the Lord appeared to them, and the glory of the Lord shone around them.
Also see: Funny Christmas Wishes
Titus 3:4-5: But when the kindness and love of God our savior appeared, he saved us, not because of righteous things we had done, but because of his mercy.
Titus 3:6: He saved us through the washing of rebirth and renewal by the Holy Spirit, whom he poured out on us generously through Jesus Christ our Savior.
Matthew 1:21: And she shall bring forth a song, and thou shalt call his name Jesus: for he shall save his people from their sins.
Isaiah 40:5: And the glory of the Lord will be revealed, and all people will see it together. For the mouth of the Lord has spoken.
Matthew 1:20: But after he had considered this, an angel of the Lord appeared to him in a dream and said, 'Joseph son of David, do not be afraid to take Mary home as your wife, because what is conceived in her is from the Holy Spirit.
John 1:14: And the Word became flesh, and dwelt among us, and we saw His glory—glory as of the only begotten from the Father, full of grace and truth.
Also see: Merry Christmas Wishes for Husband
John 16:13: These things I have spoken to you so that in me you may have peace. In the world you have tribulation, but take courage; I have overcome the world.
Luke 1:14: And you will have joy and gladness, and many will rejoice at his birth.
Proverbs 16:4: To humans belong the plans of the heart, but from the Lord comes the proper answer of the tongue.
Isaiah 40:1-2: Comfort, comfort my people, says your God. Speak tenderly to Jerusalem and proclaim to her that her hard service has been completed, that her sin has been paid for, and that she has received from the Lord's hand double for all her sins.
Luke 12:33-34: Sell your possessions and give to the needy. Provide yourselves with moneybags that do not grow old, with a treasure in the heavens that does not fail, where no thief approaches and no moth destroys. For where your treasure is, there will your heart be also.
Also see: Merry Christmas My Love Wishes
Luke 1:46-48: And Mary said: 'My soul glorifies the Lord and my spirit rejoices in God my savior for he has been mindful of the humble state of his servant. From now on, all generations will call me blessed.
Romans 12:12: Be joyful in hope, patient in affliction, faithful in prayer.
Philippians 4:4: Rejoice in the Lord always. I will say it again: Rejoice!
Psalm 118:24-25: The Lord has done it this very day; let us rejoice today and be glad. Lord, save us! Lord, grant us success!
Matthew 12:15: In his name the nations will put their hope.
Isaiah 12:6: Shout aloud and sing for joy, people of Zion, for great is the Holy One of Israel among you.
Also see: Religious Merry Christmas Messages
Psalm 90:12: Teach us to number our days, that we may gain a heart of wisdom.
Psalm 65:11: You crown the year with your bounty, and your carts overflow with abundance.
Philippians 4:9: And my God will meet all your needs according to the riches of his glory in Christ Jesus.
Jeremiah 17:7: But blessed is the one who trusts in the Lord, whose confidence is in him.
2 Corinthians 9:8: And God is able to bless you abundantly, so that in all things at all times, having all that you need, you will abound in every good work.
Hebrews 13:8: Jesus Christ is the same yesterday and today and forever.
Also see: Merry Christmas Wishes for Friends
Matthew 6:25-26: Therefore I tell you, do not worry about your life, what you will eat or drink; or about your body, what you will wear. Is not life more than food, and the body more than clothes? Look at the birds of the air; they do not sow or reap or store away in barns, and yet your heavenly Father feeds them. Are you not much more valuable than they?
Philippians 4:13: I can do all this through him who gives me strength.
Matthew 16:27: For the Son of Man is going to come in his Father's glory with his angels, and then he will reward each person according to what they have done.
Luke 2 v 11: Today in the town of David a Saviour has been born to you; he is the Messiah, the Lord.
Jeremiah 10:3-5: … They cut a tree out of the forest, and a craftsman shapes it with his chisel. They adorn it with silver and gold; they fasten it with hammer and nails so it will not totter.