There was a time when celebrating the yearly anniversary of a relationship used to be an entrancing and memorable affair for the couples. Nowadays, modern-day couples celebrate monthly anniversaries of their relationship which is their own way of expressing love towards each other.
Love should be celebrated every moment, every single day. And celebration monthly anniversary of the relationship is one of the most profound ways to celebrate love, affection, and emotions that new couples develop for each other in such a short time. Boyfriends usually feel super-shy when it comes to expressing love and other emotions to their newly found girlfriends. However, by using ingenious and romantic monthsary messages for girlfriend, they can seamlessly convey feelings of love and make the girlfriend top of the line. QWM is more than happy to present a lovable and heart-tugging collection of romantic monthsary messages for girlfriend that will add the touch of perfection to your monthsary celebration. Let's get started.
1st Monthsary Messages for Girlfriend | Romantic Monthsary Quotes for Her
Hey sweetheart! It's 1 anniversary of our new relationship and the world seems better than ever with you. Happy first month anniversary!
You and I are classic examples of how two strangers can begin to embark a beautiful relationship accidentally. I wish you a happy 1st monthsary.
Happy first monthsary to the newfound love of my life. Your presence gives me immense happiness and strength to live life to the fullest.
Hey dear, thank you for allowing me to be an integral part of your life. I promise to love you unconditionally and immeasurably.
Ever since we have met, I have witnessed a lot of positive changes in my life. Thank you for bringing changes in my life that I was seeking badly. Happy 1st monthsary sweetheart!
It's been only a month with you but it feels like years of togetherness. You are one heck of a lovely and fascinating girl. Blessed to have you in my life. Let's have a great monthsary celebration!
It doesn't matter how many days you spend with the person. What matters is, how many intimate moments you have created together. You have become the basis of my life within a month. Thanks, sweetheart for everything and the happiest 1st monthsary!
I have never thought that a stranger whom I met online on some thread would become an integral part of my life soon. This was the best month of my entire. Thanks for love, care, and affection. Happy monthsary!
I am still flabbergasted by the fact that within 30 days how much close we have come. Turning from a friend to a lover is indeed special. Happy 1st monthsary my love!
In the last one month I have realized that if I want to grow old with someone, it's you. Happy monthsary sweetheart!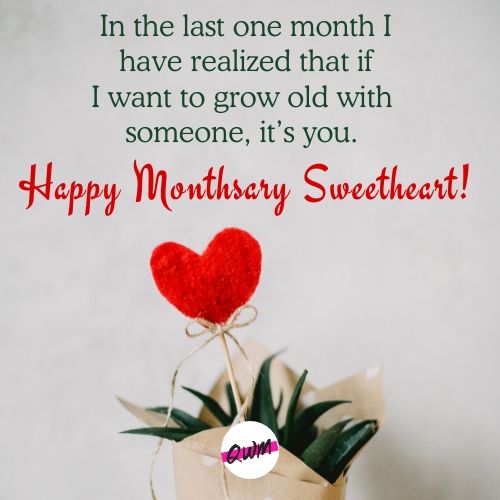 2nd Monthsary Messages for Girlfriend | Cute Monthsary Wishes for Her
I just realized how time flies swiftly when I am with you. Even two months I have spent with you seem like two days only. Happy 2nd monthsary my love!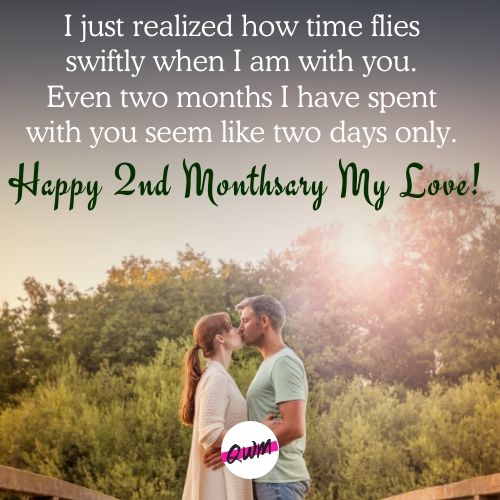 The significance of time dilutes when two people are madly in love with each other. In these 2 months with you, I have lived some of the best moments and created some of the most enchanting memories of my life. I wish you an exhilarating 2nd monthsary!
If you are a poetry, I am the space between words. Both are necessary to carve a remarkable poem. I am grateful to have a partner like you. Happy 2nd monthsary sweetie pie!
Yes, we have witnessed a lot of ups and downs together only in 2 months. However, we have emerged stronger than ever every single time. Have a great monthsary celebration!
Words will fall short and not do justice to depict how profound the impact you have on my life merely in 2 months. You are the nucleus of my life. Happy 2nd monthsary, my love!
When two people are in deep love, it doesn't matter how long they have been in love as long as love is pure. I am so lucky to found my true love and that is you! Happy monthsary.
More than a loving partner you are a fantastic guide and a wonderful friend. I couldn't ask for more to God. Let's have a blasting party on our 2nd monthsary!
Without you, I was just an ordinary living an ordinary life. With you in my life, I feel like super special and every moment seems magical. Thanks for changing my life with your love. Happy monthsary, girlfriend!
There is something inexplicable between you and I that bought so close together only in two months. I have a feeling that we are destined to be together. Well, it's time to celebrate 2nd monthsary!
Your smile has the sheer power of turning the most terrible of my day into a soothing one. You are my angel guardian. I love you to the moon and back and happy monthsary!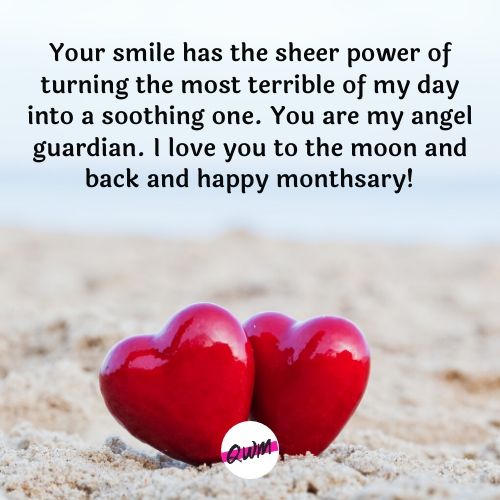 3rd Monthsary Messages for Girlfriend | Happy 3rd Monthsary Quotes for Her
If love had the wings, I would be flying around you all the time. I wish a remarkable 3rd monthsary to the one and only love of my life.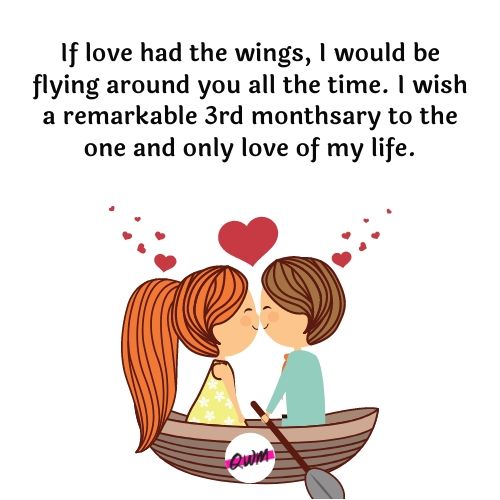 In the time of dating apps and hookup culture, even spending 3 months together seems a great feat. Happy 3rd monthsary to the one and only love of my life.
When you are in absolute love, you only the possibilities in a person, not their shortcomings. You taught me how to see the best in everyone. Thanks, sweetheart for everything and happy 3rd monthsary!
Love is not about finding the perfect person. It's about finding the right person and living with each other imperfections. I wish our relationship continue to prosper by leaps and bounds!
Any guy would be more than lucky to have a wonderful and breathtaking girl like you on his side. I consider myself as one lucky duck. Happy monthsary, darling!
Everything that I covet for badly in life fades away in front of your true and immeasurable love. I am glad our stars don't have any faults. It's high time to celebrate our 3rd monthsary!
The ultimate test of true love happens during the time of turbulence. I am damn sure you will be by my side during lows. Happy monthsary my princess!
If I have the power to do anything for you, I would become a star so that you and I can stare at each other all the time. Love you darling and happy monthsary!
When there no ego and pretentiousness, only love remains. I am in love with your real self. Thank you for stepping in my life and filling it with love. Happy monthsary sweetie!
Words cannot do justice of your beauty, goodness, and kindness. You are the shining moon in my empty sky. I love you 3000!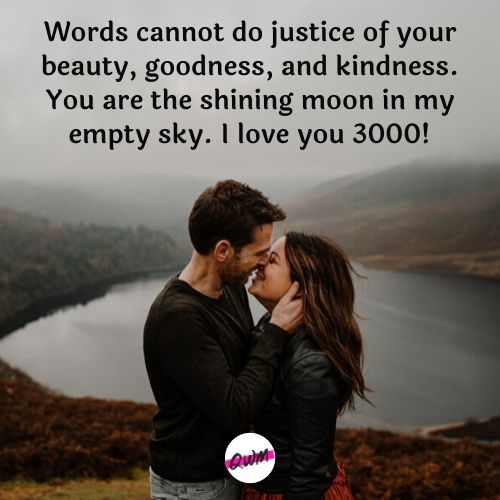 4th Monthsary Messages for Girlfriend | Happy 4th Monthsary Wishes for Her
Happy 4th monthsary to the best girlfriend in the world. Your smile is contagious and your being is so pure!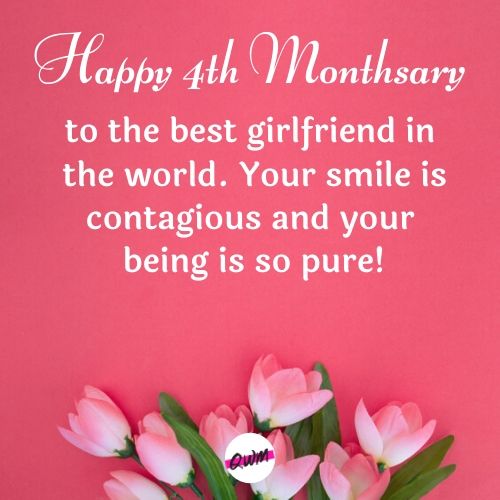 The last 4 months of my life are the best 4 months of my life. You made them remarkable and etched a lot of memories in my mind. Happy 4th monthsary my soulmate!
Life gives us setbacks but love gives us hope. In the end, everything becomes OK when you have love at your side. I am more than blessed to have you. The last months turn to be pure magic for me. Happy monthsary!
From you, I have learned that being in a relationship is not about fulfilling the expectations of your partner. It's about emanating unconditional love and enriching lives around you. Wishing you lovely 4th monthsary my love!
The moment I saw you the very first time, my heart went bonkers you and I decided, if someone is going to be my life partner, it would be you. Wishing you fascinating 4th monthsary!
One of the best things in life is growing old with the person you love the most. It would be a pleasure for me to grow old with you, sweetheart. Have a great 4th monthsary.
Love has nothing to do with spending time at exotic locations or dining at lavish restaurants. It's all about making each other lives extraordinary through subtle ways. I wish you a cheerful 4th monthsary!
I wanted to be in a relationship with you not to impress but to express my heartfelt feelings to you. I am what I am today is because of you. So proud to have you in my life. Happy monthsary!
Love is like a burning lamp. You never know how intense it is unless you touch it or feel it. Your love just blows me away. Happy 4th monthsary sweetheart!
With you by my side, even the simplest things in life feel so good and wonderful. You have made a profound impact on my life merely in 4 months. Let's celebrate 4th monthsary with a blast!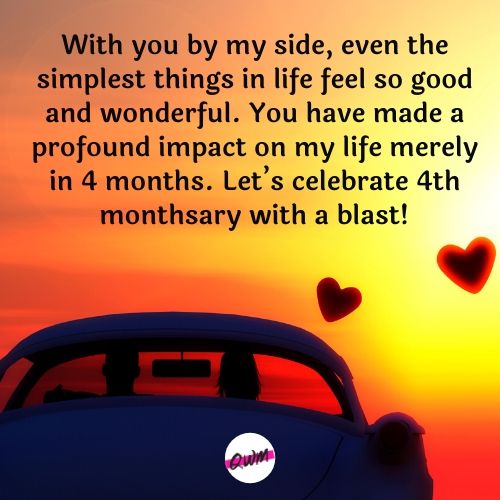 5th Monthsary Messages for Girlfriend | Happy 5th Monthsary Quotes for Her
I am so lucky to have a girlfriend like you who still believes in old school style romance. Otherwise, it is quite rare to find someone with an old school taste in this hookup culture.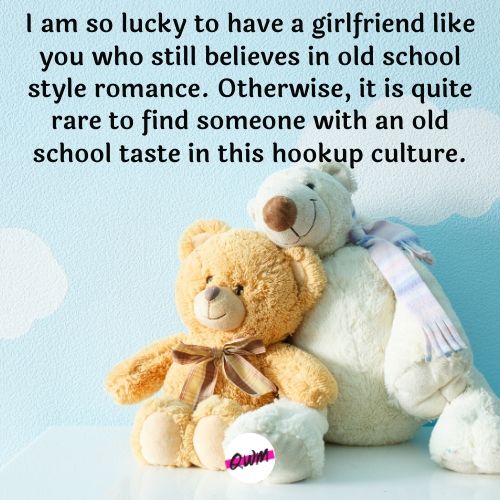 I was thinking to file a case against you because you steal my heart without even asking me. What great 5 months they have been for me! Happy 5th monthsary to the only love of my life!
As long as you are in my life, I don't need material things to seek pleasure. You are more than enough for me to live a mesmerizing life. Cheers to our 5th monthsary!
Every day is a fantastic day to make you acknowledge that I am more than enthralled to have a beautiful girlfriend like you. Because of you, I have become more interested in living each day of life to the fullest. Happy monthsary!
There will never come a day when I feel exhausted and exasperated loving you. You are life flowing in my body. Happy 5th monthsary love!
Bearing a stubborn and shrewd person like me is not an easy task but you have accepted me as the way I am and without interfering in my individuality. Thanks a lot for your love, unflinching devotion, and support. I wish you a joyous 5th monthsary of our relation!
Time will pass, beauty will fade away, passion may plummet, but my love for you will be intact and intense till the last breath. Happy monthsary, girlfriend!
It is preposterous to measure the strength and love in a relationship merely by counting years. Love should be measured by how many moments you were able to live to the fullest. And I have lived every moment a lot with you. Happy monthsary!
You arrived in my life at the most unexpected moment. You took me out of the whirlwind of troubles and helped me in starting it again. I don't know who will I ever repay you. Happy 5th monthsary my lucky charm.
The charm you have is unavoidable and the grace you reflect is spellbinding. Happy 5th monthsary to my angel-like girlfriend!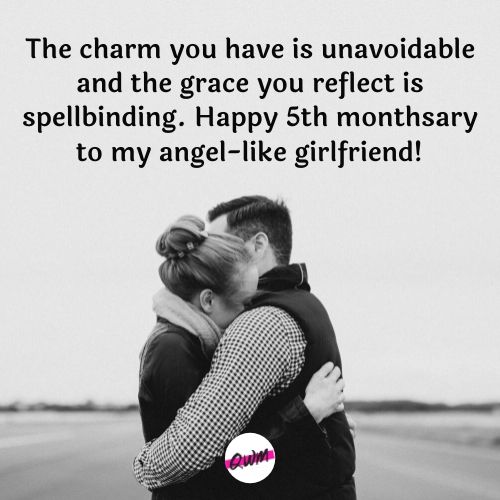 6th Monthsary Messages for Girlfriend | Happy 6th Monthsary Wishes for Her
I may not be the perfect boyfriend you covet for but I am the right boyfriend that you always wished for. Happy 6th monthsary my pretty girlfriend.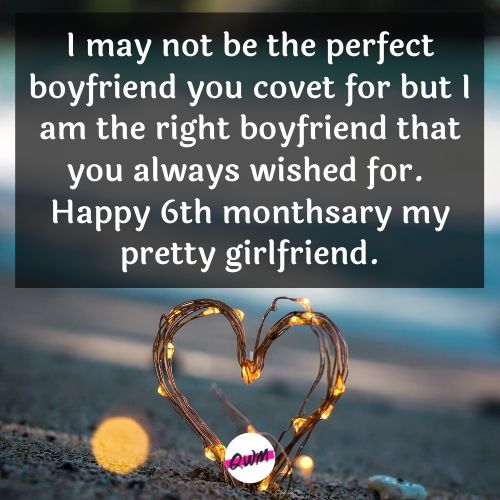 It's our sweet sixth month anniversary and my happiness knows no limits. May God keep adding happiness, love, and opulence on our lives. Cheers to our 6 monthsary girlfriend!
It's already 6 months but there is no sign of fading of my love for you. Maybe this is what people refer to as true love. Happy 6th monthsary moon pie!
Love is like a seed, the more you nurture it, the more it will blossom and make everyone's life soothing and peaceful. Sending warm 6th monthsary wishes to my loveliest girlfriend!
Like roses thrives with thrones, true love also flourishes the most under the biggest adversities. Happy 6th monthsary to my lovely and beautiful girlfriend!
Whenever problems came in my life, you were standing in front of me to tackle them. You have done so much for me that not even a blood relation can do. Millions of hugs and kisses to you on our 6th monthsary!
Dear girlfriend, it's been 6 months since we are living together and I have spent every moment making you happy. Let's take our relationship to the next level. Before that, catch my sweetest 6th month anniversary wishes!
As long as we have unbreakable faith and unwavering love for each other, there is no force in the world that can keep us apart. Happy 6th monthsary my heartbeat.
No one has understood my idea of true love except you. You are the one who understands my dreams, ambitions, and my personality. Thanks for your unconditional love and support. I wish you a frisky 6th monthsary!
We are surely miles apart but our hearts are connected with an unbreakable thread that will last till eternity. Happy 6th monthsary my heartbeat.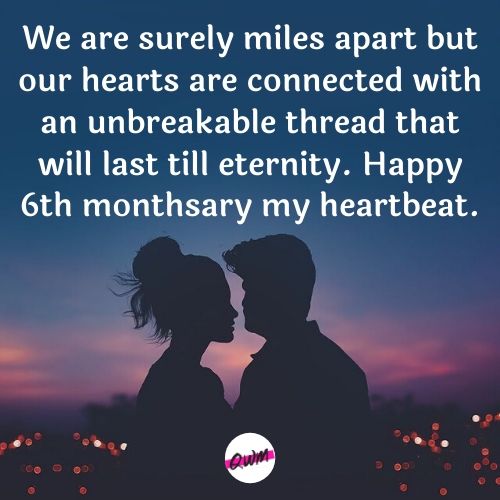 The two greatest gifts you can give your newfound girlfriend is love and time. The intriguing thing about love is, the more you will give it to her, the more you will have it from her. Our sole purpose of carving romantic monthsary messages for girlfriend is to give you the little push you needed to add the pinch of romance and love in your relationship and take it to the next level quickly.
]
If you like the above stated monthsary messages for girlfriend, do let us know in the comment section along with suggestions, if you have any.