Sorry Messages for Boyfriend: Little fights between girlfriends and boyfriends are quite common. But when those fights begin to crumble the self-respect and love of a person, the only option left for a couple is to part their ways and live life with dignity. If you have hurt your boyfriend because of your impulsive behavior, misunderstanding, rude nature, the best way to bring him on board is by sending heart touching sorry messages for boyfriend and apology quotes for him. Our compilation of sorry quotes for boyfriend will help you to express your emotions lucidly and assure your boyfriend that you won't do anything stupid in the future that could hurt him in any way.
Emotional I am Sorry Messages for Boyfriend
Hey boyfriend, don't give me the title of the rudest girlfriend. I know I am known for my bitchy behavior but I am not bad at all by heart. I need you like a fish need water. Please forgive me one last time and come back.
Under the influence of intoxicants, I said so many heart-wrenching things that no person can tolerate but you still didn't utter a single word. You are the key reason I still believe in true love. I swear to god I won't hurt you anymore. Please forgive me!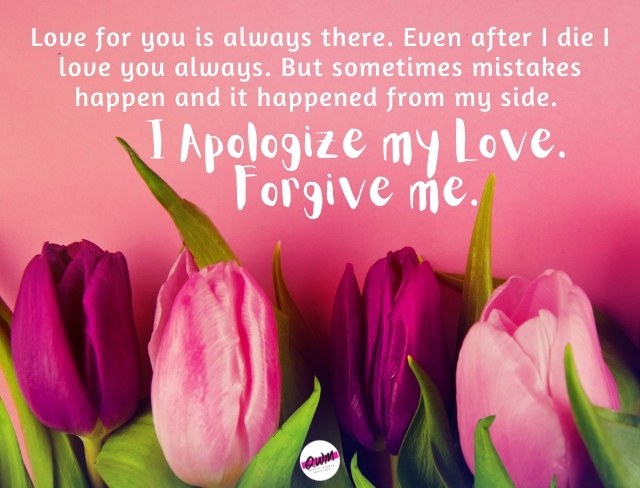 You told me umpteen times that I was doing wrong but not trusting you but I came under the influence of backstabbers and broke your heart. I am utterly ashamed of myself. Can you please forgive me one last time?
Only a stupid girl like me can do the horrendous act of hurting her staunch and lovely boyfriend merely on the basis of rumors. I beg you to accept my heartfelt apology and talk to me to clear everything. I am deeply sorry!
My insolent behavior and derogatory words must have hurt you way beyond my expectations. I promise to you I will do whatever it takes to fix everything in our relationship and win your love back again. Please forgive me one last time!
My unconditional love for you is way bigger and more profound than all the stupid things I did at that clumsy party. I was under the influence of something else and in the heat of the moment, I yelled terribly at you. I am extremely sorry for my impudent behavior.
Hey sweetheart boyfriend, you have all the rights to shout at me, punish me, but please don't ignore me for god sake. I am an imbecile personality but you are not. Please give me one last chance to fix everything. I am sorry for everything!
I can go to any extent to get your genuine forgiveness and save our relationship. I am sorry that I shattered your hearts in pieces.
Who doesn't make mistakes in a relationship? That doesn't mean we should quit everything and end the relationship. Everyone deserves one last chance and so does I. I am genuinely sorry for my terrible behavior.
I know I started imposing things on you instead of giving you choices. I always lose my cool and I don't know what the hell would I do about this problem. Please forgive me this time and let's begin a new chapter.
I don't want to raise a wall between us and making you feel down. That was not my intention. I love you but sometimes in my anger I say something that I don't want to say and intend. You are my love and please try to understand me. I am sorry for my words.
We have deep connection of hearts. Even when you take breath I know and when I take you know. But your too much possessiveness has sickened me. I love you but I want my freedom also. I didn't mean to hurt you by ignoring you all the time. I just want to say I want my freedom and you must understand it. I am sorry for action. And you know I love you only.
Love has all the sides my true love. If you want my love also, you also have to deal with my anger sometimes. This is what about love, going through all the phases of it. Still I am sorry for my untuned angry behavior towards you. I am sorry my love.
I don't know how it happened that I hurt you without knowing. In all these years I didn't pay attention to you much and took you for granted. That is what lovers do when they know the one whom they love is always there for them. Yet I am sorry for my unusual way with you. Sorry my love.
My love, I do want to tell you that I am not perfect and you have to deal with it, I have my flaws and sometimes they come out and disturb and anger you. But I am sorry and I try to control it but you must also understand me at this level. Sorry my sweetheart.
My heart is still numb with the thoughts of losing you and I don't want that and if still my words pain you in the depth of your heart then with my all love for you; truly I am sorry my beloved. I never do it again.
Since you have become absent towards me, my whole world has crumbled. I was just away to see and test that how much you love me but it all turned in the wrong direction. Sorry my love I didn't mean in that way. Come back.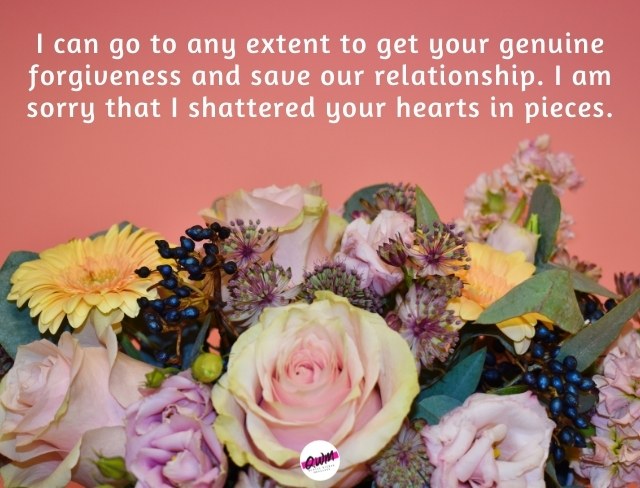 I didn't lie to you because I didn't love you. But at that time I could not tell you the truth because time was not right for the thing to be revealed. And we have been together for so much time and you can understand that I can never lie to you. Still I am sorry my love.
My love, you are going to be my life partner and in that way I so much respect you honestly and whole heartedly. Sorry for my abnormal and sarcastic behavior towards you.
Love for you is always there. Even after I die I love you always. But sometimes mistakes happen and it happened from my side. I apologize my love. Forgive me.
Sweet Apology Message for Him
We don't deserve to stay apart from each other. We deserve to be in each other arms till apocalypse happens and destroys everything. Please show your compassionate side and forgive me for my filthy words.
Most of the couples fight over trivial things but it doesn't mean they should start looking for other options. We have developed such an alluring and potent bond that we can't feel anyone except each other. Please forgive me one last time and I love you!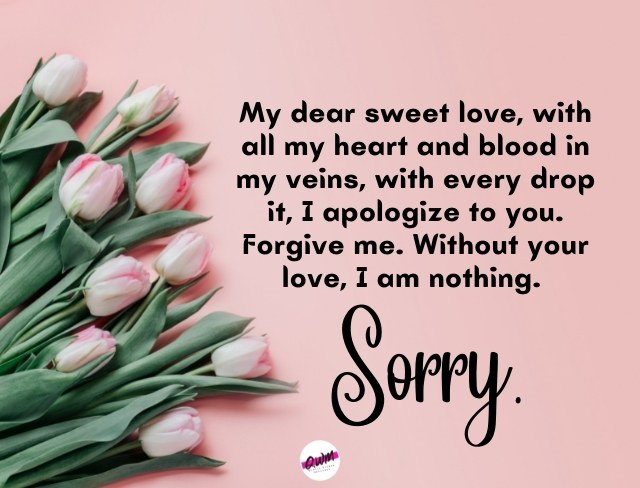 Hey love, please accept my heartfelt apology for upsetting you over so many things. Yes, I am extremely sorry for my unpleasant behavior and heart-piercing words. Please don't leave me and accept my apology for one last time!
We are so madly in love with each other that our paths cannot be parted in any way. So, I beg you to forget all my terrible past deeds and forgive me for everything. Let's kick start the relationship with a new mindset. I am so sorry!
Doubting your plans for our relationship, belittling you on every occasion is the most terrible thing I have done in my life till yet. I want to see your heart-warming smile once again. I want to imbibe your forgiveness in my heart. Boyfriend, please forgive me for one last time.
My dear sweet love, with all my heart and blood in my veins, with every drop it, I apologize to you. Forgive me. Without your love, I am nothing. Sorry.
I don't know what I say to soothe you for my embarrassing arrogance. But I think saying sorry may melt your heart and you take me again into your arms. Sorry my heart touching love!
As weather changes my love, sometimes weather in love also changes. And it hurts. I know I have hurt you but in my heart spring is always there for you saving you from the rain. Sorry my kind hearted boyfriend. It will never be again.
As much the fights are there in the relationship, love is there in the deep. Sorry my love. From the truest of my heart I never mean to be the way I was with you. Forgive me.
I know you are always there for me. Please don't leave me for my irrelevant ways that you have to deal sometimes. I truly love you my love and I am sorry for my absent mined things.
Heart Touching Sorry Messages for Boyfriend
Without your presence in my life, I am feeling like a boat without any sailor in it. I am alive but I don't feel any liveliness and excitement because I have broken your heart. Please forgive me for everything I have done and come back soon!
Dear boyfriend, the importance of anything is realized when it goes far away from you. I destroyed your respect, I didn't care about your feelings, I insulted you in front of anyone, yet you didn't say a single word to me. I am really sorry for everything.
My beloved boyfriend, mistakes can happen from anyone. But the important thing is a person must realize the mistakes ask forgiveness. I realized my mistake of breaking your heart and I beg you to accept my apology. Please forgive me and let's begin everything from scratch.
I know your heart beats only for me yet I committed the blunder of breaking it that too so ruthlessly. I feel like I am the baddest girlfriend in the world who thinks only about her well-being. I am really for all the blunders. Please forgive me!
Hey baby, not even in my craziest dreams I thought I would hurt your feelings and self-respect. I was in severe pain and I did the most terrible things to you in that pain. Could you please forget all those painful events and forgive me?
It hurts my heart when you don't talk to me. Please don't turn away from my life. I need you. I am extremely sorry my love. I with my folded hands apologize to you. Forgive me.
It never came to my understanding that for all these times I ignored you. Sorry for my ignorance towards you. I don't mean this. Forgive me my heart's angel.
Perspective matters. Sometimes what we see, others could not see and everything gets messed up. The same happened with us. Sorry for all the mess. I am responsible. Forgive me my heart's angel.
I don't want to say to your mother this and I never mean to hurt her. I know hurting her has hurt you. But I thought she was forcing me for something and in anger I said something which I shouldn't. Sorry. Forgive me my sweetheart.
I know it is my first and last chance from your side and I make you believe I never do it again anything that pain you and disturb your life deeply. Sorry my dear love!
Long Sorry Quotes for Boyfriend
I said so many heart-shattering and horrific things in the heat of the moment that now I am repenting so severely and quite ashamed of my acts and words. Hey baby, I am extremely sorry for everything I said and I seek your forgiveness.
Making a dent in our relationship is the last thing I want to do as long as I am alive. I just want you to sit down with me and listen to what I want to say. I am deeply sorry if my words hurt you in any way. I hope you will accept my heartfelt apology!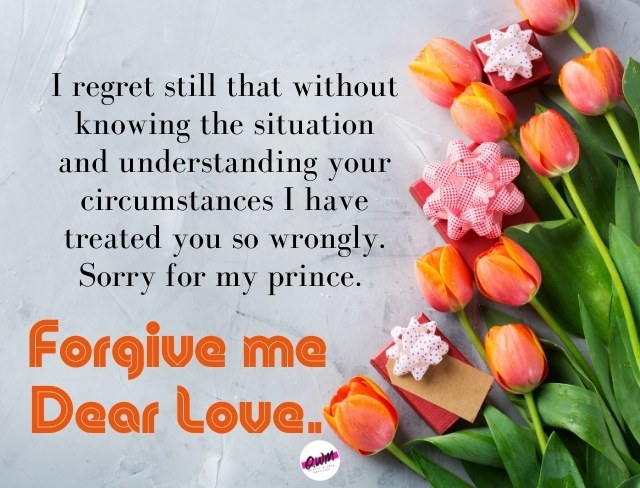 With you, I have carved so many enchanting and unforgettable memories that I cannot let anyone including myself put a stain on our pure relationship. I accept I crossed the line and said pride-hurting words that no partner should say to her boyfriend. I am so sorry baby for everything!
If it were in my hands, I would have traveled back in time to undo all the mess I had spilled on you in front of all the near and dear ones. Not only do I deserve the harshest punishment from you but also some serious lessons so that I never break your heart again. Please forgive me, boyfriend!
I know merely saying 'SORRY' is not sufficient enough to fix all the things I broke in our sweet relationship. My life is nothing more than a hollow vessel without you which is good for nothing. Hey boyfriend, can't you forget what I have done and accept my heartfelt apology?
I regret still that without knowing the situation and understanding your circumstances I have treated you so wrongly. Sorry for my prince. Forgive me.
Without you, my life is not beautiful and it is all desert in which I don't want to live. Please don't leave me. I promise I never do it again. Sorry for the way I have been with you all the time. I don't want to wound you.
I believe that you forgive me if I say sorry from the bottom of my heart. And my love I am saying it. You listen to my heart, it is weeping for you. Sorry my loyal partner.
I give you all my heart and my life and you punish me as you want but please for the god's sake never think of ignoring me. I am childish my love you know me. Please forgive me this time. I won't happen again.
Those who forgive are great and those who admit their mistakes are greater. I admit mine my love. Sorry for angering you unreasonably.
Funny Sorry Messages for Boyfriend
Hey boyfriend, it has not been hidden from anyone that I have some serious anger issues. Would you mind purchasing some exorbitant anger management course for me so that we can have a seamless and alluring relationship till the end?
Hey sweetheart, I am extremely sorry I make you cry all the time. Don't worry, I will fix everything by buying the latest play station version for you. I know you will forgive me instantly after getting that.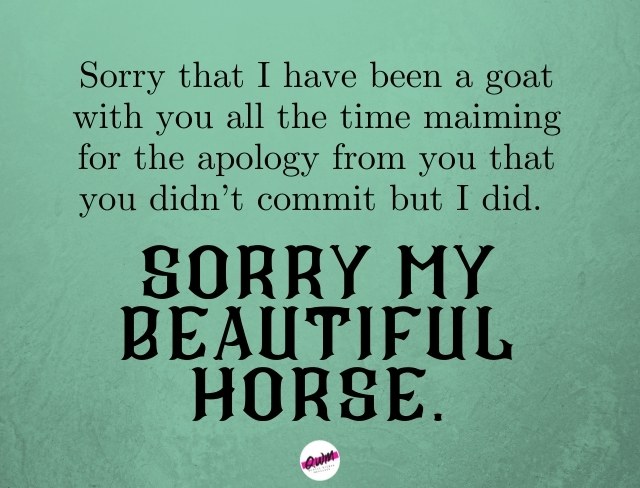 Dear boyfriend, I may not be the best girlfriend in the world but be thankful to God that at least you have a girlfriend. You better grant me an apology I am asking for a long time or you will lose your girlfriend.
Losing you as a better half is the most intense punishment for me. However, the days I wasn't in touch with you were the most tranquil ones. Would you please forgive me, the most dashing boyfriend in the world!
Hey boyfriend, I would love to wait for you until you give me an apology but I have a flight to catch. So, can you please hurry up and forgive me or else I have to start looking for another boyfriend. Please forgive me, sweetheart!
Sorry that I have been a goat with you all the time maiming for the apology from you that you didn't commit but I did. Sorry my beautiful horse.
You are so cute that you look a sheep sometimes and yet I tolerate you all the time. Sometimes you tolerate me too. Sorry for long duration of tolerance my love. I was just testing you.
I will do my temperature rightly checked by a doctor. Till this time forgive me. We will both go to a doctor together. You are my forever sweet love. Please just ignore the mistake and hug me again.
Thank you for forgiving me without even my saying sorry to you. You love me but your too much love is spoiling me badly. Yet sorry for my great kind hearted man.
Sorry that I have sold your car without even informing you. Don't you want to forgive me if I say sorry? Next time I sell anything of you by informing. Forgive me my richest man in the world.