To pay homage due homage to the real heroes of the society i.e doctors, nurses, and volunteers who have locked horns with this global pandemic and working day in and day out to overcome challenges, we bring you an inspirational collection of thank you healthcare workers quotes, thank you doctors quotes and messages, thank you nurses quotes and messages, and thank you doctor images. Around three months ago, who would have thought that the whole world will go through a dastardly pandemic named COVID-19 who will hog on millions of lives, put the global economy to its knees, and lockdown almost 70% of the global population in their homes for months.
However, there are silver linings amid these gloomy clouds. With every catastrophe also rises a superhero that gives a ray of hope to the entire humanity. In this scenario, our heroes are all the healthcare workers, doctors, nurses, and volunteers who have put their lives on stake to save every single damn life who is suffering. They are working relentlessly to treat the needy ones, have lost the sense of time and daily chores. Such selfless efforts must be lauded as much as we can. To pay enormous reverence to all health workers and volunteers, QWM is more than happy to present an inspirational collection of thank you healthcare worker quotes, thank you doctors quotes, thank you nurses quotes and images. Let's get started.
Best Thank You Healthcare Workers Quotes | Thank you Card Wishes for Healthcare Providers
If you were looking for opportunities to say thank you to all the healthcare workers in the world, now is the perfect time to do that. We all are going through a very nasty phase. It's because of the combined efforts of our gallant and selfless healthcare workers, we have managed to lock horns with the corona pandemic, and slowly and steadily winning the battle with it.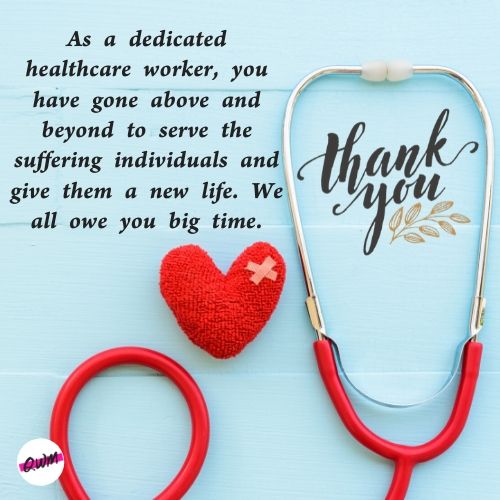 No matter a healthcare worker is prominent or just a beginner, everyone's contribution matters and equal as well. Here is our full of gratitude collection of thank you healthcare workers quotes and thank you wishes card for healthcare workers that will are way too perfect to express your gratitude towards them and inspire them as well to do a great job.
All of you guys are no less than God to humanity. You guys are doing such a noble work without worrying about your lives. Thank you all healthcare workers!
Not many people get the golden chance to serve humanity and earn unfathomable respect and pride. Thank you for everything you have done to save our lives.
As a dedicated healthcare worker, you have gone above and beyond to serve the suffering individuals and give them a new life. We all owe you big time. 
More than doctors, you guys are spiritual healers for us. We were more terrified internally instead of external pain. But you guys amazed by your services. Thank you!
We want more healthcare workers like you guys in the world. You guys have helped so profoundly in this tumultuous time. We all will be forever grateful to you!
Also see: Quarantine Quotes & Best Self-Isolation Quotes
Unquestionably, my nation has the best team of healthcare workers in the world. With your relentless service and dedication, we all have managed to conquer this pandemic. Thank you to all healthcare workers in this nation!
It's all the little efforts that make the maximum impact. You have done so many little but profound things for a patient like us that we will forever be debtful to you. We are alive because of you. Thank for your being wonderful healthcare professionals.
Initially, I was so worried about my disease and the kind of doctor who was going to treat me. However, I am so happy to be allotted to a doctor like who consider patients as his family members. Together, we have conquered the pandemic and revived the health of the nation!
Finding healthcare workers like you guys who don't care about their eating and sleeping except taking care of patients round the clock. Thank you for saving our lives from this deadly disease. You are a living source of inspiration.
Most of the people take services from healthcare workers, doctors, nurses but never think to thank them. However, this global pandemic has changed the equation completely. More than God, people are grateful to healthcare workers for saving the whole world by putting their lives on stake.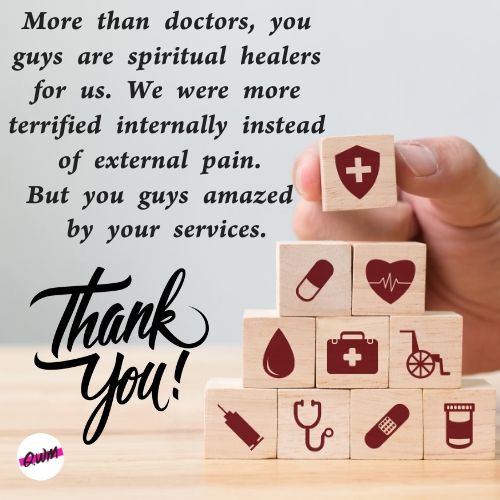 Also see: Work From Home Quotes
Thank You Doctors Quotes | Thank You Messages for Doctors
Imagine, a doctor works round the clock without caring about his/her eating and sleeping routines so that we all can stay healthy and live life to the fullest. Amid this global pandemic named corona, doctors' personal care and professional services have played a quintessential role in fettering the spreading of this disease and save the world from an unimaginable disaster. Can't we take a single moment out of our busy schedule to thank all the medical professionals by sending thank you doctor quotes and thank you messages for doctors?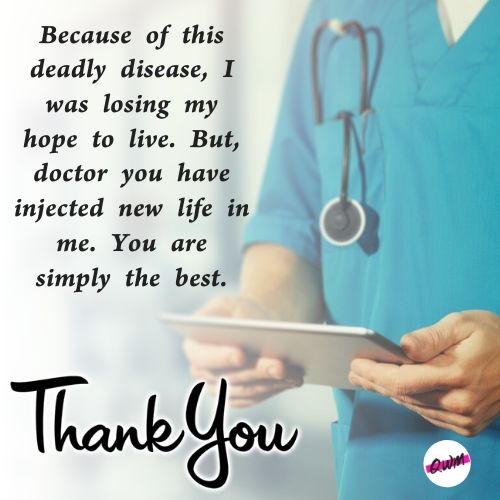 Express your gratitude towards our honorable doctors of the country by using these thank you doctors quotes and thank you messages for doctors that will make your doctors happier beings and inspire them to keep serving the nation and its people.
Because of this deadly disease, I was losing my hope to live. But, doctor you have injected new life in me. You are simply the best. Thank you doctor!
This nasty pandemic has made me realize how pivotal the role of doctors is in protecting the nation. You guys are our nation's unbreakable shield. Thank you so much for saving us.
The very thought of hospitalizing myself because of a deadly virus was scaring the hell out of me. But friendly doctors like you took out all my fear and treated me with the utmost love and courage. Thank you for giving me another life doctor.
My husband is able to see another day sunshine all because of your selfless and relentless medical service. Thank you doctors for saving a valuable life.
Whether it is a small disease or a deadly pandemic, doctors have never ever let our hopes fall down. You are no less than harbingers for us. Thank you for your selfless service doctors!
Till yet, I know there is no treatment for this nasty disease. However, after being under your meticulous supervision and family-like support, I recover expeditiously. Thank you doctors!
Heartiest thank you doctors for putting the patients' health priorities on top and bills at the end. You are no less than Godly figures in this distressing time.
Your treatment, love, and support have given me a new healthy life. You have hands of a magician doctor. Thank you doctors so much!
This vicious disease was taking over my physical and mental strength. In my recovery journey, a wonderful doctor like you was the need of the hour. Thanks doctor for uprooting my stress and making me a healthy person again.
Doctors like you are not merely another medical professionals. You guys are life protectors or better say, real saviors. Thank you doctors for an exceptional treatment and caring attitude.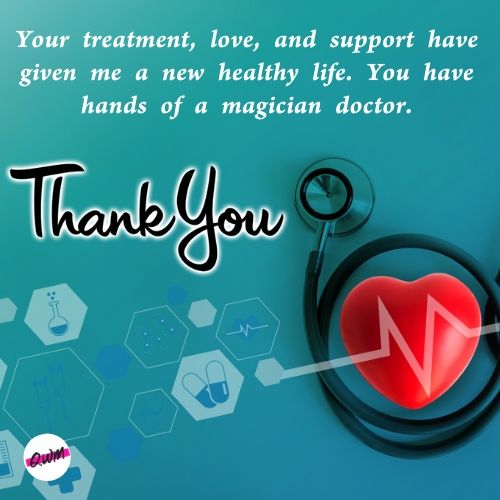 Thank You Nurse Quotes | Thank You Messages for Nurses
In this global pandemic, like doctors, nurses are playing an equal and gargantuan role in taking care of heaps of patients, treating them, consoling them, and injecting new life in them. Most of the nurses haven't seen their family and sweet little kids since so many days and are relentlessly providing their services to the ill ones. For all the special services nurses are giving to you, it is your responsibility of all of us to boost their morale by sending them thank you nurses quotes and thank you messages for nurses.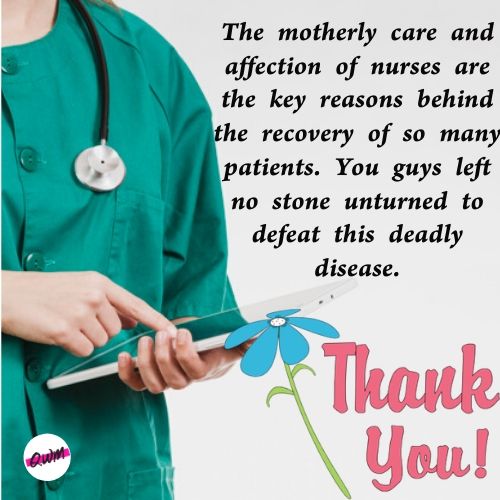 Searching for a massive collection of thank you messages for nurses and thank you nurses quotes? The below-stated thank you quotes for nurses will help you a lot in lauding the efforts of all the lovely, courageous, and inspirational nurses.
The motherly care and affection of nurses are the key reasons behind the recovery of so many patients. You guys left no stone unturned to defeat this deadly disease. Thank you nurses!
Thank you nurses so much for working head to head with all doctors and giving world-class treatment and saving the nation from an unbeatable crisis!
More than professional nurses, you acted with us like a true friend who can do anything for the well-being of best friends. What you guys are doing is no less than a heroic act. Thank you nurses!
Your skills and conscience during this distressing time prove that nurses are no less than doctors. We are existing today because of your treatment and motherly support. Thank you nurses!
You don't just do the treatment. You take care of us like we are your family members. You are all in one: a nurse, a mother, the therapist. Thank you nurses for your treatment!
This global pandemic has taught me two significant lessons. Nurses and doctors are not greedy, and their profession of saving lives is perhaps the noblest of all. Thank you all the nurses.
From now on, I will never ever question the ability and the healing power of nurses. You guys have done an excellent job and we all owe you big time. Thank you nurses!
Sending heaps of thank you messages to all the wonderful and utterly professional nurses who have single-handedly taken care of all patients and beat down the nasty disease.
Even billions and trillion of thank you quotes for nurses will fall short to pay back for the hard work they did to protect humanity for the soul-shaking exodus. From now on, you guys are my superhero. Thank you nurses!
Most of the time, the opinions of nurses often go unheard. Now, the entire world is listening to you and following your medical instructions to protect themselves from a deadly infection. Thank you nurses for your priceless contribution.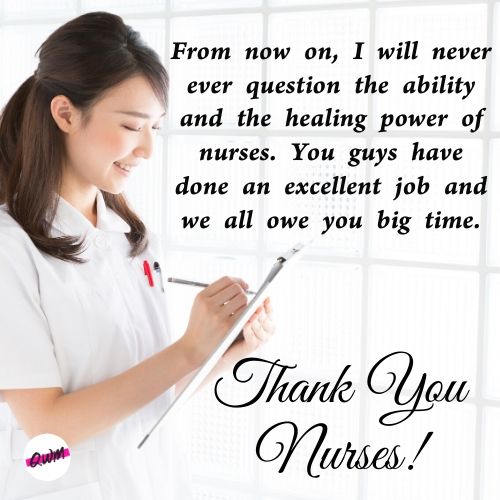 Inspirational Thank You Doctor Quotes With Images | Motivational Thank You Nurses Images
Doctors and nurses are the ones who make you feel comfortable and courageous when you are in the death bed. They are the ones who help you get rid of excruciating pain. They are the ones who render family-like love and affection when you are away from home fighting from a deadly disease. All the above-mentioned statements simply show how emphatic, compassionate, and gallant doctors and nurses are.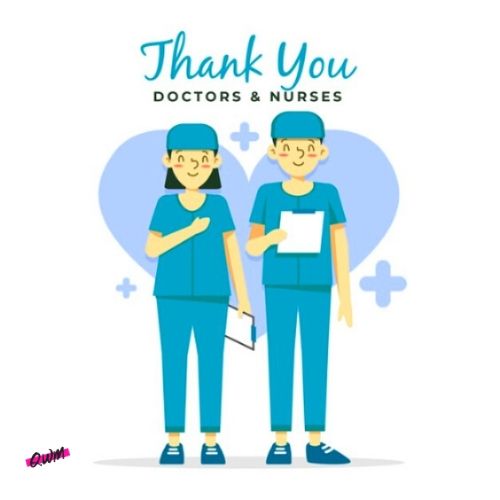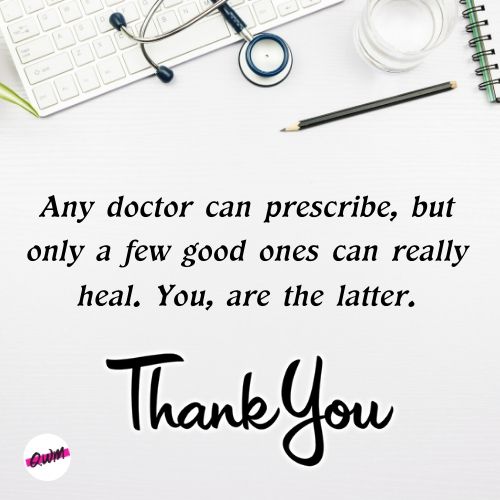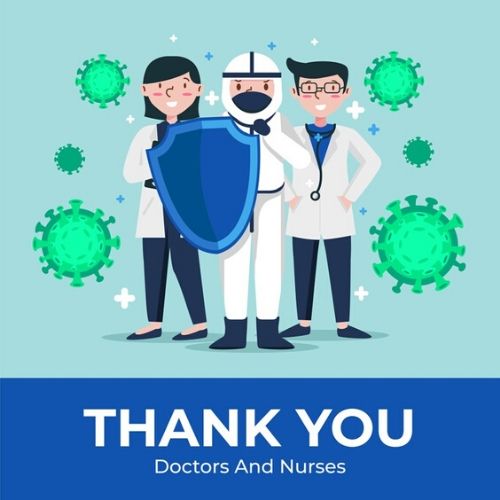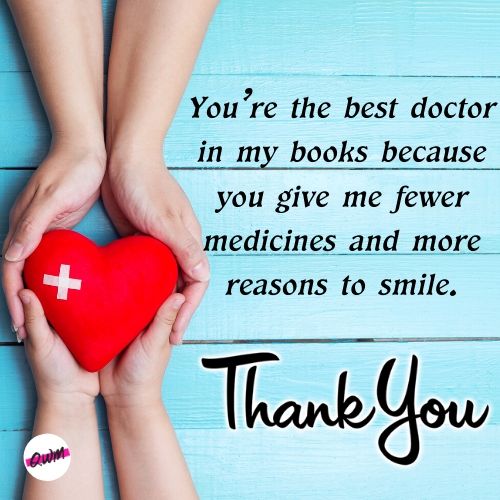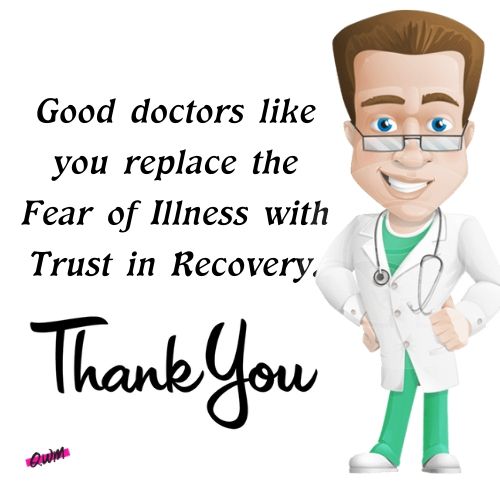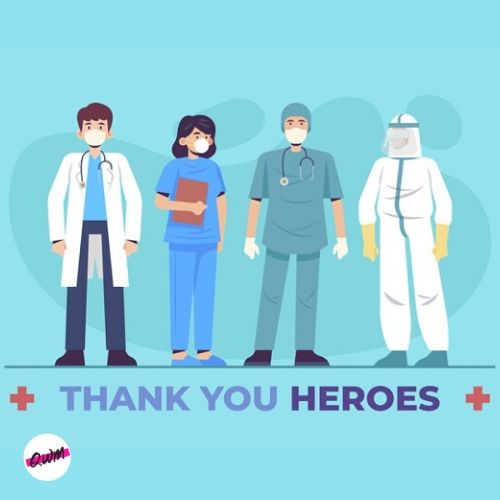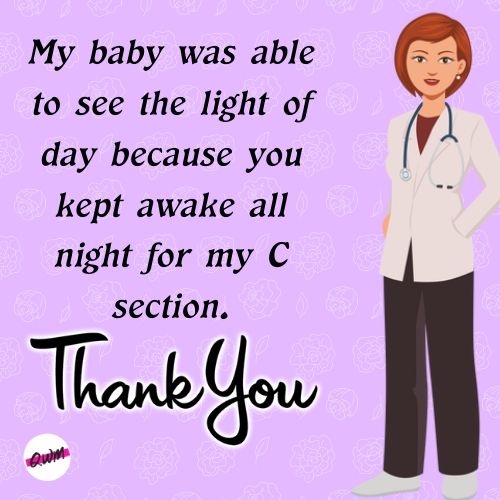 The one fine way to express gratitude and love towards the unsung heroes of the nation is by sending them thank you doctor images and thank you nurses images that are enclosed with meaningful quotes or with a thank you note for doctor and the nurse. To save you from the painful task of finding inspirational thank you doctors images with quotes and thank you nurses images, QWM is feeling more than proud to present a noble and full of gratitude collection of thank you doctor and nurse images that will make them feel proud of their profession and boost up their morale as well to server the nation in a more dedicated and profound way.