Sympathy Messages for Loss of Wife: The death of your life partner is the most terrifying and painful thing that can ever happen to you. The very thought of parting ways with your partner can tremble your soul, just imagine what her death can do to you. The unbearable pain and agony of losing a wife can tear apart a person from inside as well as outside. No one can replace a spouse or match her stature and nothing can fill the space created by her death. If any known individual has lost his wife, you can offer him deepest condolences, prayers, flowers, and support by sending sympathy messages for loss of wife to him and the whole family.
Condolence Message On Death Of Wife
Your wife was one of the strongest and loveliest women I have ever seen. She was the epitome of generosity, benevolence, and courage. Not only she will be greatly missed but also she will be well alive in our memories. My deepest sympathies are with you on the loss of your wife!
I am aghast and totally numb to hear the drastic demise of your lovely and beautiful wife. She was a super-woman and her affectionate nature was the key reason she reside in the hearts of everyone. In this distressing time, my prayers, thoughts, and support are with you and your family. I am sorry for the loss of your wife!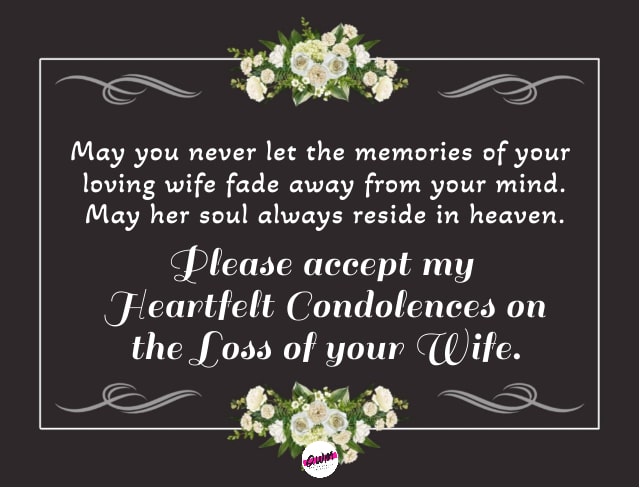 As soon as my family came to know about the death of your wife, we fell down in the unfathomable ocean of pain and grief. How can something so bad happen to the nicest woman? Sometimes, the ways of god are quite cruel. My condolences and my complete support are with you. I am terribly sorry for the loss of your wife.
Your wife was indeed the most beautiful and the purest soul ever walked on this planet. I know no positive and consoling words can give peace to your heart but I will pray that your agony dwindles pretty soon. I am deeply sorry about the biggest loss of your life, your lovely wife.
I can understand your pain because I have also lost my lovely spouse a long time ago. Only a bearer can know where the shoe pinches. I am profoundly upset about the terrible event that happened in your life. May you find solace and love in this difficult time. I am always with you in this distressing time. My condolences are with you totally!
The news of your wife's demise is the most shocking news I have heard in recent times. I wish the grief and agony thriving in your heart get away as soon as possible and may you return to your normal life. She was a dazzling woman and may her soul rest well in peace!
Hey friend, don't grief too much about your wife's death because she has only left the physical or material world. Her subtle soul is in heaven and experiencing the most intense pleasures of that place. May you stop mourning her loss and carry forward the great deeds she has started doing. I am extremely sorry for the loss of your wife.
My mind is still in the boggling condition since the moment I heard the news of your amazing wife's death. She was healthy, physically and mentally perfect, and doing a lot of work for the betterment of society. She was an outstanding woman and she will be missed massively. My deepest condolences are with you.
A few days ago, we all were celebrating the birthday of your pious wife. Today, I received the news of her sudden demise and I am mourning deeply on her untimely death. My heartiest sympathies are with you on the loss of your spouse. May God give you sufficient strength and conscience to get over from the pain.
On the loss of your dearest wife, I would like to extend sympathy and support of my whole family to you. She was like a big sister to me who taught me the most valuable lessons of life. She will be badly missed by all. Sending heartiest prayers, support, and condolences to you in this terrible time.
May you never let the memories of your loving wife fade away from your mind. May her soul always reside in heaven. I promise you that her kindness and gargantuan deeds will never be forgotten. You and your whole family are in my prayers and thoughts.
The number of lives your wife has touched and transformed are uncountable. Not only she lived for the upliftment of the needy ones but also did everything for them beyond her capacity. You have always my sincerest sympathies and condolence flowers.
Not once in a million, your wife was once in a billion woman. The legacy she has left cannot be overshadowed by anyone. She was one of the most vivacious and benevolent souls in your family. I am outrageously sorry for your massive loss. If your need any kind of help, I am just a phone call away.
Your wife was so sincere and virtuous that every girl and woman want to be exactly like her. No one can erase the footprints and achievements she has earned with her talent and hard work. My heart and prayers goes out for you and your family. She will be terribly missed. I am deeply sorry for the loss of your dearest wife.
Alos see: Sympathy Messages
Words Of Sympathy For Loss Of Wife
Nothing in this life is permanent, not even love and not even the one whom we love. Sorry for your wife that she has left you so early. I can understand the pain you are going through but thinking about it more only gives you pain and nothing else. Think of good memories with your wife. She was really a good woman. My sympathies for you on the loss of you wife.
Perhaps we should not love so much a person or perhaps we should love so much that love doesn't remain in us to give pain. But in both cases pain comes. Love and pain both are the part of our life. Your wife's soul is with you and forever be with you. She was a lovely and kind woman. Sorry for your wife and accept my sympathies.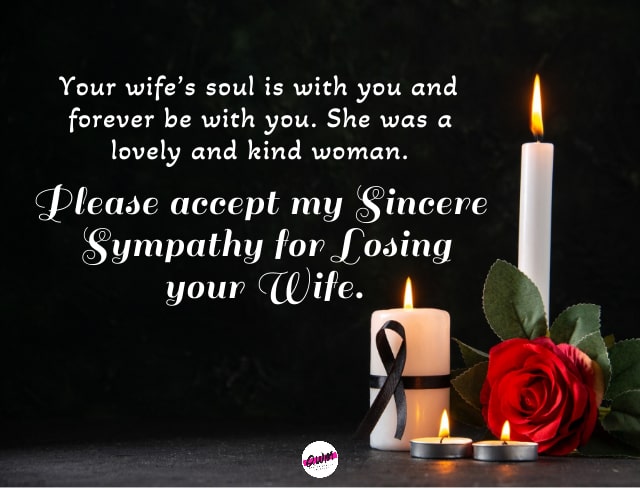 I don't know how should I lessen your pain and I can understand it is unbearable to all the limits. So much you love your wife. She was like a fairy helping and spreading happiness and smile wherever she went. Even we felt so attached to her. Try to live with her memories and better your life my friend. Accept my sympathies for your wife's loss.
I don't philosophize the situation but want to say accept the truth and living with your wife's best memories is the only solution. True love never dies but love is also about living. Don't depress yourself and try to come out from this situation. But I must say she was amazing, full of zest and life. She was a good friend of mine too. For your wife's loss accept my sympathies.
Hearing your wife's demise my whole world has shaken. She was my best friend. I can't console myself and then how I say to you yet for your children you must better yourself rather weeping in the well of tears. I miss her. Sorry for your wife's loss.
When you lose such a person who is your life partner then whole world gets shaken. To live this life we need a partner. Alone this life is a curse. Sorry for your loss my dear friend that your wife has left so earliest when even you both haven't seen all the beauty of moon. Extremely sorry for the loss of your wife. Take care.
Physically she is not here but her memories and soul always be with you. She is watching over you and don't want you to go into despair and sorrow. We can understand that it is entirely unbearable but my friend you have to live for her dreams. You have to complete what she wants. Sorry for your immense loss of your life. Your wife was a living angel.
Weep as much as you can provided you don't feel so much sadness. It is said in tears sadness gets washed away. I have never thought in this way she would leave us forever. Saddened to hear your wife's loss. My sympathies and support for you always there. Look after yourself my friend.
Her face always comes before my eyes, that smiling and graceful face. What a royal lady your wife was. So endearing and charming and a good friend. Deeply shattered to hear she has left you forever for heaven. I know you will miss her each moment and minute. I do want to say don't drown yourself in her grief but try to live with her love.
Have strength and try to move ahead. I know it is difficult but it is the only choice and she always wanted this for you to always go ahead in life. Your wife was so humble and goddess of kindness. Sorry to hear her loss and feeling saddened for you. I can't wipe my tears off even. Sometimes some people leave us early for never coming back. Accept my sympathies.