Thank You Teacher Messages: Teachers are the strong spine behind any developed and powerful nation. A teacher is capable of producing a myriad of brilliant minds who can shape the future of a country and make it a force to be reckoned on the global map. To praise the contribution, sacrifices, and heroics of our teachers, we have compiled a touching collection of emotional thank you teacher messages from students and parents that will help you express the gratitude and thank your teacher for giving you the most valuable gift of life – education.
Thank You Teacher Messages
A single teacher with an unflinching vision is capable enough to change the future of a country by producing an army of passionate students. I thank you my lovely teacher for instilling fine education in me.
Only a person likes you deserve to be the flag-bearer of this noblest professional. No one understands the value of education as much as you. Saying thank you to you for all the things you have done is not sufficient enough.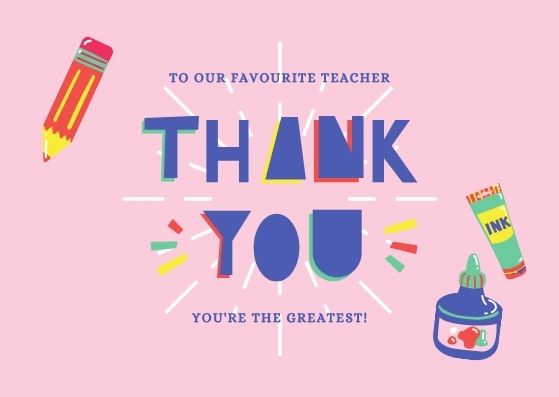 Today, I want to touch your feet and take blessings for making me a person my parents covet to see. I don't how to express my gratitude towards you. Thank you teacher for guiding me in every walk of life.
Maybe a teacher can forget his students because he teaches uncountable students but a student can never forget his favorite teacher. I wholeheartedly thank you for your time, energy, and efforts.
I was hopeless from the very beginning but you never let me lose the enthusiasm even for a moment. It's because of you I have passed my graduation with flying colors. Thank you teacher for everything!
Even if I collect all the gratitude of the world and express it in front of you, it would still not be sufficient in comparison to what you did for me. I don't think I will ever get a teacher like you. Thank you so much sir for all the patience and hard work.
I have seen a massive passion for teaching young lads in your eyes that I haven't seen in anyone. I couldn't have made it that far with your guidance and teachings. You are the savior of my sinking ship. Thank you teacher!
Hey teacher, you are perhaps the only person who has firm faith in my potential and abilities. You converted my shortcomings into my biggest strengths. I sincerely appreciate your endless patience and fine wisdom. Thank you teacher for growth and support.
A student without a right teacher is more like a ship without any sailor. It can move towards any direction and can sink at any time. I am glad my sailor is quite skillful and experienced. Thank you teacher for being the unshakable support system.
You are so packed with your hectic schedule yet you manage to solve the problems of every single student. Such zestfulness and dedication must be respected. Thank you teacher for what you have done!
You are one of my best teachers. I have not just explained me lessons of books while lessons of life. Thank you for being my favorite teacher. I respect you a lot.
Parents give you birth in this world but teacher gives you guidance how to live in this world. That's what you have given me. Thank you for always standing by me. You are my favorite teacher.
Teaching is not only profession. It is a noble duty. Having a teacher like you in my life feels like guided by angels. You teach the most important lesson of my life; that one should always believe in oneself. Thank you.
Education is not only sitting for some hours and attending classes. Education is instilling knowledge in yourself and you have done it thoroughly very well. You are my always favorite teacher. I never forget you. Thank you for putting your hand on me and showing me the way.
You have shaped me like a diamond. I am shining and I am strong too. For all this I thank you. You are not only my teacher while like an older sister and a friend too. I always appreciate the effort you have put in me and never gave up on me. Thank you very much.
I don't know how this debit of you I can pay. Perhaps I know I can never pay this. After my parents died you took up all the cost of my education. You are a generous teacher. Before that I don't know such teacher could exist. Thanks for always helping and standing for me.
You have made me believe that I have something special. And you know it but making me believe is the real task. It is all because of you everything best is happening with me. Every student has a teacher like you. A good teacher can change students' life entirely. As you have changed mine.
A kite can tolerate any blow of wind if it is tied with a strong thread. That is how my teacher is. Thank you for teaching me how to land safe on ground yet giving me wings to fly.
You have not given me education of grades and numbers. You have taught me how to learn something efficiently. You have thought me how everything can be learned easily. A teacher like you is one in millions. Thank you for everything.
You have taught me how to be authentic rather than getting into the race. You have taught me being oneself is what requires the effort because being others is easy. A teacher like you is like a bright star in the dark. You have taught me how to be myself. And this is what needed for all student of the world.
Also see: Best Thank You Messages
Thank You Message For teachers From Student
I consider myself as one of the most blessed students because I am under the tutelage of such a brilliant and maverick teacher. Thank you teacher for giving me the best education and the right guidance.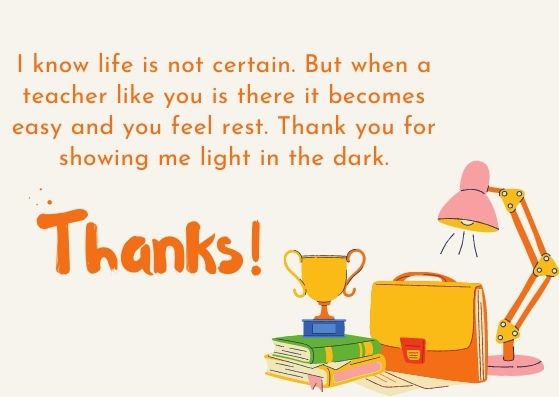 Your ability to understand a student's weaknesses and strengths and working on them accordingly and patiently is what separates you from the rest of the teachers. I am lucky to get taught by you. Thank you, teacher!
Ordinary teachers focus only on academics. An extraordinary teacher focuses on the overall development of a student. I am multi-talented and brilliant in academics because of your encouragement and motivation. Thank you, teacher!
Out of all the periods, your class is the only one for whom I wait to attend desperately. You create exuberant vibes in the class which propel students to engage well. Thank you so much teacher for giving us the best possible education.
The basis and the right person of all my academic and non-academic achievements are you. You are the one who ignited my hunger to grab knowledge like crazy. You will always hold a special place in my heart. Thank you teacher for growth and support!
The foremost attributes of a teacher are wisdom, patience, and dedication which you have in heaps and you impart them in all of your students. Not only students but our parents also laud your hard work. Thank you teacher for everything!
The job of a teacher is to educate students well enough so that they can take the right actions in life. You have helped us to find the inner calling and how to achieve it. Thank you so much for everything!
My unfathomable knowledge, my fine intellect, my humble attitude, all are in me because of your blessings and teachings. Thank you teacher for being the unparalleled support system of my life.
If inspiring students to become brilliant in anything is an art, you are the Picasso of it. Thank you teacher for amusing us with your unmatched wit and educating us with your classic knowledge.
I know life is not certain. But when a teacher like you is there it becomes easy and you feel rest. Thank you for showing me light in the dark.
What I like about you is that you have an uncanny ability to recognize specialty in every student. That is very unique about you. Such teachers are rare. Thank you for making me realize my potential.
You have taught me never to surrender spirit. It is must for every student in all areas of life. You are awesome. Finding a teacher like you is like finding luck. Thank you for everything.
You don't get angry on me when I don't do what you say for my improvement. While you give me creative punishments which are for my own benefits. In every way you are thinking of my benefit. I love you as my teacher. It is an honor to be taught and guided by you. Thank you.
Being a teacher doesn't mean only making preparing lessons while it means preparing students for this worldly life where they can maintain and sustain themselves. You are a great teacher for us because you have given real life experience of your life to guide us how we can be a lot better. You are our genuine teacher. Thank you.
The importance of a good teacher can only understand a good student. And I know how important you are for me. You are my teacher not for this school or college but for life. Thank you for guiding me.
Bad students need a good teacher. You took responsibility on me when no teacher was ready. You knew the spark in me and told I am special. Thank you. You are not my only teacher while a god in disguise.
Everyone is a teacher to their students but you are my coach. You are my coach for life for my every success mark I make. Thank you for preparing me all challenges. I respect you a lot.
You are my hero. A teacher like you is rare to find. And the thing is you come into my life and that is a blessing and best thing that has happened to me. I love you as my teacher and guide. Thank you.
What I say! You have just changed my life converting me into everyone's favorite. Now I have understood why a teacher is needed in life. You are phenomenal as my guru and teacher. Thank you for always showering your blessings and guidance to me. You can erase my every hurdle. You are my truest teacher.
Also see: Thank You Messages for Students from Teacher
Thank You Teacher Messages From Parents
What parents cannot teach and make their children do, a teacher can. Thank you sir from the bottom of our hearts for molding our kids into obedient and future-focused teenagers.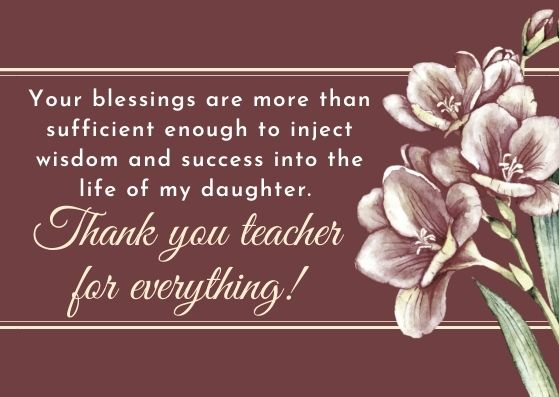 Your blessings are more than sufficient enough to inject wisdom and success into the life of my daughter. Thank you teacher for everything!
Experienced and clear conscience teachers like you are the biggest assets of this country. May you always have fine health and uncountable accolades. Thank you teacher!
Maybe you are an eminent teacher for the entire world, but my son considers you no less than a fatherly figure. I am glad and satisfies that the right person is honing the future of my kid. I thank you for showing patience and dedication!
There is no denying that the teachers are the second parents for a student. I am thankful to school management for helping our kids choosing the right path and carving a future. Thank you teacher for growth and support.
You could have chosen a high-paying job and moved on to some lavish place. Yet, You decided to stay here and teach our kids. I don't have the right words to say thank you. I thank you teacher for all the priceless sacrifices you have made.
For us, you are just a teacher. But for our kids, you are an exemplary role model and a superhero. Thank you teacher for making my kids believe in the power of education.
Whether a student is interest in studies or not, you have always given your 100% percent and make sure that the child never deflects from the right path. A teacher like you is rare to find nowadays. Thank you sir for every little thing!
Thanks a lot, teacher for making my children believe in the power of seeing dreams and working hard to achieve them. You not only impart par excellent education but also create inspiring characters in your students. Thank you so much!
Who says only the job of parenting is tough? The job of a teacher is more critical and significant because a teacher creates the base for the entire future of a child. Thank you teacher for imparting fine wisdom, astonishing values, and teaching gratitude to my kids.
As parents we don't know how to thank you for changing our son life and showing him light when he was wandering aimlessly. You are a generous teacher. Thank you. It is great help of you.
We don't know what a teacher means in this world. In this free education world of today where everything can be learned from a mobile, you are always there for my daughter as her favorite teacher. With a mobile you can access knowledge but guidance is always by a true teacher. Thank you.
As a single parent raising my daughter was difficult for me. You as a teacher taught her how to excel in life and finding her own path. Today what she is, it is all because of you. I thank to God every day such teacher like you still exist. Thank you for my daughter.
Parents can raise their kids but it is a teacher who tells and teacher how to touch the sky. You are awesome. Many thanks we say are less. For our daughter you are a priest of her life which is always saying holy for her and telling her how to do. You always stand by my daughter. Thank for being a dedicated teacher for our daughter.
My son was never interested in study. You recognize his true potential and took him into sport. Today he is favorite player of his team and school. He is living his life peacefully. It is all because of you. Thank for being a nice teacher to my son and bringing peace into his life.
Saying thanks is a little less we know as parents. But it is what we must need to do. We can't thank you more because what you have done for our daughter it is beyond many thanks. You saved her life from getting into a dark from where she couldn't come. You are the definition of how a teacher must be for his students. Thank you.
A tree grows when proper water and all ingredients it gets timely. It is same with a student and a teacher. Thank for showing my daughter the path she had been searching for.
Life is full of spikes. You have taught our daughter how to pave right in the direction. You have instilled in her never give up spirit. She has become a never surrendering daughter to any obstacle. Thank for inspiring my daughter and teaching her real meaning of life.
In simple for me as parent you are world's best teacher I am ever thankful and always will be. You are phenomenal in every area of your duty and your responsibility for your students. This is what we expect from a teacher as parents. Thank you.
Thank for guiding my son that mountains can also be won. However big the problem is it can always be resolved. My and we as parents always are indebted to you forever for life. Thank you.
Also see: Best Thank You Messages For Friends
Thank You Teacher Quotes
The amount of dedication, energy, hard work, and faith you put in teaching us is beyond commendable and drool-worthy. With a teacher like you at the disposal of every student, the progress and development of a country is not far away. Thank you teachers for your efforts!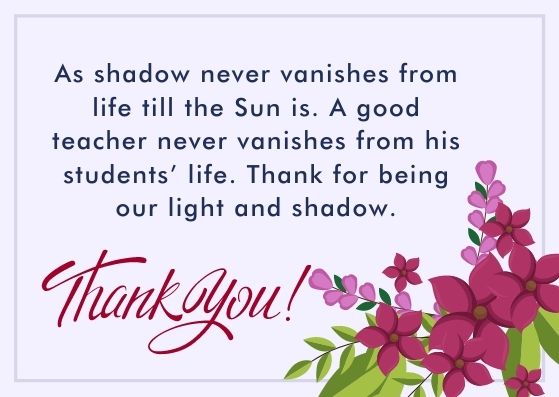 When you teach, even the most complicated topic seems so seamless to understand. I thank you from the bottom of my heart for being so patient and serene in nature with us. We will surely make you proud one day. Thank you teacher for your time and energy!
Teaching a class full of quarrelsome and annoying students is not everyone's cup of tea unless the teacher is you. Not only me but the entire class is gonna miss your teaching once we pass out from here. I thank you teacher for helping me grow.
Hello sir, I am sorry if I have troubled you with my bad behavior. And thank you for molding a reckless and bad-mouth kid like me into a responsible and country-loving individual. Thank you teacher for teaching me and your support!
I am the one who used to yawn the most in your classes. I am the one who used to bunk your classes the most. Still, you never punished because you knew you were also once a student. You are unquestionably the best damn teacher in the world. Thank you teacher for your time and unconditional support!
A flower can only grow healthy when it is getting proper light from the sun. This is true for all students. They always need a best teacher like Sun that always brightens their life. Thank you for being my Sun.
As shadow never vanishes from life till the Sun is. A good teacher never vanishes from his students' life. Thank for being our light and shadow.
A teacher is not just an image while they are path maker. And every teacher is a gem in every student's life. Thank you for being my path maker. I owe everything to you.
The noblest profession is teaching. The noblest job is being a teacher. Thank for being my noble teacher and pouring in me nobility of life.
A good teacher is never against you and he is not in favor for you. They are always right for you. Thank for making me right in everything.
Also see: Best Thank You Messages for Gift
Thank You Notes For Teacher Appreciation
A student needs nothing but a little inspiration, support, and morale boost to do astonishing in life. My respectable teacher, you were always there with me during all the highs and lows of my academic career. Educational institutions need more teachers like you. Thank you teacher!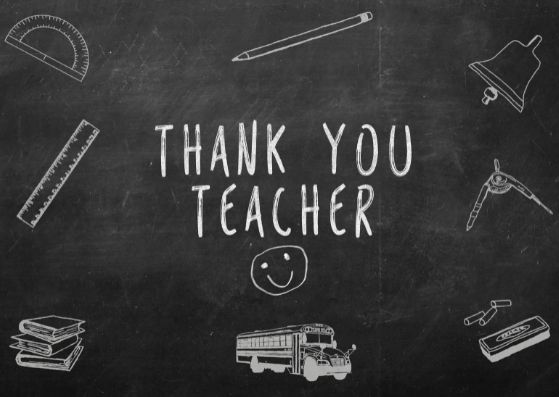 The greatness of a teacher can be defined by how many students he has produced who are changing paradigms in their respective fields. It's because of your teachings I am able to bring a change through my work. Thank you so much teacher for giving fine education and instilling great values.
Every student has infinite potential. Only an experienced and selfless teacher like you knows how to unleash that potential and carve the glittering future. Not only you deserve innumerable accolades but also thank you for everything you have done.
In my opinion, the stature of a teacher is no less than a God because both only strive for the better of humanity. One gives you the energy to do the right things and another inspires you to do the right things. My teacher is my god. Thank you so much teacher for everything!
More than an utterly respected teacher, you are a great life coach, a wonderful friend for all the students, and a perfect role model who everyone can look up to. May God bless you with all the happiness and pleasures of the world. Thank you teacher!
From the bottom of my heart I owe you everything. You have shaped me into an iron that never breaks and a soft heart that can understand everything. You are my true guru. I appreciate you and all your teachings you have taught me and every moment of you with me. Thank you for being by me.
How perspective can change everything you have taught us with you brilliant theories. You have taught us how art is necessary in life perhaps more than science. From the every corner of my heart I wish you live long for brightening many other students' life. It is an honor to be your student. Thank you.
Perhaps I may get busy in my life and you also as usual. Perhaps we are for you just like flowers that bloom every year, new and old come and go. But for us you are our gardener who cares for every petal of a flower. Your that touch of genuiness I as student can never forget. Thank for being my gardener.
I miss you and I know that I miss you. You are kind, humble and one of the finest. As my teacher I can never repay you in life what you have done for me. It is not the walls and cement of University make good students. It is always teacher that can bring good and potential in every student.
What note I write I don't know. How to appreciate you I don't know. I only know you are the ship of my sail. I only know you are the captain of my life. I only know you never leave my hand. I only know you care for your every student yet being strict from outside. We are lucky we have seen a true teacher and a good heart man.