Corporate Christmas Messages for Clients: If you want to build an exceptional business, you must learn to build trustworthy and long-lasting business relationships with your clients. Your well-built relationship with your clients can withstand your business even in the most turbulent times. There is no price for loyalty. Christmas is an exemplary time to let all your valued clients know precious they are for your business and how grateful you are to have them on board. Here is the compilation of professional and soulful merry Christmas wishes for clients that convey you appreciate them genuinely and expect nothing but the very best of things for them.
Merry Christmas Wishes for Clients
Thank you so much for giving us the rare opportunity to serve you in the best possible way. May Christmas sprinkle divinity and god grace in your and your family's lives.
One more year of a business partnership, one more year of growth and monumental success, and one more year of celebrating Christmas together. Happy Christmas to the best client ever!
Not only we are profoundly grateful to you for opting for our services but also savoring them despite so many setbacks. We will continue to amaze us with our relentless attitude and services. Merry Christmas to you and your family!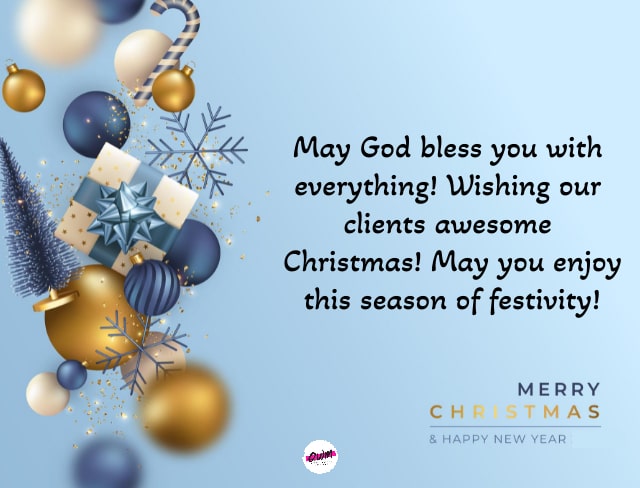 If we are an airplane, you are the valuable fuel that keeps it in the air. We couldn't make it that far with your much-needed and valuable support. Merry Christmas to the best customer, and have a memorable Christmas celebration!
There is no joy greater and dearer than the joy of working for a client who is as enthusiastic and as obsessed about success as you are. May you enjoy Christmas with your family as garishly as possible!
When we have the support of amiable customers like you, the sky is the limit for us. Thank you for entrusting us with your patience, contribution, and support. Merry Christmas!
To our one of the most valued customers, may the arrival of Christmas along bring the accomplishment of your dreams and other ambitions. Merry Christmas to the best client ever!
Yes, we are a small business but our goals are pristine and the biggest of all the competitors out there. You saw something in our crazy dreams and you invested your trust in them. We couldn't thank you enough for a lifetime. Merry Christmas and be cozy!
We have a shortage of words to express gratitude towards you. However, it is a sheer pleasure to wish our precious customer a Merry Christmas along with heaps of blessings and gifts. May you have a joyful Christmas celebration!
The reason our business is going to have a memorable and splendid Christmas celebration party is because of your unconditional support and noteworthy contribution. May the season of friskiness and divinity completely change your life to fulfill a greater purpose. Merry Christmas, dear client!
Also see: Happy Christmas Quotes
Seeing our clients we are always pleased. May the joy of togetherness and mutuality never vanish in your life with us! Wishing our clients happy Christmas!
May nothing be impossible for you! May all be for you on this amazing night of Christmas! Wishing our good hearted clients happy Christmas!
May God bless you with everything! Wishing our clients awesome Christmas! May you enjoy this season of festivity!
Clients are everything for us. W are here to help you always. May the shelter of Jesus forever be there for you! With the bottom of our heart wishing our clients happy Christmas!
We always pray for your safety and sound health. We always want you grow. Wishing our dearest clients happiest merriest Christmas!
If health is there wealth is there. We wish both for our clients. May this Christmas bring you much and more! Happy Christmas to our respected and honored clients!
May you never have to face any difficulty in your life! May you have all the strength to fight them back! We always want you to be strong. Wishing our clients starriest Christmas!
May the wind of peace and rest always flow in your life! May you have comfort and abundance in your life! This Christmas brings settlenes to our clients. Happy Christmas!
We love you as our clients. You matter for us every minute. May this eve of Christmas bring all the gifts for you that you pray and hope! Happy Christmas!
Happy Christmas to our clients! May the nights and mornings and this life always be merrier for you! Be with you forever.
Also see: Heart Touching Merry Christmas Poems
Corporate Christmas Messages to Clients
We exist because clients like you show unshakable and immeasurable faith in our business. From the bottom of my heart, I thank you for being such a wonderful and cooperative client. Merry Christmas to your and your lovely family!
This Christmas season, we have taken one more oath to deliver way more than expected to our precious clients. May you prosper in life by leaps and bounds, and good health and peace always be your great companions. Accept our heartwarming Christmas wishes!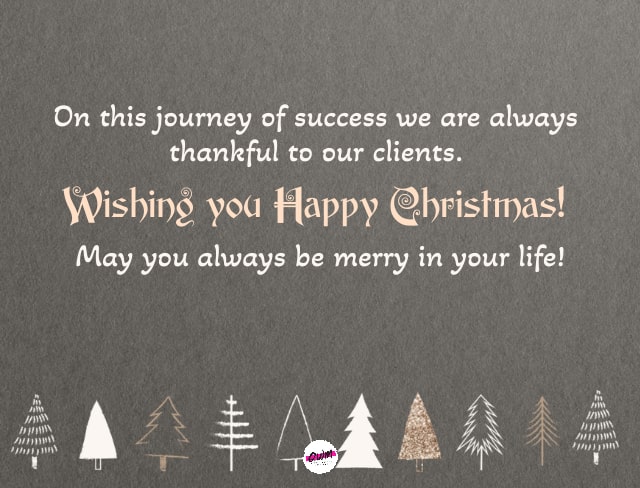 Our business considers its clients as family members. That's why the first wish of the festival should be sent to the family members first. Merry Christmas to our most wonderful client. May our business relations keep getting stronger and firmer!
May the gleaming and soulful festival of Christmas preserve opulence, good luck, and serenity in your life. May you never have to taste any setback in life. Merry Christmas and thank you for choosing us for business!
We value and cherish our fabled business partnership more than anything else. Wishing Merry Christmas to the most amazing business partner along with great success and joy!
The presence of you always bring smile to us. We are always ready to serve you wherever you are. You are truest and generous clients. Wishing happy Christmas to you and your family!
All the support that you have provided to us is welcome to better things. We are always indebted to you. Clients' feedback is everything for us. Wishing happy Christmas to you!
On this journey of success we are always thankful to our clients. Wishing you happy Christmas! May you always be merry in your life!
Abundance and benevolence always be with you. And in the journey of your life May you never get down. Wishing our clients happy Christmas and prosperity!
On the eve of Christmas we wish you best and everything in your life come true what you wish and pray for. May all your desired be fulfilled! Wishing happy Christmas to our loyal clients!
Also see: Funny Christmas Jokes
Christmas & New Year Messages for Clients
Christmas is unquestionably the most fascinating time of the year because it also alarms us about the arrival of the new year. May Christmas and new year completely rehaul our business partnership and take it to an unprecedented level. Wishing you the best Christmas celebration!
A prudent, analytical, and loyal customer like you is a gem that is next to impossible to find. Thank you for showing trust in our business. My best Christmas wishes are with you!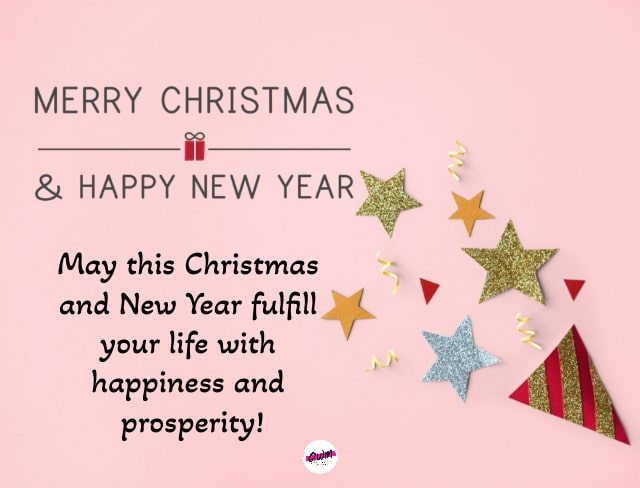 Another year is about to end, another Christmas festival is going to commence, I want to take a little moment to express gratitude to you and savor our amazing business partnership. May we continue to support each other like an unbreakable backbone. Wish you a zingy and delightful Christmas!
If half of the clients become supportive like you, we could become the top globe giant in a decade. Merry Christmas and happy new year to our most cherished client with love and peace.
The success we have achieved and the name we have created in the market wouldn't be possible without your valuable financial contribution and moral support. Sending lovely Christmas wishes to my amazing client and a happy new year as well!
May this Christmas and New Year fulfill your life with happiness and prosperity! Wishing our lovely clients happy Christmas and New Year!
May you always have strength to fulfill your dreams! Wishing our clients happy New Year and Christmas! Lots of blessings and prayers for you!
You are that's why we are. We always provide your best services and products. We wish for our clients abundance and health. Happy Christmas and New Year!
With all hearts we wish our clients happy New Year and Christmas. May the lights of guidance and righteousness always be with you!
You May Also Like: