Long Good Morning Paragraphs for Her : Are you struggling terribly to woo your beautiful girlfriend in the morning? Are you experiencing a lack of excitement in your love life because you find it difficult to express your love and other emotions seamlessly to your sweetheart? You don't have to break a sweat anymore. Wake up the love of your life in the most enchanting way possible by sending her cute good morning paragraphs for her to wake up to. She will definitely go head over heels for you!
Love Good Morning Paragraphs for Her to Wake Up To
Your charming smile in the morning makes me forget all the sorrows, miseries, and unnecessary troubles of my life. Whenever you wake up, you look like a seductive and stunning damsel who just wants nothing but unconditional love and reckless life. You are my goddess, you are my enchantress, you are the mushy little love of my life. May you be forever youthful, cheerful, and smiling. Good morning to my sexy girl!
My notions of living life, happiness, success were totally different before you step into it. Now I understand that happiness lies in the little things, not in the big goals or flashy materialistic things. I feel happiness and inspiring vibes whenever I am around you. You are a song that I love to sing all the time and dance on it as well. You add heaps of meaning to my life and become the support system I need. I can't wait anymore to hold you tight. Good morning my bubbly baby!
Words can be deceptive but eyes can never lie. When I wake up in the morning, I look into your deep eyes and I can see the mighty waves of love and extra care for me. You are one of the kindest souls I have ever seen. I feel so blessed and amazed to wake up by your side in the morning. Come back soon, my love! The emptiness of the house is biting me in your absence. Good morning!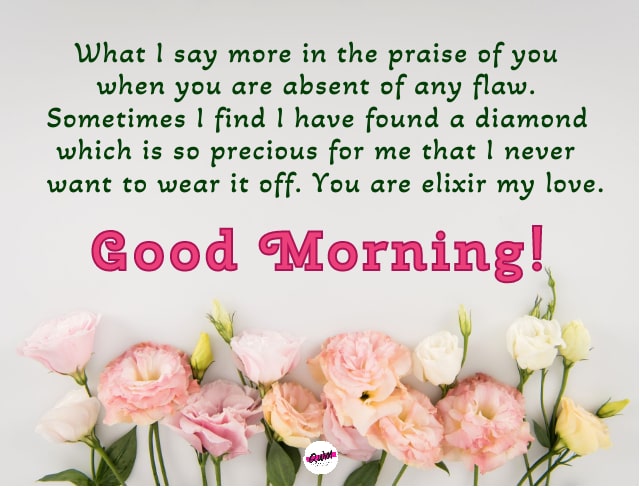 Your freshness surpasses the cool and soothing air of the morning. Your aura is way more pleasing and satiating than the first ray of the Sun. I love the feel of your smoother than butter skin in the morning. I crave to savor the taste of your juicy and luscious lips in the morning. All I care about is spending time with you as much as I can because life is truly unpredictable. Good morning to my princess, and have a lovely day ahead!
As long as I have the last drop of blood in my body, I will continue to adore you like a mad lover. One day spent with you seems like only a moment has passed. Such is the pace of time when I am around my love. May both of us continue to love, laugh, and live together. You are the most magical thing that ever happened to me. Good morning love, and have a marvelous day ahead!
My love, you taught me that there is more to life than numbly chasing goals after goals, piling up money without having time to spend it, and suppressing your love for someone. You have shown me the true facades of life. I feel more alive and equanimous than ever. My heart pumps hard for you, more than ever. I am badly missing you. Come fast and give me a flabbergasting surprise in the morning. Happy good morning love!
When I wake up in the morning, I feel I have a purpose to fulfill. That purpose is to make you feel like the queen of the world. I want to fill so much love, happiness, and excitement in your life that you forget all the wounds of the past and aim only for an exquisite and hopeful future. I love you more than my parents love me. Good morning to my beautiful damsel!
What a beautiful morning it is to love, live, and laugh. On this lovely morning, I can feel your mesmerizing fragrance in the air which is pushing to the brink of madness in your love. What I love about personality is you accept a person with all the flaws, limitations, and vices. Yet, you m33anage to love me with all your heart and every fiber of your body. I can't stop thinking about you and I can't stop drooling over when you are near me. Good morning to the only woman of my life!
Not a single morning passes when I don't roll on the bed here and there in your longing. You are like a morning coffee to me without which I can't function or better say, ceases to exist. My love for you is not momentarily. It is a forever kind of love that only ends with my demise. Till the last breath, I will think only about you, love only you, and live only for you. Good morning to my forever queen!
Though you are living in a different corner of the world, reminiscing about our good old morning time tickles my funny bone and titillates me like hell. You are like oxygen to me, impossible to survive with you. Your voice induces a life force in my body. Your one hug motivates me to put the whole world under your feet. You are once in a gazillion woman in whom my soul rises. Good morning to my beauty queen!
Also see: Romantic Good Morning Messages For Wife
It is you or miracle. It is you or my life. It is you or my breath. It is you or my universe. You are everything for me. Being with you is like being with infinite beauty of transcendence. I love to the depth of this infinite universe. I love you my darling. Good morning!
Being with you is like floating in the air. Being with you is so blessing for me that I ever want to be in this state forever. You are my love, a phenomenon for me in which I want to dwell forever. Good morning my love! Just keep my world lighting with your presence.
You are my perennial pleasure. You are an ecstatic sate for me from which my escape is not while I want to assimilate myself. Oh my love you are the star, moon and all the stardust for me from which shine sparkle of life breathes into me. Good morning my perfect love!
At deeper level we are connected as oceans always connected deep inside one another beyond which everything is same and one. I from the every corner of my heart love you. The diviness of my love is immeasurable. Love you my love and Good morning!
You are for me my truth. If in any relationship one hasn't experience truth then what is the worth of having such relationship? My love, with you I have experience the truth which has made me believe that only you are my life. Good morning my awesome love!
Nothing is beyond you for me. No one is beyond you for me. Only you are important for me. You are my moon, sun and stars. My every morning starts with you and always will be. I pray God give me strength to keep you always happy. You are unforgettable beauty my dear. Good morning!
What I say more in the praise of you when you are absent of any flaw. Sometimes I find I have found a diamond which is so precious for me that I never want to wear it off. You are elixir my love. Good morning!
To live in this world we need nothing but hope and with that a company of such person who is forever with you in every walk of life. And that person you are. Not in this birth but in every birth I want to walk with you my entire life. Good morning my awesome love!
You are the calm and serene wind of that soothing dawn which even in desert could bring the life as you have brought in me. I am always thankful to you for changing my life of which I even couldn't dream. To such beauty and determined personality like you having great values I salute you. Good morning my kindest love!
Evening which is so pious and honest that remains for a short time but spreads peace in the entire environment. You are that my love. When I see you I feel peace at my heart thinking I don't want anything in my life except only you. I want to keep you near my heart for infinity. Be mine always! Good morning dearest loveliest my mate my love!
Also see: Sweet Good Morning Messages For Husband
Cute Paragraphs for Her to Wake Up to
The morning time signifies a lot of things. It is synonymous with hope, bliss, opportunities, and zing as well. However, for me, morning is all about waking up watching your innocent and beautiful and lose the sense of time and space. I am grateful to the lord for giving me opportunities every single day to wake up by your side and love you more than yesterday. Hey sweetheart, thank you for holding my hands through all my thick and thins. A very shining and blissful morning to the love of my life!
No two days are similar. Some day you get to feel the warmth and intense flames in the morning. On other days, you feel the cold and serenity of the night. The days and nights are temporary but my love for you is utterly pure and eternal. Not only you are the most pivotal part of my life but also a great caretaker who constantly reminds me that love is all you need when things are not going your way. Thank you darling for being my inspiration, raising my aspirations, and motivate me for perspiration. Good morning to my forever sweetheart!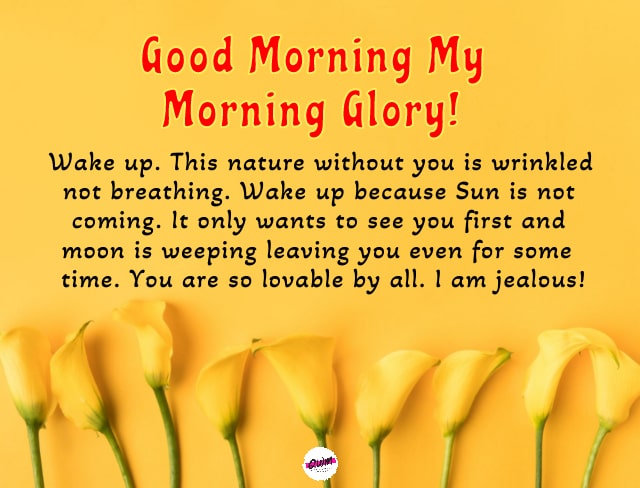 I am no poet. I am not the one who knows how to express inner feelings perfectly. But I do know how to make you feel special. I also know how to make your morning so delightful and energetic that you forget about the trials and tribulations of life. The only person who I message in the morning is you because all I dream and care about is you. You are the smile on my face and warmth in the morning sunshine. Good morning my forever love!
It is indeed true that my life has witnessed some of the biggest positive changes after your arrival. You are a maverick and I am the one who finds solace and happiness in little things. Not only do I respect the way you live life but also I admire how you make the most out of your limited time. I am not there with you but my morning wishes will always reach you on time to express gratitude and joy, and shower love and care. Good morning to the loveliest person I know!
Yes, I wake up with an enigmatic freshness in my mind and body every morning. The reason behind this bubbling energy and excitement is your love. Every moment I spend with you gets etched in my memory forever and I savor them like a crazy lover. You are the crux of my life, you are the oxygen in the vacuum of my life, you touch suck away all my stress and negativity. I am desperately missing your sensual touch. Good morning my beautiful sweetheart!
Also see: 151+ Frisky Good Morning Status
Even though I never want to wake you up because you look so extra beautiful that I want to gaze on you numberless amount of time. But my bird, wake up because birds and butterflies are waiting for you to see you and then they would start their day. You are my morning glory. Good morning!
Just because of you storms are calm and at rest. Seas are flowing regularly and no tides. You are the charmer of them and for me too. You are the strength of me. Finding you like finding myself. I don't know how many numbers of times I should thank to God for sending you to me. Wake up dear. Good morning!
What paragraph I write for you to describe you? Before you every word is futile, no perfect words I have found to tell of you. In your eyes my whole world lies. So just don't sleep for longer time. Wake up, it is morning. Good morning my wife my love!
When I see your eyes I get into dream where I see only you and me getting in a garden where we have everything of our wishes. Waking up you in the morning I like when you just squeeze yourself into my lap and saying me to caress your hairs that coming on your face disturbing you sleep. My love but you have to wakeup because it is morning time. Good morning my kiss!
Good morning my morning glory! Wake up. This nature without you is wrinkled not breathing. Wake up because Sun is not coming. It only wants to see you first and moon is weeping leaving you even for some time. You are so lovable by all. I am jealous!
You May Also Like: