To welcome the much-awaited weekend with the utmost zing, we bring you a feral and comprehensive selection of happy Friday quotes, good morning Friday wishes, happy Friday messages, and greetings. Friday, the very word induces the wave of excitement in every fiber of the body of a working person. We all drag our bodies from Monday to Friday with a heavy heart and with a hope to taste the freedom of Friday night once again in life. Friday brings a lot of hope, freedom, and ripples of freshness especially in the lives of those who work their butt of throughout weekdays.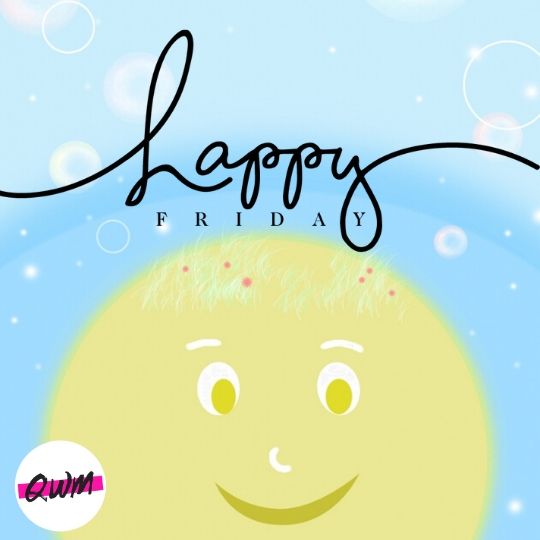 We all pack our self with heaps of plans before the Friday eve arrives. Some love to hang out with friends to booze and hit the dance floor in clubs, some love to chill out with their girlfriend or boyfriend, some like to spend quality time with the family, while the rest of the beings prefer spending time in solitude. We all have different ways to celebrate Friday night and other weekend days. The key thing here is, without Fridays, employees can't imagine their life and left with no time to rejuvenate themselves for another hectic week. To pump up all of you for the Friday evening, QWM brings a fresh and the coolest selection of happy Friday quotes and happy Friday wishes and good morning love messages that make you feel elated like nothing else and prepare you to spend the Friday night in the best possible way and with high spirit.
Happy Friday Quotes | Good Morning Friday Quotes
It is quite daunting to find a working person who hates Fridays and love Mondays. There is no other way around. Happy Friday!
Friday is an exemplary day to smash all your weekly goals and set the new ones for the next week. Happy Friday!
Walking in heaven and entering the Friday give similar feelings: joy, ecstasy, and thrill.
You will get to see two types of employees on Friday: ultra-productive and employees with zero productivity. There is no third category. Happy Friday!
Employers are saddest on Fridays and employees are happiest on Fridays. Sheer irony!
Coffee, music, and work always seem scrumptious and mesmerizing on Fridays. Happy Friday!
For working-class people, Friday is the beginning to make unforgettable memories of life. Embrace good morning Friday vibes!
Oh, it's Friday finally! A person has to go through 4 unbearable working days to say these spellbinding words.
After Facebook and Fuck, Friday is my third most beloved word that starts with F. Happy Friday!
Friday night is too short to sleep and Sunday night is too long to party hard.
Also see: Good Morning Messages & Wishes
It's because of Friday, we all can manage our work life and personal life balance seamlessly. No matter whether you are an employee or a college-going teenager, Friday night is eagerly waited by all so that they can unfurl all the made-up plans and add colors to your life. We all need and deserve breaks on an intermittent basis to recuperate and explore the different facades of life. Fridays are indeed super special. And, to make yours and others Friday truly remarkable, happy Friday morning quotes or better say good morning Friday quotes are quintessential. Luckily, we have collated a unique selection of happy Friday quotes that perfectly express your mood and feelings on Friday morning and give your hopes to kickstart the weekend with unbelievable energy.
Happy Friday Inspirational Quotes | Good Morning Friday Motivational Quotes
Friday is not only about drinking, clubbing, and partying hard. It's also about making time to work on your side hustle and build an empire.
It takes a lot of determination to work with a laser focus on weekends and ignoring the things that give you instant gratification. Happy Friday morning!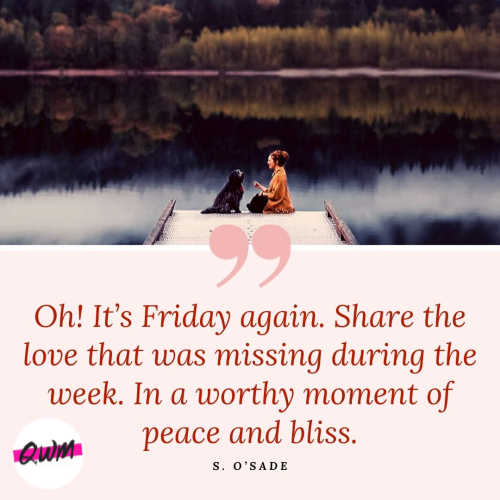 Make some time on Friday and other weekend days to contemplate where your life is going. Life should be in order rather than a random mess.
A successful life is 99% perspiration and only 1% inspiration. Relax but also keep hustling even on weekends.
We have yet to figure out the mystery that why music sounds so melodious on Friday eve?
Sitting on a rooftop at 2 am and talking about life with your friends is way better than hanging out in noisy clubs where nobody gives a damn about you. Happy Friday!
There are things to live and there are things to die for. You can do both on a weekend.
Give meaning to your work even on Fridays so that you won't feel guilty while accepting a paycheck.
Make sure to spend time with family and friends on weekends. After all, 80% of your life revolves around them.
Do something great on weekends so that you don't hustle during old age. Happy Friday!
Also see: Good Morning Prayer
Happy Friday Funny Quotes | Funny Good Morning Friday Quotes
Most people make a hell lot of plans for Friday evening. However, all they do is dating their bed and the television.
Friday day is the perfect day to fake adulthood in clubs and bars by splurging money unnecessarily. Happy Friday!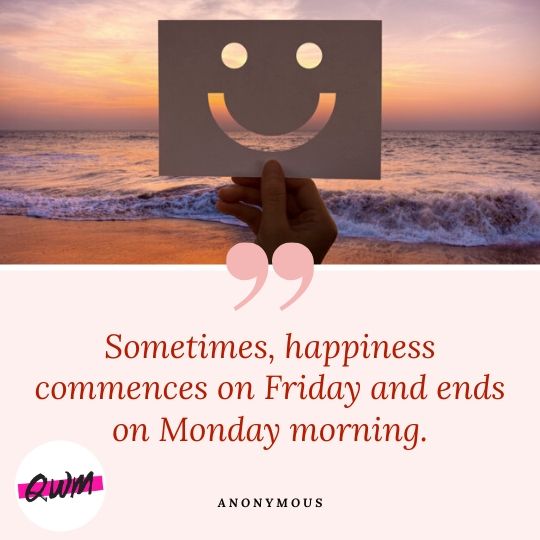 Though every day of the week comprises 24 hours, till, for all working people, Friday is the longest and Sunday is the shortest day.
Life is indeed beautiful when you have damn fine wine, Netflix, and nobody to piss off on Friday evening after work.
Sometimes, happiness commences on Friday and ends on Monday morning.
According to research, more than 80% of working professionals automatically start feeling happy on Friday evening.
Working the whole Friday without even looking at a clock once is indeed a huge achievement and should be lauded.
Friday would be a lot cuter day if it falls on Thursday!
Most of the employers would fire 80% of their staff if they come to know how unproductive their staff is on Friday!
You should thank coffee and chatterbox coworkers to help you swim the sea of unending Friday!
Also see: Good Morning Messages for Friends
Positive Happy Friday Quotes | Happy Friday Blessings Quotes
No person in this world can go higher than his thinking. Whatever your mind can imagine, you can achieve. Good morning Friday!
No matter how digitally advanced our world will become, there will be no substitution of friends, family, and emotions. Good Morning!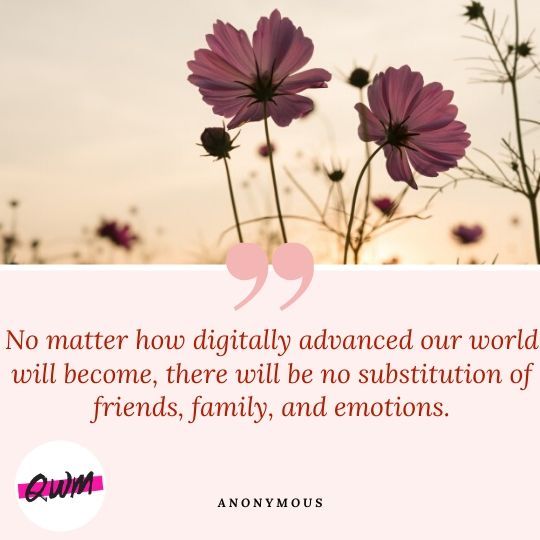 On Friday evening, when you leave the office, leave your work and stress also there. Your family deserves your quality time and happiness, not distress.
You are not the car your drive, the clothes you wear, or the house you own. You are the byproduct of your thoughts and deeds.
Perfection only comes to those who quite the desire of achieving perfection and work with undivided attention.
Also see: Good Morning Status
You don't have to be friends with everyone. Befriend those who respect you, your dreams and your vision.
Only champions have the habit of giving up one more shot to their dreams before they think about quitting. Happy Friday!
Time is the biggest commodity and energy is the new currency. If you learn to utilize them in the best possible way, you can smash any goal.
It's better to die with pride while hustling for your dreams rather than quitting on them and regretting your whole life.
Live your life so authentically that whenever people meet you, positive marks should be left on their minds.
Also see: Good Morning Messages for Girlfriend
Happy Friday Quotes on Work
Careers are a previous century invention. This century is all about building an inspiring life and document for the future's generation motivation.
Stop eagerly waiting for Fridays to complete the piled up work and drink like maniacs after that. Do your job stringently every day, make time for friends and family, and you will find every single day turning into a vacation.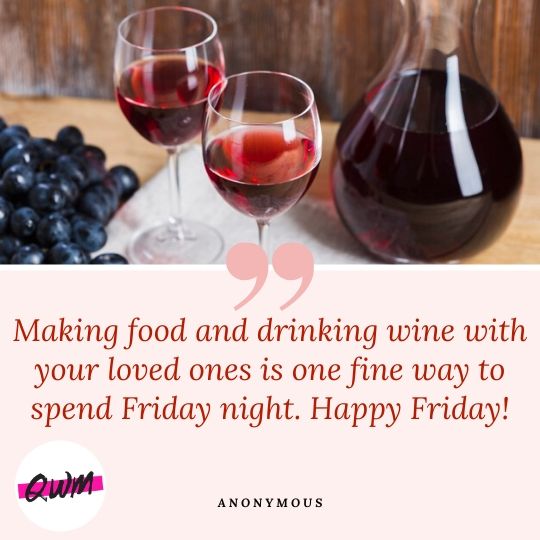 Making food and drinking wine with your loved ones is one fine way to spend Friday night. Happy Friday!
The secret of a long-lasting marriage is reaching home on time every Friday and taking your wife to a romantic candle night dinner.
Most of the people throw out the title of officially productive on Friday nights. It's party time!
Whosoever has invented the idea of weekends and especially Friday is deeply reverenced by working people across the world.
Friday morning feels like hell, Friday afternoon feels like bearable, and Friday evening feels like heaven. Happy Friday!
Saying goodbye to Friday night seems like saying goodbye to your personal freedom.
If Monday is blue then Friday is definitely pink or red. Everybody seems to be in love with it.
Weekends are magical opportunities for those working people who hate their jobs to build a side hustle. Happy Friday!
Also see: Good Morning Messages for Boyfriend
Happy Friday Wishes | Good Morning Friday Wishes
Rolling out of the bed on Friday morning is the most gruesome task. However, if you have work to wrap up, you gotta roll out of bed anyhow. There is hardly anyone who doesn't need kickass motivation to get up on Friday morning and prepare himself to face one last day of the weekdays before the party begins. Whether you are looking to kill the weekend or you are looking to spend quality times with closed ones, you need some inspiring happy Friday wishes and happy Friday messages to get the job done. We have collated some of the rarest good morning Friday wishes to help you rock the Friday morning like a pro!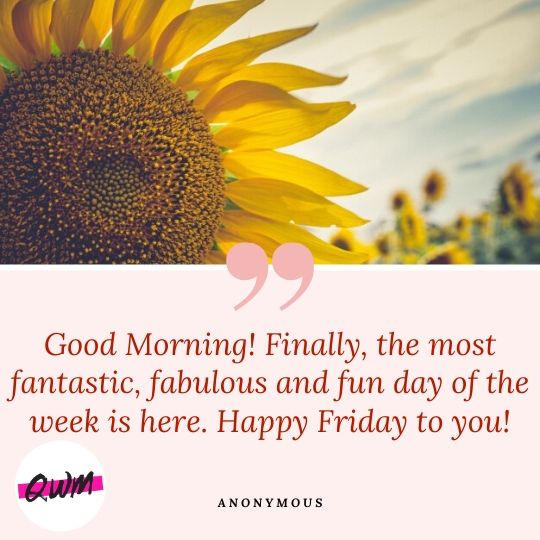 I wish your Friday night be filled with an unending party, unlimited booze, and lots of enchanting moments. Happy Friday wishes to everyone!
Friday is an exemplary day to throw out all the week-long sadness and wholeheartedly welcome the frisky moments that will hit you hard.
Sometimes, dragging your butt to home and watching your favorite Netflix series along with your favorite food is the best way to spend Friday night!
Most of the working people realize on Fridays that they do have a social life beyond the office.
Friday is a great opportunity to throw out all the work stress and pursue your passion for which you barely get time.
Friday day is indeed the biggest day of the week. We all put our monotonous office clothes away and put on breathtaking clothes to party hard!
Without eccentric friends like you, I can't imagine my Friday night going well and frenzy. You guys are my lifeline! Happy Friday wishes everyone!
For my crazy girlfriends, Friday nights are all about sexy dresses, packed clubs, booze, and stunning high heels.
Friday nights are meant to break your unwanted promises like no booze, no junk, no smoke, and no girls.
If you are struggling to make your Friday night enchanting, there are very little hopes left for you in life. Happy Friday!
Also see: Good Morning Paragraphs for Him
Lovely Happy Friday Sayings | Happy Friday My Love Quotes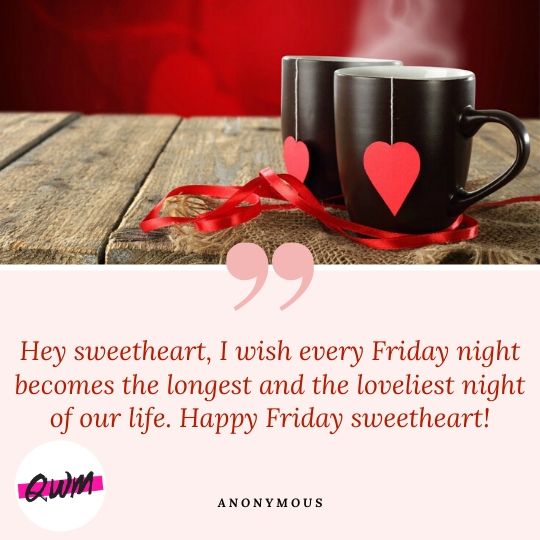 Cheesy pizza, Netflix, one blanket, and me and my girlfriend, that's my idea of a romantic Friday night! It's way better than clubbing.
You deserve to party hard on Fridays with ones who matter in your life because you work hard rest of the days for them.
Make as many small and mesmerizing moments on Friday weekends with your lover. You will have a lot of memories to laugh at in your old age.
Hey sweetheart, I wish every Friday night becomes the longest and the loveliest night of our life. Happy Friday sweetheart!
Friday nights are bestowed blessings by God on couples to live more, love more, and squabble more in a sweet way. Happy Friday!
Friday night and other weekend days are a really good time to balance your relation equation with friends, family, and love of life.
Even the most enchanting of Friday night could be lackluster if you have no friends or lover to chill out with.
All heartwarming things in this world start with letter 'F' like food, Facebook, fun, friends, family, and of course, Friday!
If you don't understand the significance of Fridays, ask a kid who used to wait for school to end on Fridays so that he gets to play with friends!
The outrageous stress of the entire week can only be eliminated by boozing out with a crazy love on Friday night. Happy Friday my love!
Also see: Good Morning Paragraphs for Her
Friday Quote of the Day | Thank God It's Friday Quotes | Happy Friday Greetings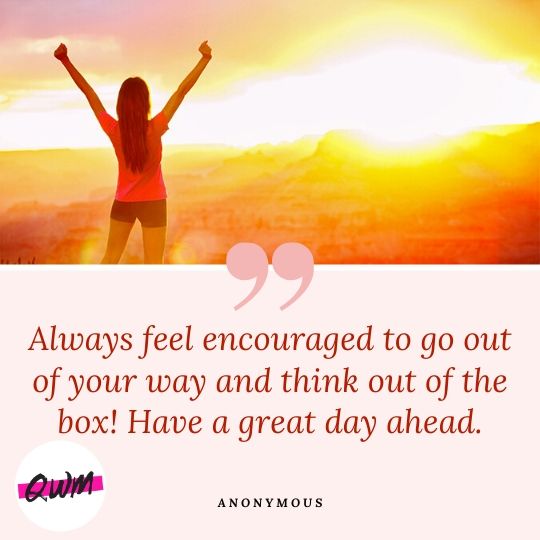 May your Friday turns out to be as whimsical as your attitude. Happy Friday my friend!
If you don't accompany me for partying on Friday, you have no right to ask for work-related help on Monday. Happy Friday!
Friday is a profound day to make wonderful memories for yourself and your loved ones. Happy Friday!
Indeed, every day of life is a precious gift. However, Friday is simply incomparable and priceless.
My energy level on Monday mornings and Friday evenings are quite similar.
If you have these words to say every Friday night " let's party, it's Friday", you are one hell of a lucky person in life!
I can connect well with freedom and Friday at the same time. Then I remember, both are the same for a working person like me.
We love Fridays not only for partying and chilling out but also for making spectacular memories with loved ones.
Good friends are like Fridays, they make your life cheerful and worth living.
Without the fun and freedom of Fridays, this world could turn out to be a heck of a boring place in no time. Enjoy, and happy Friday!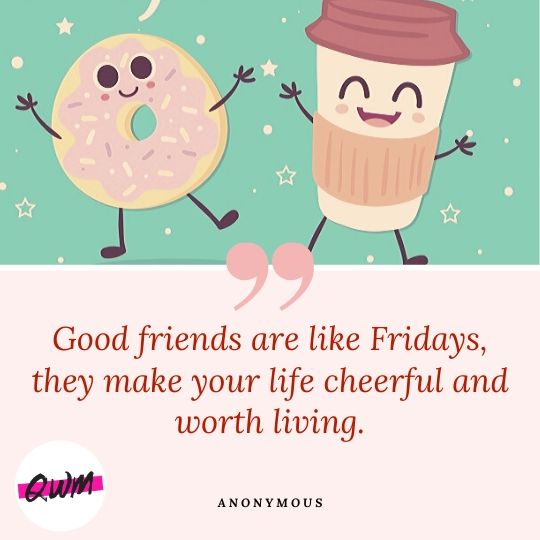 You May Also Like