Best Thank You Messages for Friend: In a fast-paced life, we often tend to ignore our friends. Yet, friends are the ones who support us through the ups and downs of life. They are like our second family adding colors to life. 
Expressing gratitude towards friends strengthens the bond of friendship and makes them feel loved and cared for. The internet now has a plethora of available appreciation messages for friends. However, choosing from it proves to be a delicate task. So to help you, we have brought a compilation of the best thank you messages for friends, thank you note to a best friend and thank you quotes for friends.
Best Thank You Messages For Friend
Thank you for all the kind gestures. Thank you for understanding my pain. Thank you for holding my secrets and fears. Thank you for inspiring me. Above all, thanks for your friendship, buddy.
A best friend is one who understands your past accepts your present and believes in your future. 
They stick by your side forever. Thank you for being my best friend.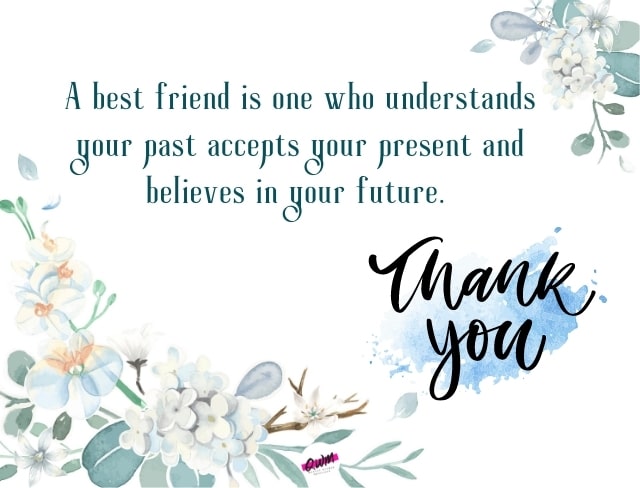 It is great to have a true friend like you who wouldn't stop at anything to make me happy. I appreciate this amazing friendship of ours.
Thank you dear friend, for making ordinary moments extraordinary. Thank you for making every day a celebration. Thank you friend, for making my life memorable.
Family means one who never leaves your side and never judges you. Thank you best friend, for being my second family. Your company makes me feel the warmth of a home. Thanks for all your support.
Thank you best friend, for being someone I can count on any day and time. True friends are hard to find. I hope our friendship continues to blossom with time.
No matter how far we are from each other, our bonds remain the same forever. Thank you for being my best person and best friend.
Sending you a little thank you note to make you understand how special you are. Ism grateful to you for the things that you have done for me buddy.
You are one of the few people who stayed beside me forever and witnessed my transformation journey. Thank you friend for all that.
Dear friend, I am thankful to my stars for making us friends. You have been the shoulder that I can lean on during tough times. You my dear buddy are irreplaceable.
Thank you best friend, for always listening to me. You are a true friend one who knows and appreciates me. You are the best.
If I ever think about a good friend your name always pops first on the list. I own you a lot and words fall short of expressing my feelings for you.
You are a part of my life story and golden memory. Thank you for touching my life and caring for me.
Also see: Best Thank You Messages
Appreciation Messages for Best Friend
Dear Bestfriend, thank you for being my pillar of strength for making me feel cared for. Here's to many more years of friendship.
Home away from home, dear best friend, thank you for being my second family. Thank you for being the harbor of my stormy life.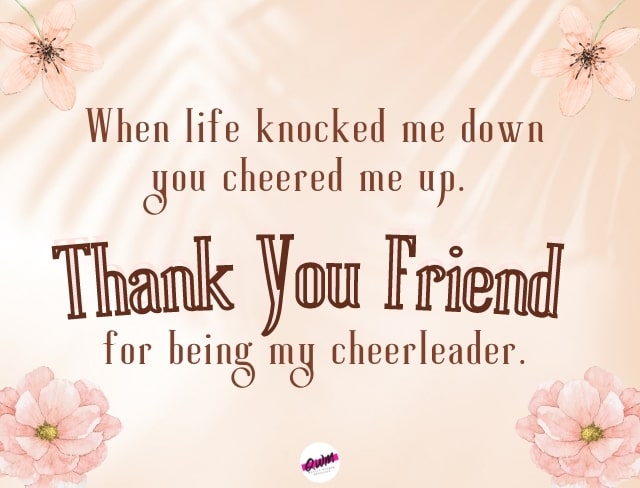 When life knocked me down you cheered me up. Thank you friend for being my cheerleader.
It's been years since we have known each other, and with every passing day, our bond continues to grow. I am thankful for having come across a best friend like you.
There is no one apart from you in whose company I find solace. Thank you for being the pillow that hid my tears and fears during tough times. Thanks for being on my side and for being my best friend.
Every day is a celebration with you as my best friend. Thank you, best friend, for adding golden memories to the book of my life.
We have been through rough situations, but our bond stood tall against the test of time over the years. With years we have matured, and our friendship has blossomed. Thank you for being a true best friend.
Having someone to listen to your woes is a great blessing. You have made me forget my worries and laugh in the toughest times of life. Thank you, best friend, for being the special one in my life.
When I was lonely, you were the only one to hear me sob. As I shrank into my cocoon, your words of strength were a boon. Thank you for sailing me through and making each day of my life feel new. Thank you, best friend, for everything.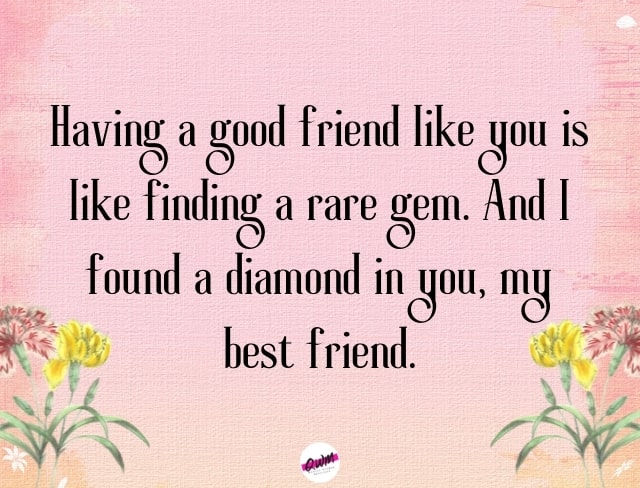 Having found you as a friend is a blessing. Your support and love helped me mature and become the person I am today. Thank you best friend.
Through the ups and downs laughter and health, we have been sticking together no matter what. Thank you, best friend, for tagging along forever.
Having a good friend like you is like finding a rare gem. And I found a diamond in you, my best friend.
When the world shunned me stood beside me when the world was against me. You, my best friend, made me learn to believe in myself. Thank you dear for all the motivation showered.
Also see: Sorry Messages for Friend
Appreciation Message to Friends
In life's garden friends are like flowers that add colours to the garden. Thank you dear friends for being the rainbow in my sky.
Life is beautiful with the presence of friends like you. You all make me forget my worries and inspire me to smile to the fullest.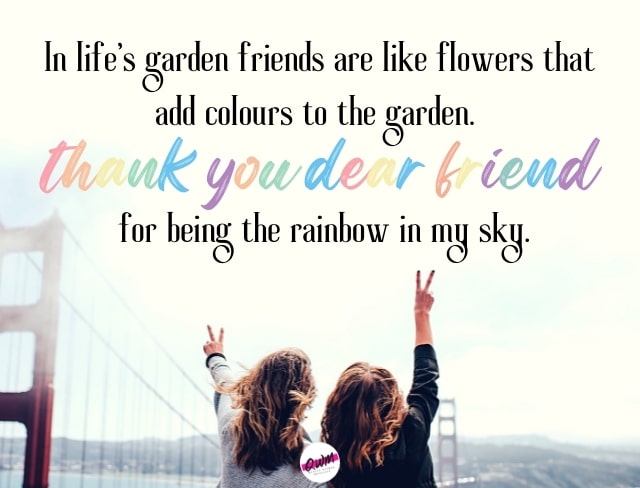 Dear friends, thank you for being the sunshine during my stormy days. Thank you for your support and continuous motivation.
Your friends brighten up my day and make me see life in a new light. Thank you friends for making my every day count.
The positivity and kindness that you all have made me the experience has transformed me into a better person. Thank you, friends, for making me a better human and for sharing your light.
Although repaying you all for your kindness is hard, I would still thank you for being my friend. Thank you for making me believe that goodness still exists.
In those drunken nights, you heard me blabbering. You help me to vent out things and crack stupid jokes. You were the one in whose presence I can be myself. Thank you for being a non-judgemental friend.
Friends are just like the keys that open the lock of happiness. Thank you for being the key and for keeping my happiness safe.
Whenever I needed support, you all appeared. The eternal friendship made me strive harder and excel at things. Thank you for being my strength, dear friends.
Though with age, we have matured, the memories of our bonding stay forever fresh in my heart. Thank you for being a part of those golden memories for a dear friend.
Life is beautiful in the presence of lively people. Your wonderful presence has made my life brighter and livelier. Thank you for being my friend.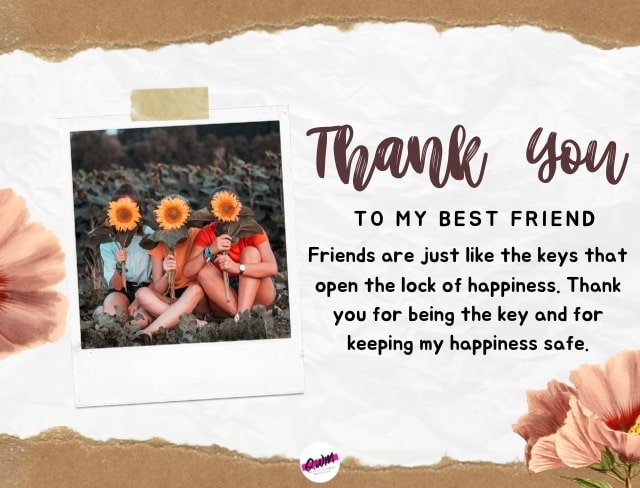 You have brighten my dull life with your smile. I am indebted to you buddy for making me feel appreciated. Thank you, friend, for your presence in my life.
My fortune does not count; all that matters to me is having a true friend and supporter like you in my life. Thank you, dear friend, for everything.
Also see: Thanksgiving Messages for Friends
Funny Thank You Messages For Friends
Though your not my wife, still you heard my ranting all night. This is why I feel having you as a friend is so nice.
Do you remember the days when you fought with bullies to protect me? Thank you for being my warrior friend and knight in shining armor.
Thank you for making me write you a thank you note. How else would I have discovered if my writing skills were good or not?
Thank you friend for posting birthday wishes for me and making me look popular than I am.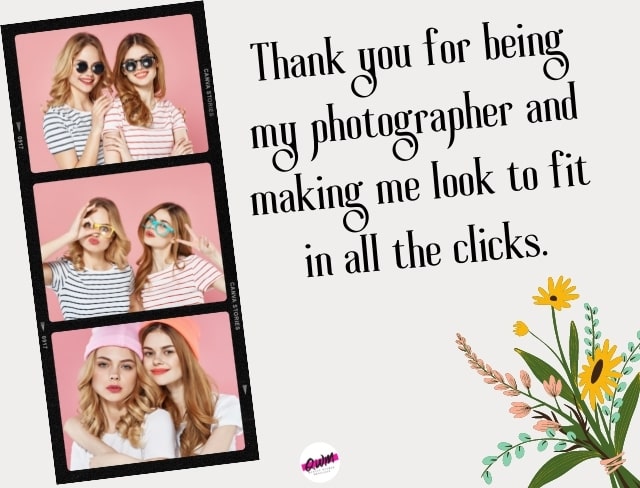 Thank you for being my photographer and making me look to fit in all the clicks.
Thank you for being my laughter club. However, your stupid jokes are annoying; though you are crazy and way too clingy, I feel glad to have you as my friend. Thanks, a buddy, for all your weirdness.
You are the salt to my tea milk to my toast water to my cereal. In short you are useless but I still like you buddy. Thanks for the weird moments together.
I cannot miss out on a day without my Instagram, good food, and you. Thank you for tagging along in my forever.
Friends are like the spice of life, and you, my friend, make it extra spicy with your craziness. Thank you friend for spicing my life.
You and I make a perfect pair. We are just like sugar and spice, fries and ketchup milk and cereal sandwich and pickle.
Good friends never let you participate in crimes alone; they rather join in. They spill the beans before the surprise. Thank you for being that good friend in my life.
Who needs a psychiatrist when your psycho friend shares your mental problems. Thank you for being that weirdo in my life.
Sometimes I feel that you, my guardian angel perform the work of a devil. Thanks mate for being the devil in disguise.
Who knew joining school would mean getting to adopt at a young age. Thanks a buddy for agreeing to be my adopted friend.
It feels awesome to have a friend who sucks at video games. Thanks, mate, for continuously losing the game and making me win.
Also see: Smile Text Messages For Friends
Thank You Note To A Friend
Regardless of our countless fights, there is no other person who can make me so happy. Dear friend, I value you today and always. I am indebted for having you in my life.
A friend knows you inside out. A friend understands you better than anyone else.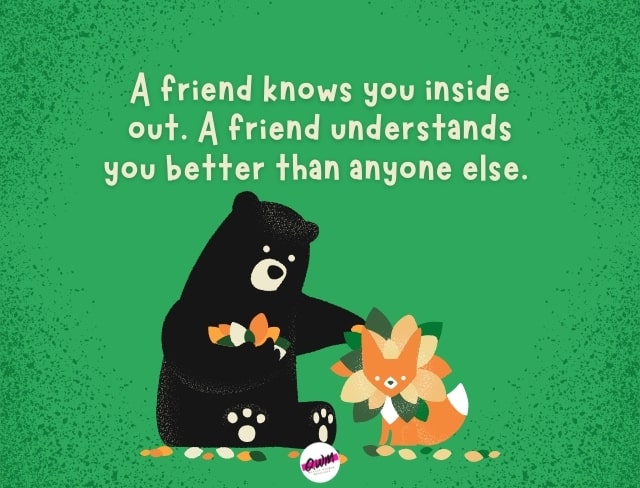 A friend is the one who grows with you. Thank you for being that friend.
I consider myself lucky to have a friend like you. My buddies are unique and fun to be with. So thank you for staying beside me.
Thanks, a buddy, for being an inspiration for me. Thank you for always encouraging me and uplifting me even on my bad days.
Good friends are rare to find these days. You, my genius friend, is my prized possession. Thank you for being my lucky star buddy.
In sickness and health, I take you as my beloved friend in happiness and grief. Thanks for being my sibling from another mother buddy.
I am grateful for the day when I first met you. Ever since then, we have grown close to become best friends. Thanks, a buddy, for holding so much importance in my life.
Some people deserve more than appreciation. Just like you! You, my dear buddy, forever hold a special place in my heart. Thanks for everything, mate.
Your strength inspired me. Your kindness motivated me. Your smile brightened my day. Your crazy jokes filled my life with laughter. But, above all, your presence, buddy, made my life worth it.
No money can buy the joy that I get from your presence. You made me realize how friends can matter in life. I forever cherish our friendship and am thankful to you for it.
A friend in need is a friend indeed. Your buddy proved it right by staying beside me throughout my life. Thank you for being my moral support system.
A thank you is never enough for the list of endless things you have done for me. Repaying you for all all the love and care you showered on me, mate is not possible. But still, thanks a ton for all the things. You are the best.
Also see: Thank You Messages for Birthday Wishes
Thank You Quotes for Friends
Let us be grateful to people who make us happy. They are the charming gardeners who make our souls blossom. – Marcel Proust
There is nothing on this earth more to be prized than true friendship. —Thomas Aquinas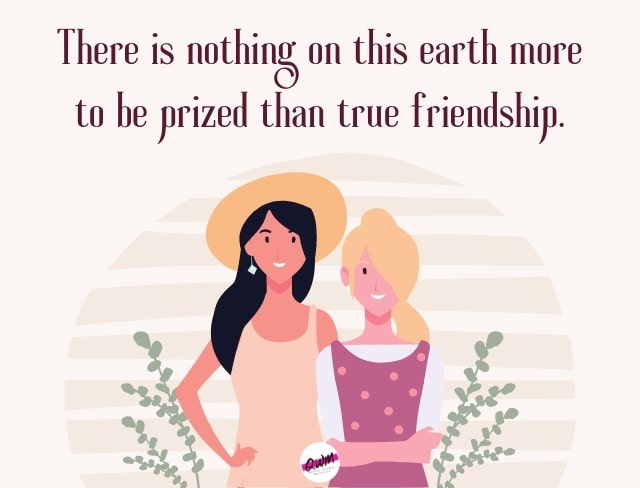 Thank you! For sharing your childhood with me so I could experience the all joys that were missing in mine. – Ginny Toole
If ever there is a tomorrow when we're not together, there is something you must always remember: you are braver than you believe, stronger than you seem, and smarter than you think. – Winnie The Pooh.
Thank you for touching my life in ways you never know. My riches do not lie in material wealth but in having friends like YOU. – Unknown
A real friend is one who walks in when the rest of the world walks out. —Walter Winchell
You are part of my story, memory and scenery, thank you. – Kim Taehyung
True friendship comes when the silence between two people is comfortable. -David Tyson
All my lifetime through, I'll be thanking heaven for a special friend like you. – Unknown
We must find time to stop and thank the people who make a difference in our lives. —John F. Kennedy
You could've had anyone in the world, but you chose me. Thank you. – Anthony T. Hincks
My friend…Thanks for tolerating my idiosyncrasies and crazy habits. You might not know this, but you helped me find happiness in being the person that I really am. —Anonymous
From the bottom of my heart, I thank you, and appreciate all you have done. Your generosity has given me new hope! – Catherine Pulsifer
A friend is what the heart needs all the time. —Henry Van Dyke
You could've had anyone in the world, but you chose me. Thank you. – Anthony T. Hincks
Thank you for touching my life in ways you never know. My riches do not lie in material wealth but in having friends like YOU. —Anonymous
Walking with a friend in the dark is better than walking alone in the light – Helen Keller
Your friendship is a special gift. Generously given, happily accepted and deeply appreciated! —Anonymous
You have influenced my life in such a positive way words cannot express my appreciation. You are truly an inspiration. – Catherine Pulsifer
A friend. A friend is someone we turn to when our spirits need a lift. A friend is someone we treasure, for friendship is a gift. A friend is someone who fills our lives with beauty, joy and grace. A friend makes the world we live in a better and happier place. Thank you for being my friend. —Anonymous
We should all be thankful for those people who rekindle the inner spirit. – Albert Schweitzer
Thank you for always giving me the extra push I need. —Anonymous
The greatest gift of life is friendship, and I have received it. – Hubert H. Humphrey
You May Also Like: