Thanksgiving Wishes for Colleagues: Your colleagues are your second family. When you are away from your loved ones and banging your head on the piles of work, your colleagues come up to your rescue by sharing your workload and giving you the motivation to keep going on. Thanksgiving is one fine occasion to express gratitude towards all the amiable and supportive colleagues who are an integral part of your professional as well as the success you have achieved. Keep that in mind, here are some lovely happy thanksgiving messages for colleagues, thanksgiving wishes for co-workers, employee that will help you to win their hearts and garner their love and appreciation!
Happy Thanksgiving Messages for Colleagues
For me, my colleagues are my second family. I have a great and impeccable professional life because of your support. Happy thanksgiving day to the best colleagues ever! God bless you!
The success and accolades in your professional life heavily depend upon the kind of colleagues you have. I am blessed to have the most supporting and subtle colleagues during my whole career. Thanks for the unconditional support and happy thanksgiving!
It is a sheer pleasure and immense honor for me to work with the most diligent and intellectually superior colleagues. You guys make the workplace exciting and competitive. Happy Thanksgiving to all my wonderful colleagues!
May all my colleagues have the scrumptious food on the table, all loved ones together, and the utmost contentment in the heart on thanksgiving. Enjoy thanksgiving like there is no tomorrow!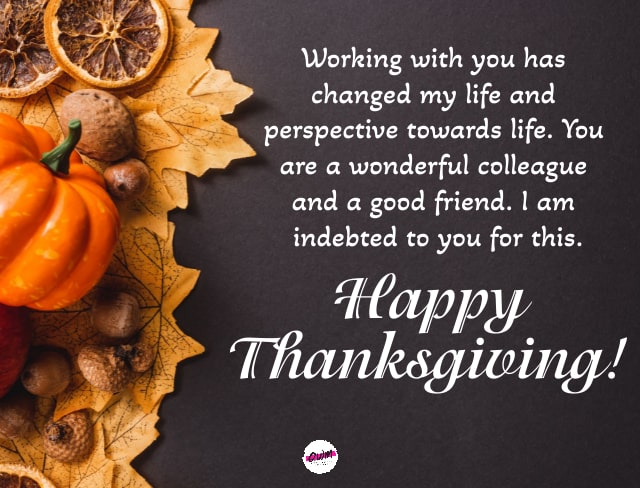 Nothing can stop your rapid growth in professional life when you work with highly intelligent, supportive, and visionary colleagues. I wish a cheerful thanksgiving to all colleagues of mine!
Hey dear colleagues, let's forget about all the workload we carry in our minds for a whole year and welcome the thanksgiving festival with a calm mind and zingy hearts. Happy Thanksgiving to you and your family!
I can happily sacrifice all my professional achievements and other accolades just to work with profound and supporting colleagues like you forever. Happy Thanksgiving to all my dear colleagues!
All the lovely colleagues in my office are not only my good friends but also the most wonderful guides a person could ask for in professional life. May God bless you with all the success and magnificence of the world. Happy Thanksgiving to everyone!
The beginning of a delightful and exuberant workplace begins with caring and knowledgeable employees who become great colleagues. I am glad to be to an integral part of such a brilliant team. Happy Thanksgiving, my team!
Mere words are not sufficient to express how blessed and grateful I am to have the most flamboyant colleagues. I thank all of you for nurturing my talent and forgetting my mistakes. Happy thanksgiving to the best colleagues ever!
Also see: Inspirational Thanksgiving Quotes
I don't know how to thank you but you are really a kind and helpful college who helped me to get walk in the company when I first joined. Thank for this and Happy Thanksgiving!
Working with you has changed my life and perspective towards life. You are a wonderful colleague and a good friend. I am indebted to you for this. Happy Thanksgiving!
You have always motivated me whenever I have gone through failure otherwise other peoples just laugh and mock out. I really appreciate from the bottom of my heart for everything you did and do form. Happy Thanksgiving my friend and colleague!
As you could not live in a home where you don't have a good family. Same as in the office if you don't have good colleagues because they are your family in the office. It is good to have a colleague like you. Happy Thanksgiving mate!
You have really helped me in all stages of my professional life where I need utmost guidance and where I thought my line is blurring and at the right moment you came and helped me. Thank you my dear colleague and Happy Thanksgiving!
In what words I describe your contribution to my professional career. If I it is always less. From the bottom of my heart I want to say you thank you and Happy Thanksgiving to you! May God forever have mercy on you!
I appreciate and praise you for your intelligence and diligence. You are tremendously good at heart and best colleague. Happy Thanksgiving!
You have been always kind towards me from the starting of my job in the company. Since then we have become best friends and best colleagues and a great team. Wishing you Happy Thanksgiving!
I say you all the wishes for you on this day of Thanksgiving. Thank you for always assisting me. You are a cool colleague. Happy Thanksgiving!
Sharing some productive time with you really help my career. You are a kind man and a humble colleague. Wishing you Happy Thanksgiving!
Also see: Happy Thanksgiving Gif
Happy Thanksgiving Wishes to Colleagues
My colleagues are more precious than any gem in the world. You guys are the crux of this happening work environment. I wish joyous thanksgiving to you and your family!
On the super blissful and grateful occasion of thanksgiving, I thank all my colleagues for teaching me so many professional lessons that are still helping me out to date. Enjoy Thanksgiving with your family and have fun!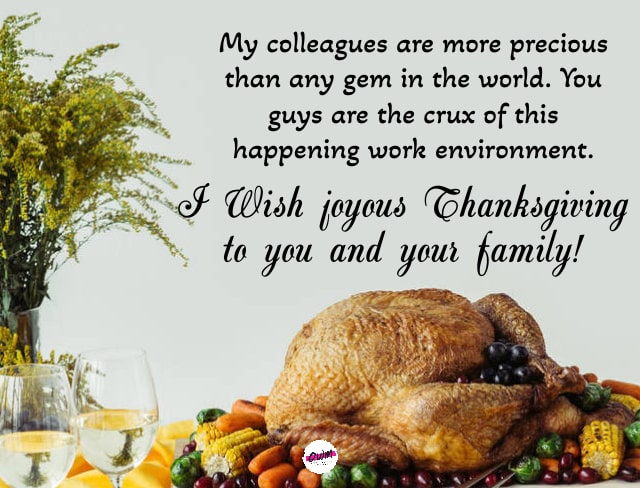 If you really want to grab fast success in life, find a workplace where your co-workers are always ready to raise their helping hands. I am one lucky chap to have those co-workers who have always helped me to move forward. Happy thanksgiving to my great colleagues!
I wholeheartedly wish every one of us to get a massive bonus and delectable chocolates from the office on the holy occasion of thanksgiving. Be grateful, be happy, enjoy thanksgiving!
Whether I get a promotion or not this year, I want the thanksgiving festival to be as memorable as possible with my astonishing colleagues. Happy thanksgiving all, enjoy freely!
The true joy of a festival is celebrating it with the people you love and respect the most. I love and adore you guys like my own family. May you have a blasting and unforgettable thanksgiving festival!
We argue over logical points, we node over beneficial things, we laugh over silly jokes, and we back each other during the tumultuous times. You guys are way more than colleagues. I hope you guys have a marvelous happy thanksgiving celebration!
The whole team injects an air of freshness and motivation whenever a new challenging task pops up. Your collective enthusiasm and will to excel are the key reasons behind us being the best team in the organization. Happy thanksgiving fellas!
Dear co-workers, may the divine and beloved festival of thanksgiving fill your heart with waves of love and your life with unprecedented success. Wishing happy thanksgiving to the loveliest colleagues!
I am not only awe-inspired by your attitude toward any new project but also flabbergasted by the dedication you put in and the details you take care of while building it. There is a reason why we are referred to as the unmatched team. Pure honor to work with you guys. Happy Thanksgiving to all colleagues!
Also see: Happy Thanksgiving Pictures
I wish you achieve all your dreams and become a man as you desire. Wishing you Happy Thanksgiving!
May you always be happy and successful in your professional and person life! Happy Thanksgiving!
As you go ahead you would like to achieve and I wish it happens and I wish it happens with peace. Happy Thanksgiving!
Success is needed in life and I wish you achieve it. But I also wish may it not devour you! Happy Thanksgiving!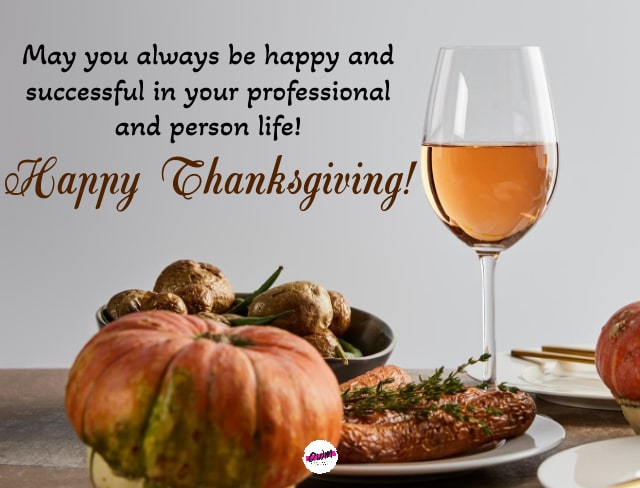 I wish you become emotionally strong and you always have strength to dream big. Wishing you Happy Thanksgiving! May God watch you always!
I wish nothing is impossible for you. No stones and no rock come in your way to stop you. Happy Thanksgiving dear!
I wish may you always be healthy and wealthy. May you be shine like Sun but grounded too. Wishing Happy Thanksgiving!
I wish may you never surrender to adversities, always be a fighter. Happy Thanksgiving dear!
May courage and honesty towards yourself never go from your life! Wishing you from the bottom of my heart Happy Thanksgiving!
I wish you be wise and never get into the fake charms of this materialistic illusion. Go ahead and be there where you want to be. Wishing you Happy Thanksgiving!
You May Also Like