Thanksgiving Wishes for Business: Thanksgiving is the festival to spread joy and festive vibes in the lives of people who matter the most, be it your business partners, clients, or team members. After all, these three people are responsible for most of the business success, popularity, and awesome product and services you have. If you have some heartfelt thanksgiving messages by your side to send, you can dazzle your valued clients, team, or business partners by sending them happy thanksgiving messages for business, staff, and clients from the below-stated collection and appreciate their contribution to your business growth.
Thanksgiving Messages for Business
This thanksgiving is more special to us than any other festival because today we hit the new milestone of 100k customers. Thank you for believing in us. Happy thanksgiving to our loyal customers!
When we count our blessings on Thanksgiving, we count how many happy customers we have till yet. There Ain't anything more precious than our customers. Happy Thanksgiving!
On Thanksgiving, we wish the bad luck, sorrow, and agony to say goodbye to your life and happiness, success, and love to take over. Happy Thanksgiving and have a juicy dinner!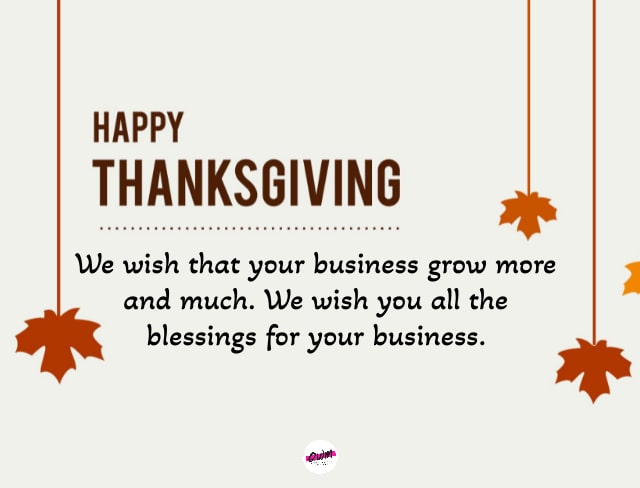 It's because of the enormous support and faith of our loyal customers and the staff, we have managed to touch the sky in such a quick time. May you have the best Thanksgiving celebration ever with your friends and family members!
We are so grateful to you for choosing us for the business association and giving wings to our vision. Happy Thanksgiving to you and your family!
To all our employees, customers, and business partners, may the thanksgiving festival flourishes every aspect of your life, and may you never have to look back and regret your life decisions. Happy Thanksgiving everyone!
Thank you all for your immense patience, dedication, and unconditional support. Cheers to our clients and employees for making our business a global force. May you have a marvelous Thanksgiving celebration!
We were counting all the blessings on thanksgiving and your name came on the top. We hope we have a more productive and successful business year ahead with you. Thank you and happy thanksgiving!
Your promise to provide constant support and trust are the biggest thanksgiving gifts for our business. We are more than blessed to have such awesome customers. Happy Thanksgiving to you and your family!
Having such a world-class team by your side is more like a cherry on the cake for business. You are the pride and gems of this company. Happy thanksgiving to the best team!
Also see: Happy Thanksgiving Images
We wish that your business grow more and much. We wish you all the blessings for your business. Happy Thanksgiving!
Our business has grown not because of bosses only while because of our employees who work dedicatedly and diligently towards the growth of the business. Happy Thanksgiving!
We really appreciate you and thankful for contributing towards the growth of our business. Without you, we have not reached this ladder of success. Happy Thanksgiving!
Being your partner in business is like being recognized. May your business grow manifold! Wishing Happy Thanksgiving!
All our employees make this company and business great. It is your greatest contribution. Happy Thanksgiving to everyone!
Journeying with you taking our business to the zenith has been so much wonderful and exciting. Happy Thanksgiving!
It is so much effort you have put into your business. For your success and growth, we wish you best. Happy Thanksgiving!
Having a business is like having a lifetime security. May your be like this growing and prospering! Happy Thanksgiving!
So many thanks and heart melting gratitude to our clients. They have spread our business and made our name too. Wishing them Happy Thanksgiving!
Thanks to our all employees for believing in us, thanks for their determination and having faith in us. You are the reason we are number one. Happy Thanksgiving!
Also see: Religious Thanksgiving Messages
Thanksgiving Messages for Clients and Customers
Businesses like us are thriving and performing well because we have such loyal customers like you. Our customers are our biggest blessings. Happy thanksgiving to our best customer!
From the bottom of my heart, I thank you all for being our valued customers for such a long time. I wish nothing but a blissful thanksgiving to you and your family!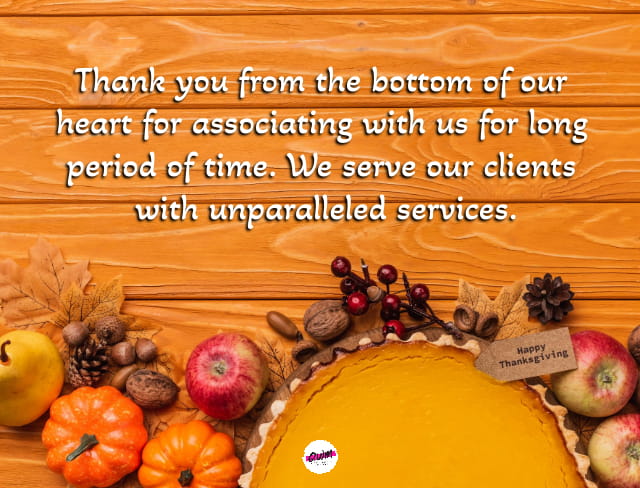 You were there when my business was nothing. I will be there whenever you need anything to keep your life seamless. Happy Thanksgiving to one of our most valuable clients!
I am deeply humbled and joyous to know that you have put a lot of faith in my business. Our products and services will never let you down. Happy thanksgiving to the best customer ever!
For us, the thanksgiving celebration will always be incomplete without sending warm wishes and blessings to our valued and loyal customers. May our sweet professional relationship thrive and survive till the end. Happy Thanksgiving!
Thank you from the bottom of our heart for associating with us for long period of time. We serve our clients with unparalleled services. Happy Thanksgiving!
A company's aim is to keep its clients happy and products hundred percent beneficial. We thank our clients in believing in us. Happy Thanksgiving!
When we see our customers' happy faces, it means we are progressing. Thank you for having faith in us. Happy Thanksgiving!
It is because of our customers and clients that our business is prospering. We wish you all the blessings and love and May your life be peaceful and grow tremendously as ours. Happy Thanksgiving!
May it be that we always serve you beyond your expectation and May it be you always be with us! Happy Thanksgiving!
Also see: Happy Thanksgiving Quotes
Thanksgiving Messages for Employee and Staff
Happy thanksgiving to the hardest working and the most generous employees I have ever known. More than my vision, this organization has grown by leaps and bounds because of your blood, sweat, and relentlessness.
Tis the season of gratitude and holiness. We want to thank all our amazing employees for being so relentless in your work approach and giving services to customers. Happy Thanksgiving!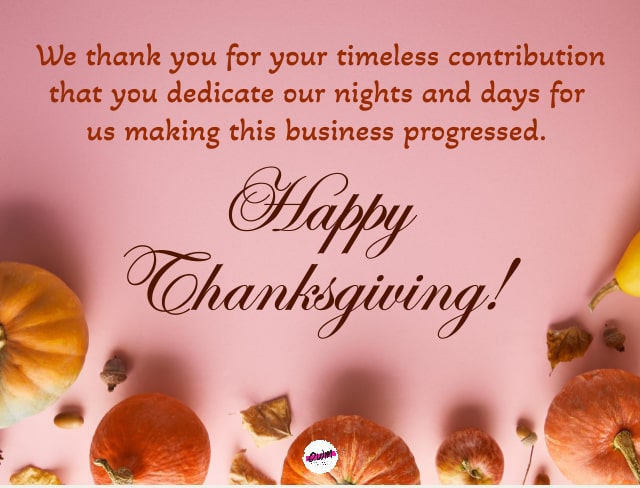 You guys are the reason behind our company's massive success and positive brand image. We can't thank you enough in words that's why we have arranged the biggest thanksgiving party in the town for our staff. Happy Thanksgiving!
We have yet to find out the more committed, dedicated, and accountable staff than the one serving this wonderful organization for years. You are the core and bricks of the company. Happy thanksgiving to the best employees ever!
There is no time better than thanksgiving to let your staff know that the organization is equally thankful to them as they are to their customers. I hope you enjoy the time with your family eating juicy turkey and chanting prayers. Happy thanksgiving to the best staff in the world!
Business is not the tree of single trunk while it is made of uncounted branches. We thank our employees who are family and for associating with us since the inception. Happy Thanksgiving!
Each single employee of this company is the important cog in the growth of business machinery. You are the small cog but with so much importance. Happy Thanksgiving!
We thank you for your timeless contribution that you dedicate our nights and days for us making this business progressed. Happy Thanksgiving!
You all are not our employees while family members. We care for you and promise to keep you long with us. Happy Thanksgiving to you and your families!
You have enormous strength and this is the reason we have enormous success. It is all because of you. Wishing Happy Thanksgiving to all our employees.
You May Also Like