This post is dedicated to beautiful happy Valentines day 2022 Shayari, Romantic Valentine shayari in hindi , Valentines day shayari for friends, love, wife, husband, girlfriend, and boyfriend.
If you can't say, you can say it through shayari. It is a kind of short poem type of lines. We have for you, Valentines day shayari, and in only two human emotions shayaris can be written- in love and in the sadness of love, and various emotions and feelings related to love whether it is longing for someone, betrayal or other love emotions. You can understand what I want to say.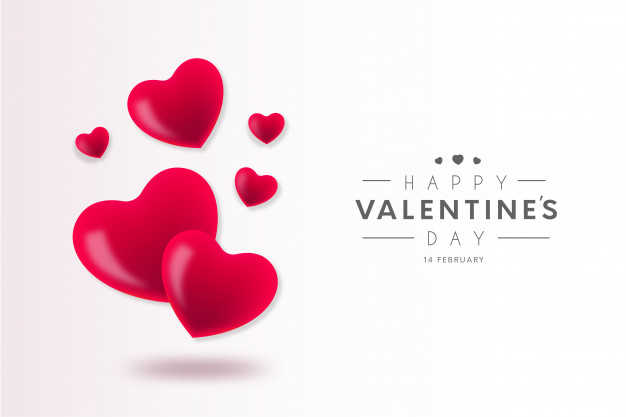 We have for you different feels of 2022 Valentines day shayaris that you can send to your love in whatever emotions you are feeling. In this blog we have shayari in Hindi language, Valentines day shayari in Hindi, we have all for you. Somewhere I have read that an individual loves three times in a life and it is always different experience that teaches you something valuable. But one thing is always sure there that in love you become a poet of your and her heart. Here are for you, Happy Valentines day shayari 2022.
Happy Valentines Day Shayari in Hindi – Various Emotions – Explained in English Language
Valentine Shayari For loved ones
Tumse Ek Naata Sa Jud Gaya Tha,
Jo Ab Tut Nahi Raha. Tuta Bhi Hain To Pura Nahi;
Aur Agar Pura Bhi Tut Gaya To Zindagi Bhar Ke Liye
Tees Man Main Hi Reh Jaayegi;
Kaash Hum Dono Ek Ho Jaaye, K
aas Ye Duriya Kum Ho Jaaye;
Aur Phir Se Hum Yaar Ho Jaaye.
This Hindi Shayari is about longing for someone whether boyfriend or girlfriend in which one is praying or wishing for again becoming together because of misunderstanding they have gone apart. It is a Valentines Day Hindi shayari for girlfriend and boyfriend both.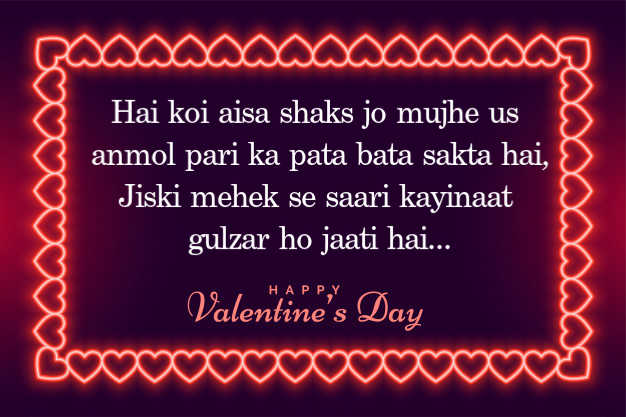 Pyaar To Tujhe Main Aaj Bhi Karta Hoo;
Bus Kehne Se Darta Hoo, Dekhna To Tujhe Main Aaj Bhi Chata Hoo,
Bus Teri Aanko Main Girne Se Darta Hoo;
Pata Nahi Ye Narazgi Kab Door Hogi;
Tere Mere Beech Ki Doori Dur Hogi Bhi Ke Nahi.
This Hindi Happy Valentines Day 2022 Shayari is about separation and disappointment that one is having for other. One is longing to see other but could not. They love and miss both each other but distances have come in their relationship about which they don't know when it would part out.
Also See : Happy Valentines Day Wishes and Messages
Tumhara Nazro Se Mujhe Dekhna Mujhe Phir Se Maar Raha Hain;
Yu Mat Dekho Mujhe;
Ya To Meri Ho Jao Ya Phir Dur Chali Jao.
In this shayari one is saying to other that you don't just see me only. Whether you say I love to me or just go away. Don't put me in dilemma and in dwindling situation. Your intense gazing and love indications are causing me. It is Hindi shayari for girlfriend.
Tumhare Aur Mere Beech Main Kuch To
Rista Aisa Hain Jo Ki Bhaut Gehra Hain;
Aur Hum Dono Hi Usko Jaan-na Nahi Cha-hate Hain;
Par Cha-hate Hain Ki Ek Dusre Ko Bol De;
Kon Phele Kahe Bus Isi Ka Intezaar Hain.
In this Hindi Shayari, one is saying to other that you say me I love you. They know they love each other but they doubt whether we really love each other. Although they want to say I love to each other but waiting for who would say first. One of the best Hindi shayari in this Valentines week.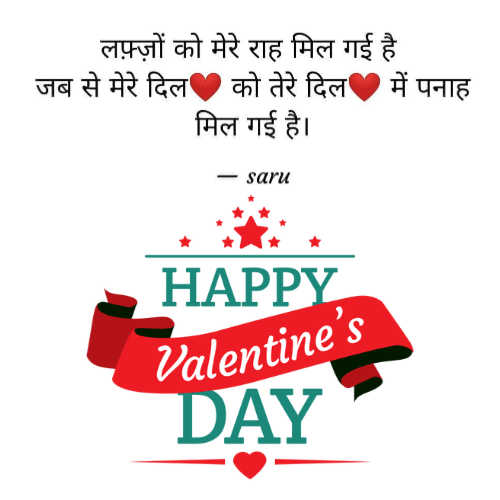 Baat To Main Tumse Aaj Bhi Karna Chata Hoo,
Par Kahene Ki Himmat Nahi Hoti;
Pyaar To Tumhe Main Aaj Bhi Karta Hoo,
Par Kehne Ki Himmat Nahi Hoti;
Kyonki Tumhe Khone Ki Himmat Nahi Hoti.
In this Hindi language shayari one is afraid to say I love you to other because one is not aware about other's intentions. And If say so, one thinks that he/she loses the other. Best shayari in Hindi for girlfriend and boyfriend.
Also See : Valentines Day Quotes 2022
Kabhi Kabhi Main Aisa Sochta Hoo Ki Tumse Baat Kar Hi Loo,
Kabhi Kabhi Main Aisa Sochta Hoo Ki Main Tumse Bol Hi Do Ki;
Ki Main Tumse Door Nahi Jana Chata Aur Na Cha-ta Hoo Ki Tum Jao;
Aaj 4 Mahine Ho Gaye Ek Dusre Se Bole Nahi;
Shyaad Tumhare Aur Mere Beech Main Pyaar Kuch Jada Hi Hain.
In this Hindi Shayari, one is separated from other, only because they love each other intensely, wanted to express their love but somehow could not.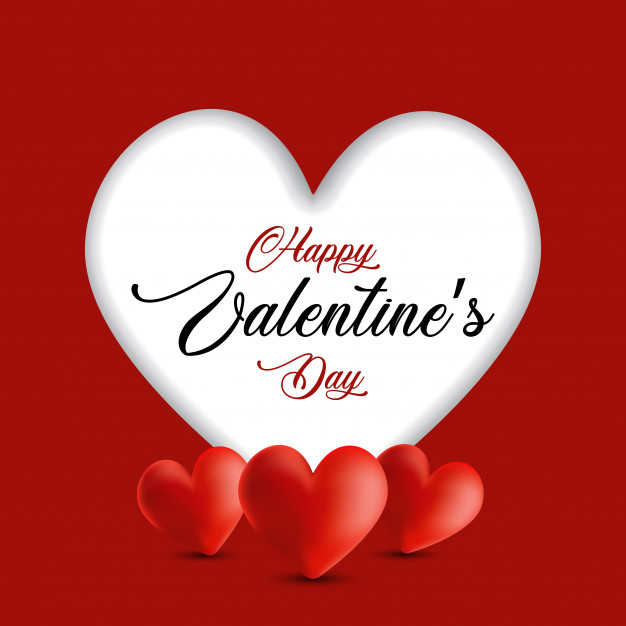 Tumse Jitna Pyaar Tha,
Us-se Kai Jayda Tumse Kabhi-Kabhi
Nafrat Bhi Hone Lagti Hain;
Jab Tum Kisi Aur Se Baat Karti Ho,
Uske Saath Hasti Ho Aur Pyaar Karti Ho;
Main Ye Bardaast Nahi Kar Sakta;
Keval Tumhi Thi Jis-se Maine Sacha Pyaar Karta Hoo.
This hindi Valentines day shayari is about lover's possessiveness about his beloved that you don't talk to other men and laugh with them because you are mine, only mine. I can't see you with other guy.
Also See : Valentines Day HD Images Free Download
Kyo Pyaar Kisi Aise Se Hota Hain Jo Mil Nahi Sakta,
Aur Kyo Pyaar Milna Itna Aasan Nahi Hota.
It is about love, that why it is hard to get and why it happens with someone to whom it is not easy to get.
Maine Socha Nahi Tha Saath Itne Kum Samay Ke Liye Hoga,
Par Gai Ho To Aisa Lagta Hain Ki Bhaut Saal Ho Gaye,
Ek Baar Phir Main Tumse Milna Cha-hata Hoo Aur Bolna Cha-hata Hoo,
Ke Phir Se Aa Jao.
It is about telling love that you must come back. I don't know that little distance become so much longer.
Kyo Aajkal Ye Kehna Itna Muskil Hain
Ek Dusre Se Ki Ek Dusre Se Hum Kitna Pyaar Karte Hain,
Kyo Pyaar Ko Kehne Main Itna Dar Lagta Hain.
It is a kind of Hindi Shayari cum quote that why it is so troublesome to express someone that you love them. We also have Valentines day quotes and wishes for you too.
Happy Valentines Day 2022 Shayari For Love
Tumhare Bina To Ab Waqt Bhi Nikalna Muskil Hain,
Kab Tum Aaugi Ye Intezaar Karna Bhi Muskil Hain,
Kyo Mujhe Ye Kehakar Gai Thi Ki Kal Aaugi,
Ab Tumhara Intezaar Karna Bhi Muskil Hain.
It is about waiting for someone and longing for someone, that they have said that they will come but didn't come. They have broken their promise. This Valentines Day Shayari in Hindi is about this love sense.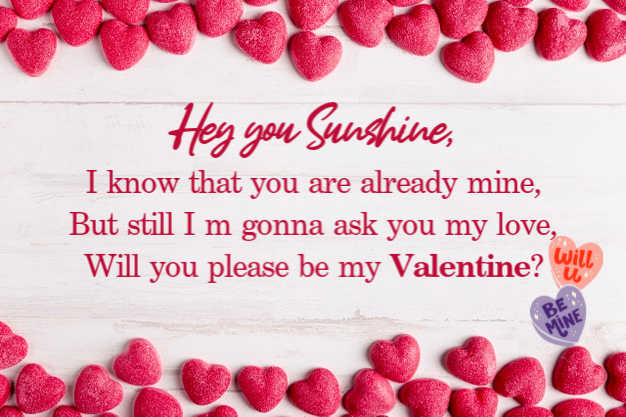 Aaj Tumhari Aur Meri Nazar Achanak Se Mili,
Aaj Wo Din Tha Jab Maine Tumhe Itne Dino Baad Dekha,
Samne Hote Hue Bhi Tumhe Ab Dekha,
Aaj Meri Duniya Phir Se Thodi Aabad Ho Gai Jab Maine
Tum-me Rab Dekha.
It is like one is saying to other that I have seen you after a very long time while you just standing always before me. After so long time I have seen you and it is like seeing God.
Also See: Valentines Day Whatsapp Status Video
Kyo Na Hum Pichla Bhul Ke Phir Se Nai Suruaat Kar Le,
Phir Se Naya Rista Aur Nai Duniya Aabad Kar Le.
This Hindi Valentines shayari is about forgetting all the past mistakes and making and starting everything new in relationship.
Tere Aane Ki Umeed Ab Bhi Hain, Tujhe Paane Ki Umeed Ab Bhi Hain,
Tujse Pyaar Main Ab Bhi Karta Hoo, Tujhe Paane Ki Kosis Ab Bhi Hain.
This simple Hindi Valentines shayari is about getting the love unceasingly and he wants her anyhow.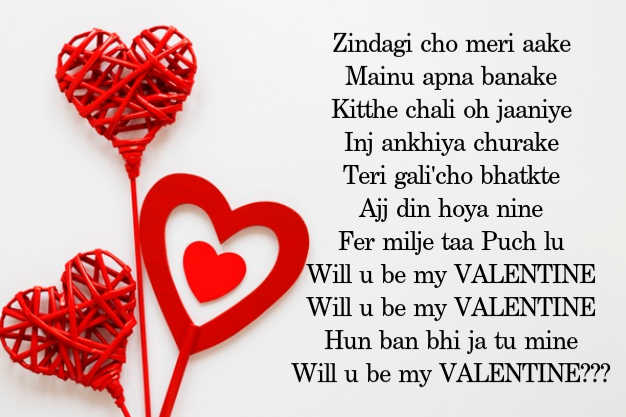 Tumhare Baare Main Sochta Hue Main Thakta Nahi,
Kyo Pata Nahi, Tum Meri Dil Se Nikal Hi Rahi Nahi,
Bus Tumse Na Sun-ne Se Darta Hoo,
Kyonki Tumse Sabse Jada Pyaar Main Hi Karta Hoo.
In this Hindi Shayari for Valentines day 2022, the lover loves her very much, so much that she is not getting out of his head. He doesn't want to leave her and couldn't because he loves her very much.
Pata Nahi Maine Shyaad Tumse Pyaar Karne Ki Galti Kar Li,
Kuch Jada Hi, Par Lekin Pyaar To Keval Galti Se Hi Hota Hain,
Iza-zat Se Nahi.
This Valentines Hindi shayari is about loving someone, and when love is done, it happens mistakenly, rather than taking permission.
Also see: Happy Valentines Day Love Status in Hindi
Ab Jaane Ka Samay Aa Gaya Hain Tumhara Bhi Aur Mera Bhi,
Kya Pata Hum Ek Dusre Ko Bhul Jaaye Aur Kya Pata Kabhi Nahi,
Bus Ye Tees Dil Main Hi Reh Gai,
Ki Ek Baar Bus Baat Kar Lete To Kya Pata Phir Saath Ho Lete.
This Hindi shayari is about misunderstanding and tension between two lovers that they are parting away. It is a request from him that last time we should talk and understand each other rather than leaving.
Dil Ke Kisi Kone Main Ek Jagah Si Ban Gai Hain
Tumhare Saath Bitaaye Hue Palo Ki,
Jab Thodi Yaad Aati Hain To Man Ki Khidkiyon Se Dekh Leta Hoo.
The moments we spent together have cornered somewhere in my heart. When you are not with me, I sometimes look at the spent moments through the windows of my heart.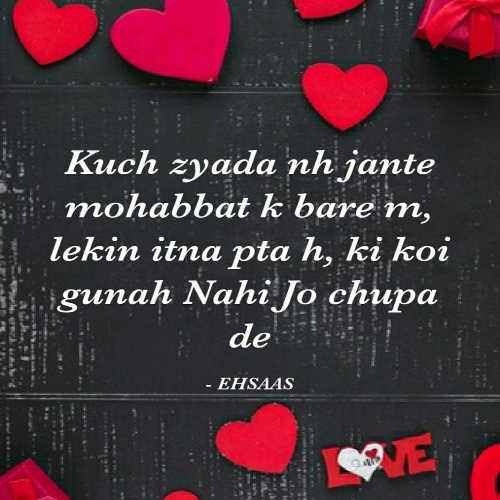 Happy Valentines Day 2022 Shayari in Hindi
दूर रहके भी अपना प्यार बढ़ाते है
ये दोनो Call पे ही Valentine मनाते है। ❤ ❤ ❤
तुमसे अपनी मोहब्बत का इज़हार कर दूं क्या
नहीं तो कहो मोहब्बत से ही इंकार कर दूं क्या
ख़ुदा ने की है साजिशें कई हमें मिलवाने को
बोलो उसकी सारी कोशिशें बेकार कर दूं क्या
~सुप्रिया मिश्रा
तेरी तस्वीर लिये हाथों मैं
खुद को निहार रहा हूँ,
.
तेरी ज़ुल्फे देख कर मैं,
खुद कि ज़ुल्फे सवार रहा हूँ,
.
कही पड़ ना जाऊ फीका तेरे आगे,
कै मैं इत्र से भी खुशबू मांग उधार रहा हूँ..!!!
Happy Valentines Day..
स्वीकार करो ये प्यार का तोहफ़ा ,
ये है तुम्हारे एक यार का तोहफ़ा ।
दिल से निकली बात है "गुड़िया "
ये है एक दिलदार का तोहफ़ा ।
लफ्ज़ों के प्यारे कुछ फ़ूल हैं ये ,
जिन्हें दिल से पिरोया है हमने ।
बाज़ार में मिलते नहीं ये तोहफ़े ,
ये है दिल-ए-बेक़रार का तोहफ़ा ।
तेरा असर अब मुझ पर होने लगा है
तुझे देखते ही दिल धड़कने लगा है
राहो मे तेरा इंतजार होने लगा है
दिन का चैन अब खोने लगा है… ❤ ❤ ❤
My Dear Valentine…
फरेबियों को मुबारक हो ये झूठी फरवरी,
मेरी मोहब्बत महीनों की मोहताज नही !
मेरी मोहब्बत में बेहिसाबी रह जाने देते हैं,
और उस हिसाब में वो ख़राबी रह जाने देते हैं,
कहीं नज़र न लग जाए यूँ मोहब्बत को मेरी,
मेरी मोहब्बत को भी हिजाबी रह जाने देते हैं।
Meri shayari meri jindegi ka ek aaina hai
Dhyan se dekhoge to khud ko isme paoge
Meri likhawaton me tumhari jindegi ka bhi ek hissa hai
Samajh paye to har shayari apne liye hi paoge
Kitne valentine nikal gaye
Par meri himmat hi nahi huyi
Ab bol hi deta hoon
Shayad iss baar tum meri qismat mein huyi
.
Jabse tumhe dekha hai,
Tum aankhon mein bas gayi ho tabse
.
Suno, Pyar ho gaya hai tumse
Ab tum bhi keh do mujhse!!
.
-Abhash jha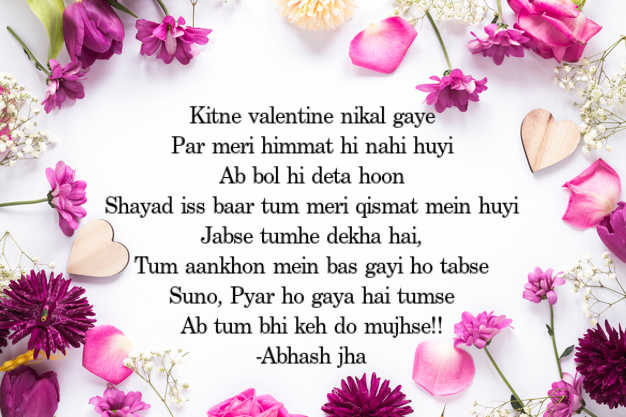 Happy Valentines Day Love Shayari With English explanation
Kabhi Maine Socha Nahi Tha Aisa Hoga,
Jo Sabse Paas The Wo Sabse Door Hoge,
Chalo Is Baat Ki Tasali To Hain Ki Pyaar Gehara Hain,
Par Matlab Bhi Kya Aaj Ek Dusre Se Baat Bhi Nahi Kar Paate,
Tumhe Dhyaan Se Dekhe Hue Kafi Arsa Ho Gaya,
Bus Kabhi Kabhi Yuhi Photo Main Nihaar Leta Hoo,
Kya Bus Itna Hi Saath Tha Tumhara Mera.
In this Valentines week it is most beautiful Hindi shayari for two lovers. It is about why distances have come in two lovers. It is so intense that we haven't watched each other face for months. But it is there only because love between them is also intense.
Humne Taarif Kya Ki Tumhare Hoto Ki
Tumne Humse Nafrat Karna Shuru
Kar Diya, Ek Din Tarsogi Ki Kyo Humne
Tumhari Taraf Dekhna Chod Diya.
This Hindi language Valentines shayari 2022 is about lover's appreciation about his beloved that how beautiful she is but she has gotten angry because of this and lashed out at him, misunderstanding. And he has said that one day you would regret that why we have left seeing towards you. Just a misunderstanding about actions and intentions.
Kabhi Jo Nazaro Se Muskuraate Huye Sab Kuch Keh Diya Karte The,
Wo Aaj Ek Dusre Ke Saamne Dekhte Tak Nahi,
Jo Bina Kahe Ek Dusre Ki Dil Ki Avaaz Sun Lete The,
Wo Aajkal Kuch Kehte Hi Nahi.
We used to say everything from our smiles but these days we are not seeing each other. We used to listen each other's heart talk without uttering any word but these days we are not talking. One of the best nostalgic Hindi shayari in Valentines week.
Duriyaan Pyaar Badaati Hain Ya Khatm Karti Hain Pata Nahi,
Par Duriyaan Dard Bhaut Deti Hain.
Whether distances increase the love or not I don't know but it gives lots of pain. Happy Valentines day shayari for two lovers who are in disagreement with each other and it happens in love.
Pyaar Karna Bhi Cha-hata Hoo Aur Dar Bhi Bhaut Lagta Hain,
Ki Ek Ladki Se Itna Pyaar Ho Kaise Sakta Hain,
Ki Koi Itne Che-haro Main Se Tumhara Koi Ho Kaise Sakta Hain.
I want to love you but feeling afraid that I lose you. In thinking that how much I could love a girl so much, that how is it possible to love someone so much from thousand beautiful faces.
Kisi Se Dil Lagaana Bhi Courage Ki Baat Hain,
Neebhane Main Sadiyaa Beet Jaati Hain.
It is so easy to get attracted towards someone but it is a bit hard to love someone endlessly.
Romantic Valentines Day Shayari For Wife & Husband
Meri aankho ka khwab bas tum ho,
Mere dil ka armaan bas tum ho,
Jeete hai hum bas tumhare sahare
Kyoki ager mein dil ho tu meri dhadkan bas tum ho.
Happy Valentines Day Sweetheart!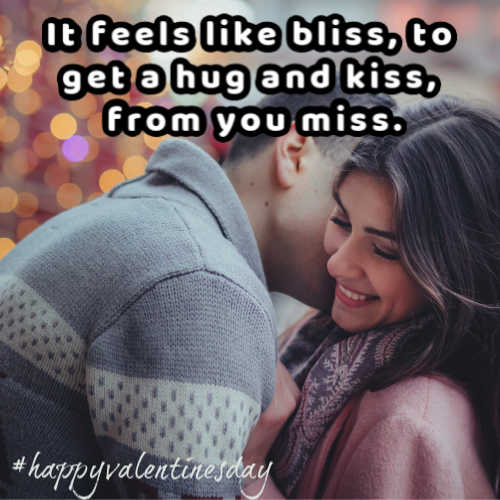 Jab se aye ho tum meri jindgi mein,
Hume khushi bepanha mili hai,
Tumse pa kar mohabbat had se jada
Hume jeene ki wajha mili hai.
Happy Valentines Day My Love!
Dhadkan meri Tumse hai,
aashiqui meri tumse hai,
bataye to kese bataye tum ko
Meri jindgi meri saanse tumse hai.
Happy Valentines Day Darling!
Tu rahe mere sath rahe,
To meri na koi or chahat rahe,
Na hi mangu me fir kuch khuda se
Agar sari zindagi mere hath me tera hath rahe.
Happy Valentines Day My Love!
Tujh palkon pe beetha ke rakhon mein,
kar ke had se jada pyar seene se laga ke rakhon mein,
Behad keemti ho tum mere liye
Tumhe dil mein chupa ke apni jaan bana ke rakhon mein.
Happy Valentines Day Sweetheart!
Dhadkan meri Tumse hai,
aashiqui meri tumse hai,
bataye to kese bataye tum ko
Meri jindgi meri saanse tumse hai.
Happy Valentines Day!
Jo chahi thi mohabbat,
Wo mohabbat di hai tumne.
.
Tham ke hath jindgi mein mera,
Bepanha khushi di hai tumne.
.
Mujh pe luta ke pyar apna,
Ek pyar bhari jindgi di hai tumne.
Happy Valentine's Day Jaanaa!
सुनो.. पल-दो पल के लिये ही सही आ जाओ मेरी कुर्बत में मेहमा बनके आज दिल में तुम्हारी तलब कुछ ज्यादा ही बढ़ रही हैं
So These are all some of the best nostalgic and romantic Hindi Valentines day 2022 shayaris that you can send to your lover if he/she is disappointed of you because of some reasons. This Valentines week 2022 which is coming is full of love and we think you should propose someone to whom you want to if you have been longing for him/her rather than just hiding feeling in your heart and over thinking.