Happy 50th Anniversary Wishes: Completing 50 summers and winters of your life with a life partner is a humongous achievement. It takes a lot of love, patience, sacrifices, and the support of family members to happily pass 50 years with a single person and develop your own family. In our opinion, a person must celebrate his or her 50th anniversary with so much zeal, glitter, and love that those memories would be etched well in the hearts and minds of everyone. Sending heart-touching 50th wedding anniversary wishes to your parents, friends, uncle, aunt, or any other person celebrating the occasion is a subtle gesture. If you don't know what to jot down in a 50th wedding anniversary card, our warming compilation of 50th wedding anniversary wishes oozing blessings, best wishes, and affection for the couple will surely make their celebration more sumptuous. 
50th Wedding Anniversary Wishes
Dear mom and dad, your wedding life is as pure as the water of the fountain of youth, as glittering as diamond, and as beautiful and tranquil as moonlight. I wish your married life prevails till the end of this world. Happy 50th wedding anniversary to the most vivacious couple!
It seems life even life wants you to celebrate 50th, then 75th, and then 100th wedding anniversaries because you guys look so endearing and dazzling together. Thank you so much for being each other's pillars of support for so many years. Have an exhilarating 50th anniversary celebration!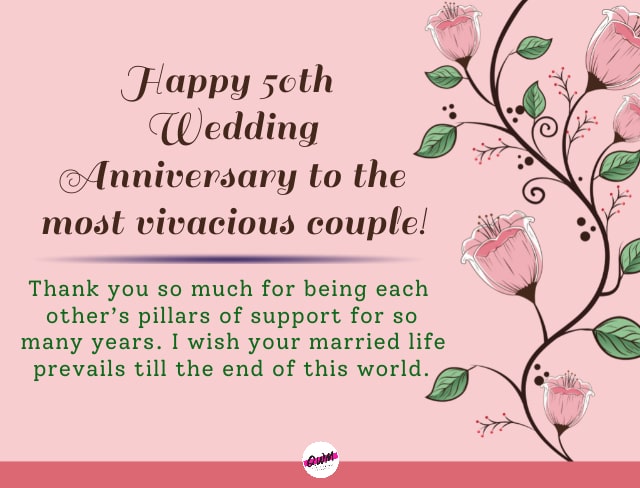 It's been 50 years of togetherness for both of you but the sizzling chemistry and spark between you guys is still intact and thriving by leaps and bounds. I am looking forward to a garish and thumping anniversary party. Happy 50th wedding anniversary and God bless you!
From the core of my soul, wishing a joyful 50th anniversary to the top-notch couple in the world. It must be feeling awesome and special to complete the half-century of your wedding anniversary. My sincere wishes are with you for upcoming endeavors in life.
Hey mom and dad, your 50th wedding anniversary celebration is the hottest trending topic in the whole neighborhood. I cannot state in words how blessed I am to have such loving and sagacious parents. You guys are the epitome of perfection. Happy 50th anniversary!
My lovely mom and dad, you guys are the sole reason behind such an extensive, supporting, and loving family. You are the unshakable roots who have supported branches and leaves of this family very well till yet. Happy and exciting 50th anniversary to both of you!
Blessed are those kids who get an opportunity to prepare and celebrate the 50th wedding anniversary of their parents. I wish nothing but a lifetime of impeccable health and prosperity to both of you. Happy 50th wedding anniversary and I love you guys the most. 
Hey parents, may the remaining journey of your life turns out to be so swoon-worthy, smooth, and exciting that you forget about all the pain and setbacks of the past. Happy awesome 50th anniversary to the kindest and the loveliest parents!
The journey of two individuals turning best friends to the most endearing spouses is nothing less than awe-inspiring. You made a stunning house out of the homemade up with ordinary bricks. Happy 50th wedding anniversary to the quirkiest couple ever!
On your golden jubilee, all I have to wish to both of you is a lifetime of togetherness, joviality, and good luck. You two look so great together that sometimes even I feel envious of you. Happy 50th wedding anniversary and enjoy each other's company till the end.
These days forever lasting marriages are rare. But you are the rare example of love and togetherness. At your 50 you are still together and in love. May no evil eye touch your bond of love! Wishing 50th wedding anniversary to both of you! May tide of love forever stream in your life!
Look at you how beautiful you both are looking. At your 50s you are still breathing that warm air of love that you in those days of loving. How fortunate you are and we too celebrating your this marriage anniversary. May you forever go long like this forever till eternity merged in itself! Happy wedding anniversary!
All that you share and all that we know about you both is like a love story and when we see you it feels like we are seeing a live love story. How inspiring your love story is and your bond of committedness and loyalty. Such love is hardly seen in these days of modern love. May your love story always be beautiful! Wishing happy 50th wedding anniversary!
So many couple we have seen and yet they are not in love. But seeing you feels like still there is true love exists in this world. Love and marriage is not about always comfort. It is about going through breeze and storms together hand in hand. Wishing happy 50th wedding anniversary to both of you! May spring of love season forever be in your life!
When two people are in love together then everything seems blissful. Then everything seems possible. Then everything seems easy. You are the proven example of this. It feels so ecstatic seeing you both together walking in the lanes of awesomeness. Happy 50th wedding anniversary to wonderful couple of the century!
The secret of staying together in marriage is to be friend of each other. Being friends in marriage can go long and bond becomes stronger and nicer. And that is what you want to tell us. May you never escape each other's company even if you wish to! Wishing happy 50th wedding anniversary!
Marriage is about doing a little bit of adjustment. Sometimes you have to do it. It is not always one's wish only. You have to listen to your partner. Listening is important in relationship rather than only saying and saying. Wishing happy 50th wedding anniversary to both of you! May there be always that maturity of love and courtship in your life!
In relationship fights and disputes are common thing. To resolve them quick and early is the sign of truest relationship and an indication that you want each other. Being a couple this is your strength. You are an amazing couple. Happy 50th wedding anniversary! May you forever be deep in love!
Smile and laugh look good on you. Seeing you together is the bliss of moon. I wish may you cross your 100th. May we celebrate your this anniversary and all coming! What the love of you and what the true of you that you hold each other so firm, even the gods say it affirmed. Wishing happy 50th wedding anniversary!
Wishing happiest 50th wedding anniversary to the beautiful couple of the world! May you abound in each other's love! You are what love is and what marriage is and what holding on each other means. Again from truest of my heart wishing happy anniversary with hugs and kisses!
Also see: Anniversary Wishes for Husband
50th Wedding Anniversary Quotes 
Your milestone of the 50th wedding anniversary seems so towering to me that I don't think I would ever be able to achieve that milestone because of the dominance of instant gratification in our generation. Cheers to your golden anniversary and 50 years of unshakable marriage!
The number 50 is just a mere number. However, when the number 50 adds to your 50 years of the marriage bond, it automatically becomes magical and jaw-dropping. May your alluring bond of marriage shine and radiate love for 50 more years. Wishing a golden anniversary to the best parents in the world!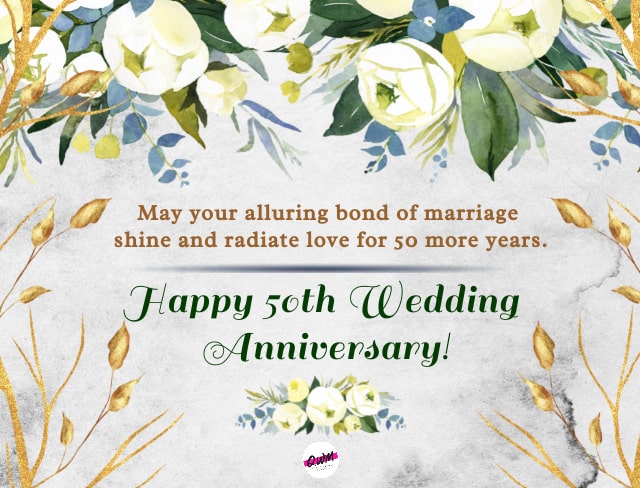 Sometimes, it takes 50 years to make the whole world understand that marriage is not like making some instant noodles that taste good but bad for the health. Marriage is like bitter medicine, appalling in nature but beneficial in the long run. We wish you a happy 50th wedding anniversary!
Only those couples who have special god's blessings on them get to celebrate the 50th wedding anniversary with their loved ones. You are certainly one of god's favorite couples. May your heartwarming bond of marriage continue to shower divine bliss and wisdom on us. Happy golden anniversary!
The reason why the 50th wedding anniversary is called as golden jubilee is because when the bond of togetherness completes 50 years, it automatically becomes glittering, pure, and invaluable like a piece of gold. Big congratulations to my handsome dad and gorgeous mom for tolerating each other for 50 years.
The vows of wedding are not just the words only while they are mantras binding together a couple forever for eternity. They are the promises of life and companionship. And you have held the true. May you forever beyond the number! Wishing loveliest 50th wedding anniversary!
When you see each other in yourselves, that means union of two people has completed and with that you can tread together on any path. Wishing 50th wedding anniversary to happiest couple! May you never get tired and bored of each other!
When you feel the breath of your partner from millions of miles and you know she is remembering you, it is truest form of love. Seeing you in the thread of love that you have both woven is no less than a magic. Wishing happy 50th wedding anniversary to cutest couple in the universe!
You have fallen in love and have risen so flowerly that when I glance at you, you look a garden of love where the virtues of relationship blossom. Wishing happy 50th wedding anniversary to both of you! I wish nothing and none separate you.
May you have the only memories of bliss love and life carrying forever in your heart! Wishing happiest 50th wedding anniversary! You are the best couple and a definition of what marriage should be in this time. I love you both. May blessing forever pour from heaven on you!
Also see: Heart Touching Wedding Anniversary Wishes for Wife
Golden Anniversary Wishes
Wishing a mirthful golden anniversary to the most bubbly and lively parents in the world. Your zestfulness to enjoy every aspect of life flabbergasts me the most. May both of you continue to spread the warmth of your invaluable love and affection on each other on us as well.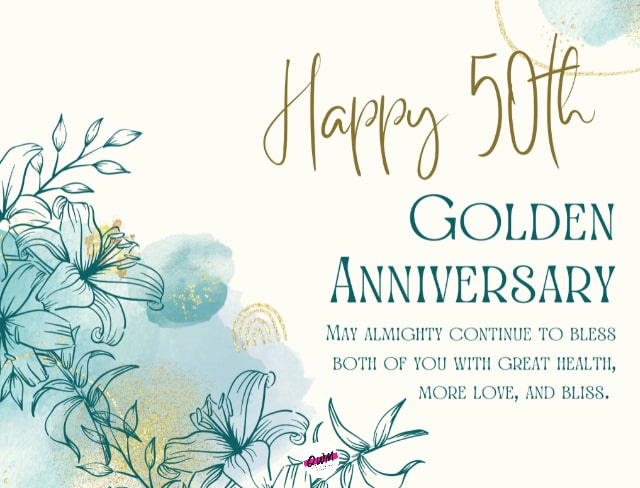 Dear parents, on your golden jubilee, I would love to extend my heartiest wishes and all the love in my heart to you for sticking together like an inseparable glue for 50 amazing years. May almighty continue to bless both of you with great health, more love, and bliss. Happy 50th anniversary!
My sweet parents, the way you have lived 50 years together, I am pretty sure the passing of 50 years must have felt like gone within a blink of an eye. Thank you so much for consolidating our faith in love and sacrifices for the family. Happy 50th anniversary to the most amazing mom and dad.
Hey mom and dad, our generation must learn from you guys that how to stick to each other despite odd circumstances, appalling behavior, and unwanted troubles. I am more than happy and intrigued to send my loveliest golden anniversary wishes to you. God bless both of you with divinity and wisdom!
Dear parents, thank you to the moon and back for taking the holiness and purity of the bond of marriage to a whole different level. It's because of couples like you, the younger generation is taking marriage seriously more than ever. May both of you be forever smiling and teasing each other. Happy 50th wedding anniversary to the coolest couple ever!
50th wedding anniversary wishes for parents
My beloved and cute parents, it gives my heart immense delight to see both of caring for each other with so much compassion even after 50 years of togetherness. May your heartwarming bond of marriage remains intact till eternity. Jovial 50th anniversary to my lovely parents.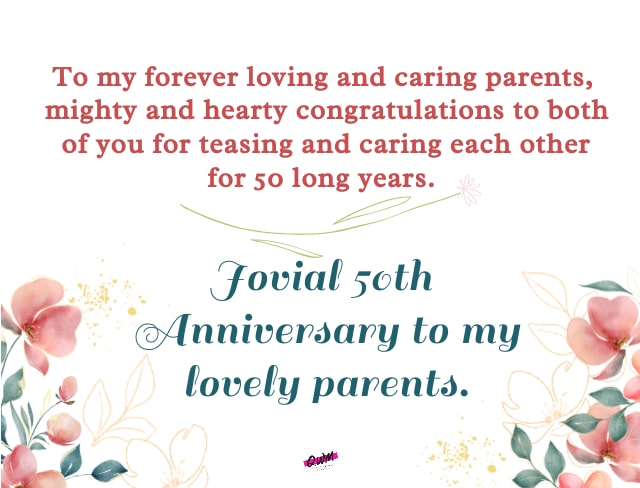 Dear parents, thank you so much for teaching all your kids that true love can still happen in an arranged marriage. Love is not something that happens instantly. Love has to be nurtured and cultivated for years. May your pure love always shine bright. Happy 50th wedding anniversary to the best parents ever.
Hey mommy and daddy, the love, quirkiness, and the care between you keep all the negativity and malice out of this house and sprinkle compassion, positivity, and selflessness. Your kids are super proud of 50 years of togetherness. God bless you with amazing health and happiness. Happy 50th wedding anniversary to both of you.
To my forever loving and caring parents, mighty and hearty congratulations to both of you for teasing and caring each other for 50 long years. Your marriage is one classic example of how unconditionally and selflessly love can be given and taken. Let's celebrate your 50 years of togetherness with some blast.
In the last 50 years, you have filled this home with so much love, virtues, and inspiration that if we seek anything, we don't have to look outside of our home. Congratulations to both of you for completing 50 years together so regally and serenely. Let's have a rocking anniversary celebration!
Funny 50th wedding anniversary wishes 
Hey sweetheart, I am still flabbergasted by the fact we have managed to live together for 50 years without breaking each other into pieces. God must have been very kind to us. I don't know whether will celebrate the next anniversary or not so let's celebrate this one like there is no tomorrow. Happy 50th wedding anniversary to the forever love of my life.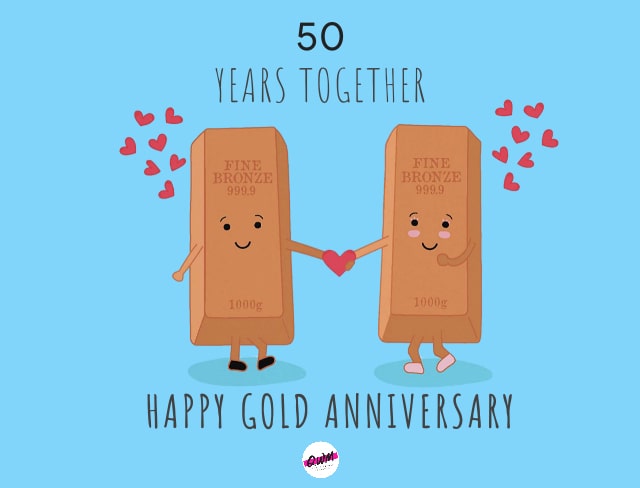 Before marriage, I used to though that love is the most alluring and magical thing in this world. After living with you for 50 goddamn long years, I firmly believe that beer is the man's truest and loyal companion. Wishing a cheerful 50th anniversary to my stubborn but lovely wife.
Hey darling, the only reason I love you wholeheartedly even after fighting nastily for 50 long years is because you have never interrupted me when I used to my sport on televisions. May we live together for 50 more years and annoy the hell out of each other. Happy 50th anniversary, baby!
For any marriage to be super successful, a husband and a wife must have different televisions sets. If this factor could be taken care of in the beginning, every marriage can survive serenely. Jokes apart, I wish a joyous and jovial 50th wedding anniversary to the craziest couple ever!
After grinding my life for 50 years with you, I have finally figured out the recipe to a successful marriage; just say I am sorry to your wife even when you are goddamn right. Take her to multiple dinners in a month as she doesn't love to cook all the time. Happy 50th wedding anniversary to my forever love!
50th Wedding Anniversary Wishes to Uncle and Aunty 
Dear uncle and aunt, you are my favorite and since my childhood I have grown up in your lap. I wish you both happiest 50th wedding anniversary and pray that warmth and emotions that you share as a couple may never vanish from your life.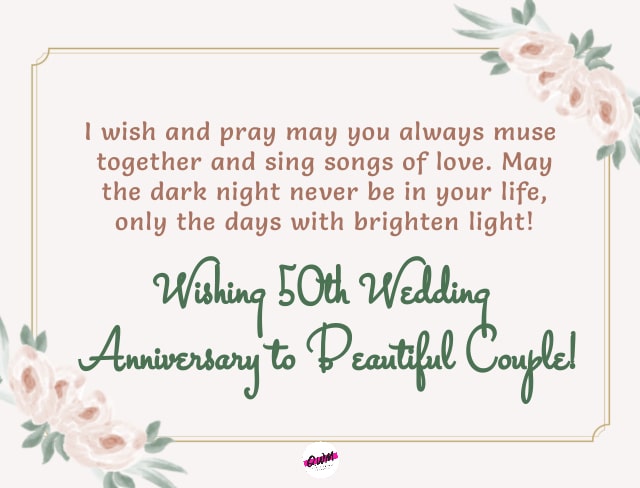 My cutest uncle and aunty, I can't tell you how lucky I am feeling seeing you celebrating 50th wedding anniversary together. I wish and pray may you always muse together and sing songs of love. May the dark night never be in your life, only the days with brighten light!
You have always been together. What a beautiful life you have both lived, and that I appreciate. May I too! Wishing 50th wedding anniversary to beautiful couple! May you always be in the adventure of love! Graceful and inspiring your love is. 
Pious and pretty your bond and relationship is uncle and aunty. And I am so mesmerized with the feeling of this. May no rust come to your relationship! Wishing happiest 50th wedding anniversary to down to earth couple! May stream of flowers from heaven pour on the celebration of your wedding anniversary!
Happiest 50th wedding anniversary to a couple who are in love since they first saw each other, my uncle and aunt. With the bottom of my heart I rever you both. May nothing shatter between you! May no ego come between you! Hugs and kisses to you both!
50th Wedding Anniversary Wishes for Friends 
How much astonishing to see that you have crossed your 50th wedding anniversary with heaven's grace! Wishing happy 50th wedding anniversary! I pray that you always remain surrendered to your wife as you were from the day of your wedding and I know you still regretting!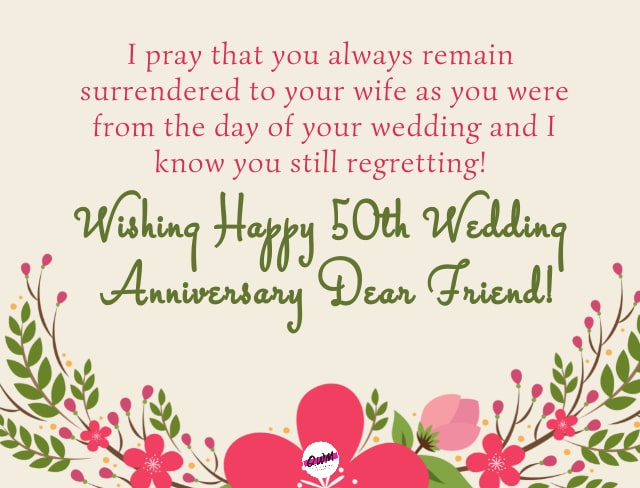 50th wedding anniversary to dearest friend! You are close to me and I know how tremendously joyous you are feeling on your wedding anniversary as you always been. My payers and blessings are forever for you. May you never have to dye your hairs as you pass your anniversary!
Wishing 50th wedding anniversary to the most romantic couple I have ever met! My closest friend you are so helping and nurturing. May God always bestow on you both all what you ask in prayers! I am always there for you as you are for me. 
My heartiest friend, you are celebrating your 50th wedding anniversary. It feels so sparkling experience as you go through this moment of your life. I have always wished best for you and today I too wish may your love become an inspiring story for telling.
The flower of love grows with seeds of romance, loyalty and trust between couples who forever want to have the company of each other. You are my friend like this and I admire you both. May the seed of love grow more beyond you expect! Wishing 50th wedding anniversary to my lovely friend!
50th Wedding Anniversary Wishes for Grandparents 
Happiest 50th wedding anniversary to cutest grandparents! You both look like two dolls. You both are kind and humble and full of love. Lot we have learned from you and the most meaningful is, relationship is about holding on to the person whom you love whatever situation one goes through.
Dearest grandparents, you both are the gurus of love and I seek your blessing in this matter for me! But first wishing both of you 50th wedding anniversary and happiest graceful life! May you always keep smiling and rocking! May your this anniversary be memorable as always!
50th wedding anniversary to most humble and kindest grandparents! You don't look like that old, still young you are. May the youth in you never die! May the love and romance always sprout as you age with new meaning! You are soulful couple. 
Happiest 50th wedding anniversary to lovely grandparents on the earth! The way you talk is so attractive dearests. So fascinating and catching it is. From both of you I understand that marriage is harmony when you marry the one you like. May you always be in the garlands of togetherness that you put to each other!
50th wedding anniversary to my grandparents! So much love and hugs to you both. May you breathe each other till you live! Your relationship and togetherness are so affecting. May you experience the more magic of love!