Heartfelt Death Anniversary Messages for Friend: The news of the sudden demise of a dearest friend can shake any person badly to the core. Your best friend with whom you plan to fulfill so many dreams together and create everlasting memories when dies instantly, your whole world shatters into a million pieces and you don't know how to muster enough courage to live life normally once again. You cannot bring back your lost friend but you can provide some solace to his soul and words of sympathy to his family members by sending death anniversary messages for a friend to them. Your kind and godly words may rekindle the hope in them to live a normal life again and express how deeply and greatly you love and admire your demised friend.
Heart Touching Death Anniversary Messages For Friend
It's been a year since you left us but it barely feels like you have gone. Your quirky talks, pranks, and random pranks, I direly miss them and I can't get over them. Dear friend, you will always be alive well in my memories and I remember you on your death anniversary.
Only a dearest friend can understand the loss he has incurred by losing a friend in a heart-breaking event. Buddy, you were the basis of my life. I don't know what to do and where to go without you. It wasn't fair of you to leave me alone. I miss you and I pray for the solace of your soul, my lost friend!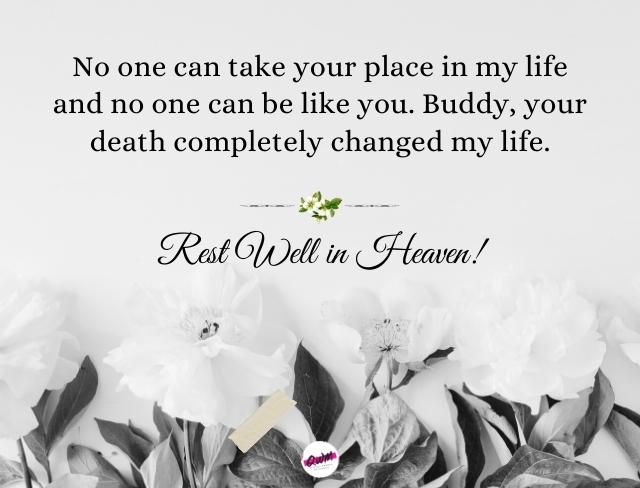 It broke my heart into a million pieces when you said goodbye to us in a tragic event. You were the only friend I ever had. Now, I have no one to share my feelings, or happiness with and no one to fight with. I don't know how I am gonna live without your friendship. I am remembering you badly on your death anniversary, friend!
Also see: Death Anniversary Messages
May the lord provides solace, divine knowledge, and super consciousness to your soul so that you can get one with the ultimate creator. No one can take your place in my life and no one can be like you. Buddy, your death completely changed my life. Rest well in heaven!
Dear friend, it's been 3 years but still, there is no sign of a smile on our faces and happiness in our hearts. Your departure has created a vacuum of agony that nothing can heal except your presence. Your loyal friendship and lovely talks will always be alive in my memories. I am missing you like hell on your death anniversary.
Also see: Death Anniversary Messages for Mother
Though you left us a long time ago, your memories, laughter, jibber-gabber, and random acts of kindness can still be felt at your house. I know you must be residing peacefully in heaven but there is restlessness in our lives because of your absence. God bless your soul and I miss you, friend!
If it were in my hands, I would have exchanged my soul with yours to bring you back at home and restore the happiness and solace of your family. Unfortunately, I am nothing in the grand scheme of things. Life is hard to live without your lively presence and friendship. May God bless your holy soul and you rest well in heaven!
Also see: Remembrance Message for Late Dad
One of the most stringent things in life is losing a person you love and adore the most. I have learned to live without you but I can't get over from your friendship and the memories we have created. Losing you is the biggest and the most severe loss of my life. Hey friend, remembering you on your death anniversary!
Friendship, love, work, and family, these things give meaning and purpose to life. I lost one of the purposes of my life with your death. It would be next to impossible to find a staunch and big-hearted friend like you. Your absence bites me a lot and I badly crave your friendship. My deepest sympathies and blessings are with you.
Since the day you left this world, I haven't laughed, smiled, eaten, and traveled wholeheartedly. You were an indispensable part of my life and your departure has filled it with great sorrow. May your sacred soul rest peacefully in heaven and God bless you!
Also see: Death Anniversary Messages for Husband
Death Anniversary Quotes For Friend
With a heavy heart and a numb bind, I pray for my dear friend on the occasion of his death anniversary. You were the heart and soul of your family and the closest to my heart. It's daunting to survive with your lively and inspiring presence. I miss you, buddy!
Dear friend, it was not at all fair of you to leave me alone in this barbaric world. I have literally shared everything with you and spent most of my time only in our own created world. On your death anniversary, I wish you to come down for one last time and hug me tightly.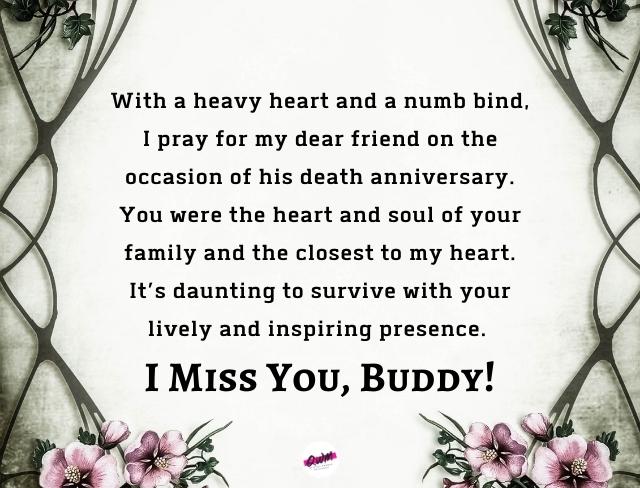 If I had the slightest hint that death is coming to take you away from me, I would have snatched you from the mouth of death anyhow. I think about our friendship's wonderful memories every single day and living with the pain of your separation. May your soul rest well in heaven, friend!
Also see: Death Anniversary Messages for Grandmother
Maybe you have gone from this world forever, you will always be alive and protected in my heart. Don't worry my friend, I will try to comfort and protect your family as much as possible. I am mourning your tragic demise on your death anniversary!
When I will die, the first thing I will do is to find you in heaven and give you the best hug of all time. We are separately physically only. Even god can't break our heart-to-heart connection. May the lord endows massive strength to your family to get over your death!
Also see: Condolence Messages To a Friend
If I am experiencing the excruciating pain of your loss, I can't imagine the pain your family member must be experiencing right now. Dear friend, I am standing firmly with your family during this tough time. I pray for the peace of your soul and I wish you land up in heaven!
In such a short life, you have influenced so many lives that the news of your sudden death is unacceptable to many. I wish I could tell you anyhow how badly we are mourning your sudden death till yet. Remembering my best buddy on his death anniversary!
Your endless talks, your random cooking plans, the late-night studies, flirting with girls, and dancing the whole night at the random bars, I just can't get over the memories we have created together in such a short span of friendship. I will forever miss you and pray for the peace of your soul.
It's been two years but the news of your horrific death is still indigestible to me. Not a single day passes when I peek into our old photographs and cry hard for long hours. Your death has created a void in my heart that even love can't fulfill. I miss you, and I pay tribute to you on your death anniversary.
May the lord shower some mercy on your family members and give them ample strength and hope to function normally. You were the most jovial of all in our friend circle and among family members. The gap your death has left is difficult to fill. God bless your soul, my dearest friend!
1st Death Anniversary Quotes For Friend
Hey buddy, one year in your absence felt like an entire eternity. In just a moment, you bid adieu to the world and left me with nothing but to mourn your death. My heart is left with no love and my life is completely barren with you. I miss you, buddy! I hope you are doing well in heaven!
The death of a dearest friend leaves such agony and grief in your chest that even the most effective healing medicine can't heal it a bit. If I could, I would have sacrificed my life just to keep you alive. May the lord endows your family with courage and strength to endure the loss. We all remember you on your 1st death anniversary!
I know you must be watching all of us from heaven and longing to be with us again. Dear friend, you have no idea how it feels when someone you care about the most leaves you in a tragic way. You will always be remembered as long as I am alive. Praying for your soul on 1st death anniversary!
It's been a year but the pain of your death hasn't dwindled a bit. You were so dearer to me that I could even fight with God to protect you from going to heaven. I know you have become the most glittering star in the sky and twinkle a lot when you see us. Your absence cannot be filled by anyone. May the Lord provide solace to your soul and strength to your family members on your first death anniversary!
No one, not even my family members cared about me as much as you did. The news of your sudden demise was so heart-breaking and bone-crunching that I still get out of my senses sometimes. Your departure has broken our beautiful bond of friendship and I have nothing worth looking up to in life. With a heavy heart, I pray for the peace of your soul on your first death anniversary!