Happy Fathers Day Mom Quotes: There are numerous single mothers who play the role of fathers for their kids because their dads are either gone from this world or failed to live up to the parenting responsibilities. Single mothers should be respected, appreciated, and hailed for doing the double duty and setting some strong examples for future generations. Happy fathers day is on the brink of arrival and if you have a single mother, this occasion is a perfect opportunity to express gratitude towards your mom for being both father and mother to you. We have an extensive collection of happy fathers day messages for single moms and happy fathers day single mom quotes that are brimming with respect and praise for the single mothers and wish them fathers day in an exemplary manner.
Happy Fathers Day to Single Mom Quotes
With utmost happiness and clouds of emotions, wishing happy fathers day to my lovely mother who has been playing the role of both parents in my life for so many years. Thank you mom for never letting me feel the death of a father!
Do you know why the status of a mother is the highest in all the scriptures? Because she can effortlessly play the role of a mother as well as the father for kids. Happy fathers day mom and thank you for giving me the best upbringing!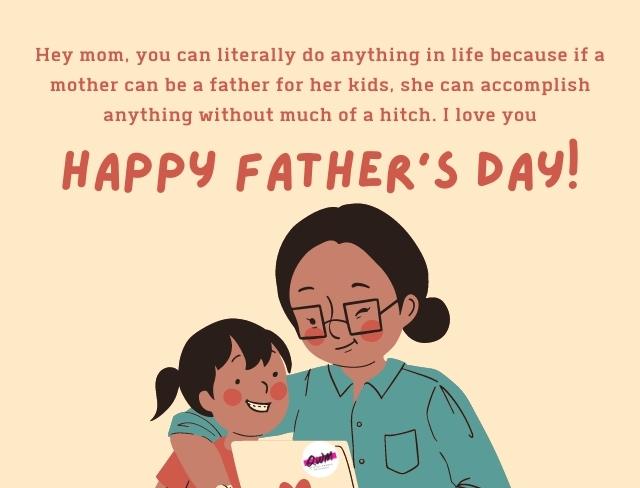 Dear mother, you have always been the perpetual source of love and inspiration. I barely knew you can play the part of a father so eloquently and compassionately. You are my everything. Happy fathers day mom!
Also see: Happy Fathers Day Images 2022
Hey mom, you can literally do anything in life because if a mother can be a father for her kids, she can accomplish anything without much of a hitch. I love you and happy fathers day mother!
Also see: Inspirational Happy Fathers Day Poems
It must have been difficult for you to fill up the shoes of your husband but you have aced the job. I can see the reflection of my father in you. Wishing happy mothers day to my beautiful single mom!
Also see: Heart Touching Fathers Day Quotes
I am more than blessed and grateful to God for giving me a mother who nurtures me better than a man. Also, dad must be so proud of you and bless all of us from heaven. Happy fathers day single mom!
Also see: Fathers Day Quotes From Daughter
With all the love and affection in my heart, I am pleased to extend the warmest fathers day wishes to my super strong single mom. Your dedication and tenacity to give me the best life despite not having any support are commendable!
Also see: Emotional Fathers Day Quotes from Son
They say no one can fulfill the dearth of a father. I say, my mother has fulfilled the lack of everything in my life and I am grateful to her. Sending heaps of fathers day wishes to my mom with oodles of love and hugs.
Also see: Happy Fathers Day in Heaven Dad Quotes
Happy fathers day to super mom who did an awesome job of raising a fatherless kid in the best possible way. I love you to the moon and back and I will make you proud one day.
Also see: Happy Fathers Day GIF 2022
To all the single moms out there, don't listen to what other people say. Keep doing the brilliant parenting job and stay super strong. Happy fathers day to all single moms!
Also see: Funny Father Day Messages
Mother, you truly are an exceptional and extraordinary being as you can manage everything without breaking a sweat. You never complain, you never demand. Happy fathers day mom!
Also see: Happy Fathers Day Captions Instagram
Any woman can be a mom but it takes a truly formidable and sassy woman to become the father of kids as well. I am glad mother that you are my father as well. I love you and happy fathers day to the best mom ever!
Also see: Happy Fathers Day Cliparts 2022
Dear mom, thank you to the moon and back for being my mother as well as my father. I do miss father but you cover up so well that I never feel the dearth of fatherly love and support. Happy fathers day to my mom!
Also see: Happy Fathers Day Wishes for a Friend
Dear mom, I am sorry that my father couldn't handle his responsibilities well and you have to manage everything. One day when I will become successful I will give you all the comfort and luxuries of the world. I love you and happy fathers day mom!
Also see: Father's Day Bible Verses 2022
Mom, I have to say that you are the strongest and the most gritty woman I have ever seen. You do it all by yourself yet you never complain. I am in awe of you and I wish god's grace always be with you. Wishing happy fathers day to my single mom!
Also see: Happy Father's Day 2022 Wishes