To give your more power to get over from the mid-week crisis, we bring you a thumping selection of happy Wednesday quotes, funny Wednesday quotes, Good Morning Wednesday wishes, hump day greetings and messages, happy Wednesday images, and happy Wednesday GIFs. Wednesday, the mid-day of every week and perhaps the most daunting day to pass for those who eagerly wait for the weekend to arrive. Some say, Wednesday is the ugly sister of Monday, while others say, Wednesday is one more opportunity to wrap up the essential work before the weekend so that they get to enjoy it freely with friends and the family.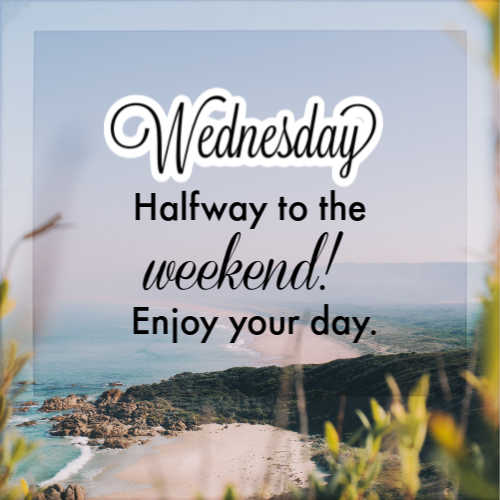 If you are a working professional who busts their butt off every single day in the office, passing Wednesday for you be like walking on a path full of a raging fire. As Wednesday is mid-day of the week, every working individual has the happiness of passing Monday and Tuesday, and the utter desperation to welcome the weekend asap. In our opinion, we should make every single day as productive as possible to make the gift of life fruitful and without any regrets. Peek into our enthralling selection of Good Morning Wednesday quotes, happy Wednesday images, and Happy Wednesday GIFs that we have created exclusively for our users who look for intense inspiration on Wednesday.
Happy Wednesday Quotes | Good Morning Wednesday Quotes with Images
Wednesdays are more like Mondays but stuck in the middle of the week.
If you have the courage to pass Wednesday at the office without dropping a tear, you can bear any excruciating pain in life. Happy Wednesday!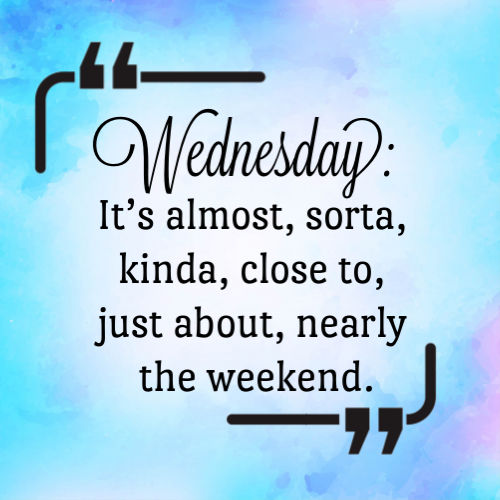 Wives love Wednesday as it is the sign of the weekend's arrival, and they get one more reason to spend their husbands' money. Happy Wednesday morning!
You get what you work for not what you wish. You are one hundred percent accountable for the stuff happen in your life. And, Wednesday is worth celebrating like weekends!
Life and nature give a similar amount of resources and potential to everyone. It's up to you where and how you utilize your potential to achieve meaningful goals that benefit society. Happy Wednesday!
Also see: Good Morning Wishes and Messages
Wednesday is all about reminding yourself to buck up for the weekend celebration.
You don't fail in life. You either win or gather experiences. I wish you a happy Wednesday!
Wednesday is the less beautiful but pretty elder sister of the Friday. Happy Wednesday!
Your thoughts become things. If you think you can become a legend, you surely can. Just enter the seed in your subconscious mind.
When writing the beautiful story of your life, don't let anyone control the pen. Be the master of your destiny. Happy Wednesday!
Also check: Good Morning Pictures Free Download
Funny Happy Wednesday Quotes | Witty Wednesday Quotes
If Monday gives us wounds of Monday blues, Wednesday does the job of healing them.
Out of all the days of the weekend, Wednesday is the most balanced one. A perfect blend of frolic and sad emotions.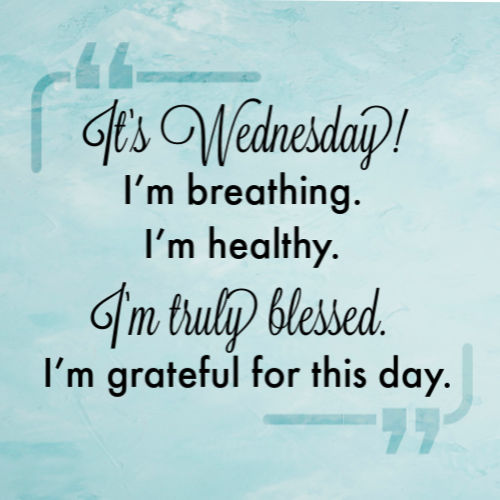 A good attitude is contagious and a great smile is a universal symbol of hope. Happy Wednesday!
If the arrival of the Wednesday makes you happy, trust us, you have started loving life.
Just keep calm, put your hands on heart and say happy Wednesday!
When you can conquer Monday blues, Wednesdays seem like a little game. Stay strong and welcome Wednesday like a pro!
May your Wednesday be filled with endless joy, happiness, and a lot of cupcakes to eat. Happy Wednesday buddies!
Wednesday is one of the best days to rectify the mistakes you made on Monday.
If coffee is the best antidote of Monday blues, Hard work on Wednesday is the best antidote to mid-week crisis. Happy Wednesday!
Wednesday is half ugly and half beautiful. One side of the coin is you have successfully passed two days of the week. Another side is, you have yet to pass two more days before the weekend arrives.
Also see: Romantic Good Morning Love Messages
Happy Wednesday Motivational Quotes | Inspirational Wednesday Quotes
Either you allow the day to run you or you are daring enough to run the day.
The road to success is filled with a lot of impediments. Those impediments are necessary for your growth and for the test of your character.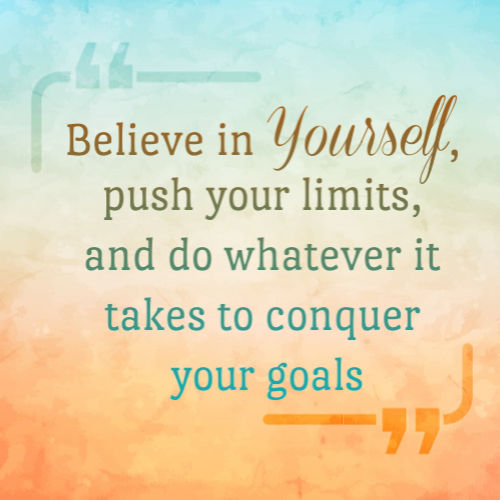 Like a dainty and tiny seed grows up into a full-fledged tree, a small positive thought in your mind can turn into a beautiful reality provided you have faith.
All-natural growth in life comes effortlessly. If you try to achieve the success forcefully or unnaturally, all you will receive is sheer distraught. Happy Wednesday!
Your future utterly and thoroughly depends on the activities and hard work you do in the present.
Never worry about the height of mountains to be climbed. Just focus on one step at a time and the success will surely kiss your boots.
The ability to inspire the needy ones is the biggest skill an individual can have. Whenever you get an opportunity to inspire others, never miss it.
The more you believe in luck, the farther you will get from the success that requires sheer hard work.
Indeed, the first couple of steps towards greatness are always the hardest. Keep moving, keep growing!
An expert was once an amateur, a professional was once a beginner, and a master was once a student.
Also see: Good Morning Paragraphs For Him
Happy Wednesday Wishes & Messages | Good Morning Wednesday Quotes
Good morning and happy Wednesday my friends! May you have a stupendous day ahead.
May the almighty shower bountiful joy, happiness, and wealth in your life. Happy good morning Wednesday everyone!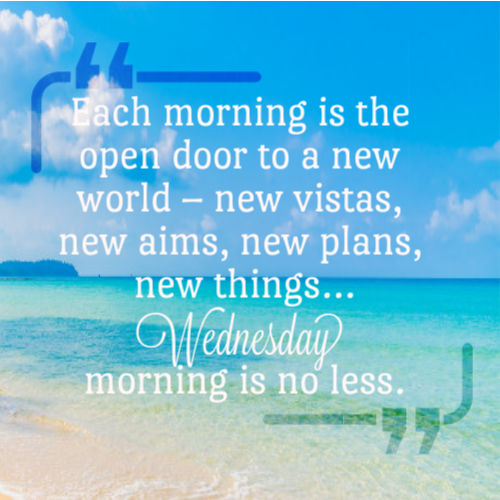 When you will surrender completely to existence, God will appear and show you the right path. Happy good morning Wednesday!
Only a positive mindset can help you to come out of the clouds of darkness. Have faith in yourself. Happy Wednesday morning!
Your life is the sum total of all the experiences you have, all the deeds you did, and all the thoughts you produced in mind. Happy Wednesday!
Blessed are those who can easily see the beauty in everything. Have a happy Wednesday!
Ask and you will get. This is the law of attraction and as well as nature. Keep asking the right thing for the betterment of humanity.
Hey baby, it's my heartfelt desire to see your smile face every day when I wake up. Happy Wednesday!
The ultimate purpose of life is to take necessary actions at the right time and always stand by the side of truth. Happy Wednesday morning!
Every day of this life seems worth-living and savoring when you have a loving family, good friends, and good books. Good morning Wednesday!
Also see: Good Morning Paragraphs For Her
Spiritual Wednesday Quotes | Wednesday Wisdom Quotes
When you wait for Wednesday as eagerly you wait for Monday, you may have found your passion in your work. Have a happy Wednesday morning!
Inspiration and hard work are connected to each other in a subtle way. The more inspiration you get, the harder you work and vice-versa.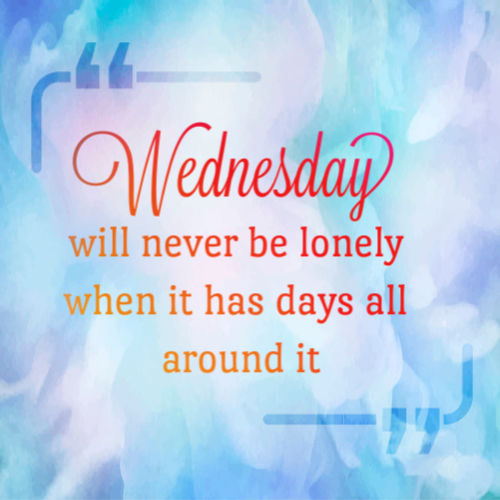 You have surely heard and seen Monday, Tuesday, Wednesday, Thursday, Friday, Saturday, and Sunday. But you will never see someday.
The secret of getting ahead of your competition is working even when he is sleeping. Outclass competition with your work.
Undivided focus is the first step towards greatness in life. Whatever you do in life, do it with utmost focus and attention.
The best way to achieve earth-shattering success tomorrow is start doing profound hard work today. Happy Wednesday!
Challenges in life are what keep us alive and aware. Even a straight line on ECG machines means we are dead.
Each day, life opens up millions little windows of opportunities. Our destiny is ultimately defined by how we respond to them.
A random and selfless act of kindness has power to alter the world by leaps and bounds.
Success is and never will be accidental. It is the sum total of crystal clear vision, ridiculous amount of hard work, and no worries of result.
Also see: 250+ Life-Changing Good Morning Quotes
Wednesday Quote Of The Day
It could be that your four days go dull but try to make your rest of the days inspiring. And it is only upto you. Have a blasting Wednesday!
Love always comes in your life. It is upto you when you hold it forever. Wishing you happy Wednesday!
Not hard work or not smart work is the key to success while it is working only that makes you reach your destination. Have awesome Wednesday!
Madness makes life memorable. Don't just sit on couch every time. Have a blasting Wednesday!
The memories of love are more cherishing than being in love. Make your Wednesday memorable!
Rather than lovely moments in love, you remember pain the most. It is what makes your love unforgotten. Wishing you happy Wednesday!
Hope in love is what makes love worth falling in again and again. Have a romantic Wednesday!
The key to success is not that hard. It is only "Doing". Doing what you love. Make your Wednesday unforgettable!
The real courage is only tested when you confess your love to your lover. Have a happy Wednesday!
Strength is not the matter of strong biceps and triceps. It is just in your heart there or not. Have a workout Wednesday!
You earn money not because you want to live while you want to enjoy. Wishing happy Wednesday!
There are all possibilities of doing everything in this world. You just need to have belief. Have believing Wednesday!
You can do everything. First you need to say it from your mouth and then later you have to do it with your hands. Have a dignified Wednesday!
You must remember this life is never coming back. Wishing you thoughtful Wednesday!
Love happens most of the time with most of the people. But you have it real for only with some. Have lovely Wednesday!
Also see: Romantic Good Morning Messages For Girlfriend
Happy Wednesday Motivation Messages
Consider life a game. You have missions and you have to complete them all. Have happy Wednesday!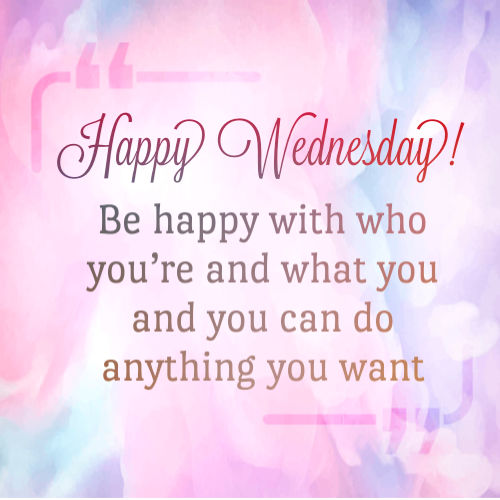 Easily things are easily forgotten. It is always difficult that is worth remembering. Happy Wednesday!
You must have confidence. Otherwise everything is futile. Have confident Wednesday!
Greatest and most lethal weapon is not outside. It is your mind. You control it. You win everything. Have blasting Wednesday!
There are more colors in life. Don't just chase one. Have colorful Wednesday!
Don't kill yourself with depression and unnecessary anxieties. Sweat it out, exercise more and get built. Happy pumping Wednesday!
Have a feeling of nothingness in your life. And you can only have it when you have everything. So have everything. Wishing you wealthy Wednesday!
You just keep walking towards your destination. The ones who want to come with you will be with you. Happy Wednesday!
When you enhance yourself with all the knowledge, then all the beauty with you. Have knowledgeful Wednesday!
Don't be so emotional wreck before everyone. Not everybody cares for you. Wishing you happy Wednesday!
When you have your dream car, when you have your dream house, when you have your dream career; then no worry could touch you. Wishing happy Wednesday!
Money though not everything. But yes, money is everything. Make your Wednesday wealthy!
Elegance is the only beauty that ever lasts. Have elegant Wednesday!
Patience and positivity are not the requirements. These are necessary. Happy Wednesday!
Most destructive weapon is not uranium atom bomb. It is boringness. Make your Wednesday count!
Also see: Romantic Good Morning Messages For Boyfriend
Happy Wednesday Quotes to Inspire Hard Work
The one and only way to produce remarkable and top of the line work is to keep doing what you love or do what you can do the best. Happy Wednesday!
One unique and rare trait in all the great leaders is they keep doing what is necessary for growth. It has nothing to do with motivation and mood. Good morning Wednesday!
There is no shame at all in failing multiple times. But it is absolutely disgraceful to not try at least once. Good morning and have a blissful Wednesday!
There is only one substitute for hard work – more hard work. It never goes in vain. Happy Wednesday fellas!
The more you work for others' dreams, the more you will get far away from your dreams. Now is the best time to begin working on your dreams. Happy Wednesday!
Criticism cannot be handled by those individuals who have doubt on themselves. Happy Wednesday!
You don't need a Wednesday or any other day of the week to change your life. All you need are the right mindset and unwavering will power to change your destiny. Have an awesome Wednesday!
Dreaming about your goals is the first necessary step towards turning them into reality. Happy Wednesday!
Sometimes, you have to go beyond practicality and reasons. Sometimes, you have to take a leap of faith to do the impossible. May you have a productive Wednesday!
Always be like a swan. On the surface, it seems like a swan is making no efforts to move but it moves swiftly. Inside, the swan is making the utmost efforts without anyone's knowledge. Happy Wednesday!
It doesn't matter at what pace you move towards your dreams. What matters is you must keep moving regardless of the obstructions.
You must never leave a thing to chance when you care about it the most. Yes, we are talking about your dreams. Happy Wednesday!
The accumulation of knowledge is a sheer waste of time and energy unless you know how to use it and benefit others. Good morning Wednesday!
Achieving your goals is absolutely a scientific process. There is no magic or luck behind it. Investment your time in learning the process and you will find no goal daunting to achieve. Happy Wednesday!
You don't have to work hard more than your rivals. You just have to do things that your rivals are not willing to do. Happy Wednesday fellas!
Also see: Romantic Good Morning Messages For Wife
Wednesday Hump Day Quotes
You are inhaling the fresh air and expressing gratitude towards life. What a fine day to be alive and work hard. Happy hump Wednesday!
Don't focus on how long will it takes to reach your goal. Focus on working towards your goals relentlessly. That's how champions are born. Happy Wednesday buddy!
What else you want in life when you are in absolute in charge of your life? Happy hump day!
There is no point in keeping calm when you entered hump day. Because hump day is gruesome. Happy Wednesday!
Only the masters know that the best way to live a serene and blissful life is to flow according to it. Never rush. Happy hump day!
Let Wednesday hump day be the most inspirational day of your week. Good morning Wednesday fellas!
The only way to deal with not so happening hump day is by throwing an electrifying smile to everyone. Happy hump Wednesday!
The rock-solid foundation for any gigantic plan is ferocious actions. Happy Wednesday!
Yes, the world is a horrendous place to live and people are meaner than ever. However, your one random act of kindness still can change everything. Happy hump day to everyone!
Only a calm and uncontaminated mind have the power to fill the world with the utmost positive vibes and inspiration. Happy Wednesday!
When nothing works, a leap of faith is what works the best. Have a stunning Wednesday!
The biggest loss in life is breaking someone's trust. Let trust be the basis of your life. Happy Wednesday!
Success is not the compilation of the most luxurious things. It is the unleashing of your full potential. Have an awesome Wednesday.
Also see: Sweet Good Morning Messages For Husband
Best Happy Wednesday Images | Wednesday Greeting Photos, & Pictures Download
An image shouts louder than words. We live in an age where people prefer to watch things more than reading. The same goes for sending happy Wednesday quotes to your loved ones. There is a higher probability that people will see your video and image-based messages more than textual messages. So, why don't you stick to the trend and send your near and dear ones happy Wednesday images and beautiful happy Wednesday pictures in HD that make the Wednesday morning truly a mesmerizing one?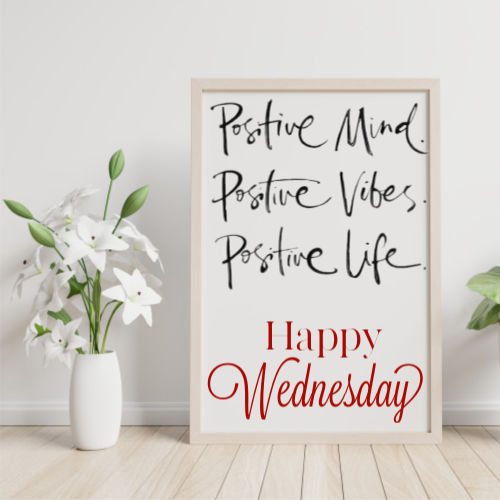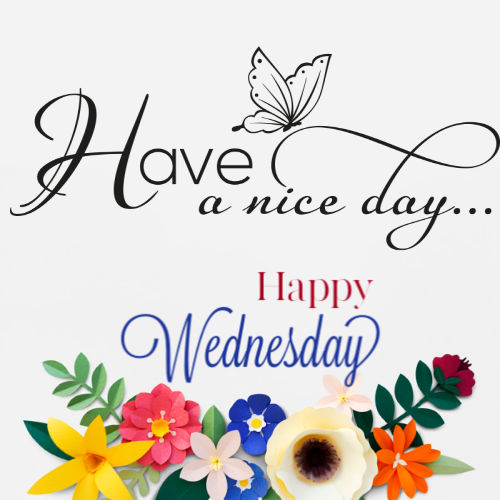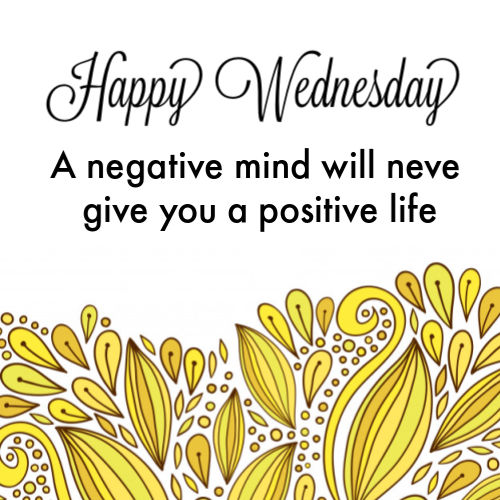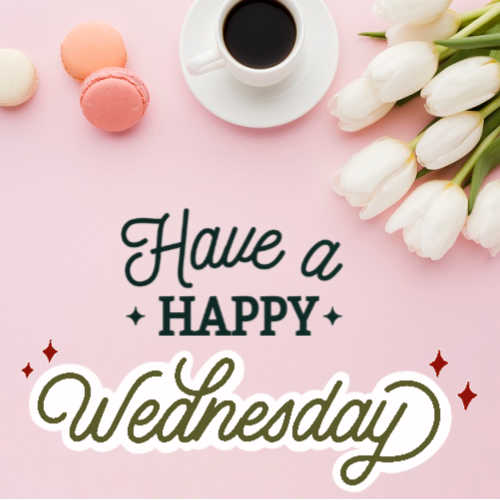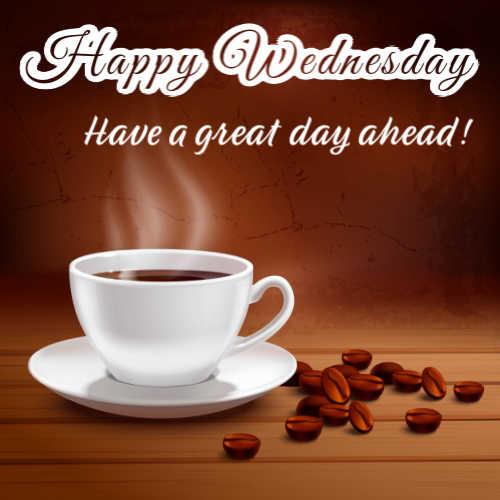 Also see: Good Morning Memes
Don't take the hassle of finding happy Wednesday images in HD as QWM has already jotted a stellar selection of free happy Wednesday morning images quotes and happy Wednesday images wishes that are full of energy and high enthusiasm. Every Wednesday, you can download a new good morning Wednesday image from here and share that in your social circle to make your closes one's morning refreshing and cheerful. Download the most pristine happy Wednesday images for Facebook, Instagram, and Whatsapp right here.
Happy Wednesday GIFs | Good Morning Animated Wednesday Images
Do you want to take your good morning Wednesday wishes a step higher? Do you want your happy Wednesday messages so alluring and inspiring that your loved ones eagerly wait for your happy Wednesday wishes to blink on their mobile screes on every Wednesday? If the answer is a big fat yes, we have got you covered. Do make some time to check out our heartfelt and vivacious selection of happy Wednesday GIFs or animated good morning Wednesday images that we have created by putting our creative skills to test.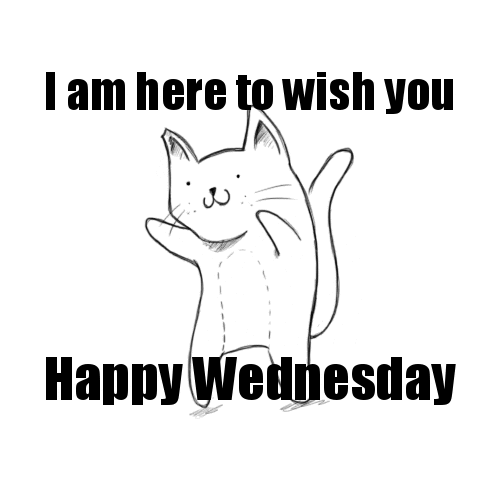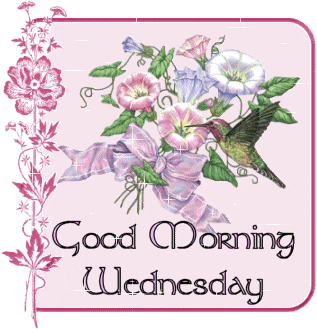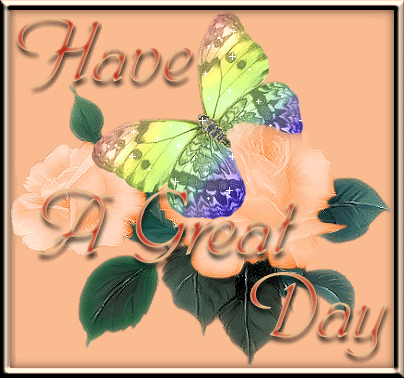 Also see: 151+ Frisky Good Morning Status
Just to make sure you don't send same age-old boring happy Wednesday quotes and wishes to your near and dear ones, we though to created a startling and the never seen before selection of happy Wednesday GIFs that can spice your Wednesday morning wish and make it stand apart from the rest. All the below stated Wednesday Good Morning GIFs are royalty-free and can be used as per your preference. Furthermore, to help out our users, we have created happy Wednesday GIFs in varied sizes and messages. Download the best one and make others Wednesday morning a beautiful affair.