Emotional love quotes: How love can be without emotions? How this love relationship can be without emotions? It can't be. Hence for all those love birds who are in love and who has settled into it, here are some of the best emotional love quotes that you can share with your beau or you can share for others who are in love.
When you are in love, it gives courage. It gives a confidence that you can do anything. At this time you are in the state of that ecstasy where you want to live forever. Love weaves you forever, and true love never goes off from your heart whether you get it or not. It is always there. But we hope you may find your true love. But still you can share these warm heart touching emotional love quotes that take you to another level.
Heart Touching Emotional Love Quotes
"Love takes off masks that we fear we cannot live without and know we cannot live within."— James Baldwin
"If you were to love, love not for the lust that you yearn but the rather the pain that you earn with it." ― Adhish Mazumder
"You have found true love when you realize that you want to wake up beside your love every morning even when you have your differences." – Unknown
"Some people don't attend funeral not because they don't want to but they are not emotionally strong to see anybody GO." ― Neeraj Bhanot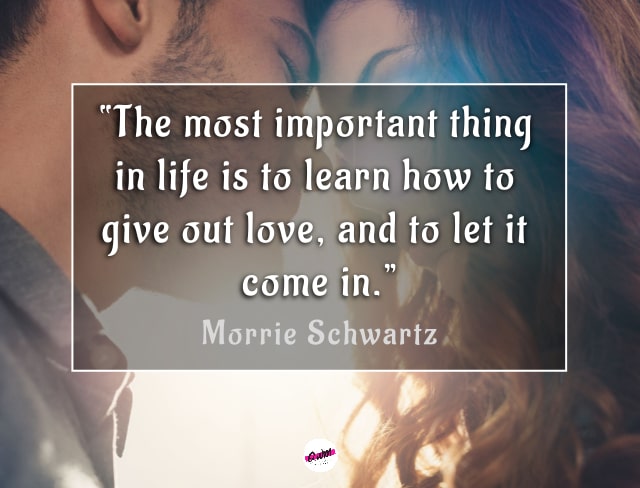 We are most alive when we're in love. – John Updike
"Love yourself first and everything else falls into line. You really have to love yourself to get anything done in this world."— Lucille Ball
"His thoughts are unfathomable & her emotions are all over the place. Oh! The tragedy of Love." ― Ankita Singhal
She was made of a magic, that only I could see. – Atticus
To live is the rarest thing in the world. Most people exist, that is all. – Oscar Wilde
"I love you and that's the beginning and end of everything." – F. Scott Fitzgerald
"To be honest with one's emotions is a thousand times better than to silent about what one doesn't feel." ― Aporva Kala
Face the facts of being what you are, for that, is what changes what you are. – Soren Kierkegaard
"The most important thing in life is to learn how to give out love, and to let it come in." — Morrie Schwartz
"We have to allow ourselves to feel it in order to heal it." ― Sam Owen
The secret of being happy is accepting where you are in life and making the most out of every day. – Unknown
"My six-word love story: I can't imagine life without you." – Anonymous
"The line "too much love will kill you" is not true. It's not too much love that kills, but the lack of its reciprocity." ― Nelson M. Lubao
So many memories we have shared together makes it difficult for me to forget you.
"You are the last thought in my mind before I drift off to sleep and the first thought when I wake up each morning." – Unknown
"Wipe those tears, as they have cleansed your soul." ― Sharlene Leong
There is always some madness in love. But there is also always some reason for madness.
"To the world you may be one person, but to one person you are the world." – Bill Wilson
Love is a matter of a circle, not of a heart because hearts could break but a circle goes on forever.
"Time changes everything except something within us which is always surprised by change." ― Thomas Hardy.
"I love you not only for what you are, but for what I am when I am with you." – Roy Croft
Don't believe when somebody tells you about love. Words mean nothing. Look at what this person does for you.
"You can never cross the ocean until you have the courage to lose sight of the shore." ― Christopher Columbus
"Everywhere I look I am reminded of your love. You are my world." – Unknown
Also see: Romantic One Liner Love Quotes
Deep Love Quotes for Her & Him
I can feel my heart alive and beating even though coldness and darkness have invaded it.
"Fortune does favor the bold, and I promise that you will never know what you're capable of unless you try." — Sheryl Sandberg.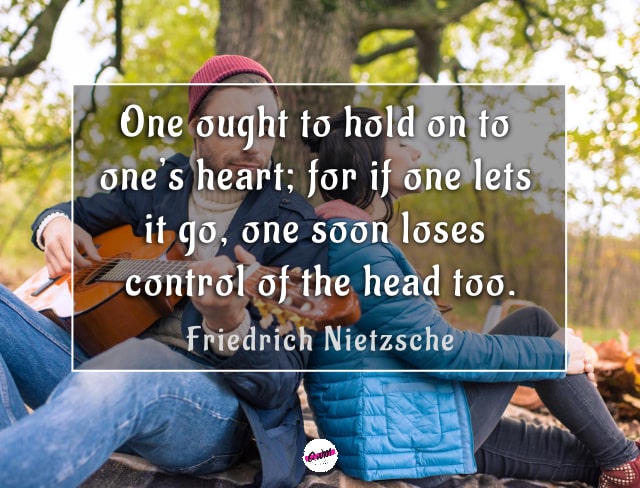 "You are every reason, every hope and every dream I've ever had." – Nicolas Sparks
One ought to hold on to one's heart; for if one lets it go, one soon loses control of the head too. – Friedrich Nietzsche
"Don't hold to anger, hurt or pain. They steal your energy and keep you from love." ― Leo Buscaglia.
"Love is not about how many days, weeks or months you've been together, it's all about how much you love each other every day." – Unknown
Don't fall in love with the appearance: it can change through time and circumstances. Fall in love with rational thoughts, sincere hearts, and deep souls: they will not betray you.
"The two most important days in your life are the day you are born and the day you find out why." — Mark Twain
"When we are in love we seem to ourselves quite different from what we were before."— Blaise Pascal
You may let yourself believe that you are ready to die, but all you want is to be saved.
"You grow up the day you have your first real laugh at yourself." ― Ethel Barrymore
"The way to love anything is to realize that it may be lost."— Gilbert K. Chesterton
I think the perfection of love is that it's not perfect. – Taylor Swift
"Life has meaning only if one barters it day by day for something other than itself." ― Antoine de Saint-Exupéry
"You are my paradise and I would happily get stranded on you for a lifetime." – Unknown
Love is, in fact, an intensification of life, completeness, a fullness, a wholeness of life.
"Life is not measured by the number of breaths we take, but by the moments that take our breath away." ― Maya Angelou
"People cry, not because they're weak. It's because they've been strong for too long." ― Johnny Depp
"Love is of all passions the strongest, for it attacks simultaneously the head, the heart, and the senses."— Lao Tzu
As a woman, I use emotions more and reserve my reason for a greater purpose.
"Close your eyes, take your time and listen. What does your heart say?" ― Maxime Lagacé
"My heart is perfect because you are in it."– Unknown
To love deeply in one direction makes us more loving in all others.
"Life is like a coin. You can spend it any way you wish, but you only spend it once." ― Lillian Dickson
"You know it's love when all you want is that person to be happy, even if you're not part of their happiness." — Julia Roberts
"Be beautiful if you can, wise if you want to, but be respected – that is essential." ― Anna Gould
"In this crazy world, full of change and chaos, there is one thing of which I am certain, one thing which does not change: my love for you." – Unknown
"Being deeply loved by someone gives you strength, while loving someone deeply gives you courage." ― Lao Tzu.
"If I did anything right in my life it was when I gave my heart to you." – Unknown
Also see: First Love Quotes
Beautiful Emotional Love Quotes that will bring you both closer
"One day you will kiss a man you can't breathe without, and find that breath is of little consequence." ― Karen Marie Moning, 'Bloodfever'.
"The best and most beautiful things in this world cannot be seen or even heard, but must be felt with the heart." — Helen Keller
"Love is that condition in which the happiness of another person is essential to your own." — Robert A. Heinlein.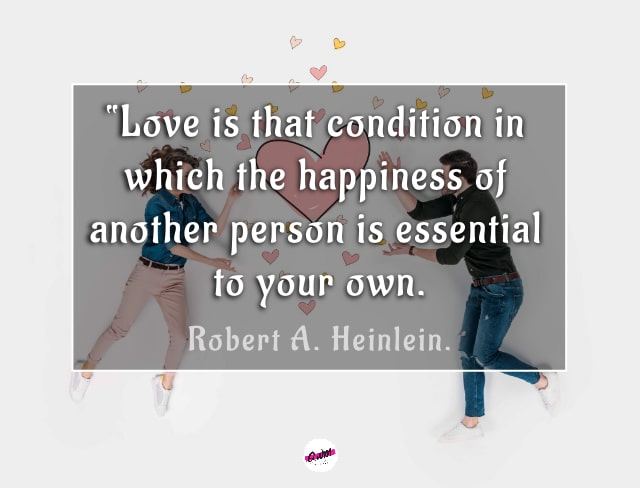 "Keep love in your heart. A life without it is like a sunless garden when the flowers are dead." — Oscar Wilde
"Love has nothing to do with what you are expecting to get–only with what you are expecting to give–which is everything." ― Katharine Hepburn
"Thank you for going on this journey through life with me. There is nobody else who I would want by my side but you my angel." – Unknown
"Love is composed of a single soul inhabiting two bodies." ― Aristotle
"I'll never ask you to change for me because you are perfect just the way you are." – Unknown
"For it was not into my ear you whispered, but into my heart. It was not my lips you kissed, but my soul." ― Judy Garland
"The only thing we never get enough of is love; and the only thing we never give enough of is love." — Henry Miller
"Love is when he gives you a piece of your soul, that you never knew was missing." ―Torquato Tasso
"And then my soul saw you and it kind of went, "Oh, there you are. I've been looking all over for you." – Unknown
"Nobody has ever measured, not even poets, how much the heart can hold." ― Zelda Fitzgerald
"Together with you is my favorite place to be." – Unknown
"A kiss makes the heart young again and wipes out the years." ― Rupert Brooke
"I still fall in love with you every day!" – Unknown
"If you live to be a hundred, I want to live to be a hundred minus one day so I never have to live without you." ― A. A. Milne
"You know you're in love when you don't want to fall asleep because reality is finally better than your dreams." — Dr. Seuss
"The love that lasts the longest is the love that is never returned." ― William Somerset Maugham
"To be your friend was all I ever wanted; to be your lover was all I ever dreamed." – Valerie Lombardo
"Love is our true destiny. We do not find meaning of life by ourselves alone – we find it with another." ― Thomas Merton
"A flower cannot blossom without sunshine, and man cannot live without love." – Max Muller
"Love takes off masks that we fear we cannot live without and know we cannot live within." — James Baldwin
"I love you without knowing how, or when, or from where. I love you simply, without problems or pride." – Pablo Neruda
"Love will find a way through paths where wolves fear to prey." — Lord Byron
"If I had to dream up the perfect woman, she wouldn't even come close to you." ­– Boy Meets World
"My love for you is past the mind, beyond my heart, and into my soul." – Boris Kodjoe
"Love is never lost. If not reciprocated, it will flow back and soften and purify the heart." ― Washington Irving
"There is nothing so mortifying as to fall in love with someone who does not share one's sentiments." — Georgette Heyer, 'Venetia'
"I love you right up to the moon—and back." – Sam McBratney
I don't need paradise because I found you. I don't need dreams because I already have you. – Unknown
"I love that feeling of being in love, the effect of having butterflies when you wake up in the morning. That is special." ― Jennifer Aniston
"We love because it's the only true adventure." — Nikki Giovanni
"My heart is and always will be yours." – Jane Austen
It was the way you laughed, I knew I wanted that in my life. – R. M. Drake
"Love looks not with the eyes, but with the mind, and therefore is winged Cupid painted blind." ― William Shakespeare
"Love is supposed to be based on trust, and trust on love, it's something rare and beautiful when people can confide in each other without fearing what the other person will think." ― E.A. Bucchianeri
"If I had a flower for every time I thought of you… I could walk through my garden forever." — Alfred Tennyson
"A truly sensual woman is the kind of woman only a man with a deep soul can intoxicate and satiate." ― Lebo Grand
"Love is something sent from heaven to worry the hell out of you." — Dolly Parton
Love grows by giving. The love we give away is the only love we keep. The only way to retain love is to give it away. – Elbert Hubbard
"I'm not sentimental–I'm as romantic as you are. The idea, you know, is that the sentimental person thinks things will last." — F. Scott Fitzgerald
There can be no deep disappointment where there is not deep love. – Martin Luther King, Jr.
"Love asks me no questions, and gives me endless support." – William Shakespeare
"The beautiful thing about love is that you just need to plant it once and nurture it and it shall bloom into blossoms that would cover the valleys." – Hermann J. Steinherr
Love is progression and then it is regression. The line exactly said by F. Scott Fitzgerald. For you what love is it depends on you and how you perceive it. It is always a different experience. Everyone must have felt this unforgettable experience of love. Then you must also go through these above written emotional love quotes too which also take you back into the lanes of your love. Science has said that love slows the progress of success in human's life. Somewhere it could be true. Love is a poppy flower eating which it is hard to come out. You get into slumber. But on the other hand life is about living every experience. In the path of love don't be cautious while follow your heart and tread confidently. From love you would always get out something that would always benefit you if you take it positively. So my friends, fall in love but don't fall so deep that you can't come out!
You May Also Like: