Thanksgiving Phrases
Although Thanksgiving comes every year but not the people with it. Giving thanks to them give you relax and bring you peace. Thank you, you must say it rather than waiting when to.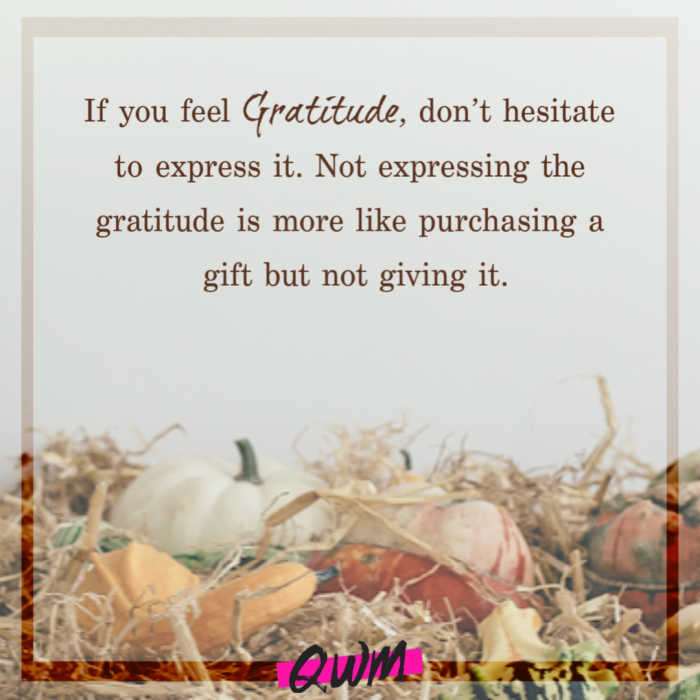 Thanks for the feast you have. The family you have. The happiness you have. And thanks to those also with whom you are sharing, and the ones who are sharing with you.
Saying thanks are good karma. Whether you say it on Thanksgiving or any other day.
All that you have is because of His, the Great God's will. He has given you virtues like compassions, kindness and mercy not to store in your mind, while to express it for someone.
Don't complain about the quality of food you are eating on Thanksgiving. Even someone could only think about it.
Not feeling joyous in your life, then share. Share your food with someone and you see happiness starts to flow. That's why Thanksgiving is.
Sharing is parallel to courage. There is no parallel to Thanksgiving.
Having and doing party with strangers is the real fun. Thanksgiving is the opportunity.
Don't count wealth in money. Count it, that you have great people in your life who can make you happy whenever they see you sad. Celebrate them with whatever you have.
You see beautiful rivers flowing. You see beautiful birds singing. You see a vast sky. You have great fields to wander. You have big mysterious mountains to visit. Don't you think it is enough for gratitude the God merciful has shown.
Well cooked turkey, pumpkins and apple pies, breads, butter and buns, sauces and soups. Happy Thanksgiving and thank you.
Love sometimes doesn't come the way you expect it. It has its timing. But if it has touched you for real, then you must be thankful for it.
The luxury is the bite of food you are getting. Don't expect it in fanciful plates.
Ask someone to dine with you. It makes your day or it makes their day.
It is Thanksgiving and you knock on someone's door and request them to invite you for the feast while you are completely stranger for them; it is guarantee they would never refuse.
It is sharing of food and gratitude not only with humans while with animals too. Say thanks to everyone who is with you in any way. Fulfill the purpose of Thanksgiving.
Don't count the days and nights. Count, that how many times you have said thanks. More thanks means more blessings.
You must never have the hunger of love in your life. Make sure you must be full of it. And increase it more on Thanksgiving by inviting your friends.
Pray for all whom you love. Pray for all who don't love you but you love them. This is the real message and sprit of Thanksgiving.
If you have a bowl and soup in it and you have your dog with you and you are eating with him. It is Thanksgiving.
Also see: Thanksgiving Messages For Business
Thanksgiving Quotes for Teacher and School
Thank you to all my teachers who have shaped me. I wish you Thanksgiving and prosperous life.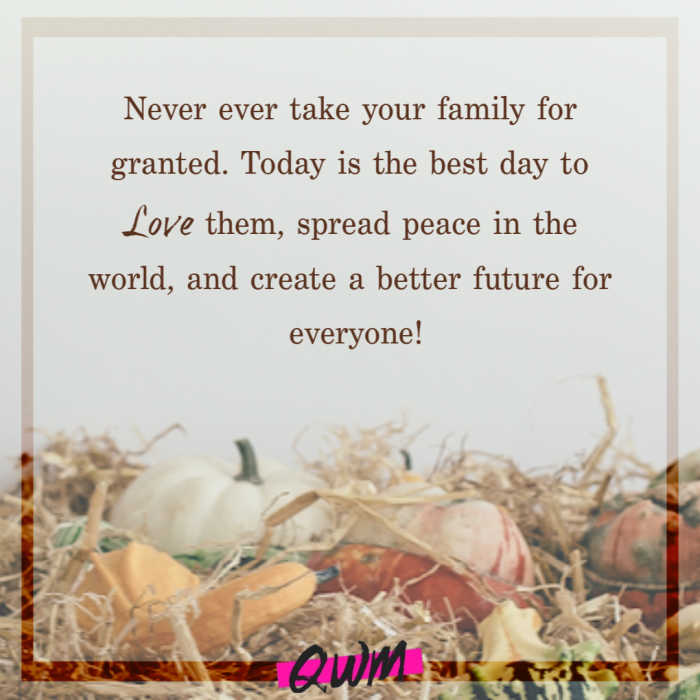 You don't need any reason to say thank you to your teachers. Say it thousands time. Happy Thanksgiving!
School is your second home. Most of your childhood time we all have spent there. Happy Thanksgiving to all my school friends, teacher and school!
Teacher is only the person who is above than God. Bow down to him. Happy Thanksgiving to my teachers!
The one who involves with you is only the real teacher. Happy Thanksgiving!
Your parents must have given you a pen for writing. But it is teacher who has taught you how to write with it. Wishing happiest Thanksgiving!
You must give equal respect to your teachers and parents. Otherwise, there are none worthy of it. Happy Thanksgiving!
You never ever forget your classroom and your class teacher. Wishing happiest Thanksgiving to my school and class teachers!
In schools, recess was our best hangout time and the time when we used to wait for leaving the school in the last period. Happy Thanksgiving teachers!
We used to celebrate Thanksgiving all the time in school when we used to share our lunch altogether. Happy Thanksgiving!
The real sharing of anything stars in schools. Wishing all my schools and teacher happy Thanksgiving!
You remember that teacher who never smiled at you. Always strict and mannered. That is one of the best teachers who wanted you to grow in your life and become successful. Happy Thanksgiving!
School is the foreground of life. Happy Thanksgiving to everyone!
All the games that get played in your life you first play in your schools. You must be grateful for it. Wishing my teachers happy Thanksgiving!
The first Thanksgiving prayer you must have said in your school when you might not understand what it means. Wishing loveliest Thanksgiving!
School time would never be coming, and not the time when someone has helped you. Hence say thanks now. Happy Thanksgiving!
Those vacant periods of school time are never going to come back. The best time enjoyed. Happy Thanksgiving to my strict and good teachers!
The first 'thankyou', almost everyone has said to their teacher. The foundation of Thanksgiving.
Home, school and teachers; you learn almost everything from them. Thankful to my teacher and wishing each one of them happy Thanksgiving!
We are all truly thankful to our teachers and schools. Happy Thanksgiving to my whole school!
Also see: Thanksgiving Message For Colleagues
Happy Thanksgiving 2023 Quotes from Movies
Dear Lord, we realize that lately, everything's been changing too damn fast. And all sorts of things are always the same, even if we hate it — like shoveling the turkey and stuffing the snow. – Home For the Holidays
"Those early Pilgrims were thankful for what had happened to them, and we should be thankful, too. We should just be thankful for being together. I think that's what they mean by 'Thanksgiving.'"— Charlie Brown
"You're gonna give someone a perfect Thanksgiving, you gotta cook a nice, moist turkey. And I did. Well, me and a little friend I like to call the aluminum foil tent." — Will
Eat us! Hey, it's Thanksgiving day. Eat us! We make a nice buffet. We lost the race with Farmer Ed. Eat us, 'cause we're good and dead. – Addams Family Values
"I'm sorry. Did you just say Canadian Thanksgiving was and I'm quoting "The Real Thanksgiving"? What do Canadians even have to celebrate about?"—Barney
Oh, I should be thankful for the wonderful fall we've been having. I remember one day I was at the bus stop and this cool fall breeze came blowing out of … Oh. And I'm also thankful for thongs. – Friends
"My father was a stern man. He forbade us to participate in any activities that he thought were associated with the common man. The Thanksgiving Day Parade was first on the list." — Mr. Pitt
Luke Danes: Shouldn't we give thanks first?
Jess Mariano: Thanks for what?
Luke Danes: Well, that we're not Native Americans who got their land stolen in exchange for smallpox infested blankets. Lorelai: Amen.
– Gilmore Girls
"It ain't cool being no jive turkey, so close to Thanksgiving." — Man in Jail Cell
I can't cook a Thanksgiving meal. All I can make is cold cereal and maybe toast. – Charlie Brown
"You know, not many of you kill your own Thanksgiving turkey, but you might want to consider it…" — Radio Show Host
It Wouldn't Be Thanksgiving Without A Little Emotional Scarring. – Friends
"We have to invite your parents. It's like when the Russians boycotted the Olympics. It diminished the whole event." — Debra Barone
Happy Thanksgiving … It's your turn to say Happy Thanksgiving back. – You've Got Mail
"What is that? What am I supposed to be thankful for, exactly? Who am I meant to be thanking, right? I've had to scratch and claw for everything I've got. If anything, I should be thanking myself." —Dennis
"But we have to stay home. Thanksgiving's not Thanksgiving without Frugal Hoosier canned corn, Safeway boxed stuffing, and CVS pumpkin pie." — Sue Heck
"I swear to you, this will be your most memorable Thanksgiving, the one that you'll want the rest of your life. The one that you say 'man, it was never as good as that night.' So let this night be great." — George Simmons
"Do you know what I dream about when I dream about Thanksgiving, which is often? I dream about eating so much deliciousness that all the blood rushes to my stomach and I pass out at the table. Please don't deny me that." — Seth Cohen
"Every year I try and tell you guys that no one really sings Thanksgiving songs." — Bob Belcher
"Well, are you spending Thanksgiving with your family? We have a ramble turkey… Eat all you want." — Leigh Anne Tuohy
"A thought about Thanksgiving Day: Once, there was this day. . . this one day when. . . everyone realized they needed each other." — April Burns
Also See: Bible Verses About Thanksgiving