Silent Love Quotes: You don't need a language to understand love. Love can be understood in silence too. Or perhaps this is the mostly language of love that you can talk in silence too when you are in love. Hence here are some beautiful silent love quotes that may make you fluent in the language of love. But silence isn't all what you need. To whom you love, you have to express it. So say it loud to whom you love and how you love and how much you love.
You don't know when this life would end. And no one knows about it. Everyone's time is limited. You don't chase beautiful faces in love while chase the soulful heart with whom you can spend your life time. The one right person for eternity is enough. Be with that person with whom you can live whatever it goes through.
Silent Love Quotes
Silence has its own language and in that silence he found words within himself; words for her, words for him and words for them. – Faraaz Kazi
At home, I love reaching out into that absolute silence, when you can hear the owl or the wind. – Amanda Harlech
Real love is silent as well as blind. – Stephen King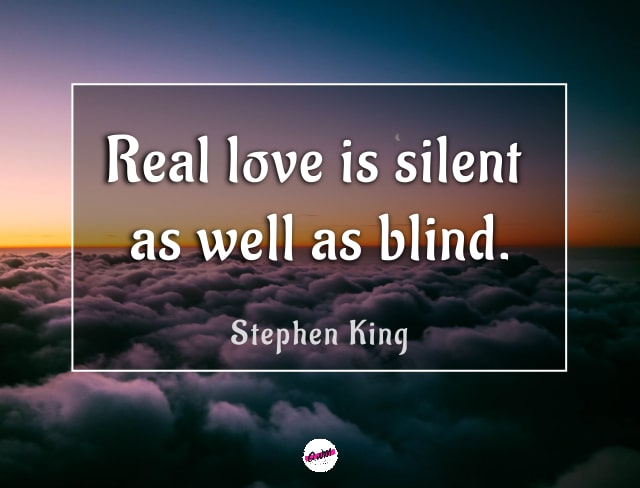 Silence is the speech of love, The music of the spheres above. – Richard Henry Stoddard
Because I love you," I said. "Because you are in my life like the music at the edge of silence. – Robert B. Parker
A heart worth loving is one you understand, even in silence. – Shannon L. Alder
I should have loved,' Hal said after a very long silence. Neville's eyes filled with tears. ' Aye. You Should have loved. – Sara Douglass
He had no idea that he never went out of the house without her blessing going with him too, hovering, like a little echo of finished love, round that once dear head. – Elizabeth von Arnim
I wish not to tell you how I feel, I choose silence so that you leave, Kiss me goodbye and set me free… – Sanhita Baruah
Your silence is loudest to those who love you most. – Steve Maraboli
Love is Noise. Love is silence. In love you're human. In love you possess magical powers. In love you shelter yourself. In love, you expose yourself. – Nicholas Mosley
Spiteful words can hurt your feelings but silence breaks your heart. – C. S. Lewis
I am the poet, you are the poem; I hold the pen, you are the words, love is the ink, silence is the blank page. – Jenim Dibie
When the mind is silent, you can listen to your heart and remember that everything is Love and that you are that Love. – Human Angels
I just wish you could see my demons for what they are, and lay here beside me on the floor. No words. Just your presence. – Charlotte Eriksson
Sometime we maintain silence to protect one beautiful relation.But too much silence creates tears in all beautiful relations. – Herry Thakur
Also see: Aesthetic Love Quotes
Falling in love is like submerging beneath the ocean with a submarine; you leave the outside world and wander in the silence of dimness. – Mehmet Murat Ildan
At times, love is silent because of too much hurt or too much care. At all times, love is the strongest voice you can always rely on. – Soar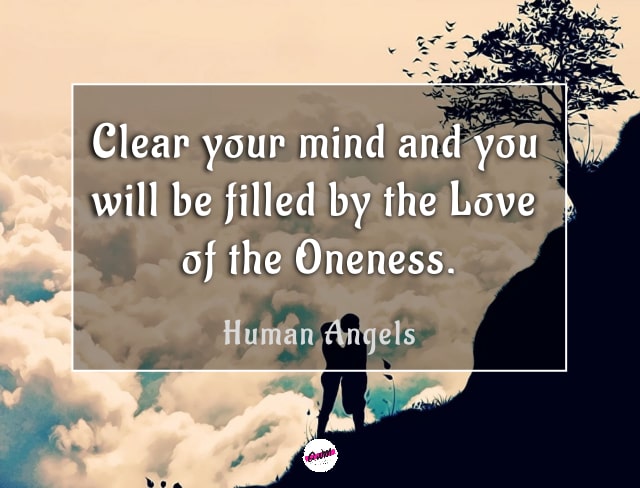 Silence in love betrays more woe – Than words though ne'er so witty; A beggar that is dumb, you know, may challenge double pity. – Walter Raleigh
Time is too slow for those who wait, too swift for those who fear, too long for those who grieve, too short for those who rejoice, but for those who love, time is eternity. – Henry Van Dyke
Clear your mind and you will be filled by the Love of the Oneness. – Human Angels
You love her that much,' she stated, not asking. 'That much,' he admitted in a whisper after a long moment of silence. – Andrzej Sapkowski
Never be silent with persons you love and distrust," Mr. Carpenter had said once. "Silence betrays. – L.M. Montgomery
Its Does't Metter. you text me first or last and idnoor my text. Feeling by heart. Not by text !! – Arshdeep Singh Samrala
But with exquisite breathing you smile, with satisfaction of love, And I touch you again as you tick in the silence and settle in sleep. – Karl Shapiro
You can be angry and silent, but it's no use – there's no distance in the spirit – besides, my words touch you more softly than my hands … – John Geddes
Heartbreak sounds like dead silence. For a second. Then the world crashes and continues around you. – Cynthia A. Rodriguez
You're staying here, Angel." "You're taking this one alone?" "First, Hank can't see us together. Second, I don't like the idea of dragging you into something that could get messy fast. If you need one more reason, I love you. – Becca Fitzpatrick
When a man goes silent on his ways and plans, you must ponder! – Ernest Agyemang Yeboah
Also see: Love Is Blind Quotes
There is a song in your heart, only you can hear it. In silence, that is the song of longing and love. – Debasish Mridha
Time is: Too slow for those who wait, too swift for those who fear. – Henry Van Dyke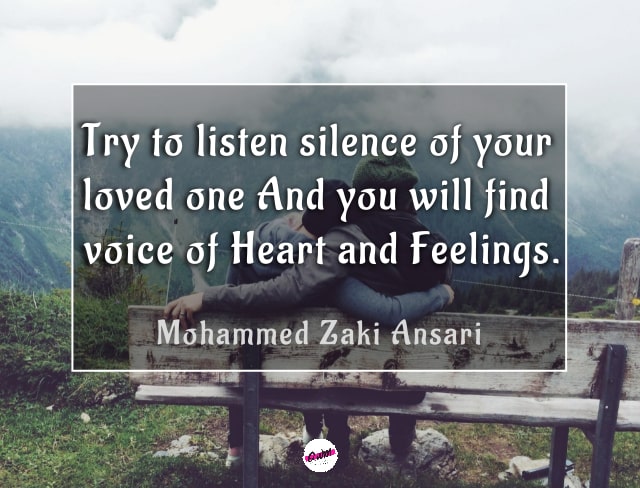 The real power of silence is to keep silent. The real power of silence is in the works of silence! – Ernest Agyemang Yeboah
You are never alone, your Angels always whisper to your heart. By silencing your mind, you can be filled with their Love. – Human Angels
Try to listen silence of your loved one And you will find voice of Heart and Feelings – Mohammed Zaki Ansari
To the heart in you, don't be afraid to feel. To the sun in you, don't be afraid to shine. To the love in you, don't be afraid to heal. To the ocean in you, don't be afraid to rage. To the silence in you, don't be afraid to break. – Najwa Zebian
Say "I love you" to those you love. The eternal silence is long enough to be silent in, and that awaits us all. – George Eliot
You listen to the silence drawn on the ashes of ancient sacrifices. – Helene Cardona
A silence fell between us. "I loved her, you know," I said. "I loved her." "Yes, I do know," he said, "and, you see, I did not. And so this doesn't matter to me very much. What matters much more is that I love you. – Anne Rice
Best of the conversations are sometimes made in silence.. – Danya Krish
In the silence of love you will find the spark of life – Rumi
It was necessary to love silence, but before you could love silence you had to have noise. – Colum McCann
Silence the angry man with love. Silence the ill-natured man with kindness. Silence the miser with generosity. Silence the liar with truth. – Gautama Buddha
Also see: Love At First Sight Quotes
Love is never silent; it is spoken in every moment and even in the silence it enfolds you and strengthens you – John Webber
Silent love has more truth than the spoken one. – Ehsan Sehgal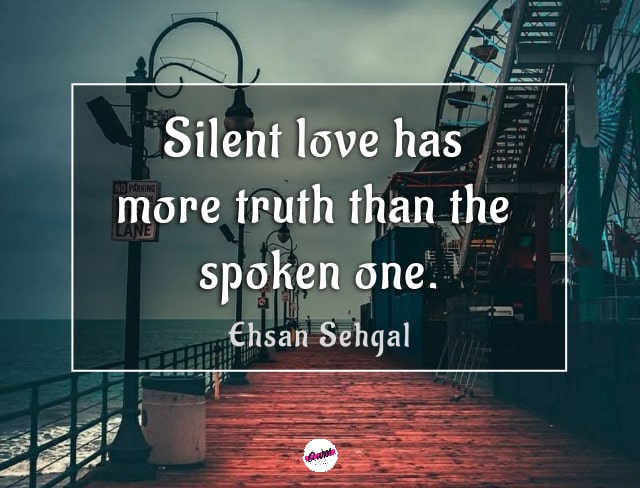 You can listen to the secrets of life in the silence of night, in the voice of the ocean, in the beating of your heart. Just listen with your soul. – Debasish Mridha
I came to love silence, because it's so rare, and it's now my favorite aural condition. – Mike Nichols
Be good and kind to yourself in silence when you are all alone, that is all that matters. – Debasish Mridha
The silent-love has more truth than the spoken one. – Ehsan Sehgal
Silence may be golden but when you whisper with desire in my ear…..the world goes mute – Ladyaslan
Let us love silence till the world is made to die in our hearts. Let us always remember death, and in this thought draw near to God in our heart – and the pleasures of this world will have our scorn. – Isaac Jogues
Love, and do what you will. If you keep silence, do it out of love. If you cry out, do it out of love. If you refrain from punishing, do it out of love. – Saint Augustine
Even if they didn't speak of their love, or share their feelings in long, heartfelt conversations, the bond was there. Sturdy. – Kristin Hannah
love. love isn't having butterflies all the time, i think love is calm. love is comfortable. i could sit in silence with you for the rest of our lives and it would mean more than a thousand words with anyone else. – F.R. Media
I love silence. I seek and create it at every opportunity. I need it to work. – Anne Lamott
Love. Who knows about another's love? The more you love the more you know the burnt out loss of love, the more you heed the silence of unknowing in the face of another's spiritual bondage. – Anne Rice
Use what talents you possess; the woods would be very silent if no birds sang there except those that sang best. – Henry Van Dyke
There is an awkward silence that overcomes you when cross paths with the person that kisses your heart the second that you meet them. It balances on the edge of unknown but always desired. – Carl Henegan
Everything starts from love and everything ends in love. Love is the seed of existence and ending. Without it nothing is. In love people communicate through several languages. It depends on a particular couple how they do it but most of the time it is always in silence. So if these days you are talking silently with your partner, never forget these silent love quotes. Say him or her how much love. Forget and erase all the disputes that you have between you both. Why fight? Just be together and enjoy your life. Because this life or every life is for love. We wish may you forever be in love! And yes never forget to share, send and spread these love quotes.
You May Also Like: