How painful it is, entirely unbearable when we lose someone ours so dear to whom we never want to lose. Yes, it is hard, very hard to bear the pain. Even when we can't bear the absence of them, then how loss of them. It is extremely painful. But it is the universality. Life and death always come. No one can stop them. We have brought for you some of the heart touchy emotional condolence messages that you can say and write for your loved departed souls.These below written are the heartfelt condolence messages that you really find expressible and easy to say and write which carefully emote the feelings you are having in your heart. When a life departs, body burns and comes to ashes. At that time, you realize how shattered and mortal we are, that trying to save this body already knowing that it can never be.
Heartfelt Condolence MessagesFor Death
The loss is unbearable in its entirely. Our prayers with you.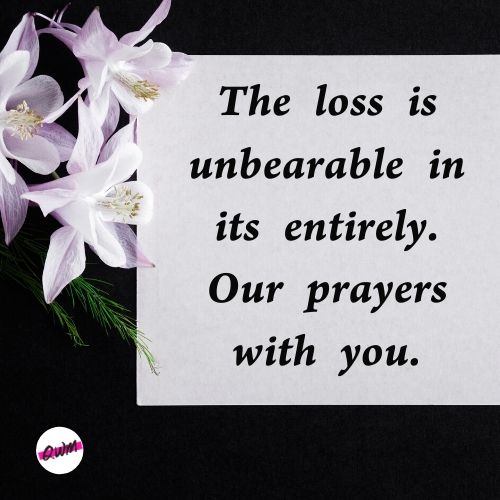 It is so deep heartening that we have lost such a beautiful soul. We are with you.
His/her smile was so beautiful that brought everywhere happiness. May their soul rest in peace.
Why lovely souls depart early? Because this earth is not their abode, only heave is perhaps.
This loss could not to you only but to us also. We are with you always.
God give the strength to bear the loss. We love you and with you.
The measure of loss could not be fathomed, only could be felt. May they rest in heaven.
If it could be possible to bring them back, we do everything for it. But birth and death are certain. Our sympathies are with you all.
They shall be always living in our hearts with their sweet memories. Hold yourselves carefully and wisely.
They were the soul of heaven and this beautiful breeze. My condolences to you and regards.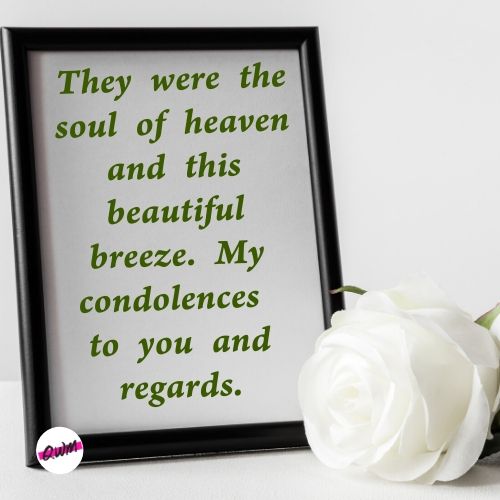 Above written are the soothing heartfelt condolence messages that you can write and say for beautiful departed souls. We can only give strength to those who have lost their someone dear and write for them some comforting messages, which, though, hardly comfort. Because the pain of losing someone could not be comforted easily. With time, it could be forgotten and subdued.
It is so strange that we all know that one day we all will die and leave this earth, yet we are running behind materialistic wealth, pleasure and treasure of this world about which we know they could never satisfy us. Yet we are chasing then. Perhaps it is the rule, that on could transcend only when one could go through hell.
Condolence Messages for Friend | Sympathy Wishes to Friends
I still remember that how my brother became sad when he lost his one good friend because of diabetics. He was only some fourteen and fifteen years old when attack suddenly came to him. It was unbelievable event for us, because that guy used to play with my brother and I have seen growing before my eyes. Though loss is loss. We have brought for you sympathetic heartfelt condolence messages for friends that you can write and say to their families and relatives to express your deepest emotions.
If we know that one day we will all die, then why we have ego, anger, and all the evil emotions which can't give us anything. Why can't we become all lovable person rather than having issues of self and meness. The answer to this question we don't know whether we could give you appropriately. But we definitely have brought for you right rest in peace messages for your friend.
He was my first family to whom I always used to share everything. He was my everything. My condolences to your family.
She still is here and always would be. The difference is, that we can't see her now. My deepest sympathies with you.
One may never lose such a good soul who was always there to help everyone. We miss him very much. Rest in heaven my friend!
We wish that you return as our friend again in next birth and your soul guide us always. Rest in paradise my friend. Love you. Deepest condolences.
I always remember how you used to care for me. You brought food for me and did almost everything to me. Strength to your family and regards. Rest in peace my lovely friend.
Losing a friend like you is like losing a great treasure of my world. You were my everything my always-smiling friend. May God accompany you in your journey. Prayers to your family!
I don't know how I describe in words your loss which is unbearable. Tears are not stopping. My thoughts and comfort to your family in this difficult time. Love you my friend.
You were my power my friend. A joy to watch and play with. You were my heart. Where I find a person like you in this world. God be with your family and sincere condolences.
I've never thought that I lose you such early my friend. What great my life with you! My condolences to your family. I truly love you my friend! RIP.
It feels to me that half part of my body I have lost. My world has become barren without you. May God give strength to your family. I never ever wanted to lose you. Why you depart early? Heartfelt condolences!
These are the sympathetic and deepest condolence messages for friends that you have lost suddenly and never want to lose. Our sympathies with you and their family. What we can do, have written some emotive expressive rest in peace messages for your friends. On sudden demise of them, their family needs some words of comfort and sooth provided their sadness could lessen a bit. We always try for this. Losing a good friend is like losing everything. Instantly when such sudden loss comes, our whole life and world around us just stops reminding us that we are mere a body of flesh and nothing else.
So the message is, what we get is to always spread love and kindness. We are the people of wisest race of humans that could do everything. Our kind heartfelt condolence message for friend, we hope, may soothe and comfort the family of departed soul.
Expressive Condolence Short Messages | Heartfelt Condolence Short Wishes
These day life is extremely busy and quick that we want everything so quick and early and don't want to web ourselves in the trivialities of this world. Yet we come into it automatically. The tragedy is this that sometimes we don't have time even for those people who have departed from this world. Though this is the other side story with no offence. We have nicely carved for you expressive short condolence messages that you can say and write to the departed one's family to express your concern and sympathies.
You must always remember that on QWM you would always find the original and authenticate messages, quotes and wishes for almost every function, occasion and greetings. We are gradually covering everything as far as possible provided you don't need to visit not-so good website. We are one of the best sources for providing and writing for you original content because we understand the value of originality and we care for you too.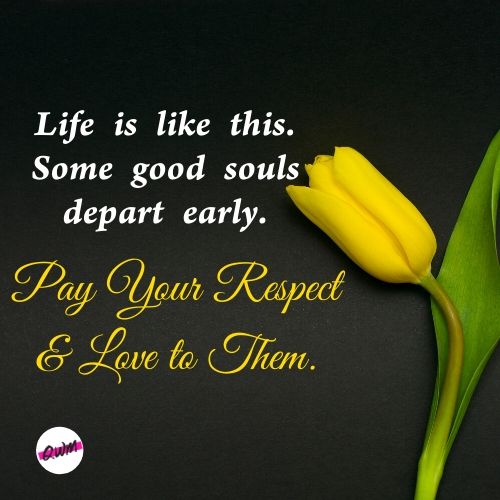 I am with you in this difficult time. I will always be there for you.
I know this pain and sorrow could not be lessened but can be shared.
Youi know he/she always used to say you are strong. So be remain strong for him/her.
Life is like this. Some good souls depart early. Pay your respect and love to them.
I pray to give you strength to bear the loss. We love him/her.
He/she hasn't died. Just taken another form. My sympathies with you.
My deepest and heartfelt condolences to you. He/she will always be remembered.
Everywhere he/she is. You just need to see him/her with other eyes. My condolences to you and your family.
My heart with your heart. May God give you peace. Accept my condolences.
May your family stand together and firm with one another for this great loss.
He/she always lives in our memories. Saddened to hear this. My respect and condolences.
Whenever this soft breeze flows, he/she is there for your comfort. Deepest condolences to you.
It's impossible that such loss has taken place. I'm with you in your sorrow.
You can take rest of my shoulders in this difficult time. We always love him/her.
Remember, he/she never wanted to weep on the demise. Fulfill his/her last wish.
So these above written are some of the right and feelial condolence short messages that you can write and say for the departed soul to his/her family. They are one liners, pretty easy and quick. We have tried to cover every type of feeling in these messages.
Going of someone dear is always a loss that can't be filled but only can be wept and remembered. And with time it goes off, not completely but becomes blurred. Though those who departed they forever live in memories, the only place. But sometimes it happens that we find same person like them in a different individual whose habits and character match of the departed one.
In case, if you need heartfelt short condolence messages, we have written for you. Whenever you require, just come on this website. You will get all here good original quality content.
Condolence Messages for Loss of Mother
It is a world loss when someone lose their mother. I mean you can't imagine anything without her. We think, as far as we know, in every man's life there are two most important women in his life- one is his mother and second is his wife. Loss of any one is loss of world. Though you can change what is written in destiny. If one has to go, they have to go. We have written for you right heartfelt condolence messages for loss of mother.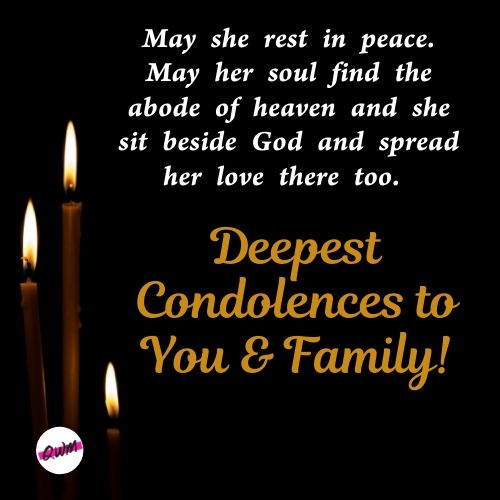 Although whoever depart from our life our dear ones, they could not be replaced by any way. Yet what we can do is only to console ourselves, rather going in deep sorrow that you could not detach from. It should not be on that stage where you ruin yourselves. Sometimes we forget what has gone because we very certainly know they could not come back.
What we say about her!? She was such a kind soul that perhaps never ever again born in on this earth. My utmost condolences with you and your family!
My friend I still know how your mother understood me like you. She cooked for me like you. I can't forget her. Great loss for me too. My heartiest condolences to you!
Her smile always relaxes my every worry. That's why I used to come to meet her. She was like my mother too. I can't stop my tears too. My condolences!
Just remember, she is always here, here in each and everyone's heart. Love and respect to your mother. My sincere condolences to your family!
She was the great strength to you and me too. I know how she helped me in my difficult times. I'm with you in this hard unpassable time. From the bottom of my heart condolences to you!
May she rest in peace. May her soul find the abode of heaven and she sit beside God and spread her love there too. Deepest condolences to you and family!
Love to your mother. She so early has departed. She was my best friend and always helped. I'm saddened to lose friend like her. My heartfelt condolences to you!
I pray to God that this sorrowful time soon pass. We know we could not forget her ever. May her blessings always on you and on her God's. RIP your mother!
She never got angry. Always kept patience and a very strong lady your mother was. Seeing her I felt strong too. May she rest in peace. My sincere condolences to your family!
Your mother was so wonderful woman. She was compassionate and wise. I can't even bear her loss too. I stand by you my friend in this time. Prayers with you!
Love your mother and love everyone who is your dear and near ones because we don't know when someone is going from our life. We have condolence messages on the loss of mother. The above written messages are the most righteous ones that you find writeable to whomever you are going to pay your condolences.
QWM is the most authentic source of best quotes, messages and wishes. We provide original content and gradually we are covering all the topics provided you don't need to wander here and there for the original content.
Write in a letter any one right pick condolence messages for loss of mother. And we guarantee you that they would express and emote all the feelings what you want to yourself. Life is always like this my all friends out there and it will be always like this. Just keep going and love to your mother too from our side.
Condolence Messages on the Death of Father
If it could be in our hands, we never let our dear and near ones go from this earth. But we know we can't stop this. Whose purpose has done, for work they have come, one and other day, they have to depart from this materialistic world. We can only remember and say prayers for them and reminisce their memories. Here we have for you condolence messages on the death of father.
I still remember how my friend wept when his father sudden demise caused him a great loss, that he wasn't even able to stand on his feet. Such helpless he was feeling and I could feel him at that time that with which pain he was going through. Even I started weeping with him. Oh! so saddened that scene was. It has been two years now. My friend is well and working in a good software company.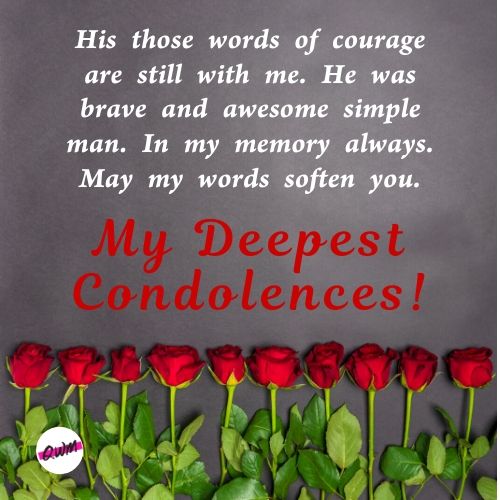 He was a good man your father and very understandable person I have ever met. May his soul rest in paradise. My condolences to you and your family!
When I was losing, he gave me the confidence I needed most at that time. He was like a father figure to me also. His sudden loss has jolted me too. Accept my condolences and respect!
His those words of courage are still with me. He was brave and awesome simple man. In my memory always. May my words soften you. My condolences!
My sympathies are with you and your family. He will be always in our thoughts and prayers. Saddened to lose your father.
My condolences for the loss of your father. May he be with peace in after life. You and your family remain strong and hope to see you smile again,
We never lose good people. They just vanish to spread love and kindness to other realm as your father my friend. Sincere condolences on the loss of your father.
May again spring come in your life my friend. Accept my condolences on sudden demise of your father.
May flowers again blossom in your life my true friend. From the bottom of my heart sincere condolences on demise of your loving father.
May sweet birds again sing the sweet songs of relief and peace to you. Deaden to hear the loss of your kindest father. My condolences.
Your father was like a real angel. With true feelings I'm saying this. Never thought such news of demise of your father I would hear. Accept my condolences.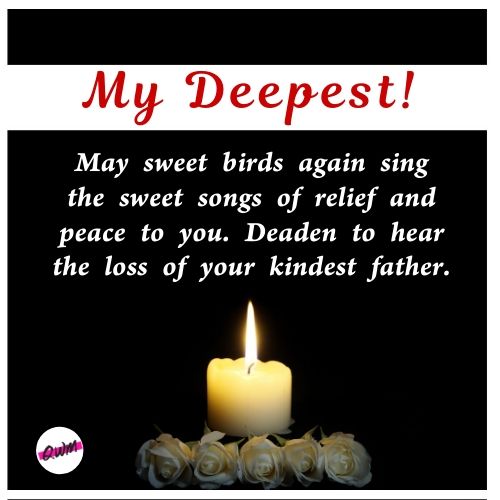 Such deep and heartening these condolence messages on the death of father that you can write and say to those who have lost. May we pray such scene never come in anyone's life. But it is certain as we all know. So we have written for you right softening messages that you definitely find appropriate.
When someone's father departs, it feels like one has lost the back bone that is giving rest and comfort, and if it suddenly vanishes, our whole world tumbles upside down and one loses consciousness. But as old sayings say and people too everyone has to go from this world and we can do nothing in this matter except just praying for them and thinking about them that they may return again another form. Comforting condolence messages on the death of father.
Condolence Messages for Family
If one doesn't have a family, they have nothing in this life however wealthy they are it doesn't matter. Family is the real wealth and everything to us. And we can really well understand this. Without family we can't live, and if we lose someone in family, it is deadening. We have written for you heartfelt condolence messages for family that we think you find comforting to say and write.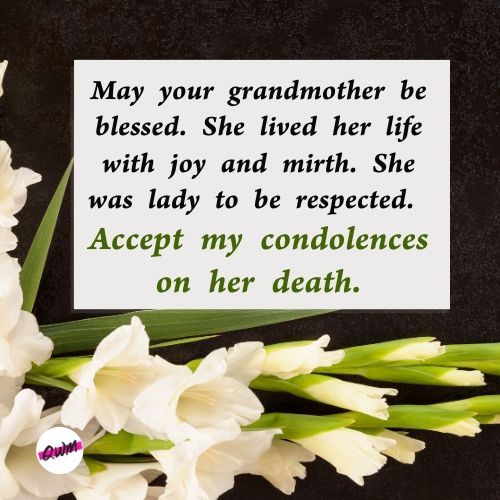 I remember how I felt when I lost my grandfather. Though he had come to his age and spent his life well and proper and prosperous too. But when we all family members came to know that he had only a few days left to live. We were very saddened and did not know how we should feel. What we could do at that time was to just spend as much time as we wanted to. My grandfather was religious and a very humble guy who always thought about others' welfare.
So deadening to hear that you lost your uncle my friend in young age. He was man to talk. RIP him and my condolences to your family.
May happiness again come in your life. It is saddening to hear that you lose your brother. He was joy. Accept my condolences on his sudden demise.
May your mother rest in heaven and keep her blessing on your family forever. My condolences on the death of your mother.
He was like my grandfather too. So kind and generous and always smiling. My condolences to your family on the demise of your grandfather.
May stars again rise in your life. So saddened to hear that you have lost your wife in tender age. My deepest condolence to you and your family.
May your love rest in heaven. It is so heart-melting to see the death of your wife in such young age. My heart-felt condolences to your family and you!
May your grandmother be blessed. She lived her life with joy and mirth. She was lady to be respected. Accept my condolences on her death.
It so really utmost deadening to know that my friend you have lost your son in young age. May peace come to you. My condolences to your family and you.
I haven't thought this that you have lost your daughter in such spring age. She was a butterfly of everyone's heart. Accept my condolences my friend on her death.
Such loss is totally unbearable that your husband has gone so suddenly. Never thought of. My deepest condolences to you and family.
What we have written for you are some of the right and heart-comforting condolence messages for family. When you write a condolence letter you can use above written messages without worrying about anything. These messages are perfect and totally grammatically correct that you don't have to bother about anything. You can just instantly copy, paste and write for whomever you want to. They are in various subject wise. They are original and authentic as QWM always promise to provide original content.
Condolence Messages for Colleague/Co-worker
Most of our time we spend in office which is our second home and people we work with are our second family, with whom we share life, talk, heart and what not. And we can say that our half-life goes there. And when someone dies, we feel the same pain that we feel for real family member.
We have covered for you heartfelt condolence messages for colleague that you can write in a sympathy card as sympathy message. And a colleague is not just a colleague for us. They can be like our brother, sister, father, mother like figure, and as your emotion flows for them.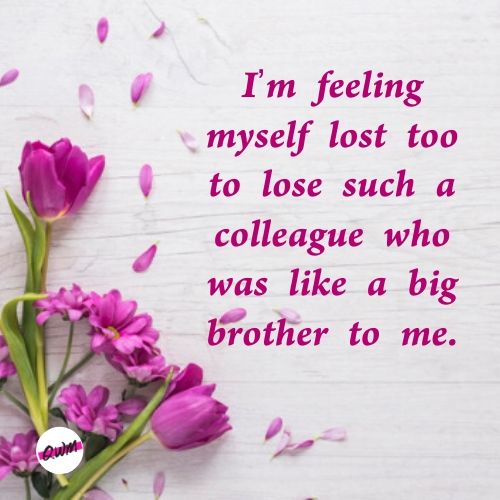 I'm feeling myself lost too to lose such a colleague who was like a big brother to me.
Your chair in office would someone else occupy but your place could no one. We never thought of that you have left us. Warmest condolence to your family.
You were such a hilarious man. So generous and gentleman personality. Everyone in office feeling so sad to lose you.
You will always be in our prayers, thoughts and thinkings. May God bring peace and strength to family you belong.
He was a good colleague and like a father figure to me always advising me about living life. Losing him feel like lost a dear one. Accept my condolences.
May strength come to your family and peace be with them. We are so deaden feeling to lose a colleague like you.
We never have thought you would go to God so early leaving us all in the office. We will always be missing you.
In his entire professional career your father has never taken a single leave. Always dedicated and committed to company. He was not mere asset while a part of it.
In the midst of this painful loss and sorrow, if anything we could do to lessen the pain you going through we really will be glad to do it. Sincere condolences and sympathies.
She was a woman of her words. Never did single mistake she in her professional life. Always kindest and nice to talk person. Her loss is irreplaceable.
These are some of the appropriate heartfelt condolence messages for co-workers that you can easily write in sympathy cards as sympathies messages. Readers out there always remember that QWM is the number one source for providing original quotes, wishes and messages for all kinds of occasions, functions and events.
We know that you find the content extremely useful and beneficial that in just single click all original content is before you. Anything you want to say you can write in the comment below section. Feel free to write us at our email id. We will be always ready to hear you for improvements.
Condolence Messages for Boss
Though we really don't know but so far we know there is not any employee who loves his/her boss. If we see in different perspective bosses are good though they are strict and sometimes stern. Whatever kind of relationship employees share with their boss. At the end of the day a boss is a boss. They give us job, salary for which we work. We have written condolence message for boss on their demise or death. We don't say you should like them but they are very appropriate to say and write if you have lost him/her, your boss.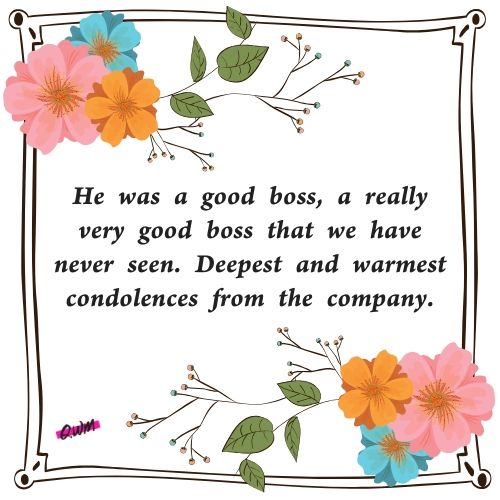 Your father never behaved ever like a boss but always like a charioteer. He was a guiding light to the whole company. Saddened to lose such a good leader.
He was a good boss, a really very good boss that we have never seen. Deepest and warmest condolences from the company.
Your brother discipline has taught us everything. At times, he was stern, humorous, kind and entirely immeasurable personality. Saddened to lose him.
She was not a boss while a moving company in herself. Your mother considered all her employees like children. Warmest and deepest condolences.
We don't know we ever find a boss like him in future. She was our guide and a great advisor to us. Always helped and considered everyone equal. Have lost a great soul.
Your sister in such young age was a good leader and boss incomparable. Her persona and aura was energetic. Her sudden demise saddened us.
The company has lost today its founding pillar who could never be replaced. He will be in every colleague and employees' hearts and prayers. Remembering him.
Our heart has died and everything seems to us barren to lose a boss like her. Your mother was like our mother too. Accept our deepest condolences.
May her blessings still be on us and you. May she always show us right path. Your mother was kindest and very gentle boss. Remembering her in our prayers and thoughts.
Our sympathies and prayers with your family and relatives. May strength be with to bear the loss of such nice personality. Your sister was a brave boss.
Most appropriate, right and proper heartfelt condolence messages for boss. If your boss has departed from this world and you are going to pay your homage to him/her, then you can choose condolence message from our website, which provide original content. We know and can understand at such time, no one feels right and good. So it is not able to write something of sense. That's why we have covered for you right sympathies messages. You don't need to wander here and there on the internet for right messages. Here you find everything.