Thank You for Anniversary Wishes: Finally it is time when you have to end the celebration and say thanks to your guests for attending your anniversary party. Their thoughtful gifts and wonderful wishes have made your day special, so take some time off and write an anniversary thank you message to your friends, well-wishers, colleagues, and relatives. Every couple wishes to have a grand celebration on their anniversary because it is an occasion to celebrate their love, togetherness, and bonding. But without your dear ones, this celebration is incomplete. Therefore they deserve a big thank you to make them feel happy. It will help you maintain goodwill in front of the people who have made your anniversary celebration grandeur. However, if you are thinking about how to say thanks for the anniversary gifts and anniversary wishes reply, then you have arrived at the right spot. Look at the sample thank you messages for anniversary wishes we have listed below to thank your guests for their presence and wishes.
Thank You Messages for Anniversary Wishes
Thank you very much for attending our wedding anniversary party and supporting us to make it special for us. You are true of your kind. I am blessed to have you in my life.
We are thankful to you for sending us warm wishes; your presence has made the day special for us. Our anniversary celebration would not be the same without the people I care about the most. Thank you so much for anniversary wishes!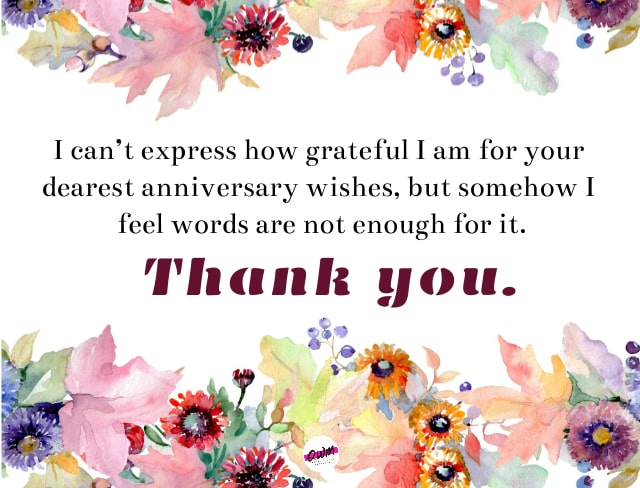 Remembering my special day has filled me with extreme joy and happiness. It is a great feeling to know how much you care for us. I truly appreciate your efforts; thank you for anniversary wishes!
An anniversary is all about adding more love into your life; thanks for adding even more memories and love to this list; thank you so much for wishing us happy anniversary!
Do you know what the best part of celebrating an anniversary is, spending quality time with the people you love and adore in your life. Thank you so much for fulfilling the love quotient in our life.
I am unable to explain my feelings in words how much I am fond of the wishes that mean to me, but I am pretty much sure that you will understand it anyway. Thank you so much for lovely wedding anniversary wishes!
Knowing that your wishes and prayers are with us on our anniversary brings a goofy smile to our faces all day long. I appreciate your good feeling for us.
Your anniversary wishes remind me of the dark chocolate cake; no matter how old I become, there is no such thing that will bore me either you or cake. Thank you so much for anniversary greetings!
I am aware of the fact that you are busy; it takes more effort and time to find some time in your busy schedule to send anniversary wishes. Thanks a ton for showering anniversary wishes on us!
I was so sure that you wouldn't forget my special day. I am so grateful to have such a lovely and caring person in my life. Thank you for wishing us and love you!
On this wedding anniversary, your wishes are the best gift that I have received. I firmly believe next year will be even better. Thank you for sending anniversary wishes.
Some people gain a special place in their life from the moment they wake up. But your wishes and gifts made the sunshine ever brighter than before. Thanks for anniversary wishes and the meaningful gifts!
I wonder what I would do if you forgot to wish me my anniversary. I am really glad to have you. Thank you so much for your sweet anniversary wishes.
I can't express how grateful I am for your dearest anniversary wishes, but somehow I feel words are not enough for it. Thank you.
I am touched to have a friend like you in my life. From all the years since our marriages, you never forget even once to wish me a happy anniversary. I am really thankful to you from the bottom of my heart.
We have just started our new journey as a married couple, and we like to thank you for being a part of our first anniversary and making it so special.
We are thankful to everyone from the depth of our heart for attending our marriage anniversary and making it worth remembering for the rest of our lives.
We are really amazed to see how people keep on sending us anniversary wishes, even after so many years. We are thankful to you all for remembering and making this occasion special for us.
I consider myself lucky to have friends like you who remember my wedding anniversary and don't forget to wish me and also for throwing a party on our behalf. Thank you guys for being in my life and becoming part of our wedding anniversary!
I firmly believe that without you our anniversary party would be so boring. Thank you for gracing us on this occasion with your warm presence.
Also see: Wedding Anniversary Wishes
Thank You Messages for an Anniversary Gift
The creativity in your gift is so mesmerizing and pleasing to witness. We are really obliged to have you in our life. You have made our day so special by giving such a beautiful wedding anniversary gift!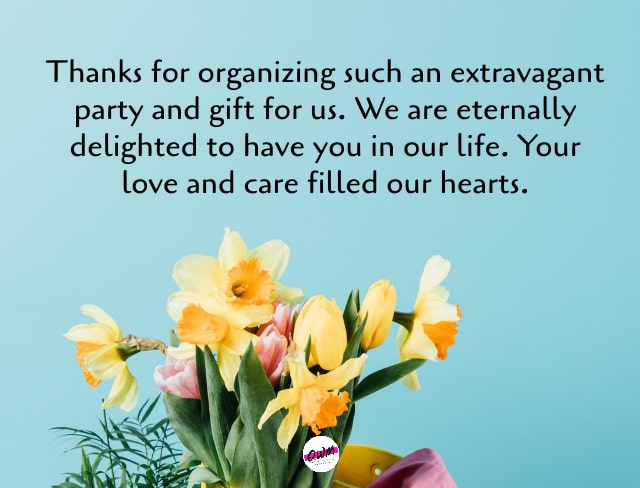 We will remember you for the gift you have sent us on our anniversary. It shows how much you love and care for us. Thanks for your efforts and gracing our anniversary event.
You never fail in finding the best gifts for us; we are thankful for this. We pray for your great health and wellness. May your life will be filled with the love and peace that you deserve.
Thanks for knowing us so well and being there by our side on our special day. Your thoughtful gift will keep us reminding your love and care for the rest of our lives.
Thanks for organizing such an extravagant party and gift for us. We are eternally delighted to have you in our life. Your love and care filled our hearts.
The celebration of our marriage anniversary will be incomplete without you. Your appearance made up so loved and happy. Thanks for the astonishing wedding anniversary gift; it will remain close to our soul and heart for the rest of our lives.
Also see: Best Thank You Messages for Gift
Thank You Message for Anniversary Wishes to Wife
I am so pleased to have you in my life as a life partner. Thanks for being the most amazing and caring wife in the world. Your wishes mean a lot to me; keep showering your love for the rest of your life.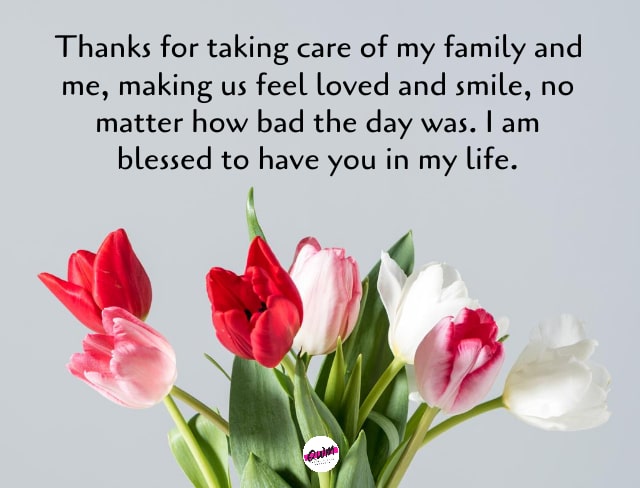 My dear wife, thanks for being the support system of my life. On the auspicious event of our marriage anniversary, you arranged everything on my behalf and even allowed me to focus on my business meeting. I am grateful for your wonderful anniversary wishes; thanks for being on my side.
When you come into my life, I feel I am the luckiest man on the earth, and you prove me right. Thanks for wonderful anniversary wishes and make me feel loved every day.
Thanks for taking care of my family and me, making us feel loved and smile, no matter how bad the day was. I am blessed to have you in my life.
I have been blessed to have a perfect life with you. Thank you for your care, love, every little effort and support you are doing for me in the simplest possible way. I really love you.
You and this marriage are the best things that have happened to me in this life. Your unconditional love has changed my world and turned me into the best person. Thanks for your wishes and everything else.
Also see: Best Thank You Messages For Friends
Thank You Message for Anniversary Wishes to Husband
I am the luckiest wife to have such a caring, wonderful, and appreciating husband. Thanks for all the little and big efforts you take to make our life beautiful. Thanks for your marriage anniversary wishes and celebration.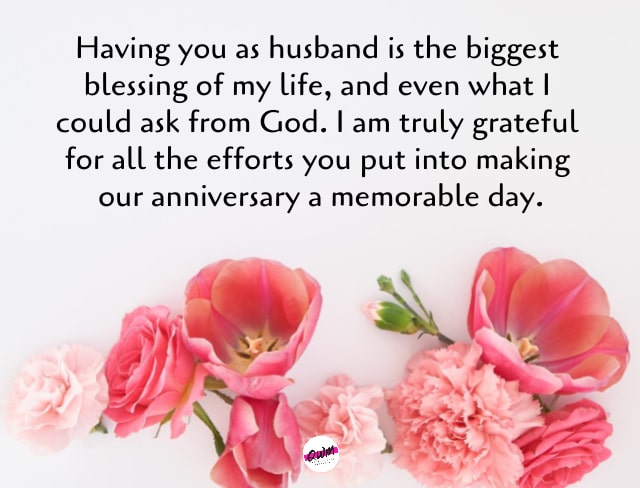 You have turned out my life into an amazing affair. I can't stop thanking God to make you my life partner. Life with you is wonderful. Thanks for being so loving and kind and sending lovely anniversary wishes. I really love you so much.
My dear husband, thank you for being my life partner. You have filled my life with endless joy and laughter. Thanks for your lovely anniversary wishes; I love you a lot and I wish to be your life partner till the end.
Having you as husband is the biggest blessing of my life, and even what I could ask from God. I am truly grateful for all the efforts you put into making our anniversary a memorable day.
You have brought the best of me in my life. Without you, this beautiful life would not be possible. I am thankful for your care, love, and support. Thank you also for beautiful wedding anniversary wishes and making me feel special.
There are lots of things that I want to say, but you know me, I am always short of words. I want to sum up my feeling in just three words; thanks for everything including awesome anniversary wishes. I am grateful to share a life with you.
Thank You Messages for Anniversary Wishes from Family
Your efforts of wishing and remembering us on our anniversary made our celebration filled with more joy and happiness. Thanks for being a part of our celebration on this day.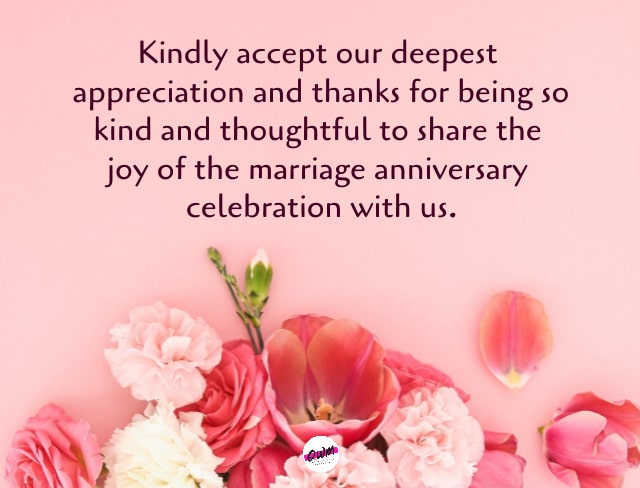 Thanks for your lovely anniversary gifts and toucing wishes. Thanks for making our special day more special for us. You people are the most amazing family on the earth.
We are touched deeply when we read all your kind and thoughtful messages for us. Thanks for sharing the joy with us. Being a family, you have supported us in every event of life. Thanks for being so perfect.
Kindly accept our deepest appreciation and thanks for being so kind and thoughtful to share the joy of the marriage anniversary celebration with us.
What a pleasant surprise for our wedding anniversary; thanks for all the wishes and blessings you have done for us. Every effort means a lot or us.
We strongly feel our wedding anniversary celebration would be boring without your participation. Thanks for gracing us on this occasion; it means a lot to us.
Funny Thank You Messages for Anniversary Wishes
So you think that you are all that I have in my life? What if I could save bacon for you and solve my problem. For this, you need to show off the next time. Happy wedding anniversary, love!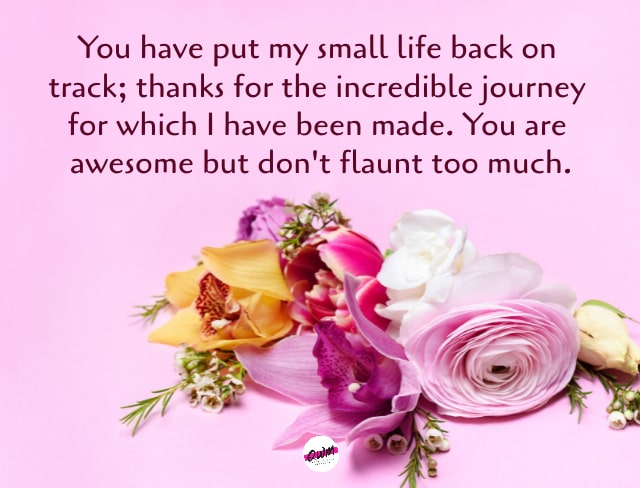 You have put my small life back on track; thanks for the incredible journey for which I have been made. You are awesome but don't flaunt too much.
Some people are just plain and old, and others are like you. The superman, nerd, and crazy enough to stay with their loved ones. Love you because you are always there for us.
Do you go to college ever in your life and understand what the meaning of the perfect gift is? Make sure you pick them right; thanks for making my gift-giving and receiving skills so bad.
When God was making humans, he gave you the biggest heart, didn't he? Because once again, I am here and sending you the thank you for wedding anniversary card for your amazing personality.
Some people on this earth are born to help others just like you, and some are hopeless cases like me. Thanks for being the most annoying personality in my life and being there for me on special occasions like a wedding anniversary.