How would you feel if your best buddy or the loved ones don't mark your presence on the most special occasion of your life? It does feel terrible and sad when someone you care about the most doesn't show up and become part of your happiness. However, no one has control over circumstances and time. Sudden emergence of work and critical events can obstruct you from being part of your friend's wedding occasions. But don't worry. Our hearty collection of belated wedding wishes for bride and groom can cool off the anger of the bride and groom in no time and bring balance to your relations with them in no time.
Belated Wedding Wishes
It breaks my heart to wish you that lately because I should be the first one to wish you happy married life. I am extremely sorry buddy. Belated happy wedding wishes to you!
I should be saying more than heaps of sorry to miss out on the most significant event of your life. Mighty congratulations to both of you! May you have a rocking life ahead!
The reason for my late wedding wishes is inexplicable in words. I know both of you are generous enough to forgive me. Have a scintillating wedding journey together!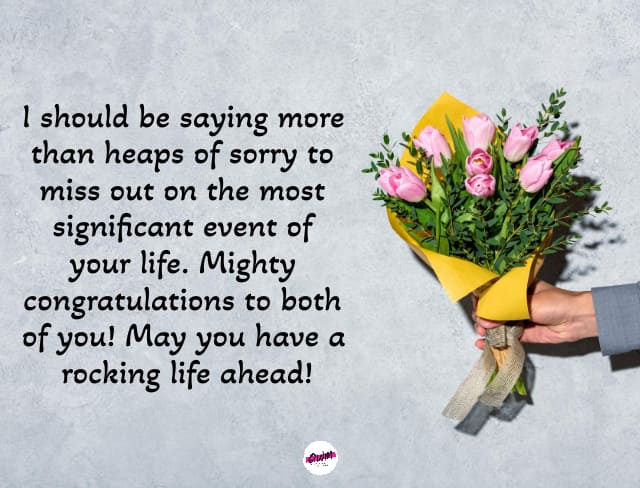 If you think I have missed your wedding intentionally, you are absolutely wrong. You know well that I have always been the first person to support and praise you in whatever you do. Belated happy wedding, buddy!
Marrying the love of life is like a magical dream comes true for any individual. Your dream has definitely come true, unfortunately, I wasn't part of that dream. Accept my apologies and heartfelt wedding wishes!
I am not at all responsible for not attending your marriage and sending greetings in the last. Blame my office, my boss, and geographical distance. Anyway, happy wedding!
Though my wedding wishes and blessings are coming in the end but they are the most genuine and touching ones. Heartiest congratulations on tying the wedding knot, and I am sorry!
To be honestly speaking, I am ashamed of myself for not attending the wedding of my best buddy. Is the value of a little office meeting greater than my friend's marriage? Belated wedding wishes to both of you!
I heard that your wedding was one heck of a lavish and exorbitant affair. Damn! I missed the free food. Huge congratulations on your marriage and accept my heartfelt apology!
May your marriage turns out to be an eternal affair. May you become an inspiration for all the couples who give up easily on each other. Big congratulations on your awesome marriage!
Also see: Wedding Wishes for Brother
Belated Wedding Wishes to the Bride
Not only you are a proud daughter of your parents but will surely become an adorable and beloved wife of your husband pretty soon. Sending you full of warmth belated wedding wishes with oodles of love!
I know you must be fuming with anger and it's justified. But you are cuter than a teddy bear bride and you will surely forgive me for not attending your wedding. I know you will accept my belated wedding wishes with an open heart.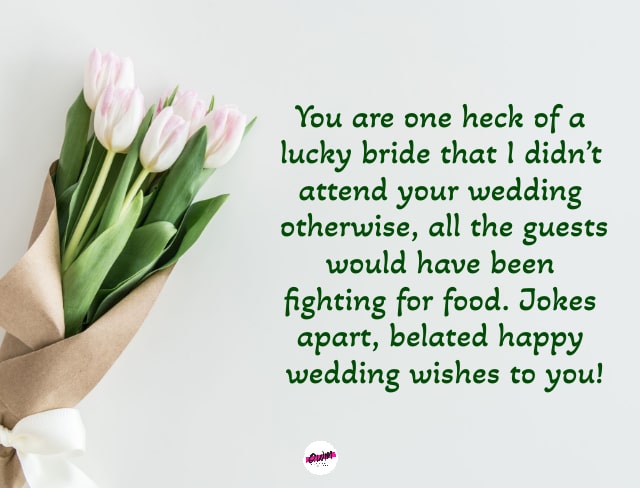 If I am not wrong, brides are never supposed to be angry because it can spoil the entire makeup. I am sorry for my absence at the most crucial moment of your life. Congratulations on your wedding!
You are one heck of a lucky bride that I didn't attend your wedding otherwise, all the guests would have been fighting for food. Jokes apart, belated happy wedding wishes to you!
You must have been loaded with all the wishes of the world but I know you are looking for only mine wishes. I heard that you were looking like a Cinderella on the wedding day. Heartiest belated wedding wishes to you, my dear friend!
Also see: Wedding Wishes for Sister
Belated Marriage Wishes to the Groom
Oh man! My friend you got married. I forget to wish you. Many congratulations to you and I wish you always marry your wife every day. Belated marriage wishes to you!
Love you my friend. From the bottom of my heart congratulations on your wedding. I could not come due to work. May you both be happy and in merriment always! Belated marriage wishes to you!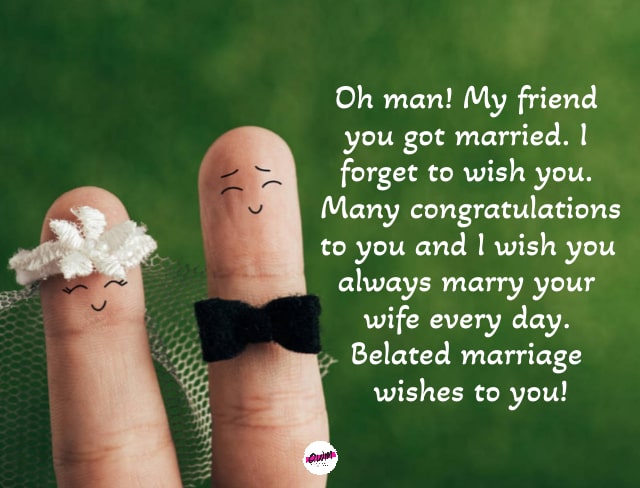 Time plays everything. I could not attend your wedding and you know that why. Sorry for that part. May both be forever for each other and none could detach you! Love you my friend and belated wedding wishes to you!
New phase of your life, finally you have done it. It is a blessing to marry your girlfriend, the girl you always like and want to spend your life. May you be both in each other's heart for entirety! Belated wedding wishes to you my groom!
Happiness pouring in your life when you have got married. Love you and may the blessings always pour down on both of you! My groom, my friend so many belated wishes for you on your wedding. Be always happy!
Also see: Wedding Anniversary Wishes
Belated Marriage Wishes for Friend
You have just upgraded yourself marrying a beautiful girl. May you never have difficulties in your life and be true to her as she to you! Belated marriage wishes to you my friend!
You have gotten into a new sphere my friend marrying a girl. This sphere is full of surprises and beautifulness. May you both be lovers of each other forever! Happy belated marriage wishes to you!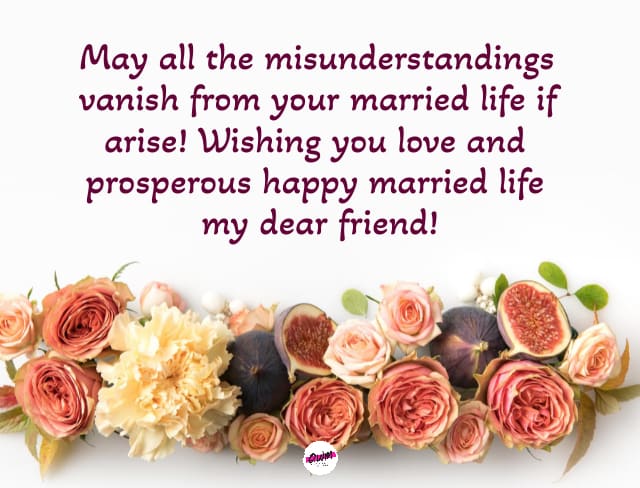 May you understand your marriage a beautiful affair my friend! That is how you keep it long and healthy! Belated best wishes to you on your wedding!
Life is race but marriage is pace. May you live your married life adventurously both of you! So much love and happy belated marriage wishes to you my friend!
May all the misunderstandings vanish from your married life if arise! Wishing you love and prosperous happy married life my dear friend!
Also see: Wedding Anniversary wishes for wife
Funny Late Wedding Wishes
Marriage is sweet pain my dear friend. It is sweet but yet pain. Belated wedding wishes to you! I hope you can bear this pain!
You have just dialed a number that never stops talking even if you wish to. That is how girls are in marriages. You have to listen and listen! Enjoy it my friend and by the way happy belated wedding wishes to you!
You have just got into the maze of true love which you understand real while it is illusion! And this marriage maze you can't come out ever. Belated wedding wishes to you my friend and belated life too!
Marriage is slow death my friend and you are in a sweet bowl. Too much sweetness causes life but you have to keep smiling! Love you dear and happy belated wedding wishes to you! Just keep rocking!
Love your wife always. And this is one of the hardest things to do. I hope you can keep it right. Happy lovely belated wedding wishes to you my friend!
Also see: Wedding Anniversary wishes for husband