Heart Broken Messages: If you are the one with a broken heart, these sad broken heart messages, heart broken Relationship quotes with images are only for you. Like life, relationships are also uncertain because love is a spontaneous phenomenon. At one moment, you are brimming in love for your beloved. The very next moment love is gone and you feel no sign of excitement in life. When we love someone, we also start taking them for granted which is actually the root cause of all the problems in a relationship.
When the person you love quits the relationship, it smashes all your love, beliefs, and heart. You face difficulty to digest the fact that how can someone you have taken as granted, and whom you love conditionally leave you? But such is life. A relationship is lot like a box of chocolates, you never know what you gonna get. One of the heaviest things to carry together is a broken heart. The excruciating pain, the falling of your dreams, and humiliation of rejection are unbearable. You cannot do anything about heartbreaks except learning to move on. QWM is more than pleases to state a powerful yet sad collection of broken heart messages for lover that perfectly depicts the pain of a broken heart. You can also download the broken heart messages, relationship broken heart quotes with images.
Touching Broken Heart Messages
After your departure, my life is shattered completely and my heart has broken into millions of pieces. Life seems meaningless now.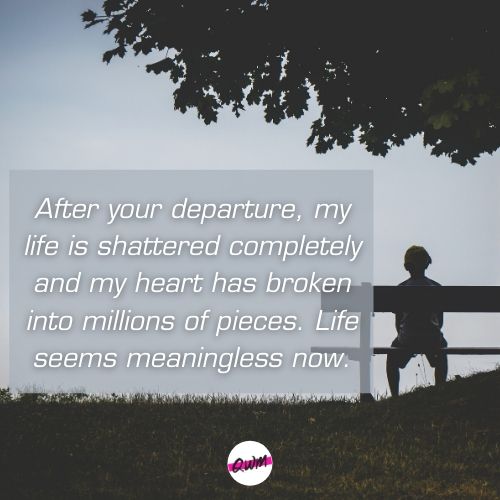 One of the saddest things in a relationship is not saying one last goodbye despite having strong feelings for each other. I just want to cry hard.
Love cannot happen with the surety of its preservation until the end. Love is a spontaneous phenomenon. When you love, sometimes, your heart is definitely going to break. Right now my heart is empty because of you, sweetheart!
I cry hard every single day not because you left me for another person but you broke my heart and hurt my feelings in the process of leaving me.
Also see: Romantic and Caring Love Messages for Wife
Just because we have moved on from our relationship doesn't mean I don't think about you. I still do, I still cry, and I still try to append pieces of my broken heart.
People who you love the most also hurt you the most. Why would a stranger want to hurt me? If there is love, there is a pain also. You broke my heart and left me alone to survive in darkness.
Today, I am feeling so lonely that I wish you could be here to caress me and hold my arms. But that's not possible anymore. You have no idea how it feels like to be heartbroken.
For you, it was just a breakup to hop on the new mate. For me, it was numerous nights filled with endless cries, nightmares, and excruciating pain. How can someone be so heartless?
People can play with a lot of things in life. I just don't understand why they choose to play with the feelings of those who love them immensely?
Also see: Romantic Love Messages For Husband
Whenever people you love part ways, they also take a piece of you with them. It leaves you little less than before and of course with a heart with millions of pieces.
It is quite easy to trust the person once again who breaks your heart. However, it is impossible to give them your heart again. The pain of heartbreak is way greater than the pain of breaking trust.
There was a time when your name used to put a massive smile on my face. Now chanting you name innumerable times doesn't excite me anymore.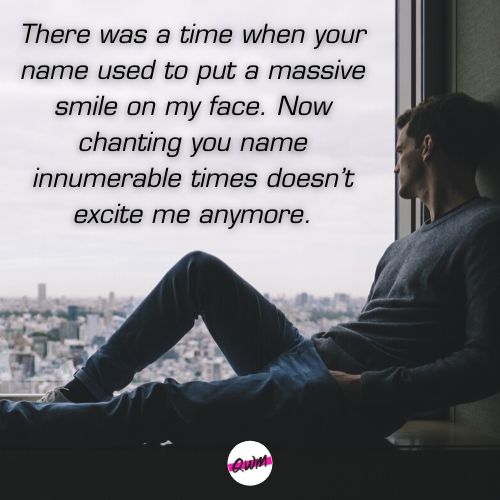 Powerful Broken Heart Messages for Him | Heart Break Quotes for Boyfriend
The more I try to erase those beautiful memories of our relationship, the more they wrench my heart. What was my mistake? To love you all by my heart?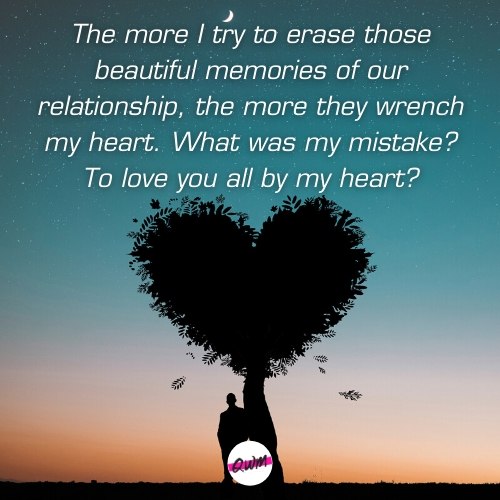 After our breakup, it's so difficult for me to focus on even the tiniest task. I don't want to live with you anymore, but I can't live without you either. Baby, why did you break my heart so badly?
Yeah, it took me months to get over from you. I have moved on completely but life doesn't seem exciting anymore. I just have one thing to say to you. Never ever break someone's heart.
This soul-shaking heartbreak taught me one important lesson; never take your love for granted. I don't think I will love someone again with the same zeal.
Also see: Wonderful One Liner Love Quotes
Meeting you was a wonderful stroke of luck, falling in love with you was a choice, breaking up with you was a painful decision that literally broke my heart.
Even though you break my heart in the worst possible way, it still beats for you. But it doesn't want you anymore. I will never allow you to enter my life again.
One day, when we both will turn old and sitting in solace at someplace, you will realize why did you break my heart just for fulfilling your lust. You will cry hard after remembering that and no one will be there to console you.
Also see: Best I Miss You Messages for Her
Your voice still hovers in mind, your love still flows in my body, and your mesmerizing smell still blossoms my being. It's my heart that you break doesn't want you anymore.
I literally gave you all my love, trust, and loyalty. And in return, you break my heart just to be physical with someone else. I will never forgive you for breaking my delicate heart.
Having the pain of heartbreak has become a normal thing in my life. I do feel helpless, used, and dejected but I will surely bounce by collecting pieces of my heart.
Life without your presence seems worthless and vapid. But I have to learn to live this way. It's better to live lonely than to live with someone who you can't trust anymore.
Broken Heart Messages for Her | Heart Break Quotes for Girlfriend
Every breath I am taking after our breakup is quite difficult for me to take. My heart is broken completely and I don't see any sign of hope or love in my life.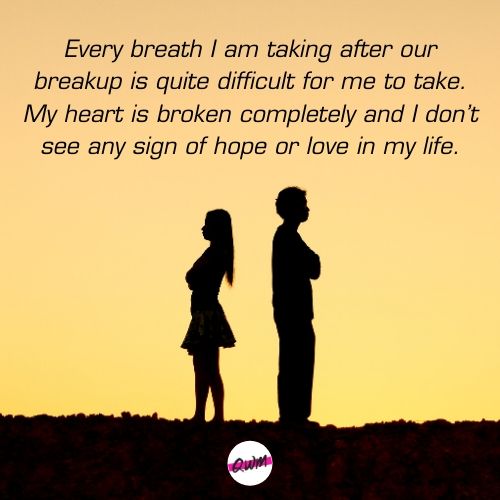 Like a sweet is worthless without sugar, my life is worthless without your beautiful presence. Baby, why did you betray me? If something was lacking in my love, you could have told me.
People say love enriches so many dimensions of an individual's life. But your love for me was hollow and an utter lie. Now I don't know what to do with my life.
Every fiber of my body has loved you totally. What I got in return are cheating, pain, and humiliation. Is loving someone for fulfilling your goals is a business for you? Please, don't break someone else heart.
Also see: Best Monthsary Messages for Boyfriend
When you decided to leave me, I was in utter shock and belief. I knew that you will come back, but I was wrong. Along with the beautiful memories we have created, you have also taken away my heart. I feel broken and lifeless!
No matter how many times you will break my heart, it will keep loving you because your charming name is inked on it.
It's easy to fall in love and give your heart to that person, it's almost impossible to detach your feelings of love from that person. I wish you would have never come into my life.
It is absolutely pointless to express your feelings again to a person who has crumbled your heart in the past. You don't exist for me anymore.
Also see: Romantic Monthsary Messages for Girlfriend
I just want to know one thing. When you mercilessly broke my heart, didn't you even think about all the love I gave to you unconditionally for at least once?
If I had the power to change something, I would love to erase you and all the memories I have created with you. Get lost from my life.
In a relationship, love happens, squabbling happens, teasing happens, caring for each other happens, but breaking someone's heart is quite inhuman and mean. I will never forgive you.
No matter how many times you will break my heart, I will always get back up stronger to show you that true love never loses and dies.
Also see: Good Morning My Love Quotes For Her/Him
Broken Heart Messages for Husband with Images
Initially, my mind and heart were not agreeing that you dumped me. Then I realized, true love doesn't mean holding someone. That's why I let you go. I will keep loving till my very last breath.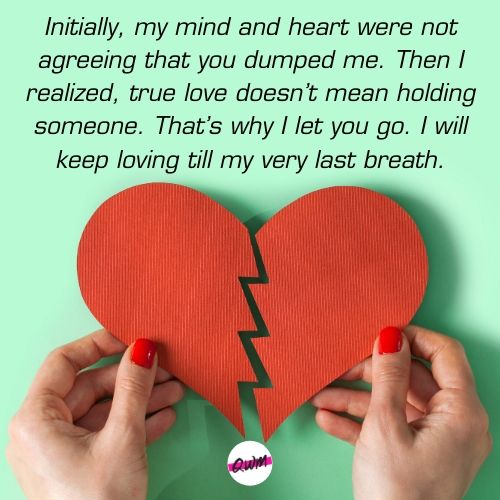 It's funny how life can turn upside down within a day. Yesterday, we were doing family planning. Today, you left me for someone else. Is my love means nothing to you? How can you do this to me and our upcoming child?
One last goodbye is quintessential for the consolation for the heart. You didn't even consider me worthy enough to say one final goodbye? Is there anything I can do to bring you back? I can't imagine living a life without you.
If you have loved me for at least once in life, you wouldn't think about leaving me and our kids just like that. You are such a shameless person with no morals. I feel so guilty about loving you.
You are the right love that came at the wrong time in my life. You broke my heart and I am not gonna judge you for that. Karma will give you the reward for your deeds.
Thank you so much for breaking my heart when I was in an utter state of love for you. At least, you won't get to make the fool out of me anymore.
When the wound is given by the person you love the most, not even time can heal that. It's only love and love which can give solace. God will not spare you for breaking my heart.
The day you entered my life as a life partner, I felt like utter sunshine was falling on me. Now you are gone after cheating me, all I can see is darkness in my life and barren emotions.
When the night arrives and all the beings go in deep sleep, I cry my heart's out every night and curse you for playing with my true love and emotions. I will never see your face!
After loving you, I learned my lesson that never ever spend all your love on a single person. I poured all my feelings on you and in return I got humiliation and cheating from you.
You can cheat one me, deject me, humiliate me, but you can't stop me from telling the whole world how did you smash my heart. You are an emotionless and the meanest person I have ever seen.
I wish somebody would have told me earlier that love doesn't guarantee happiness. With love, also comes a lot of disappointments and heartbreaks.
Painful Broken Heart Messages for Wife
For a person who has loved someone to the fullest, breaking up is unquestionably the most painful thing. You have given the kind of a pain to me that I have never imagined. Still, I can't stop loving you.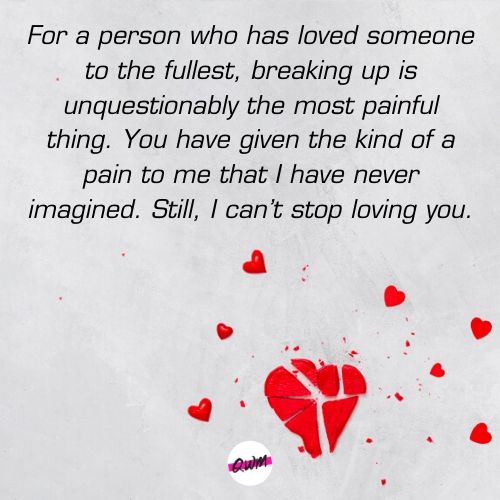 The first beautiful thing that happened in my life was loving you. The first worst thing in my life is loving you completely and trusting you blindly. You could have parted ways by telling me. What is the point of breaking my heart?
I wanted to say one last goodbye to you but I realize, you don't deserve even that. Does money is all that matters for you? Is love has no value in your life? Anyways, I wish you achieved whatever you want in life.
I think you deserve someone who cares more about fulfilling your ambitions. Because love cannot fulfill ambitions, money can. I am shattered and I don't know how long I am going to be in the state of pain.
We are living together for the last 9 years. I have gone beyond my faculties to provide you a complete and happening life. Now, out of the blue, you think we shouldn't be together. How can you break my heart like this? What I will do in life with you?
There is no point in continuing a relationship where love is only one-sided. You could have saved a lot of time for both of us by revealing your feelings earlier. My heart is completely broke and I don't think it will be fixed.
We both have given our level best to save this relationship but somethings and some people are not meant to be together. I know, nobody can take your space and no one can love me as you do. However, it's better to part our ways for the sake of peace of mind.
You should understand that a relationship is not about glitter and love all the time. It's also about making sacrifices and compromises for its betterment. I am devastated by your behavior and nature. I can accept heartbreaking, but I cannot compromise with my dignity.
I am ready to forget everything but I cannot forget your cheating and the humiliation of my true love. My heart is not a toy that you can break whenever you want. I am lost right now but I don't want to see your face anymore.
Breakups are quite better than living with a vicious person with nefarious intentions. Do you ever feel for someone except yourself? You are the meanest and the most diabolical person I have ever seen. You will never understand the value of true love unless your heart is broken.
I am glad you told me on the face that you don't have feelings in your heart for me anymore. I admire your honesty. Even though my heart is completely shattered into pieces, I still have utter love and respect for you.
After what you did to me, I don't think I want to continue this relationship with you. Lately, I have realized that it's better to live alone to be with a person who fakes love.
Powerful Heart Broken SMS | Heart Broken Text Messages Download
We live in a world where money is more important than love, and breaking someone's heart has become a trend.
In the destiny of some people, only sheer sufferings and pain are written. Some unlucky people are not meant for true love.
If you love someone more than they deserve, you will be hurt more than you deserve.
It takes a lot of love to understand the pain behind silence of a person. Haplessly,this world doesn't have those kind of people anymore.
No one can break you heart if you dedicate it in worshiping God.
Only time and God have the power to heal a broken heart. Sometimes, even love is not sufficient enough to heal the deepest wounds.
You said you couldn't understood my immense love and feelings. Then why you came in relationship with me in the first place? Just to break my heart?
The best way to heal your broken heart is deleting the ex-beloved from your memories.
A part of me died when you lied to me. Is cheating is the reward of my unconditional love and honesty?
I will always remember you not because you are in a relationship with me but for the way you break my heart.
Life is all about passing through different phases. The phases of love, agony, grief, happiness, sufferings, and the list go on. When the person you love the most breaks your heart, he/she also leaves you with two choices. Either to move on or to drag your broken heart everywhere for a lifetime. Change is the only constant phenomenon in the world. When one door shuts down, God automatically opens numerous doors for you. Instead of repenting and crying all the time, fix your broken heart and set yourself on the new journey of life. Life only gives those things that is necessary for your evolution and survival. If you ever feel hopeless, these broken heart messages will give you the needed boost to get over from the trauma of the pain of a broken heart.