Fathers Day Puns: Who doesn't love to hear dad jokes all day long? Dad's jokes are full of sass and wit. Moreover, when you are exhausted as hell, you can read some fathers day puns to rejuvenate yourself completely and also get a good laugh. On the beautiful occasion of fathers day, you can stack the best things to make the fathers day celebration perfect for your dad, but that would still be incomplete without adding hilarious fathers day puns. Let's admit that puns are a great way to inject humor into the most grave environment and no one can stop themselves from having a great laugh when reading puns. To rib-tickle the funny bone of your father on fathers day, we have stacked the most funny fathers day puns that will add glittering stars to fathers day celebration.
Funny Fathers Day Puns
Hey dad, though you are my creator, if I have to choose between you and bill gates, I will definitely choose Bill Gates as my dad.
Thank you dad for always paying for the fathers day gifts that I bring for you every year.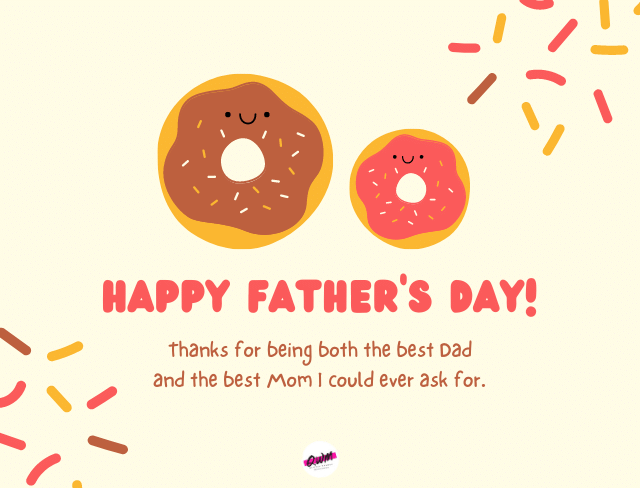 Star wars fan kids be like on fathers day – Yoda best dad ever!
A dad can turn into a bat if you try to ruin his monthly budget.
Also see: Fathers Day Poems for Preschoolers
I really wanted to gift a comb to my dad on fathers day but he is bald.
Dad, I don't want to go far-ther from you.
Also see: Christian Fathers Day Messages
No one can be as tea-riffic as my father is.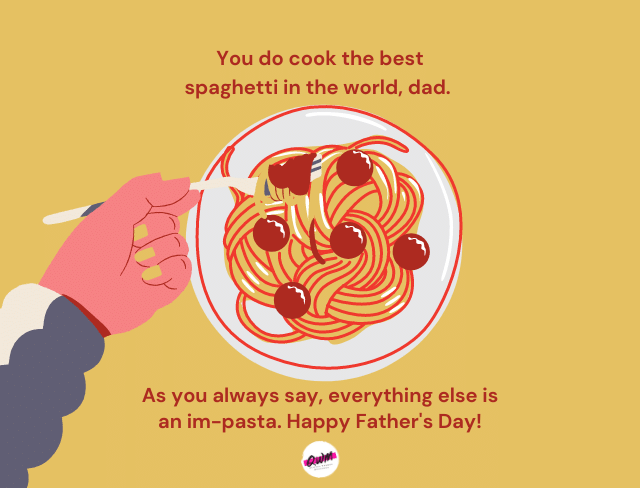 It's fathers day and I really want to spend some koala-ty time with my lovely daddy.
Also see: Happy Fathers Day Paragraphs
Your jokes are so punny dad, I can't stop my laughter.
It's fathers day today, let's pope up some champagne and celebrate.
Also see: Happy Father's Day 2022 Messages
I am more than delighted to fish happy fathers day to my awesome dad!
Considering the size of my father, I would prefer to wish him happy fatter's day.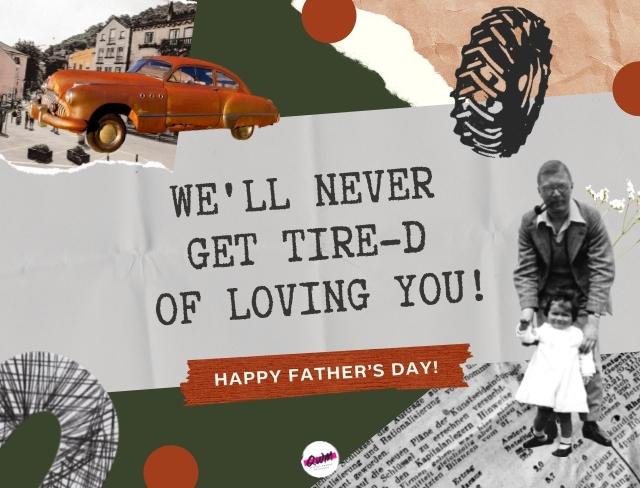 As you love to drink beer so much, I wish you a beer-y happy fathers day!
Also see: Father's Day Bible Verses 2022
My father has only one motto in life – don't worry, be sippy.
One of the whisky-iest things in life is being a father!
The best thing about my father is he never whines like my mother.
Also see: Fathers Day Poems from Son and Daughter
I must say, as a father you have done a grape job till yet. Proud of you dad!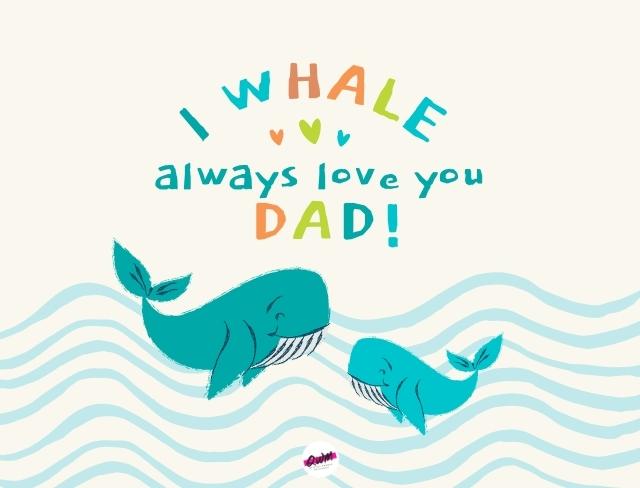 Happy fathers day daddy! That's the yeast I can do for you.
Also see: Happy First Fathers Day Messages
Without a shadow of a doubt, you are one in a melon dad!
Only my dad knows how to turn the spoiled up things better.
Hey dad, I donut know how to thank you for everything you have done.
Also see: Happy Fathers Day Wishes for a Friend
On fathers day, I want to tell you that you are my soup-er man.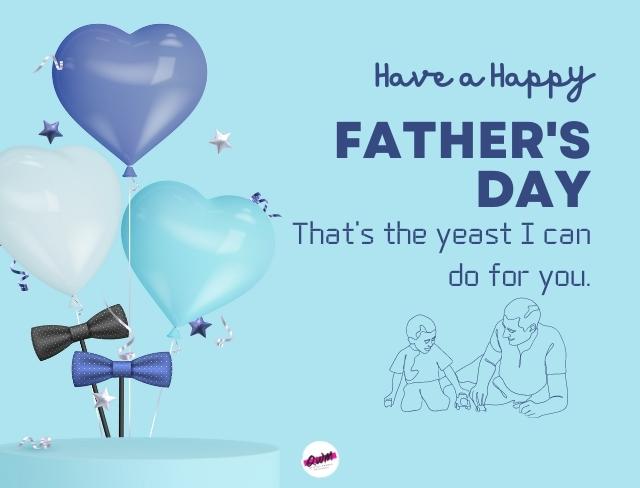 Thanks dad for chicken me out all the time. I am something because of you!
Hey dad, I really want to taco about something important.
Also see: Funny Father Day Messages
Are you cereal-sly considering to give a return gift to me on fathers day?
I don't have words to espresso my feelings how thankful I am to have you.
Let's steak to our resolution dad! No more whine for you from today onwards.
Also see: Happy Fathers Day Captions
I have to say I am muffin without love, support, and guidance.
Dear father, olive you to the moon and back.
It's fathers day and we all want you to throw an awesome par-tea.
Also see: Happy Fathers Day in Heaven Dad Quotes
From the depth of my heart, hap-pea fathers day to my sweet dad!
I haven' seen an egg-cellent home maker like you, dad!
Hey dad, thank you for bear-ing our tantrums all the time.
Also see: Happy Fathers Day GIF 2022
You have no idea daddy how much I loaf you.
My dad is unbeatable in two things: chilling and grilling.
Today, lettuce make the best fathers day celebration of all time.
Also see: Fathers Day Quotes From Daughter
It's not so cheesy to be a father.
It's the end of fish-cal year for my father. It's time to party!
Thanks a lot dad for not pulling out that night.
Also see: Emotional Fathers Day Quotes from Son
On fathers day, I just want to Raymond you that you are not alone in your hustle.
My father has so mushroom for everyone in his heart.
Thank you berry much dad for fulfilling all my wishes and dreams.
Also see: Heart Touching Fathers Day Quotes
I know dad all you need in life is pizza mind.
On the beautiful occasion of fathers day, I want to say that I love you dad from head tomato.
Dad, you are such a dynamite personality. No one can match your energy level!
Also see: Happy Fathers Day Images
When it comes to final verdict, I turtel-y agree with my dad!
Let's hop on to kitten dad, no one is around here.We can finally eat your favorite cake.
I am more than happy to give the tag of O-Fish-ally awesome to my dad.
I mustache you dad that you are such a cool person to hang around.