Fathers Day Wishes for Brother with Images: it is the dream as well as the hearty desire of any sister to see his brother become a caring and supporting father one day and do the job of a father flawlessly. A brother is one of the best friends of a sister who is also protective towards her like a father. When the same brother who used to care about you take care of his children in an amazing manner, a sister's happiness knows no boundaries. The role of a father in carving the future of the kids is no less than a mother. A supportive, strong, and sensible father like your brother can give your nephews and nieces the kind of upbringing they deserve. On fathers day, pour down all the happiness of the world in your brother's life by sending him happy fathers day to my brother messages and happy fathers day brother quotes that will do the job of appreciating your brother for his fatherhood job perfectly.
Happy Fathers Day To My Brother Messages
My heart is filled with boundless joy and excitement while wishing you a happy fathers day, brother. May you continue to raise the benchmarks of fatherhood and render the best nurturing to your little ones.
I still can't believe that my baby father is actually the father of two adorable runts and playing the role and responsibilities of a father perfectly. I must say I am quite impressed with this version. Happy fathers day to my brother!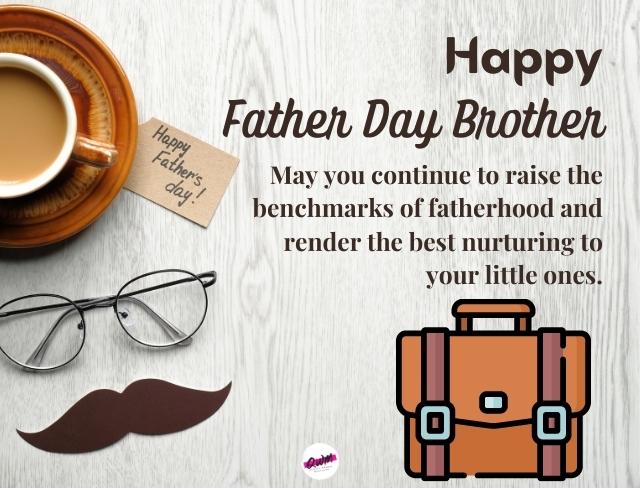 Also see: Happy Father's Day 2022 Wishes
To my funky brother, there was a time when you never wanted kids and now you can live without your kids even for a single moment. You have no idea how proud I am only because of you. Brother, you are a perfect father in every way. Wishing happy fathers day to my lovely brother!
You are the sweetest brother and the most adorable and responsible father. Becoming a father has augmented your character and life by leaps and bounds. Have a memorable fathers day, my dearest brother!
Also see: Father's Day Bible Verses 2022
If I knew having a baby can change your life to such a great extent, I would have done your marriage a long time ago. Thank you brother for giving me such cutie pie nephews and nieces. I love you brother and I wish you have a fantastic fathers day celebration!
Hey brother, how does it feel like to have kids who annoy the hell out of you all the time? Now you won' make fun of me all the time as you are experiencing the same situation. Embrace fatherhood and happy fathers day, brother!
Also see: Happy Fathers Day Stepdad Quotes
Dear brother, you are such a terrific and caring father that even my husband doesn't care about his kids as much as you do. Your kids are lucky to have you as dad and I am proud to have you as my bro. Enjoy fathers day to the fullest!
Whenever I see you and your kids having a great time, it reminds me of our dad who used to play so much with us when we were little tots. Shower as much love as you can on your kids and give them the finest values and education. Happy fathers day to my awesome brother!
Also see: Heart Touching Fathers Day Quotes
May your kids be grateful to you all the time for being such an exceptional father and become massively successful in the future. Your kids living an extraordinary life will be your real reward. Happy fathers day to my sweet bro!
Dear brother, if I am not wrong you are the one who used to hate the poop smell and now you clean the poop of your kids happily. What a transition! Jokes apart, may you have a mirthful fathers day!
Also see: Inspirational Happy Fathers Day Poems
Happy Fathers Day Brother Quotes
Hey brother, being a father is a different kind of feel and fun. I suggest you to spend as much time as you can with your kids and create swoon-worthy everlasting memories with them. Happy fathers day to my amazing brother!
You were such a caring soul from the beginning that I always knew you will make a great and compassionate father one day. More blessings and love to your kids and happy fathers day brother!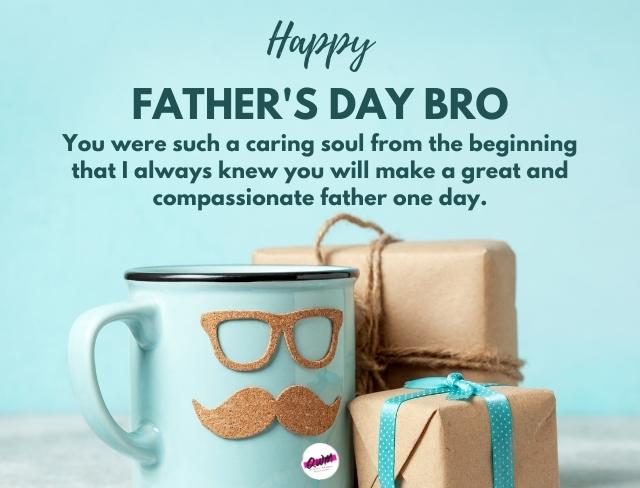 Also see: Happy Fathers Day Images 2022
Dear brother, I hope your kids make you feel so loved and valued on fathers day that you fall more for them and enjoy fatherhood to the fullest. I love you brother and wish you a happy fathers day!
Hey brother, don't you get so much indulged in fathers day celebrations with your kids that you forget about your pretty sister. After all, I was the one who found the right girl for you. Jokes apart, seize the day and enjoy the fathers day celebration!
Also see: Funny Happy Father's Day Memes
To a caring and phenomenal brother, you are perhaps the coolest father in all our generations. The way you take care of your kids and strive to instill the best values and knowledge in them is so inspiring. Wishing you a fathers day full of frisky and surprising moments!
It would be so bad of me to not wish happy fathers day to my brother who works day in and day out so diligently to be an exemplary father. From the depth of my heart, happy fathers day to my cute brother!
Also see: Happy Fathers Day Teacher Wishes
Undeniably, you are the finest brother I could ever have. However, you are a much better, supportive, and liberal father. I wish I could have a cool dad like you. Today is your day to relax and have a dazzling fathers day celebration!
Dear brother, I hope you are quite enjoying the juggling of roles between being a father and being a brother and son. Don't worry, pretty soon you will get habitual of it. Enjoy every moment of your fatherhood and accept my heartfelt fathers day wishes!
Also see: Happy Fathers Day Wishes for Colleagues
To my brother who always hustles for loved ones, may you savor every moment of fathers day by doing what you love to do? May you receive umpteen gifts and sweet wishes from your kids. Happy fathers day brother!
It fills my whole body with utter energy and inspiration when I see you raise your kids in such an affectionate and soulful manner. You have gone past my husband when it comes to fine parenting. Sending bundles of love, hugs., and fathers day wishes to my quirky yet sweet brother!
Also see: Happy Fathers Day Grandpa Quotes
Happy Fathers Day Wishes for Brother
Our father would have been so proud of you if he had seen you doing such an excellent job as a father. He must be watching you from heaven and showering blessings on your and your kids. Happy fathers day brother and relax the entire day!
Even the best fathers take some days to recuperate themselves and come back better than ever. Take your favorite beer, sip it all day long, and enjoy fathers day!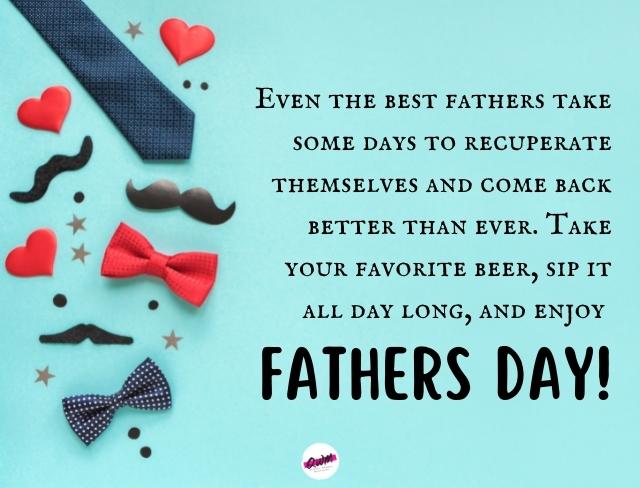 Also see: Happy Fathers Day Godfather Wishes
Happy fathers day to my brother who has three kids but still doesn't know how to change the diapers. I suggest you to take some babysitting lessons on fathers day and give some sigh of relief to your wife.
Dear father, you have been involved too much in the fatherhood and parenting realms. Just relax for a day and get your mojo back. I know you will do everything better than earlier. Happy fathers day, bro!
Also see: Fathers day Wishes for Brother in Law
I have to say brother that you have such a humongous and compassionate heart even the whole world can submerge into it. I wish the magical father-children relationship you share with kids amplifies with each passing day. Happy fathers day to my best brother!
May you fill so much glitter, warmth, and love into the lives of your kids that no nefarious element can deter their kindness and innocence. I love you to the moon and back and I wish mirthful fathers day to you!
Also see: Happy Fathers Day Boss Quotes
Though you are my big brother, after the departure of our father you have responsibly and perfectly played the role of a father in my life. I am quite assured that my sweet nephews are receiving the best upbringing from you. God bless you all and happy fathers day!
Sometimes, you get so involved in playing with your kids that it is hard to differentiate between who is a kid and who is a father? I feel so happy when you become a kid with your kids and treat them like friends. Have a gobsmacking fathers day celebration!
Also see: Happy Fathers Day Captions Instagram
I hope the fathers day celebration evolves your parenting skills and makes you fall in love with your kids even more. It's time to rock the party and shout 'Happy Fathers Day'.
Here comes the day when you can finally take a day off and make everyone dance on your orders. After all, you are the head of the family and deserve to be treated like one. Have an amazing fathers day, brother!
You May Also Like: